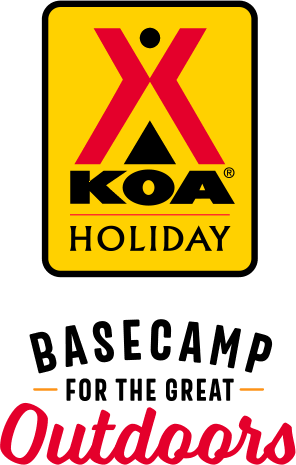 KOA Holiday Campgrounds
Whether you're exploring the local area or hanging out at the campground, KOA Holidays are an ideal place to relax and play. There's plenty to do, with amenities and services to make your stay memorable. Plus, you'll enjoy the outdoor experience with upgraded RV Sites with KOA Patio® and Deluxe Cabins with full baths for camping in comfort. Bring your family, bring your friends, or bring the whole group – there's plenty of ways to stay and explore.
KOA Holidays Feature:
RV Sites with a KOA Patio®
Deluxe Cabins with full baths
Premium Tent Sites
Group meeting facilities
Directions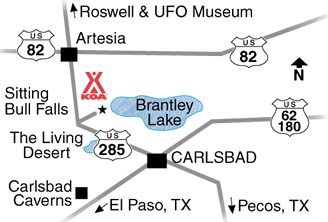 Located 13 miles north of Carlsbad, between mile markers 51 and 52 on US Hwy 285 N.
GPS: N 32 degrees 35.198', W 104 degrees 24.987'
GPS: N32.586465, W104.416234
Get Google Directions
Jan 29, 2020
I enjoyed staying at the campground! It was a super nice facility with very friendly staff!
Jan 03, 2020
Great place to stay - wish we had been able to stay more than one night! Friendly host, great rec room, and yummy BBQ dinner!
Dec 31, 2019
I was there in the "off season," so it's probably a different experience than someone would have during peak season. I stayed in a basic kabin. The walk to the bathrooms was a tad long. We could smell the sewers/septic pretty strongly anytime we were outside which definitely wasn't pleasant. Bathrooms were clean and spacious. We loved the recreation center although we didn't get to use
Dec 30, 2019
The mattress was covered with a stained mattress cover. We removed it and put our sleeping bags on top.
Dec 24, 2019
The cabin was nice and toasty, bathrooms were great and not too far out of the way. Entrance was nicely lit at night since the highway had no lights. Looking forward to staying again!
Dec 22, 2019
Cabins were expensive and far from the bathrooms. No TV or fridge. Most employees seemed indifferent to us, like we were being "tolerated" and an inconvenience. Strong sulfur smell every night takes over the campground. They did let us check in very early, so that was nice and I gave an extra star for that. Probably better for RVs than cabin renters.
Dec 09, 2019
The campground was clean and tidy. All of the hookups worked nicely and the fire pit was clean. The office was decorated with Christmas lights, which is nice to see you when you drive in. The staff were friendly and helpful, and allowed us to park the trailer in the lot after checking out, so we could spend the day locally without towing. We couldn't ask for more.
Dec 02, 2019
We had a comfortable stay in a clean cabin. My only suggestion is that the description of the kitchens in the cabins are described with more detail and accuracy. Specifically that there is a range and microwave but no oven.
Nov 23, 2019
KOA quality standard. Convenient to local area restaurants and stores.
Nov 20, 2019
The KOA directory description needs and update! Like hard water stained, dirty, fly infested bathrooms. Dirty commercial laundry. Deluxe cabins with bathroom door opening 16 inches wide! Yup, my 6 foot, 190 pound husband could not fit in the bathroom! payed $140. a night. Wish we'd gone to a hotel near Carlsbad Caverns, 45 miles down the road! The manager was not nice.
Nov 18, 2019
We loved staying at the cabin- perfect for a large family! Very clean and the heat worked well. A bit odd that there was no water spigot outside but overall a great trip!
Nov 15, 2019
Nice campground. Staff was very pleasant. Had barbecue first night there was very good we had leftovers good for another days lunch or supper.
Nov 11, 2019
The cabin was good for 2 people. We stayed in the pueblos cabin. The sofa sleeper was a struggle as it is a twin with 2 adults sleeping on it. Staff was helpful & courteous. Overall the stay was nice.
Nov 07, 2019
No WiFi in our corner of the property. Camping cabins near the entrance
Nov 03, 2019
Great, only issue was when we left early, i could find no drop box for my key, so i left it in the night box and had to leave a voicemail to infirm them. No one ever called me back to confirm they got it
Oct 23, 2019
This stay was better than a hotel. The staff is very friendly and the site is very well kept.
May 06, 2021
This was a great park. We were in a 45 foot motor home with toad. Sites were very spacious and well maintained. Parking was very well laid out. Not a mishmash squeezing in a site in every foot available. The internet was superb. Only negative thing I can comment on opus that the garbage receptacles were spaced way to far apart. In the front and in the back. Nothing in the middle.
- jbkamelot on Trip Advisor
Apr 27, 2021
I always avoided KOAs, due to road noise, until NOW. KOAs have been known for noisy road noise, similar to rest areas. Not this one. The site was peaceful and tranquil. Con: It is a 45 minute drive to the Carlsbad Caverns. Pros: Great Camp Host Team, clean camp, friendly people, nice desert mountain backdrop. Relatively close to the Living Desert Park and Sitting Bull Falls. Peaceful. The Camp Hosts were Great! We had the great experience of meeting Dorothy, Allen, and Al. Great people and Great hosts. They were Very helpful with recommendations for the best places to go, and to get most out of it. Got great updates on local wildlife and unique flora. These are experienced campers who help others get the most out of their camping experience. The guys are great at keeping the peace, from critters and yahoos that want to break the rules in speeding. Speed limit is 9.8 mph. They have a nice restaurant. They serve good food at reasonable prices, and deliver it to your campsite. Got some great RV tips and recommendations. We made some great Friends and will be staying here again when visitng Carlsbad Caverns or passing through. Tim & Emeliza H
- Tim Hennning on Google
Apr 27, 2021
Nice clean park. Will stay here again.
- Paula Brooks on Google