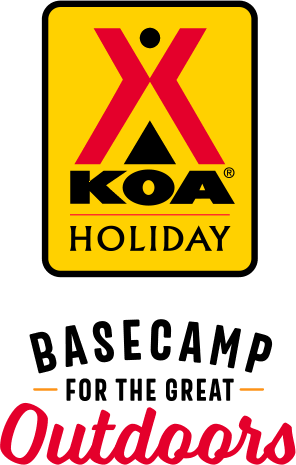 KOA Holiday Campgrounds
Whether you're exploring the local area or hanging out at the campground, KOA Holidays are an ideal place to relax and play. There's plenty to do, with amenities and services to make your stay memorable. Plus, you'll enjoy the outdoor experience with upgraded RV Sites with KOA Patio® and Deluxe Cabins with full baths for camping in comfort. Bring your family, bring your friends, or bring the whole group – there's plenty of ways to stay and explore.
KOA Holidays Feature:
RV Sites with a KOA Patio®
Deluxe Cabins with full baths
Premium Tent Sites
Group meeting facilities
Directions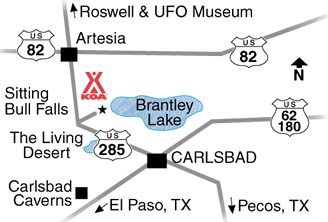 Located 13 miles north of Carlsbad, between mile markers 51 and 52 on US Hwy 285 N.
GPS: N 32 degrees 35.198', W 104 degrees 24.987'
GPS: N32.586465, W104.416234
Get Google Directions
Dec 19, 2020
Very friendly professional staff. Campground well kept with spacious sites. Food service was great!! Nice store too.
Dec 18, 2020
Overnight, left early, didn't get to visit much. Nice clean place.
Dec 14, 2020
The Carlsbad KOA is truly a gem in the desert! Everyone on staff is friendly and glad to see you when you arrive. Very clean campground with great facilities.
Dec 12, 2020
We had a great time considering the times. We were able to walk for miles and just relax. Will definitely go back.
Dec 08, 2020
Great park! Nice facilities.
Dec 07, 2020
Petrochemical smell at night is not that pleasant park staff are excellent. Trees are sparse.
Dec 03, 2020
Strange during a pandemic with so few other campers but contactless check in was fine. Have a restaurant onsite with delivery to one's site was an added bonus. Campground was clean and well maintained as was the laundry area.
Dec 03, 2020
Covid shut down ruined are trip .The Caverns were closed ,all restaurants were closed ,We went to Walmart in Artisan and had to wait in line outside in 30 degree weather for 30 minutes before being let in . We went to Roswell everything there was shut down as well .No museums open ,no stores open ,no food places open. we did find a tamale store and it was excellent. Clarence Musch
Dec 02, 2020
Nice staff. Due to Covid, the caverns were closed, so we will be back and will stay here again. A little bit of a drive to the cavern, but worth it to be out of the town. Clean laundry facility and bathrooms were being upgraded (looking forward to seeing the finished product!). thanks for the great stay.
Nov 29, 2020
$60 a little high considering several amenities were closed due to the virus but on the other hand these small mom and pop businesses need to survive and we need to help.
Nov 24, 2020
Great location. Very quiet, and great star viewing.
Nov 21, 2020
It was great except we went during off season so convenient restrooms were being remodeled so had to walk to get to bathroom
Nov 20, 2020
Very nice park - thanks for a nice stay
Nov 18, 2020
We had a great stay. We were not aware of the smell issue that your community has to deal with. It is a shame and we feel for you. Regardless you have beautiful facilities and we appreciated all of the hospitality. Thanks!
Nov 18, 2020
Lovely staff, clean park, and great barbecue! One of the most pleasant parks we have been to!
Nov 15, 2020
The staff was super friendly. First time stay at a KOA, Will definitely stay again
Nov 14, 2020
Friendly helpful staff with clean organized facilities.
Nov 13, 2020
Stay was great, clean facilities and loved the ability to order dinner and have it delivered.
Nov 13, 2020
Two night stay to visit Carlsbad Caverns NP and surrounding area. Probably the best KOA we ever stayed at. Best RV park I seen in the area! And the BBQ dinner delivered to us at our camper was Awesome!
Nov 11, 2020
I don't often give poor reviews but here goes. We got in on Sunday Nov 8 around noon. I went to the satilite rest room as soon as we set up. I noticed a piece of paper towel on the floor by the shower. Same paper was there when we left Tuesday morning. Monday morn in.the dog park I stepped on a piece of wire. Went through my shoe and into my foot, told office people and nothing was ever picked up.
Nov 10, 2020
The barbecue in house restaurant was great. Location is central to most of the visiting sites.
Nov 10, 2020
The men's bathroom near office was under construction and it was obvious men were using the women's restroom because they would leave the toilet seat up. The park was pretty run down.
Nov 09, 2020
We stayed in October, when it was not very crowded. Hence, we had a lot of room around us. The staff is wonderful. They keep the place spotless.
Nov 09, 2020
We had a nice stay! we upgraded our site with a patio and loved it! The restaurant was a plus. Excellent food!!! Thank you
Nov 09, 2020
Extremely nice workers. Level spots.
Nov 09, 2020
We stayed here for a weekend with some friends. It was fantastic! The staff was extremely friendly and welcoming. The pull-thru spots were large and easy to navigate! My kids had a great time on the playground. The food was terrific. Highly recommend! Zero complaints!
Nov 08, 2020
We would have liked more shade.
Nov 07, 2020
The odor in the area is so strong of sulfur/sewage. The site itself was unkept and the picnic table rusty. There was a shade tree which helped. Staff was helpful as best she could be with what she had to work with. Best sites kept for full timers. After staying at numerous sites in TX and NM this was the bottom of our list. Dog walk is simply a nearby dusty road,
Nov 06, 2020
Very friendly staff, clean sites, would recommend.
Nov 06, 2020
I stay here twice every year and many other KOA's it seems that the workers are not very friendly or maybe they just don't like their job!
Nov 05, 2020
It seems that the 39.00 stay is a hooker for you to stay . You need to be transparent about your prices...
Nov 04, 2020
Restrooms are very clean. Sites are big and well maintained. Friendly staff. We had a great time with the buddy sites and visiting the Caverns.
May 13, 2021
Great spot ! I was pleased that it was quiet after 10 compared to other campgrounds we have been to .
- vania todorova on Google
May 12, 2021
Nicest KOA we've stayed at for a while. Beautiful area, quiet, and wonderful addition with the covered porches on some sights. We actually tried to stay longer but they were full. We will be back'
- Debra Heinrichs on Google
May 10, 2021
Very Convenient to the Caves
- János Szablya on Google