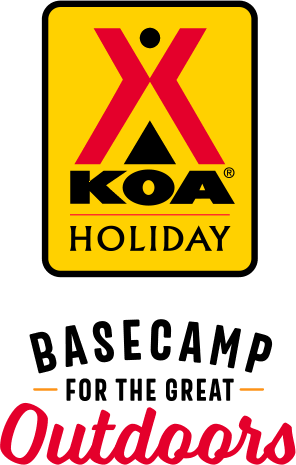 KOA Holiday Campgrounds
Whether you're exploring the local area or hanging out at the campground, KOA Holidays are an ideal place to relax and play. There's plenty to do, with amenities and services to make your stay memorable. Plus, you'll enjoy the outdoor experience with upgraded RV Sites with KOA Patio® and Deluxe Cabins with full baths for camping in comfort. Bring your family, bring your friends, or bring the whole group – there's plenty of ways to stay and explore.
KOA Holidays Feature:
RV Sites with a KOA Patio®
Deluxe Cabins with full baths
Premium Tent Sites
Group meeting facilities
Directions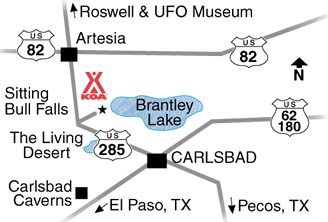 Located 13 miles north of Carlsbad, between mile markers 51 and 52 on US Hwy 285 N.
GPS: N 32 degrees 35.198', W 104 degrees 24.987'
GPS: N32.586465, W104.416234
Get Google Directions
Jun 06, 2021
We were met by a wonderful staff member who helped us get all set up. The spaces are huge! The location is in the middle of the trip to Carlsbad Caverns and Roswell New Mexico. We had wanted to see both to that's why we picked this location! It was perfect. The dog play yards, yes 2 of them, are filled with places to explore for the dogs and the people are wonderful.
Jun 05, 2021
Nice amenities, quiet atmosphere, would highly recommend! We especially loved the dog park! All the extra activities like chess and checkers and the pool really made our stay spectacular!
Jun 05, 2021
Very friendly staff. Clean, level sites. Disappointed that the dinner is currently not available nightly because of staff shortages but this is not the fault of the owners but of the current unemployment benefit situation.
Jun 05, 2021
Good. Only problem was too much smoking by neighbors and our stuff is putrid smelling with smoke.
Jun 05, 2021
Great location, clean grounds, friendly staff, etc. The tent village was nice to have electric and water, plus the dry storage was handy. We will stay here again on our next trip.
Jun 05, 2021
Wonderful and everyone was so nice. It's nice they keep the Game Room open for renters at night in case of storm.
Jun 04, 2021
Loved the park's layout & it was professionally maintained. Entire staff was super friendly. Midway point between Carlsbad Caverns and Roswell NM.
Jun 04, 2021
Very friendly, respectful, clean place,
Jun 04, 2021
Excellent service, nice cabin, spacious area. Will come back again. Unfortunately, the pool closed a little bit early. See you later!
Jun 04, 2021
I arrived late and was tired. Once I got to sleep, smoke detector kept going off. I finally had to disconnect and put it outside. In the morning when I had to use restroom, the one at front office was closed to retile. After walking to the other restroom, the toilet didn't flush and the paper towel dispenser was broken. Very disappointing, this may be one of my last KOA stays.
Jun 04, 2021
Coyotes-all night, feral cats, main restroom closed
Jun 03, 2021
What can I say men's room out of service. Pool closed. Trash bins were way far away for near front gate. We were on a gravel site and when we returned there was a man string trimming our campsite with the chance of a rock chip. I asked him to stop and man did but ten minutes later a knock on the door telling us to move our tow vehicle but i was told the day prior to park it there... retaliation
Jun 03, 2021
Staff was nice and friendly. Our picnic table was super dirty when we arrived, as was our fireplace.
Jun 03, 2021
Fantastic people running and maintaining the facility. My kids and I loved Staying there.
Jun 02, 2021
Great park! Friendly, clean and felt very safe! Loved it!!
Jun 02, 2021
Loved the spacious lots...very clean, well kept, friendly.
Jun 02, 2021
Close to Carlsbad, Artesia and Roswell! Quiet little park was just right. Will stop in again.
Jun 02, 2021
We had a nice time there, the pool was a little murky and the men's room was closed by the office but other than that we enjoyed it.
Jun 02, 2021
Nice camp ground. A little farther than I thought from carlsbad caverns. But was a nice campground. Well kept.
Jun 02, 2021
Loved the place very much. Kid friendly pet friendly, and the best part was the Hail cannon show! Sure glad that worked out for us on Sunday evening.
Jun 02, 2021
Grounds are nicely maintained. They have a family friendly environment. Late check-in process was perfect.
Jun 02, 2021
Large lots, beautiful laundry, very well take care of park.
Jun 02, 2021
Campground was fine and location good for us. Traveling in a small 21' Roadtrek motor home. On May 31st the camp emptied out. I asked about moving nearer the bathrooms. My wife has serious back problems. Was told no sites were available. Checked and there was an empty site in front of, behind and next to the BR that night. The gal in the office just didn't want to bother changing our site.
Jun 02, 2021
Good place to rest and share with the family, it is clean, pleasant and has all the services to rest.
Jun 01, 2021
Nice park! We had some water issues related to the storm Friday night, and hail damage to our truck, not the park's fault. Had a good time.
Jun 01, 2021
Friendly staff; quiet campground and clean and tidy
Jun 01, 2021
Friendly staff, clean campground, amenities were great. Would stay here again if given the option.
Jun 01, 2021
Great grounds and facilities. Grandchildren loved the pool
Jun 01, 2021
Loved the great showers and the grounds were nice. Kids had fun with the giant chessboard and checkers board and were excited for the pool. Wished the tetherball was still there.
Jun 01, 2021
Really clean facility and comfortable.
May 31, 2021
Excellent stay! The KOA is a little in the middle of nowhere but it's a beautiful setting. Everyone was super friendly. When we checked in they told us there had been a hail storm the night before and since there was a possibility of another storm that night they offered that we could stay in the Rec room since we had a tent if we needed to. They checked on everyone several times during the nigh
May 31, 2021
We were not told the men's restroom closest to our campsite was under renovation, in turn having to walk halfway across the site in the middle of the night to use a packed unisex bathroom was a real inconvenience
May 31, 2021
Very clean campground. Staff is extremely friendly and helpful. Even the less expensive spots are roomy and well maintained. The only issue was an odor during the night. I suspect it was from the neighboring orchard spraying the trees, but it was overpowering enough to wake us up each night. Not something the campground had control of, but it still exists.
May 31, 2021
One of the best KOA campgrounds. The staff was very helpful and friendly. The grounds were well kept.
May 30, 2021
Very nice park and very friendly staff
May 30, 2021
Excellent campgrounds. The staff were friendly, the grounds were clean and mowed. The bathrooms were clean and well supplied.
May 29, 2021
The ladies checking us in were the friendliest I have encountered in any of the RV parks that we stayed at on this trip. The park was clean and very nice.
May 29, 2021
Lovely place
May 29, 2021
Nice large pull thru spaces and good host/staff, although more business mannered than personal. It need of grass mowing, weed pulling, and tree trimming. Sites should be better cleaned between guests, however, overall a nice park
May 29, 2021
It was OK, except the internet service, even standing by your routers there was no way to connect. And I think that $8 for a bag of ice is a bit absurd, you should consider at least applying some rewards discount for the ice.
May 28, 2021
It was lovely. Nice long sites and easy to level. We would definitely stay there again.
Sep 19, 2021
Good place
- Derek Wilson on Google
Sep 13, 2021
Beautiful campground that is very well maintained. Lots of neat activities for kids and families - giant checkers and chess, basketball, rec room, and pool. Restrooms were spotless! The "Tent Village" was neat, having electricity and lights was handy, and water spigot too. We definitely enjoyed our quick overnighter.
- Stacey Newcomer on Google
Sep 10, 2021
Awsome views
- will dobbert on Google