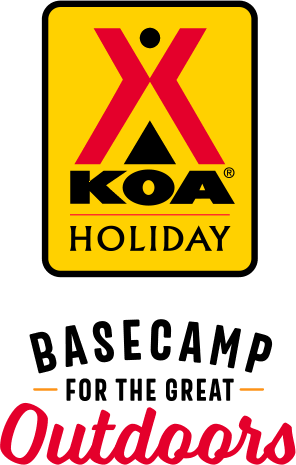 KOA Holiday Campgrounds
Whether you're exploring the local area or hanging out at the campground, KOA Holidays are an ideal place to relax and play. There's plenty to do, with amenities and services to make your stay memorable. Plus, you'll enjoy the outdoor experience with upgraded RV Sites with KOA Patio® and Deluxe Cabins with full baths for camping in comfort. Bring your family, bring your friends, or bring the whole group – there's plenty of ways to stay and explore.
KOA Holidays Feature:
RV Sites with a KOA Patio®
Deluxe Cabins with full baths
Premium Tent Sites
Group meeting facilities
Directions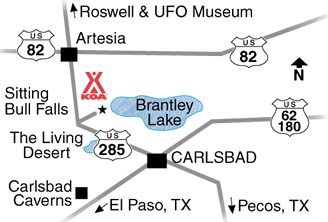 Located 13 miles north of Carlsbad, between mile markers 51 and 52 on US Hwy 285 N.
GPS: N 32 degrees 35.198', W 104 degrees 24.987'
GPS: N32.586465, W104.416234
Get Google Directions
Jan 19, 2021
Staff was helpful and friendly. RV sites were large; bathrooms were clean and warm. Close enough to Carlsbad for shopping and the caverns but far enough from the hustle and bustle. Very quiet park no traffic noise.
Jan 19, 2021
Great customer service
Jan 19, 2021
Very nice place with extremely helpful nice staff.
Jan 19, 2021
Quick and easy registration, parking, and hook ups. Great hospitality. Wifi was not transmitting properly.
Jan 18, 2021
Convenient, clean and a very friendly staff. We had bbq delivered to our RV on our one night stay. No complaints at all!
Jan 18, 2021
Lovely staff. Laundry room and machines need a good clean.
Jan 16, 2021
The staff was always courteous and nice. My wife and I stayed 15 nights and enjoyed everyday. The barbecue was also great. A very nice place, clean and again very courteous. Thank you, Mike & Kaycee Jones
Jan 16, 2021
Rate was too high for typical KOA. "Doc" who led us to our site proceeded to lean into our cab...no mask!!...to be friendly. Wouldn't have minded IF HE'D WORN A MASK!! (and he professed to be an emt.)
Jan 15, 2021
Great and very friendly!!!
Jan 12, 2021
It was the best placed that we stayed at since we left Virginia on November 30. The staff were polite, helpful and the food was excellent. The camp is clean and very spacious.
Jan 12, 2021
Very accommodating, easy to find, very clean sites, friendly staff.
Jan 09, 2021
Great out of town (but not too far out) place to stay. Office staff is very nice and helpful. A bonus is their on site food service. We ordered the smoked brisket dinner. It was so good that we ordered the smoked turkey sandwiches to take with us for a meal on the road. We will be back.
Jan 08, 2021
Not very busy but it was Covid and December. We had a nice level site, hook-ups worked and well located, the staff was friendly, laundry worked well. It was a 45-minute drive to the caves. However, we passed many other RV campgrounds along that 45-minute drive, I would not want to have stopped at any one of those places. I would return to this KOA.
Jan 05, 2021
Great campground! It was quiet, clean, easy to get in and out of, and friendly staff. Well maintained. Location was great for access to all of the Carlsbad area hiking locations.
Jan 04, 2021
Loved that it's a pull through site. Everything was clean and looked great.
Jan 03, 2021
We had an enjoyable stay. They greeted us, took us to our spot and made sure all was good. We had a couple of very cold nights and the maintenance was happy to help unfreeze anyone who needed. We were fortunate we didn't experience freezing pipes.
Jan 02, 2021
Great facility and staff. A little out of the "way".
Dec 30, 2020
The sites are clean, spacious and big! They were nice and level. We thought this was the best looking campground in the area. The BBQ on site was nice too!
Dec 29, 2020
The good: the officer lady was very friendly and helpful. The outside presentation of the park is good. The bad: the restrooms but the office is closed for renovations so the restrooms in the middle of the park were overused. All 3 restrooms had issues which I had to report to have it taken care of. The poor maintenance of these restrooms was a major disappointment.
Dec 27, 2020
Lovely stay, thank you for all your help and information Julie, another woman I didn't get name of but I believe she is whom I had spoken with regarding items we had left behind! And a gentleman had guided us w some tips to find trails around camp. Doc was very welcoming, friendly too. First time for us experiencing desert life, it was fantastic! Great grill.Lower rating due to neighboring gas/o
Dec 25, 2020
Great hospitality and a beautifully kept campground.
Dec 22, 2020
Anytime I get my dinner and firewood delivered to my camper, it is a special stay. So glad we chose KOA Carlsbad. Wonderful start to our trip.
Dec 21, 2020
It was a great place to spend a weekend. We didn't do any sightseeing, we just enjoyed the grounds and time alone in our RV. It wasn't terribly busy (off season) which meant we had plenty of space to roam. Our Great Dane/Pittie mix loved being in the K9 areas and I loved that they had two fenced off areas so that my big old dog could be separated from the younger smaller dogs. We will be b
Dec 19, 2020
Wrong to call this "Carlsbad"..it's an hour away! Much closed due to covid. Rates should be reduced to reflect it.
Dec 19, 2020
Very friendly professional staff. Campground well kept with spacious sites. Food service was great!! Nice store too.
Dec 18, 2020
Overnight, left early, didn't get to visit much. Nice clean place.
Dec 14, 2020
The Carlsbad KOA is truly a gem in the desert! Everyone on staff is friendly and glad to see you when you arrive. Very clean campground with great facilities.
Dec 12, 2020
We had a great time considering the times. We were able to walk for miles and just relax. Will definitely go back.
Dec 08, 2020
Great park! Nice facilities.
Dec 07, 2020
Petrochemical smell at night is not that pleasant park staff are excellent. Trees are sparse.
Dec 03, 2020
Strange during a pandemic with so few other campers but contactless check in was fine. Have a restaurant onsite with delivery to one's site was an added bonus. Campground was clean and well maintained as was the laundry area.
Dec 03, 2020
Covid shut down ruined are trip .The Caverns were closed ,all restaurants were closed ,We went to Walmart in Artisan and had to wait in line outside in 30 degree weather for 30 minutes before being let in . We went to Roswell everything there was shut down as well .No museums open ,no stores open ,no food places open. we did find a tamale store and it was excellent. Clarence Musch
Dec 02, 2020
Nice staff. Due to Covid, the caverns were closed, so we will be back and will stay here again. A little bit of a drive to the cavern, but worth it to be out of the town. Clean laundry facility and bathrooms were being upgraded (looking forward to seeing the finished product!). thanks for the great stay.
Nov 29, 2020
$60 a little high considering several amenities were closed due to the virus but on the other hand these small mom and pop businesses need to survive and we need to help.
Nov 24, 2020
Great location. Very quiet, and great star viewing.
Nov 21, 2020
It was great except we went during off season so convenient restrooms were being remodeled so had to walk to get to bathroom
May 12, 2021
Nicest KOA we've stayed at for a while. Beautiful area, quiet, and wonderful addition with the covered porches on some sights. We actually tried to stay longer but they were full. We will be back'
- Debra Heinrichs on Google
May 10, 2021
Very Convenient to the Caves
- János Szablya on Google
May 09, 2021
Great place very clean
- Jim Stiles on Google