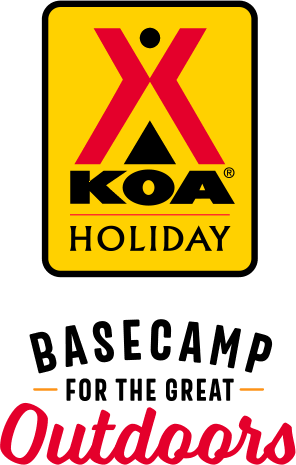 KOA Holiday Campgrounds
Whether you're exploring the local area or hanging out at the campground, KOA Holidays are an ideal place to relax and play. There's plenty to do, with amenities and services to make your stay memorable. Plus, you'll enjoy the outdoor experience with upgraded RV Sites with KOA Patio® and Deluxe Cabins with full baths for camping in comfort. Bring your family, bring your friends, or bring the whole group – there's plenty of ways to stay and explore.
KOA Holidays Feature:
RV Sites with a KOA Patio®
Deluxe Cabins with full baths
Premium Tent Sites
Group meeting facilities
Directions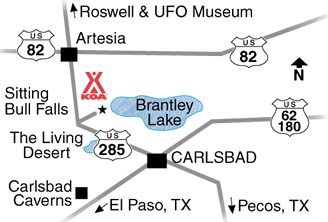 Located 13 miles north of Carlsbad, between mile markers 51 and 52 on US Hwy 285 N.
GPS: N 32 degrees 35.198', W 104 degrees 24.987'
GPS: N32.586465, W104.416234
Get Google Directions
Feb 28, 2021
The cabin I stayed in was nice. However, the water in my shower wasn't hot.
Feb 27, 2021
Great spot for an overnight visit - folks here very friendly and helpful.
Feb 26, 2021
The park is very clean and wide spots. Was suppose to stay 3 days but with the bad weather half the country was having, we stayed longer. It did get down to about 5 degrees one night and about a week or so with temps 32 or below. The water pipes did freeE but the staff was fast going to each site an thawing them out. No fault of the KOA, Mother Nature. Only bad thing is the very hard water.
Feb 26, 2021
Staff worked really hard through the polar vortex to keep power and water. Super accommodating as weather fluctuationed.
Feb 26, 2021
Nice park. Really nice staff. Distance to caverns is the downside.
Feb 25, 2021
This is the second time we've been to this KOA. Main reason for us is the area behind the park to run our hunting dogs and go for a walk. It is a clean facility and friendly. And very quiet!
Feb 24, 2021
Enjoyed our stay immensely. The campgrounds are extremely clean, and the owners are very accommodating. We'll be back!!
Feb 24, 2021
Very nice campgrounds, just a little far from the caverns.
Feb 22, 2021
The location is great quiet and the wide open views of the area near a lake. The staff was great friendly and helpful. Next time were in the area we will stay there.
Feb 22, 2021
Stayed in our van at a tent site which was fine except that the bathrooms were far away (the closer bathrooms were under construction is what we were told). I have one suggestion and that is to put a counter next to the dishwashing station so that there is a place to put washed dishes.
Feb 21, 2021
We were stuck in Carlsbad, due to the weather, and Tina and Bruce did a great job accommodating us.
Feb 18, 2021
Would definitely stay here again. Sites are large. Lived that we could have BBQ delivered to our door
Feb 17, 2021
Nice place to stay. Clean and the staff was very friendly!!
Feb 16, 2021
Julie and the ladies at the front office were so nice we didn't want to leave.
Feb 14, 2021
Pleasant campground. No water below 32 (: had to leave after one night. 50-60 miles from Carlsbad caverns. Amazed. Pool was full and looked inviting... on another day. Bob and Deb L. Spokane WA
Feb 12, 2021
Immaculate RV park. Staff was great. All utilities in great condition. Only drawback was occasional odor of possibly petroleum from distant industry?
Feb 12, 2021
Such friendly staff members, and we LOVED the "Buddy Sites" so when we opened our doors, our traveling companions and our doors were facing one another! Great sites, large pull thru's and located not too far from the town of Carlsbad.
Feb 12, 2021
Nice quiet site. Clean, nice staff.
Feb 10, 2021
We enjoyed our week in Carlsbad very much. A real plus was finding out you not only made lunch and dinner but smoked you own meat on site. Clean, well maintained, quiet, and helpful staff made this spot a real gem.
Feb 09, 2021
Immaculate grounds, and courteous front help! BBQ was delicious!
Feb 09, 2021
Clean, well run facility!
Feb 08, 2021
Nice campground! Enjoyed our stay . Very nice staff
Feb 08, 2021
Amazing place... Super friendly staff and amazing food for dinner!!! We stayed here with our dogs and the park is dog friendly. Huge no leash areas. We will be back to enjoy another stay here!
Feb 07, 2021
Great sites! Friendly staff. We had an issue with our RV and they helped us out!
Feb 07, 2021
This is the second KOA we've have stayed at. The amenities were good, but it was kind of pricey for how far away the grounds are from the caverns. The worst part was that the bathrooms were very far away from the tent sites. The office was also not open until later in the day, which was a bit confusing.
Feb 04, 2021
Everything was great expect the sewer smell you get coming from sewer treated water dumping into lake close by.
Feb 03, 2021
Nice big sites and quiet! Will stay here again!
Feb 02, 2021
This is a nice KOA but not the nicest one we've been to, and we've stayed at six in the last two months. It has all the amenities and is very clean. I give it a 4 because their main bathrooms were closed (said due to remodel). The satellite ones we had to use need repair but They were clean, large and efficient. Hopefully they'll remodel those too.
Feb 01, 2021
Nice location and great people. Julie is adorable. Stormy was very sweet.
Feb 01, 2021
Been traveling west from Florida. Stayed at 11 different rv parks. This was by far the best.
Feb 01, 2021
Enjoy our stay great staff the dinner delivered to the site was great.
Feb 01, 2021
Great place to stay!
Jan 31, 2021
Very nice campground, great spacing between sites, staff was friendly and helpful.
Jan 28, 2021
Nice campsite, super helpful staff.
Jan 26, 2021
Perfect location for a two day stop over. The staff and employees were terrific but not a very attractive campground in the winter. Main Bathrooms were closed for re model and the other bathrooms were not very clean. Burned grass looked terrible and the 40 foot dumpster full of trash blowing out in the wind didn't make for a great view!
Jan 25, 2021
Very friendly, helpful staff. Nice facilities and nice size sites. Definitely out in the middle of nowhere, but so is everything in southern New Mexico! Enjoyed our stay, COVID be damned!
Jan 25, 2021
Wonderful place. Big, level lots. Staff was amazing. One of few places we have stayed where they offer a evening meal for coming off the road and you don't want to cook. Orders must be in by 5pm. They deliver to your campsite also.
Jan 24, 2021
Great place. The staff was friendly and helpful. Wide pull through spaces. BBQ dinner was excellent. I would definitely stay there again.
Jan 22, 2021
Lovely, large private campsites. The staff was very friendly and the facilities were very clean.
Jan 22, 2021
Friendly, helpful staff. Great restaurant, meals delivered to your site!
Jan 21, 2021
When we arrived our cabin had a space heater in it due to the front room heater being down. A few other issues arose that first night that made us consider leaving. The staff swooped in the following morning and diligently pursued all the issues until they were resolved. They even opened a cabin next door to let us shower. Julie and Tim especially made our stay enjoyable and memorable. Thanks KOA!
Jan 20, 2021
The campsite and campgrounds were very nice. We were in a 43 ft MH with lots of space. There is some kind of a sewage treatment plant nearby that smelled horrible. I actually woke up in the middle of the nite thinking our rig had a problem. It is further away from Carlsbad Caves then we thought. Very expensive. Was charged $10 for a small bundle of wood. Very very nice people working here.
May 12, 2021
Nicest KOA we've stayed at for a while. Beautiful area, quiet, and wonderful addition with the covered porches on some sights. We actually tried to stay longer but they were full. We will be back'
- Debra Heinrichs on Google
May 10, 2021
Very Convenient to the Caves
- János Szablya on Google
May 09, 2021
Great place very clean
- Jim Stiles on Google