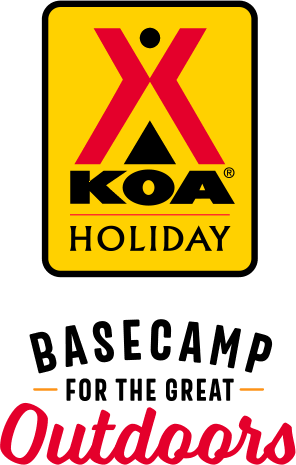 KOA Holiday Campgrounds
Whether you're exploring the local area or hanging out at the campground, KOA Holidays are an ideal place to relax and play. There's plenty to do, with amenities and services to make your stay memorable. Plus, you'll enjoy the outdoor experience with upgraded RV Sites with KOA Patio® and Deluxe Cabins with full baths for camping in comfort. Bring your family, bring your friends, or bring the whole group – there's plenty of ways to stay and explore.
KOA Holidays Feature:
RV Sites with a KOA Patio®
Deluxe Cabins with full baths
Premium Tent Sites
Group meeting facilities
Directions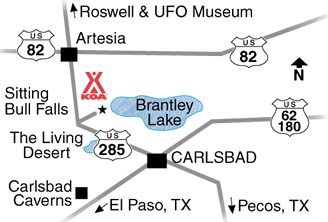 Located 13 miles north of Carlsbad, between mile markers 51 and 52 on US Hwy 285 N.
GPS: N 32 degrees 35.198', W 104 degrees 24.987'
GPS: N32.586465, W104.416234
Get Google Directions
Mar 19, 2021
The park was quiet, staff very friendly & efficient. We ordered dinner, it was great, hot and delivered to our site right on time. The park just didn't look as pretty as the online pictures and the pool wasn't open.
Mar 18, 2021
The sites were very spacious with picnic tables and fire pits. Plenty long enough for coach and tow. The BBQ dinner delivery to your door was very good and reasonably priced. It's a good spot if visiting Carlsbad Caverns as well as Roswell. Would stay again.
Mar 18, 2021
Served dinner and prices were very reasonable. Staff is incredible. Our neighbor had a motorhome issue and the staff was able to tell them what it was.
Mar 17, 2021
Staff was very friendly and helpful. The campground looked to be a lot nicer than any of the other campgrounds we saw in the area.
Mar 17, 2021
Large sites, bad wifi...
Mar 17, 2021
Dorothy and Shelley were amazing! We were supposed to tent camp, but the high winds were so crazy that we needed to change plans. They were extremely helpful in helping us rearrange things so that we could stay in a cabin during our visit. The KOA was well kept, felt very safe, and the staff was friendly.
Mar 16, 2021
Wow what a nice place. We had a buddy site with our friends and shared a patio with swings and gas grill. Bathrooms clean and large. Friendly folks in the office.
Mar 13, 2021
This park is well managed and clean. We really enjoyed our stay.
Mar 13, 2021
Front desk was hugely helpful. Got us info on Roswell museum.
Mar 13, 2021
Even though this KOA is out in the open desert like area, it's very peaceful and quiet and very nice facilities and sites. We definitely will return to this KOA.
Mar 12, 2021
The campground was fine except much further out of town than anticipated especially far from the Cavern would rather have stayed on south end of town
Mar 12, 2021
Excellent park! People were very friendly! Dinner we ordered and had delivered to our site was very good!
Mar 12, 2021
Great campground with friendly staff. We will definitely come again when we are near Carlsbad.
Mar 12, 2021
Nice clean facility. Friendly staff
Mar 11, 2021
Cabin was clean and nice. Campground was clean and everything was good.
Mar 11, 2021
Well run. Clean and friendly staff.
Mar 11, 2021
Very clean and well maintained The sites were great
Mar 11, 2021
one night stay, one negative was dog picked up many small stickers in the dog run
Mar 10, 2021
The park is not very close to Carlsbad. Had a great bbq dinner that was delivered right to our RV.
Mar 10, 2021
The staff is super friendly and helpful. I definitely need to mention the brisket sandwich I had, the guy running the smoker there did a great job! The showers were clean and had great water pressure. I would go back to this KOA without hesitation. Thanks for the great experience!
Mar 10, 2021
They have delicious Smoked Ribs!! Got the whole meal, yummy � and they deliver ��� Campground is nice. Staff super friendly ������ WIFI was non-existent :( We'd recommend to friends ���
Mar 10, 2021
Nice property, friendly staff
Mar 09, 2021
Clean. Nice staff. Good food.
Mar 09, 2021
It was great but too far north to be called Carlsbad, especially when you are there to see the Caverns
Mar 08, 2021
We had 7 kids with us ages 5-10 and they had a great time. The set up was easy and it was quite, especially after 8 pm.
Mar 08, 2021
I loved the Carlsbad KOA! I travel alone and felt very safe, the staff was very friendly and helpful and I love that they serve some meals. I had the ribs and recommend them!
Mar 08, 2021
We will definitely be back here to stay!! Friendly stafff!!!!
Mar 08, 2021
Bring water with you. One morning there was no water and then one morning making my coffee there was so much sulphur in the water it curdled my non dairy creamer. The laundry room is expensive! $2.50 for a front load washer which should only be loaded half way and dryers are a quarter for 5 minutes but they are good dryers and my clothes were dry in 20 min. Loved listening the coyotes at night.
Mar 07, 2021
Second time here. Wonderful people. Immaculate park.
Mar 07, 2021
Ran very efficient, clean facilities. Staff was extremely friendly and helpful.
Mar 05, 2021
Excellent park. Very clean. Love all of the amenities. I really enjoyed the commercial laundry room. Spaces are very big and I love the helpful staff.
Mar 05, 2021
Our stay was short and sweet. The staff was very friendly and professional. The park was beautiful.
Mar 05, 2021
Clean and beautiful grounds and friendly people.
Mar 04, 2021
Very nice property. Very nice and clean and quiet. It has been our favorite park so far this year.
Mar 04, 2021
The staff were so amazingly friendly! We stayed in the Ocatillo Cabin and the queen bed was amazing! Slept well. Good water pressure for a nice hot shower. There were a couple glitches with the refrigerator, smell of septic all night and the adjustment of temperature.
Mar 03, 2021
Friendly staff, clean facilities, good dog Park
Mar 02, 2021
Great place to stay
Mar 02, 2021
Very Clean, easy to get to if you are in the area. WiFi was very weak, all other services were very good. I'll stay there again, just bring a signal extender.
May 12, 2021
Nicest KOA we've stayed at for a while. Beautiful area, quiet, and wonderful addition with the covered porches on some sights. We actually tried to stay longer but they were full. We will be back'
- Debra Heinrichs on Google
May 10, 2021
Very Convenient to the Caves
- János Szablya on Google
May 09, 2021
Great place very clean
- Jim Stiles on Google