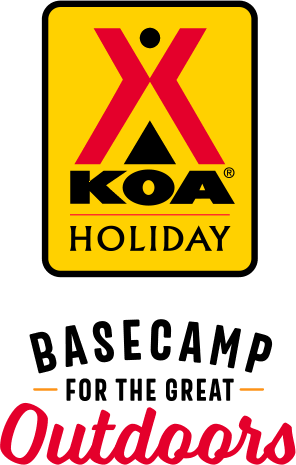 KOA Holiday Campgrounds
Whether you're exploring the local area or hanging out at the campground, KOA Holidays are an ideal place to relax and play. There's plenty to do, with amenities and services to make your stay memorable. Plus, you'll enjoy the outdoor experience with upgraded RV Sites with KOA Patio® and Deluxe Cabins with full baths for camping in comfort. Bring your family, bring your friends, or bring the whole group – there's plenty of ways to stay and explore.
KOA Holidays Feature:
RV Sites with a KOA Patio®
Deluxe Cabins with full baths
Premium Tent Sites
Group meeting facilities
Directions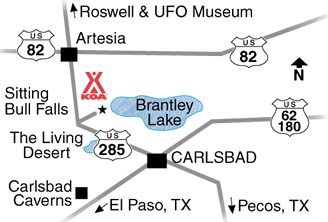 Located 13 miles north of Carlsbad, between mile markers 51 and 52 on US Hwy 285 N.
GPS: N 32 degrees 35.198', W 104 degrees 24.987'
GPS: N32.586465, W104.416234
Get Google Directions
Jun 02, 2021
Campground was fine and location good for us. Traveling in a small 21' Roadtrek motor home. On May 31st the camp emptied out. I asked about moving nearer the bathrooms. My wife has serious back problems. Was told no sites were available. Checked and there was an empty site in front of, behind and next to the BR that night. The gal in the office just didn't want to bother changing our site.
Jun 02, 2021
Good place to rest and share with the family, it is clean, pleasant and has all the services to rest.
Jun 01, 2021
Nice park! We had some water issues related to the storm Friday night, and hail damage to our truck, not the park's fault. Had a good time.
Jun 01, 2021
Friendly staff; quiet campground and clean and tidy
Jun 01, 2021
Friendly staff, clean campground, amenities were great. Would stay here again if given the option.
Jun 01, 2021
Great grounds and facilities. Grandchildren loved the pool
Jun 01, 2021
Loved the great showers and the grounds were nice. Kids had fun with the giant chessboard and checkers board and were excited for the pool. Wished the tetherball was still there.
Jun 01, 2021
Really clean facility and comfortable.
May 31, 2021
Excellent stay! The KOA is a little in the middle of nowhere but it's a beautiful setting. Everyone was super friendly. When we checked in they told us there had been a hail storm the night before and since there was a possibility of another storm that night they offered that we could stay in the Rec room since we had a tent if we needed to. They checked on everyone several times during the nigh
May 31, 2021
We were not told the men's restroom closest to our campsite was under renovation, in turn having to walk halfway across the site in the middle of the night to use a packed unisex bathroom was a real inconvenience
May 31, 2021
Very clean campground. Staff is extremely friendly and helpful. Even the less expensive spots are roomy and well maintained. The only issue was an odor during the night. I suspect it was from the neighboring orchard spraying the trees, but it was overpowering enough to wake us up each night. Not something the campground had control of, but it still exists.
May 31, 2021
One of the best KOA campgrounds. The staff was very helpful and friendly. The grounds were well kept.
May 30, 2021
Very nice park and very friendly staff
May 30, 2021
Excellent campgrounds. The staff were friendly, the grounds were clean and mowed. The bathrooms were clean and well supplied.
May 29, 2021
The ladies checking us in were the friendliest I have encountered in any of the RV parks that we stayed at on this trip. The park was clean and very nice.
May 29, 2021
Lovely place
May 29, 2021
Nice large pull thru spaces and good host/staff, although more business mannered than personal. It need of grass mowing, weed pulling, and tree trimming. Sites should be better cleaned between guests, however, overall a nice park
May 29, 2021
It was OK, except the internet service, even standing by your routers there was no way to connect. And I think that $8 for a bag of ice is a bit absurd, you should consider at least applying some rewards discount for the ice.
May 28, 2021
It was lovely. Nice long sites and easy to level. We would definitely stay there again.
May 28, 2021
Great facilities and wonderful staff also excellent bbq meals
May 28, 2021
We had a great time. My only complaint was that there wasn't enough trees or shade. Our spot was great and they put us near the cabin where our son and his family were staying. The pool was very nice too.
May 27, 2021
Comfortable site premium pull through. Great desert views. Excellent staff. Water has a somewhat sulfuric smell, not palatable but okay for showers. Men's bathroom under renovation. Lots to take advantage of in the vicinity.
May 27, 2021
Campsites were nice, weather kept our RV club from getting together, management said we could use the clubhouse for charge of $150, so we left after several days not too happy....
May 26, 2021
Site was nice. Driving through KOA to rv space I was flagged down by a man in a golf cart yelling at me to keep my speed under control when my max speed approaching row F was 11 mph. Thats fine I apologized and he snarled at me and drove off. Then on Saturday driving while very aware of my speed of 9 mph down row F another man in a golf cart began waving his arms at me and signaling to slow down.
May 26, 2021
Staff was so rude. Old guy rode around on cart - why could he not pick up the trash? Most other KOA's are so friendly. Not enough rock at sites and grass areas are mud when it rains. Our patio bench gave us splinters.
May 25, 2021
We loved the staff, enjoyed the cabin, fire pit, had 2 other families that were part of our trip and we were all pretty close. Thank you!
May 25, 2021
Beautiful and peaceful once you get through the main gate.
May 25, 2021
Everyone was very curious. The campground was very clean.
May 25, 2021
Clean campground. Friendly workers. However, we specifically chose this campground for internet service. Unfortunately, we didn't have internet service at the campsite when we were there.
May 25, 2021
Very clean and quiet park.
May 24, 2021
Big level sites. Nice people. Well maintained. Big dog runs. Rural. 15 miles from town. Almost 1 hour to the caverns.
May 24, 2021
Nice and clean campground. Can get a bit noisy, from the constant cars, golf carts, and trucks driving around. Very busy.
May 24, 2021
We could never logon to the Wi-Fi during our two night stay.
May 24, 2021
Clean and spacious with great views of spectacular sunsets. We enjoyed our stay!
May 24, 2021
It was our first time & it was a shame that we didn't stay longer to really enjoy it . But we really liked it & didn't have any complaints . Would go back for a longer stay .
May 24, 2021
We really enjoyed the family time there!! Two areas of concern were WIFI only worked on patio and in game room!! Also men's bathroom was closed and under construction. Only place for men to use was 3 unisex bathrooms far end of the park.
May 24, 2021
The amenities were plentiful and the property is very clean. I really liked the walkway through the center of the campground. Stops a lot of cut throughs. And not to forget the people...they were very friendly and attentive!
May 23, 2021
Nice campground, all the amenities, cable tv, right off the road. Can be difficult to find at night because it's so dark in the dessert. There is WIFI but only in the cafe. The town won't upgrade them, eventhough the high speed line line passes just 100 yards from them. No Amazon, Netflix or anything requiring wifi in your rig. Go prepared. Download prior to arrival!
May 23, 2021
Was a little far from cavern but very clean
May 23, 2021
Little to no complaints here— the mens bathroom being closed was a minor inconvenience but not enough of one for me to not return to this KOA. However, there was one male staff member that made one of the females in our party quite uncomfortable on multiple occasions. I didn't get his name, but his comments, coupled with his drinking and driving, made us wary of his presence.
Jul 18, 2021
Nature shows you incredible moments. enjoy them this is a good place
- Maria Diaz on Google
Jul 18, 2021
Very friendly. Nice & clean.. great game area for kids, pool, s'more nights, dog park that is completely enclosed & a playground. We had a nice guy that even drove us on golf cart to our spot 😃
- Veronica Beals on Google
Jul 14, 2021
Super clean! Great staff
- Rick Turner on Google