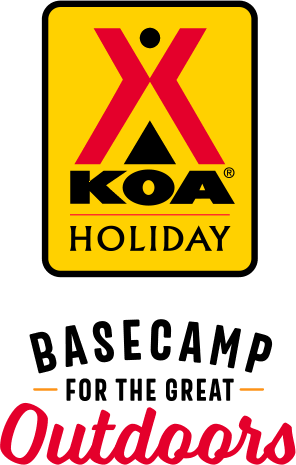 KOA Holiday Campgrounds
Whether you're exploring the local area or hanging out at the campground, KOA Holidays are an ideal place to relax and play. There's plenty to do, with amenities and services to make your stay memorable. Plus, you'll enjoy the outdoor experience with upgraded RV Sites with KOA Patio® and Deluxe Cabins with full baths for camping in comfort. Bring your family, bring your friends, or bring the whole group – there's plenty of ways to stay and explore.
KOA Holidays Feature:
RV Sites with a KOA Patio®
Deluxe Cabins with full baths
Premium Tent Sites
Group meeting facilities
Directions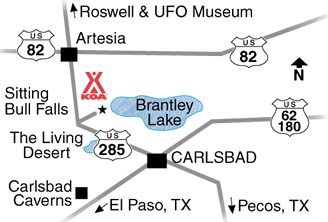 Located 13 miles north of Carlsbad, between mile markers 51 and 52 on US Hwy 285 N.
GPS: N 32 degrees 35.198', W 104 degrees 24.987'
GPS: N32.586465, W104.416234
Get Google Directions
Aug 24, 2020
The park was very nice and quiet, and the staff was friendly and helpful. It was easy to navigate through the park with our 40 foot motorhome and Toad. The only "negative" was that we couldn't use the pool - due to COVID concerns - and it looked VERY inviting!
Aug 24, 2020
Staff was very friendly and helpful. We actually had a small water leak that they discovered...they shut off the water connection and notified us by phone. Situation taken care if with no major damage. Thanks y'all.
Aug 23, 2020
Tent camped in the covered area. It was great to have power and water on our site with shade. I was able to set my hammock up between the pillars. Showers (hot)/ bathrooms and laundry facilities were clean. Liked the little store, they do sell ice if you need any. Had a great stay!!
Aug 19, 2020
the grounds were dry and dusty.
Aug 19, 2020
So wonderful!! Bathrooms were amazingly clean and the staff so very kind!!!!!!
Aug 19, 2020
The park is great! It's a ways from town, but that's ok. They offer meals from 2:00 til 5:00, so I didn't cook dinners. Only complaint I have is the pool was closed.
Aug 16, 2020
Really nice KOA park. Park store was well stocked and offered a lot. Park staff were great. Restrooms were large, updated and clean. The only issue we had was that at certain times there was a strong sulfur (rotten egg) like smell that would permeate the park. I assume the smell was coming from oil or other industrial business in the area.
Aug 15, 2020
Everyone was very nice and helpful.
Aug 13, 2020
Nicely spaced sites. Plenty of room. Great restrooms. Would be even better without Covid.
Aug 10, 2020
Nice place but if you're planning to visit Carlsbad Cavern, this park is almost 50 miles away from it. While Covid19 rules apply the national park is limiting tickets sales to first come, first served and usually sells out by 9 am for the tickets entering after 1 PM. The day we went people were lining up at 6 am to get the morning tickets.
Aug 10, 2020
Very nice park with decent spacing between sites. Good amenities, even hot food can be ordered. No wooded privacy, but it is the desert. I would stay again if in the area.
Aug 10, 2020
Nice ,clean and well maintained!!
Aug 10, 2020
Clean bathrooms/showers, good sites with grass and trees, friendly help.
Aug 06, 2020
Too far away from Carlsbad.
Aug 06, 2020
Very clean, nice staff exactly why I look for KOA's along my way. Not much to do there because of COVID but nothing the KOA or staff can do about that. Would stop again on my next trip to NM.
Aug 06, 2020
Good and clean. Staff was quite helpful.
Aug 05, 2020
Tidy, charming and friendly with great bathrooms. We have rented here a couple times and like the big grassy sites.
Aug 05, 2020
Unfortunately the pool was not open, but other than that it was a good stay!
Aug 05, 2020
The cabin we stayed was good, the bunk bed is only good for the kids not adult
Aug 03, 2020
The tent "grass" area had no grass at all. Pictures online show to be grassy but that's not the case. We were unhappy with the upkeep of that particular area.
Aug 01, 2020
Overall, it was a great stay! The only thing that could be improved was the cleanliness of the cabin. There were a lot of spiders and spider webs as well as dirt on the floor. The air conditioner was also a little musty smelling, but it was better than nothing. The showers and bathrooms were great and the views were spectacular.
Jul 29, 2020
Easy access, enjoyed the layout, nice wide-open spaces and wonderful clean bathrooms.
Jul 22, 2020
Everyone was very friendly and helpful. We had a great spot. Just wish there were more shade trees to help block the heat of the summer and unfortunately the pool was closed due to COVID-19, and it would have been more pleasant if we could have used the pool. Otherwise, it would be a great place to stay, just not during the summer of a pandemic year.
Jul 22, 2020
Good stay! The only problem we had was sulferey water.
Jul 20, 2020
As others have noted, you can't even see Carlsbad from here and no one in town delivers this far. It's about 20 miles out of town on the opposite side from the Caverns, making it about an hour trip one way. The campground itself is decent enough given its climate, although the dog run is in disrepair, with a gate that doesn't close enough to stop a medium size dog from running through at speed.
Jul 18, 2020
Our stay was good. The grounds were well kept and the gift shop was nice. We ordered dinner from you and I'm sad to say but it was horrible. The brisket was tough tough tough. The french fries were soggy and the toast was anything but toasty. I paid almost $60.00 for a dinner that was not worth near that. Live and learn. I won't do that again!!
Jul 17, 2020
COVID precautions in NM had facilities closed to use. Nice desert views and grounds kept clean. We've stayed here before and will return.
Jul 17, 2020
We arrived during tough Covid times! I would give the staff a 5 they were kind and helpful. They delivered food right to our door. The camping spots were super dry and did not look like the pictures. I realize it's summer and super hot but there was no greenery or shade. It is quite a drive from the Carlsbad caverns but they gave us great info to get tix.If the pool and games were open super fun
Jul 16, 2020
Nice KOA with all the space and quietness you need.
Jul 15, 2020
Most everything was closed due to Covid 19 but no wi-fi was disappointing...
Jul 14, 2020
We didn't get to experience the full amenities because we were there during a time when things were still closed because of the pandemic. But, everyone was very friendly and it seems like there would be lots of fun activities and gatherings during "normal" operations.
Jul 14, 2020
This KOA was very nice and well kept. I do wish they would place the dumpsters through out the park instead of up at the entrance. We visited during the Covid pandemic. The restrooms, showers and pool were closed. All of which were advertised as amenities. These amenities are included in the price of your site. If they are not available then maybe KOA should give a discount.
Jul 13, 2020
They were very nice to allow us to reschedule when our camper broke . The site was very clean and organized and very peaceful . We arrived very late but the instructions were waiting ! It was lovely
Jan 19, 2021
Clean campground. Not very close to the Carlsbad caverns but it was close enough. The staff were accommodating and welcoming. We only stayed a night but it was a nice quiet campground to relax for the evening.
- Katie Hackett on Google
Jan 10, 2021
We loved our stay here, we had a patio spot with swing & fire pit. It was clean, level & spacious. They have several amenities here with different ways to enjoy them; cabins, tent & RV spaces. The staff is friendly & will even bring fresh smoked BBQ to your RV upon order. This a great place to stay!
- Dee 113 on Google
Dec 27, 2020
Nice gravel/level pull thru spots. Laundry facilities are spotless and have new commercial machines.
- Melody Fesperman on Google