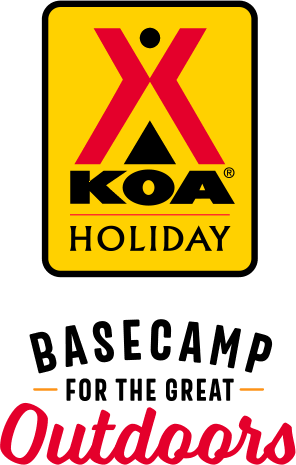 KOA Holiday Campgrounds
Whether you're exploring the local area or hanging out at the campground, KOA Holidays are an ideal place to relax and play. There's plenty to do, with amenities and services to make your stay memorable. Plus, you'll enjoy the outdoor experience with upgraded RV Sites with KOA Patio® and Deluxe Cabins with full baths for camping in comfort. Bring your family, bring your friends, or bring the whole group – there's plenty of ways to stay and explore.
KOA Holidays Feature:
RV Sites with a KOA Patio®
Deluxe Cabins with full baths
Premium Tent Sites
Group meeting facilities
Directions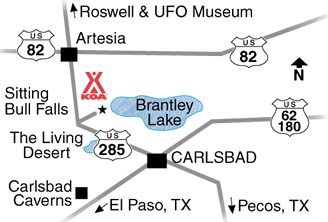 Located 13 miles north of Carlsbad, between mile markers 51 and 52 on US Hwy 285 N.
GPS: N 32 degrees 35.198', W 104 degrees 24.987'
GPS: N32.586465, W104.416234
Get Google Directions
Sep 27, 2020
Front desk elderly lady & escort gentleman was very nice the night we came in. Asked if they would give us a discount on 3rd night for a small cabin w/bath, this lady was younger & was rude. "NO--- we need all the money we can get due to covid."....what ever, something is better that nothing. Restrooms & cabin were filthy. Get a power washer out instead of sitting under a tree looking at phone.
Sep 27, 2020
Very nice place. Very clean and very friendly personnel.
Sep 24, 2020
Very satisfied
Sep 23, 2020
Wonderful. Friendly. Superbly maintained. Level sites. Quite. Clean.
Sep 23, 2020
This is a nice park with nicely spaced and level spots, and a great spot for seeing the area. However, the Kamp K-9 was a disappointment. It is very much in need of repairs - both our dogs managed to slip out of the closed gate due to a large gap and the fence was almost down in places. Needed mowing as well. Park was quiet and otherwise well maintained.
Sep 23, 2020
Clean campground, friendly staff... amazing bbq made on sight and delivered to your sight.
Sep 22, 2020
We came in after hours and everything was ready for us and available. Really nice spacious spots.
Sep 21, 2020
We had a key mix up for our cabin, but it was resolved and the staff were friendly and courteous
Sep 21, 2020
The staff seemed a little burnt out and stressed, not the friendly staff I encounter at most KOAs. Maybe it is the added stress of dealing with the virus this year. If KOA has not acknowledged the staff nationwide please do so. Even an acknowledgement without any extra money might help them get through this year. NO ONE was rude. I will be back there again.
Sep 21, 2020
Other than being 19 miles from Carlsbad & 45 miles from Carlsbad Caverns, the KOA itself was very well taken care of; large lots (whether pull thru or back in), hookups were well maintained, clean bathrooms, & friendly staff. We were there mid-September and the weather was very comfortable, no bugs, & no wind.
Sep 21, 2020
I would have given it a 10, but the internet is bad.
Sep 21, 2020
The crew was very friendly and helpful. They made dinner for me!
Sep 20, 2020
Great campsite and great people.
Sep 20, 2020
The showers needed a good cleaning, walls needed a good scrubbing, shower floor was dirty. A lot of workers just resting and doing nothing, grounds needed watering and maintenance.
Sep 19, 2020
Enjoyed the stay. it is located in a general area and a great place to set up HQ for trips to the "sites". Staff was great. WE hit a time whent eh prickly pears were ripe and will be making jelly.
Sep 19, 2020
Great site cover swing table bbq and fire pit, the park is very nice people great attitude and friendly
Sep 18, 2020
Nicely maintained park. Friendly staff. Quiet park.
Sep 18, 2020
Spent 5 days in this lovely campground and enjoyed every minute. It is clean, well run, with a friendly staff. The smoked meat dinners delivered to your site is a bonus.
Sep 18, 2020
Very nice KOA. Staff were very helpful and check in was very safe. We did not use any of the facilities but overall spaces were great. Level and all utilities in good condition. Definitely be returning.
Sep 15, 2020
we met a really nice landscaper named Doc who chatted with us and gave us helpful suggestions :) the camp was really nice and we loved the facilities would definitely recommend!
Sep 11, 2020
Great amenities extremely well taken care of grounds and friendly employees.
Sep 10, 2020
We attempted to reserve a camping spot while travelling towards Carlsbad but they hung up on us. I then tried using my phone (not my wife's) and went to voicemail, left them a message (this was around 4PM) they never called us back. When we got there about 5:45pm a staff member pulled a registration form that had to be completed and dropped off in a mailbox because they were closing. Rating TBD.
Sep 09, 2020
I was a little miffed at getting there at 8:30pm and being out next to the only other person camping. There were 20+ open spots and we were in these guys' laps. We figured we would stay, but then all of the roaches changed our mind. Hundreds of roaches all over camp 7. We moved two spots over and waited for roaches to cover our tent again but they did not.
Sep 08, 2020
Quiet and well maintained. We did not like having a spot on the end of a row because the street light was very bright - too bright inside the trailer even with the blinds closed. The dog run is excellent and we had plenty of room to ride bikes.
Sep 08, 2020
Very clean, well kept, a lot of amenities available! Easy check-in & check out!
Sep 08, 2020
I didn't stay , check in and then checked out . It's way too far from Carlsbad the price is not worth what you get and there's no refund for cancelation .
Sep 07, 2020
Clean well organized and friendly!
Sep 06, 2020
Very clean. Nice employee at front desk. I was happy she wore a mask. She let us know that we needed to leave early to get a ticket for the Caverns. I really appreciated the tip, as we were in the first group to go in.
Sep 05, 2020
Campgrounds are clean and hosts were nice. Missed out on the BBQ because we got in late. Took a bike ride over to the lake nearby and it smelled like the campground sewage was being dumped over there. You can't smell it in the campground but you can see the birds circling where it is.
Sep 03, 2020
Really appreciate the late check-in option. Great facilities and well-kept
Sep 02, 2020
It's a beautiful campground with a lot of amenities. The town of Carlsbad is nearby and further south one will find Carlsbad Caverns National Park. We've been to this KOA before and our fond memories have brought us back a second time!
Aug 31, 2020
Truly the nicest key away I have stayed at in years. The sites and the property were so well-kept up. The only drawback was a terrible sulfur smell the entire time. Seem to be coming from the north.
Aug 31, 2020
Only because of COVID 19 everything was closed but park was clean and quiet we had a great time
Aug 31, 2020
Nice park, good, wide slots for RVs of every kind.
Aug 30, 2020
It was very nice location but far from Carlsbad cavern that we came to see. The site was clean but due to covid many amenities not available. Price was extremely high with limited amenities. Distance to Carlsbad cavern should be on website.
Aug 26, 2020
They are not doing the BBQ at this KOA any longer. The owner has the sign right up front, but doesn't have anyone doing BBQ meals. they also do not have the pool open. Their comment is the pool is just mocking them and they cant get it right. The pool has not been serviced in quite a while, but if you call them, they tell you they do have a pool and they do have BBQ. So, false advertising.
Aug 26, 2020
Nice Kampground with spacious sites. 45 miles each way to Carlsbad Cavern.
Aug 25, 2020
Few trees, barren, all amenities were closed (stop voting for demcrap leadership, New Mexico!). Nice lady checked me in but either your prices are exceedingly high, or she didn't find my KOA membership! All in all, I'll continue to either Bernallilo KOA or Ft. Stockton RV (depending on the direction I'm traveling).
Jan 19, 2021
Clean campground. Not very close to the Carlsbad caverns but it was close enough. The staff were accommodating and welcoming. We only stayed a night but it was a nice quiet campground to relax for the evening.
- Katie Hackett on Google
Jan 10, 2021
We loved our stay here, we had a patio spot with swing & fire pit. It was clean, level & spacious. They have several amenities here with different ways to enjoy them; cabins, tent & RV spaces. The staff is friendly & will even bring fresh smoked BBQ to your RV upon order. This a great place to stay!
- Dee 113 on Google
Dec 27, 2020
Nice gravel/level pull thru spots. Laundry facilities are spotless and have new commercial machines.
- Melody Fesperman on Google