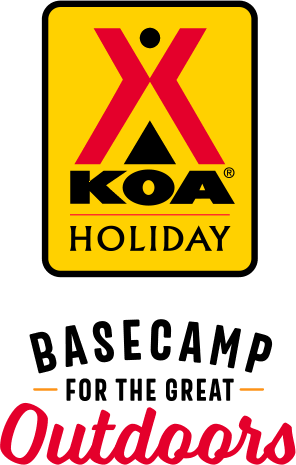 KOA Holiday Campgrounds
Whether you're exploring the local area or hanging out at the campground, KOA Holidays are an ideal place to relax and play. There's plenty to do, with amenities and services to make your stay memorable. Plus, you'll enjoy the outdoor experience with upgraded RV Sites with KOA Patio® and Deluxe Cabins with full baths for camping in comfort. Bring your family, bring your friends, or bring the whole group – there's plenty of ways to stay and explore.
KOA Holidays Feature:
RV Sites with a KOA Patio®
Deluxe Cabins with full baths
Premium Tent Sites
Group meeting facilities
Directions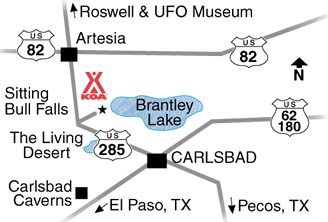 Located 13 miles north of Carlsbad, between mile markers 51 and 52 on US Hwy 285 N.
GPS: N 32 degrees 35.198', W 104 degrees 24.987'
GPS: N32.586465, W104.416234
Get Google Directions
Jun 12, 2021
Nice clean park. Big rec room. The kids really enjoyed the pizza delivered to our site!
Jun 12, 2021
Men's bathroom was being remodeled so the alternate restroom was very pppular.
Jun 12, 2021
Sites are level and the pool and playground were convenient. The were y have an upgraded playground u and comp a red to most other campgrounds.
Jun 11, 2021
Great location for the attractions in the area. Very clean park and the pool was great for the kids.
Jun 11, 2021
Pool was very nice on such a hot day. Enjoyed full hookups and our site was roomy.
Jun 11, 2021
The KOA is fine, it is about an hour from the caverns. And an hour from Roswell. But it was so hot 108° that we could not enjoy ourselves. Obviously this is no fault of the KOA
Jun 11, 2021
Very nice and clean. Sites are spread out and hosts are super friendly and helpful!
Jun 11, 2021
Good spot, restrooms and showers are clean, as are the grounds. Staff was very nice. We will stay there next trip to the area.
Jun 11, 2021
One word....Awesome!
Jun 11, 2021
When our tent failed, the staff was gladly able to accommodate our need for a cabin!
Jun 10, 2021
This is a super nice park if you need a place to stay, whether its over night or for a few days. Staff is friendly and helpful, sites are nice and big and easy to get into. They also do their own BBQ and deliver to your site on certain days. Awesome park and we will likely be back to this one :)
Jun 09, 2021
The park was too remote for our purposes, and the restroom facilities were very poor. Three unisex toilet/shower combinations is not adequate for a facility this large. It is not acceptable to have to wait for someone to take a shower in order to get access to a toilet.
Jun 09, 2021
Very organized, clean, and polite staff.
Jun 08, 2021
Wow, this is a great KOA! The BBQ restaurant with live music was a bonus. We didn't use the pool, but it seemed kind of plain and dinky when we walked by - seemed more like what you expect at a regular KOA than a "Resort" property. Overall, though, we'd look forward to returning.
Jun 07, 2021
Everyone who helped us at check in & during our stay were wonderful! Everyone was friendly, helpful & nice. Level pull through RV sites with reliable hook ups. Bathrooms/showers were clean & well maintained. Great place to stay for a few days to sight see!
Jun 07, 2021
Most of the staff was very nice, however there was one young man that was a jerk. Rude, unfriendly and obnoxious. The bathroom was cleaned regularly. Nice pool, but cold nice showers. Our spot had no grass and barely a tree. They kept bothering about a visitors pass when I paid for everyone there.
Jun 06, 2021
Maybe best KOA we've stayed at in a long time. Big sites, easy in easy out. Staff great. Even all the washers and dryers worked. Hail storm did a number on our truck and trailer but can't blame them for that. Will definitely stay there again if I'm that way.
Jun 06, 2021
We were met by a wonderful staff member who helped us get all set up. The spaces are huge! The location is in the middle of the trip to Carlsbad Caverns and Roswell New Mexico. We had wanted to see both to that's why we picked this location! It was perfect. The dog play yards, yes 2 of them, are filled with places to explore for the dogs and the people are wonderful.
Jun 05, 2021
Nice amenities, quiet atmosphere, would highly recommend! We especially loved the dog park! All the extra activities like chess and checkers and the pool really made our stay spectacular!
Jun 05, 2021
Very friendly staff. Clean, level sites. Disappointed that the dinner is currently not available nightly because of staff shortages but this is not the fault of the owners but of the current unemployment benefit situation.
Jun 05, 2021
Good. Only problem was too much smoking by neighbors and our stuff is putrid smelling with smoke.
Jun 05, 2021
Great location, clean grounds, friendly staff, etc. The tent village was nice to have electric and water, plus the dry storage was handy. We will stay here again on our next trip.
Jun 05, 2021
Wonderful and everyone was so nice. It's nice they keep the Game Room open for renters at night in case of storm.
Jun 04, 2021
Loved the park's layout & it was professionally maintained. Entire staff was super friendly. Midway point between Carlsbad Caverns and Roswell NM.
Jun 04, 2021
Very friendly, respectful, clean place,
Jun 04, 2021
Excellent service, nice cabin, spacious area. Will come back again. Unfortunately, the pool closed a little bit early. See you later!
Jun 04, 2021
I arrived late and was tired. Once I got to sleep, smoke detector kept going off. I finally had to disconnect and put it outside. In the morning when I had to use restroom, the one at front office was closed to retile. After walking to the other restroom, the toilet didn't flush and the paper towel dispenser was broken. Very disappointing, this may be one of my last KOA stays.
Jun 04, 2021
Coyotes-all night, feral cats, main restroom closed
Jun 03, 2021
What can I say men's room out of service. Pool closed. Trash bins were way far away for near front gate. We were on a gravel site and when we returned there was a man string trimming our campsite with the chance of a rock chip. I asked him to stop and man did but ten minutes later a knock on the door telling us to move our tow vehicle but i was told the day prior to park it there... retaliation
Jun 03, 2021
Staff was nice and friendly. Our picnic table was super dirty when we arrived, as was our fireplace.
Jun 03, 2021
Fantastic people running and maintaining the facility. My kids and I loved Staying there.
Jun 02, 2021
Great park! Friendly, clean and felt very safe! Loved it!!
Jun 02, 2021
Loved the spacious lots...very clean, well kept, friendly.
Jun 02, 2021
Close to Carlsbad, Artesia and Roswell! Quiet little park was just right. Will stop in again.
Jun 02, 2021
We had a nice time there, the pool was a little murky and the men's room was closed by the office but other than that we enjoyed it.
Jun 02, 2021
Nice camp ground. A little farther than I thought from carlsbad caverns. But was a nice campground. Well kept.
Jun 02, 2021
Loved the place very much. Kid friendly pet friendly, and the best part was the Hail cannon show! Sure glad that worked out for us on Sunday evening.
Jun 02, 2021
Grounds are nicely maintained. They have a family friendly environment. Late check-in process was perfect.
Jun 02, 2021
Large lots, beautiful laundry, very well take care of park.
Jul 18, 2021
Nature shows you incredible moments. enjoy them this is a good place
- Maria Diaz on Google
Jul 18, 2021
Very friendly. Nice & clean.. great game area for kids, pool, s'more nights, dog park that is completely enclosed & a playground. We had a nice guy that even drove us on golf cart to our spot 😃
- Veronica Beals on Google
Jul 14, 2021
Super clean! Great staff
- Rick Turner on Google