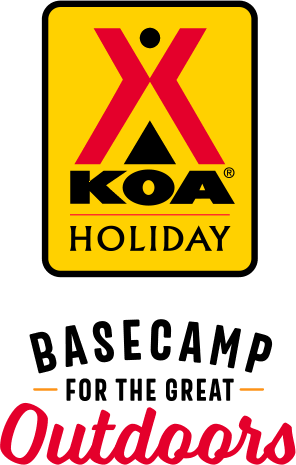 KOA Holiday Campgrounds
Whether you're exploring the local area or hanging out at the campground, KOA Holidays are an ideal place to relax and play. There's plenty to do, with amenities and services to make your stay memorable. Plus, you'll enjoy the outdoor experience with upgraded RV Sites with KOA Patio® and Deluxe Cabins with full baths for camping in comfort. Bring your family, bring your friends, or bring the whole group – there's plenty of ways to stay and explore.
KOA Holidays Feature:
RV Sites with a KOA Patio®
Deluxe Cabins with full baths
Premium Tent Sites
Group meeting facilities
Directions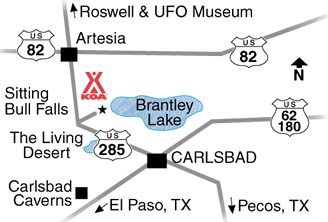 Located 13 miles north of Carlsbad, between mile markers 51 and 52 on US Hwy 285 N.
GPS: N 32 degrees 35.198', W 104 degrees 24.987'
GPS: N32.586465, W104.416234
Get Google Directions
Jun 25, 2021
Everything was good except for the flies in the bathroom as they were all over the toilet seat.
Jun 25, 2021
WiFi was very spotty.
Jun 25, 2021
Carlsbad KOA uses false advertising and their integrity is questionable. I would not recommend anyone to believe in any of the amenities they say they have. I try to stay mostly at KOA because I assume they make sure that the campgrounds are truthful in the amenities they advertise, but obviously this is not true. They say they have WiFi, but it does not work at the sites and barely at the office.
Jun 24, 2021
Pretty standard, pool was good, but the WiFi was terrible! The kind where you can connect, but not enough signal to do anything with, everyone we talked with at the pool had the same problem. Don't advertise internet connection if you don't have it.
Jun 23, 2021
The people working at Carlsbad were very friendly and helpful. The location though was not at all handicap friendly. There was no paved access to restrooms and showers from any of the units. The staff was able to move us closer to the restrooms/showers located in middle of the camp but the site had four stairs and no ramp available. Would have appreciated fly traps in public restrooms.
Jun 23, 2021
Nice RV Park, quiet, well maintained, clean and very helpful staff. A little further away from the attractions than I had expected, but that certainly didn't have a negative impact on our stay, especially since it was considerably nicer than other parks nearer the attractions. We will be back if we are in the area again. Thank you!
Jun 22, 2021
Afternoon hosts are very friendly and helpful.
Jun 22, 2021
Very nice clean campground. Very quiet . Nice K9 for dogs. Goood location.
Jun 21, 2021
This KOA stay was not a good one. We did not have a refrigerator in our cabin, but thankfully air conditioning with the 100 degree heat. The men's shower room was under renovation, so we had to use the unisex showers that were much further away from our cabin. Flies were a constant wherever we were at the campsite. The heat and dust brought back my allergies, itchy eyes and sneezing constantly.
Jun 21, 2021
LOVED the campsite! Beautifully kept up, store stocked well. Kinda wish the pool would stay open a bit later than 7:30-8:00pm. Especially in the summer. We were there for a few days the end of June and after site seeing all day in the heat, our children wanted to cool down in the pool but we only got about 20 min or so. Other than that, we will absolutely be back. Loved it!
Jun 21, 2021
The Carlsbad KOA was nice and clean. The staff was friendly. We were escorted to our site. ( a feature that a few KOAs have). The campground is a little far from town, which is inconvenient. Overall our stay was good.
Jun 20, 2021
Beautiful facilities and very accommodating staff.
Jun 20, 2021
My one major reservation with the Carlsbad KOA are the 3 individual combination bath shower units. The problem is that the floors are not properly constructed to drain towards the single central drain. As a result, there are standing puddles of water everywhere making the built in seats designed for changing socks and shoes unusable. There are few dry places on the floors to put things.
Jun 20, 2021
The campground itself is well maintained with nice grassed areas and huge recreation room. But then there's the tent area. Not the community area, the basic tent area. It needs a lot of love and seems to be forgotten compared to the other areas. Even so, we had large trees which gave nice shade. We also had 2 snakes which the staff promptly removed even though they weren't poisonous ���
Jun 20, 2021
It was a nice stay but far from the attractions. The office closed at 6pm and so did the pool and wash room so after you get back from your attractions you cannot swim nor wash nor play putt putt. The employees were very nice and the sites were also nice.
Jun 19, 2021
We stayed here for 3 nights and had a great time. We were given great information on the nearby activities. Everything was very clean, people were friendly and our dog loved playing in Kamp K9. Would definitely recommend to others.
Jun 19, 2021
Have stayed in this KOA many times. Staff is helpful and polite. Enforcement of campground rules needs improvement.
Jun 19, 2021
It was very good
Jun 19, 2021
We were only passing through and wanted full hook ups. The place is spacious.
Jun 19, 2021
Advertising said there would be bbq you could buy, we delayed our meal and when we got there they said it wouldn't start till the next day. Flies in the shower rooms were extreme with no sign of attempting to control them. .
Jun 18, 2021
Spacious campsites, clean laundry, many amenities for kids, helpful, courteous staff.
Jun 18, 2021
Everything about this KOA was amazing. The only thing was this weird muddy pile in the middle of our campsite. By the time we left, everyone in our group had accidentally stepped in it at least once. Plus it (or something nearby) really stunk the second night (Tuesday night). Other than that- a great visit. The A/Ced Rec room was such a nice break and the employees were friendly.
Jun 18, 2021
We have been staying at KOAs on our RV road trip. This KOA was just ok. Staff was friendly, checkin fast & easy. Sites have easy hookup & good water pressure, wifi however was extremely weak. The main concern is the whole place is gravel which is annoying as you bring gravel into your RV. Investment in asphalt or concrete (at least for sites) would make this KOA much better.
Jun 18, 2021
Big spaces, nice pool, games, top notch laundry room. Internet wouldn't work at our spot, maybe we were to far from the office. I would stay here again if in the area
Jun 18, 2021
Arrived kinda late so it was nice and quiet. Nice campground and friendly staff.
Jun 17, 2021
Great place to stay and enjoy Carlsbad caverns and Guadeloupe mountain national parks
Jun 17, 2021
We visit the grandkids and stay here on the way both ways. Easy in and out, clean, nice pool.
Jun 17, 2021
Pretty good campground, one issue was the main men's bathroom was closed during our trip (they were renovating it), so all the dudes had to use the other restrooms and there are only 3 stalls of those, luckily most folks who use this KOA come in RVs so they could use their own toilets. Overall a good spot to tent camp overnight, very hot but to be expected, close to Carlsbad Caverns National Park.
Jun 17, 2021
Lovely spot to rest. The sites are level and super clean. The staff is amazing.
Jun 16, 2021
So wonderful! Stayed in #67 and had shade, near the pool and bathrooms! Peoe in the office were WONDERFUL! Let us borrow sleds for the sands which was great!
Jun 16, 2021
too far from town and the caverns Staff was terrific Park was okay except one of the men's showers was being renovated
Jun 16, 2021
The staff was every friendly and helpfull
Jun 16, 2021
It was great!
Jun 15, 2021
We had a great! We weren't there but to stay the night. We stayed two nights. Very friendly staff!
Jun 15, 2021
I was disappointed in my stay. I chose to do tent camping. There was a loud humming from the main building all night as well as very bright lights. It made it difficult to sleep. For some reason the tent camping is right next to the garbage dumpters as well. Worst nights sleep of my life. I go camping frequently and will not reccomend anyone stay at a koa, especially this one.
Jun 14, 2021
Great campground! Friendly staff...incredible bbq!
Jun 14, 2021
It was fine except for the men needed a port a pottty - they had to spend in line behind showering men to restroom!
Jun 14, 2021
Been there twice and love the staff and campsite!
Jun 13, 2021
We had a good time and the park is well maintained. We enjoyed the deluxe cabin. A/C worked great. Thank goodness because it averaged 109 degrees during our stay. The only recommendation is to have patio table and chairs at all cabins.
Jun 13, 2021
Staff were very friendly. Great location near Carlsbad Caverns and other attractions. No shade and extremely hot (June)
Jun 13, 2021
Very nice campground. Friendly, helpful staff. Knowledgeable about resource in the area from entertainment to repair people. I appreciate the family atmosphere but wish there was a separate swimming area for adults only, this is true for most campgrounds
Jun 13, 2021
Nice and clean
Jun 13, 2021
Cabin was nice and bed was comfy. The Main men's bathroom was closed though and the other one wasn't as nice.
Jul 18, 2021
Nature shows you incredible moments. enjoy them this is a good place
- Maria Diaz on Google
Jul 18, 2021
Very friendly. Nice & clean.. great game area for kids, pool, s'more nights, dog park that is completely enclosed & a playground. We had a nice guy that even drove us on golf cart to our spot 😃
- Veronica Beals on Google
Jul 14, 2021
Super clean! Great staff
- Rick Turner on Google