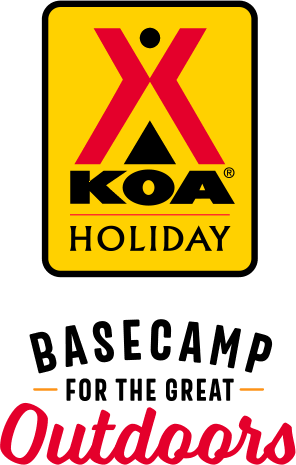 KOA Holiday Campgrounds
Whether you're exploring the local area or hanging out at the campground, KOA Holidays are an ideal place to relax and play. There's plenty to do, with amenities and services to make your stay memorable. Plus, you'll enjoy the outdoor experience with upgraded RV Sites with KOA Patio® and Deluxe Cabins with full baths for camping in comfort. Bring your family, bring your friends, or bring the whole group – there's plenty of ways to stay and explore.
KOA Holidays Feature:
RV Sites with a KOA Patio®
Deluxe Cabins with full baths
Premium Tent Sites
Group meeting facilities
Directions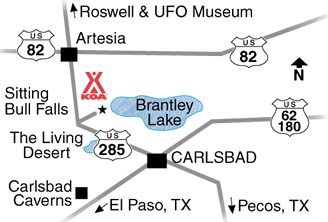 Located 13 miles north of Carlsbad, between mile markers 51 and 52 on US Hwy 285 N.
GPS: N 32 degrees 35.198', W 104 degrees 24.987'
GPS: N32.586465, W104.416234
Get Google Directions
Oct 27, 2020
We enjoyed our stay and amenities were clean. Unfortunately the tent camp site was a far walk from the restrooms and the men's restroom facilities were limited. It wasn't a big problem but mostly inconvenient. Also the site is right off of the highway so it was pretty noisy. Also, not too many trees so it feels like there was not much privacy.
Oct 26, 2020
Everything was great. Thanks !!!!!
Oct 25, 2020
The hosts are very friendly. They delivered an awesome dinner to our site. The sites are huge & big rig friendly.
Oct 25, 2020
I've been visiting and enjoying KOA with my family since I was young. The Carlsbad KOA was no exception. The staff was very friendly and accommodating. I forgot my wallet at the cabin and the lady in the shop was able to use the credit card I had on file for my reservation. She saved me a trip! I wish I had planned our meals better, their BBQ smelled amazing! We have a reason to come back again!
Oct 24, 2020
Made a lot friends in my 8 month stay.
Oct 24, 2020
Clean park. Level spots. Very friendly staff. General store well stocked with essentials. A great base to explore Carlsbad, Roswell and Sitting Bull Falls.
Oct 23, 2020
OK, but not really close to Carlsbad. Adequate, but nothing great.
Oct 22, 2020
Great location for visiting Carlsbad Caverns and Sitting Bull Falls. Nice dog park, did not use other facilities but very nice campground.
Oct 22, 2020
We like the barbecue. Plus the staff wore masks which we appreciate and the spaces are large and nice.
Oct 20, 2020
Clean and convenient showers.
Oct 19, 2020
This KOA has it together. They told the truth about LARGE pull thru. The turning radius is excellent, if an emergency vehicle had to service the campground they could. All of the tree were trimmed and no higher than any 5th wheel or large class A. There was absolutely no trees placed near a turning radius to scratch my $40,000.00 paint job nor any branches overhanging to interfere with my satelli
Oct 19, 2020
OK. Bathroom had standing water from the shower not cleaned.
Oct 19, 2020
The campground was nice and clean. It was obvious the staff are making further improvements. The office staff were courteous, helpful and interested in helping us enjoy the Carlsbad area. The big drawback was the Wi-Fi system. Cable was not available and antenna channels are (always) complicated by political ads. The lack of Wi-Fi is the reason for less than a perfect score.
Oct 19, 2020
We loved the food being delivered and the variety. Very special service. Your info page for attractions was very helpful.
Oct 19, 2020
Carlsbad KOA is misleading as it's nearly 40 miles from the Carlsbad caves. The men's bathroom was under construction and required a 400 yard walk to use the rest rooms. I've stayed at many KOA's and this was the worst one of the bunch. Especially because it leads one to believe based on it's name that its actually close to the caves. It should be named the Akota KOA as this city is closer
Oct 17, 2020
Wide pull thru level site. Friendly staff. Grounds are being improved with some additional sites getting patios.
Oct 17, 2020
Stayed 1 night. Staff very friendly. Grounds well maintained and convenient.
Oct 17, 2020
Perfect for visiting the caverns. Easy access on/off highway. Set off road so there was no highway noise.
Oct 15, 2020
Campground was very clean & nice. The staff was friendly & helpful. Would have rated it a five star, but there was a horrible sewer smell. We had to keep windows closed the whole time. Very disappointing !
Oct 14, 2020
Delightful. We had everything we needed in a clean lovely setting. Cooked smores and studied the night sky. The little rabbits and quail were the icing on the cake. This KOA is situated perfectly to get us where we wanted to go and get back in a timely manner. Our visit will be a part of our memories for years to come. We have already discussed coming back.
Oct 13, 2020
My only problem with the stay was the hole in the 2nd dog yard fence that allowed small dogs to just run right thru the fence. You should see about having that fixed - we were just walking our dogs and 2 dogs got through that hole and charged my dogs - no dogs got hurt but I can see the potential for that happening - especially when my dog is on a leash and the loose dog in the yard gets out
Oct 13, 2020
Management very helpful. Outer perimeter of the park is 1/2 mile, ideal for a morning walk. Park is clean and quiet.
Oct 12, 2020
Nice facilities! Clean and well cared for!
Oct 12, 2020
Very spacious. Friendly Staff
Oct 12, 2020
Very courteous and friendly staff. We arrived after hours and all the instructions and RV site were taken care of. Nice spacious sites with trees and grass too. Saw rabbits and quail wandering about. A very nice park to stay in!
Oct 12, 2020
A nice pleasant stay. Don't be afraid to try the food they prepare there. It is excellent and reasonably priced. Great meal, large portions and they will deliver it to you. Beats driving 15 miles into Carlsbad. The main bathrooms were undergoing a major remodel during our stay but the secondary ones were old but very clean. Would definitely stay here again if ever down in that part of NM.
Oct 12, 2020
Nice campground and very helpful staff. Depending on the wind there was an odor, possibly sewer.
Oct 11, 2020
Nice clean facility.
Oct 11, 2020
Enjoyed the stay though it was pretty far from Carlsbad Caverns. Facilities were clean and quiet
Oct 10, 2020
Having water problems and the upper bathrooms were closed. They should of cleaned the lower bathrooms more then once a day. The new KOA book tells you they are 13 miles out of Carlsbad. The old book doesn't give you that impression. People were nice.
Oct 08, 2020
This site needs a lot of help, only 3 working bathrooms for entire populace, everything worn out and needing replacement. Restrooms not super clean and even the paper towels were empty. Too far from town and even further from the Caverns! Positive points are wildlife we saw and friendly staff and patrons.
Oct 07, 2020
Nice. Would stay again.
Oct 06, 2020
Very spacious lots, but was disappointed that there were only 3 individual bathrooms for the whole site. They were constantly in use, wet floors, and were not clean. Shower curtains desperately need to be replaced. We're in a pop up camper so we unfortunately don't have our own restroom. Also was really frustrated that the laundry was for long term guests only, we weren't told before booking
Oct 06, 2020
The campground is clean and well kept. The camping spaces weren't on top of one another which we really liked. I definitely recommend this KOA
Oct 04, 2020
Everyone was friendly and helpful. Good location and quite! Very nice!!
Oct 03, 2020
The campground is a quite a ways from Carlsbad Caverns, which is why we came to the area, but after seeing the other campgrounds in the area, I would stay here over any of the others. Grumpy older woman, at the front desk, said we had to pay $10 to check in early but the rest of your staff was wonderful and very helpful.
Oct 02, 2020
It was a very nice,clean and quiet facility. Easy in and out. Friendly staff that answered our questions, and directed us to our campsite.
Oct 02, 2020
Ratings would be good were it not for the fact that the restrooms were closed for remodeling and the only available bathrooms were 3 'camping' bathrooms, which were continually and completely disgustingly dirty during our 3 night stay. They were so dirty that we opted to not shower during that time. Toilets had poop inside and out, showers had hair, sinks were visibly dirty, paper towels empty
Oct 02, 2020
One improvement you could make is to have on site garbage pick up in the morning. Really appreciated By guests
Oct 01, 2020
Staff was friendly. The bathrooms closest to the tent village were closed so we had to walk far or drive to the bathrooms. Another thing is that the tent village is infested with flies as soon as the sun comes up, it was in bearable.
Oct 01, 2020
Your employee who rides the golf cart was rude and approached husbands vehicle talking into his face without a mask on. Luckily husband has his on. Never again KOA!
Sep 30, 2020
Most everything was closed, no shade in 114 temp and 30 mph wind gust. The staff was great but the facility needed maintenance . .
Sep 28, 2020
Office hours only from 10:00 a.m. to 6:00 p.m. I needed help before 10:00 a.m and after 6:00 p.m. Washing machines broke down. Men's room broke down. Alternate memos room long distance away. Place is NOT well kept.
Jan 19, 2021
Clean campground. Not very close to the Carlsbad caverns but it was close enough. The staff were accommodating and welcoming. We only stayed a night but it was a nice quiet campground to relax for the evening.
- Katie Hackett on Google
Jan 10, 2021
We loved our stay here, we had a patio spot with swing & fire pit. It was clean, level & spacious. They have several amenities here with different ways to enjoy them; cabins, tent & RV spaces. The staff is friendly & will even bring fresh smoked BBQ to your RV upon order. This a great place to stay!
- Dee 113 on Google
Dec 27, 2020
Nice gravel/level pull thru spots. Laundry facilities are spotless and have new commercial machines.
- Melody Fesperman on Google