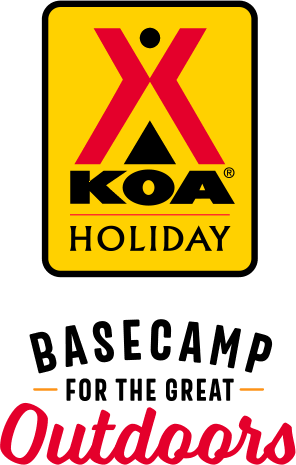 KOA Holiday Campgrounds
Whether you're exploring the local area or hanging out at the campground, KOA Holidays are an ideal place to relax and play. There's plenty to do, with amenities and services to make your stay memorable. Plus, you'll enjoy the outdoor experience with upgraded RV Sites with KOA Patio® and Deluxe Cabins with full baths for camping in comfort. Bring your family, bring your friends, or bring the whole group – there's plenty of ways to stay and explore.
KOA Holidays Feature:
RV Sites with a KOA Patio®
Deluxe Cabins with full baths
Premium Tent Sites
Group meeting facilities
Directions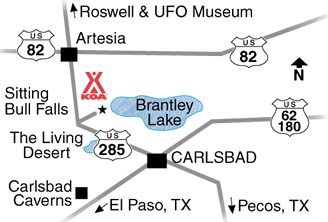 Located 13 miles north of Carlsbad, between mile markers 51 and 52 on US Hwy 285 N.
GPS: N 32 degrees 35.198', W 104 degrees 24.987'
GPS: N32.586465, W104.416234
Get Google Directions
Mar 28, 2021
Our stay was great. We stayed from Wednesday thru Saturday. Everyone was so friendly. The maintenance staff is on top of everything. They cleared out our grill for us. They waved and smiled every time and were always available to talk. My kids loved the playground. The Lobo cabin was so neat. The porch swing was wonderful. We plan on going back in the summer with hopes of the pool open.
Mar 27, 2021
We didn't realize that the Carlsbad KOA is a 1-hour drive from Carlsbad Caverns. The campground has a nice laundry room, friendly staff, a few cute touches like giant chess or sculptures near the office. Overall, though, it feels very bleak. The playground needs repairs and didn't seem safe. It's INSANELY WINDY a lot of the time, with blowing dust, and goats-head burrs.
Mar 27, 2021
Staff was friendly and helpful. That there were only three restrooms available for men (and those were unisex) was a negative. The other men's room was being renovated.
Mar 26, 2021
Sites & bathrooms are clean & well kept. In the future we will know to look at the address of a campground not just the name. The Caverns are on the south side of Carlsbad and this KOA is North of the town of Carlsbad. Rules are sporadically enforced, my husband got yelled at by a madman for what he perceived as speeding (we weren't) but other guests were allowed loud music until well after 11.
Mar 26, 2021
Very nice and clean. The staff was wonderful. Thank you for accommodating us with extra nights. Would definitely come back.
Mar 26, 2021
The staff was excellent very kind and courteous.
Mar 25, 2021
Great place! Nice staff & good facilities.
Mar 25, 2021
Stayed a few nights short drive into Carlsbad and the caves which were outrageously beautiful had a great barbecue smoked dinner just look out for the dust storms
Mar 25, 2021
Staff was very helpful and friendly. It was a lot farther to the caverns than I thought, about an hour drive. I would stay there again. It is very well kept up and clean.
Mar 25, 2021
Clean bathroom ��
Mar 24, 2021
We loved the amount of space for each lot and especially enjoyed the covered picinic area in our space (extra cost, but well worth it). We were lucky to have the KOA's own BBQ ordered and delivered right to our site. Everything was delicious! We also liked the gift shop/store. This felt like a park and not just a place to park like some RV places, thanks for your hospitality!
Mar 24, 2021
Great desert KOA. But there are horrible sticky paw pricklers in the dog park. These things are all over the desert southwest, but only in this KOA were they a problem in the dog park. Get the great Bar-b-que, made on site in a wood fired kettle. Other: great commercial Speed Queen washers & driers, helpful staff, big level gravel sites, bad tasting water, bring bottled. An hour to Carlsbad Cave
Mar 24, 2021
Was very short , just a pass through.
Mar 24, 2021
Awesome staff!
Mar 24, 2021
Was clean and the showers were a bonus. Staff friendly as well. Overall pleasant stay.
Mar 24, 2021
It was great!
Mar 24, 2021
Great place to stay! Wi-Fi should be better.
Mar 24, 2021
Love the basketball court, giant chess/checker boards, plenty of room for bike riding, and sites large enough to play games at our trailer. Our dog loves the dog run. It's a great space to let him off the leash for awhile. Don't typically use a lot of WiFi, but needed it for work. VERY frustrating not to be able to connect consistently. This really impacted our stay. Hope the pool reopens soon!
Mar 24, 2021
The BBQ was great! For an RV park this is a 5-star site. As a camping site, it's still nice with great amenities; however, it lacks the space I'm used to from TX state parks.
Mar 24, 2021
Great stay, great site. Enjoyed all of the family activities the KOA provided. Loved the bbq meals as well. Thank you!
Mar 23, 2021
Very nice park. Very clean and plenty of room in each space. Very easy maneuvering rigs through the park. Park is about an hour from Caverns, Sitting Bull falls and Roswell is about 30-45 mins. The park was a lot further from the Caverns than I had thought. My fault for not researching better. Grocery stores are not conveniently close but we were prepared. Extremely windy area.
Mar 23, 2021
Two minor things to improve. The dinner little too expensive and the bathroom near the playground not very clean. Otherwise everything was okay.
Mar 22, 2021
Excellent stay, staff and grounds were both amazing. If coming through the area, I will only stay at your KOA. No reason to look else where!!!
Mar 22, 2021
Very kind people and great park.... Nice going KOA.
Mar 22, 2021
This is exactly what we needed: easy basecamp in between Carlsbad Caverns and Roswell for day trips. Large pull-through spots so we could crawl in at midnight and sleep without much setup/unhooking. Very clean, great showers and bathrooms. Our kiddo loved the playground. We were traveling in a 30ft travel trailer and truck. What more could we ask for?! Will return!
Mar 22, 2021
Very nice staff; great delivered dinner. The bathrooms are in need of help. It's a desert area so having live cacti in the pots would be a plus.
Mar 22, 2021
Very nice staff and location ! �
Mar 22, 2021
It is always more expensive than I like to spend, but the clean showers and the nice staff always makes up for it!
Mar 22, 2021
It is a very nice campground with very friendly staff. It is 15 minutes out of the town of Carlsbad which was a little surprising. Overall a clean, quiet campground.
Mar 21, 2021
Great location. Spacious. some restrooms could use some renovations. Some bathrooms were Clean and others could be more cleaner
Mar 21, 2021
Dakota saved our trip to Carlsbad Caverns. We arrived late, so we had to check in the next morning. The first thing he asked was if we had tickets to the cavern. At that time we thought you had to purchase in person, he quickly told us how to get them online. By Thursday morning they had sold out until Saturday morning, our day to travel home. We made it work and had a great time. Thank you!
Mar 21, 2021
The staff were friendly and helpful. The location and area is ok. Its nice that it is in a central location to various attractions. It was nice the cabins had both A/c and heaters. The cabins could use shelfs. The queen bed was comfortable. It would be nice if there was more things to do there. Overall I do not regret staying here. We had fun and met friendly people.
Mar 20, 2021
everyone was extremely helpful. Facilities were well maintained.
Mar 20, 2021
We stayed on site E-03 which, like most other sites, was level, clean, and a great size with easy hookups. The campground was very well maintained with nice bathhouses, a great playground, and nice store. The BBQ restaurant was fantastic and reasonably priced. It was worth the drive to the local attractions.
Mar 20, 2021
Took the grandkids with us for a quick trip. They enjoyed the clean playground. It is easy to get into the campground. Friendly staff. Definitely need a water filter as the tap water is horrible.
Mar 19, 2021
men's room out of order was a big deal. sharing 3 unisex ones was insufficient. so was the closed media room. prices were high when I could just get a motel room for the same charge.
Mar 19, 2021
The park was quiet, staff very friendly & efficient. We ordered dinner, it was great, hot and delivered to our site right on time. The park just didn't look as pretty as the online pictures and the pool wasn't open.
Mar 18, 2021
The sites were very spacious with picnic tables and fire pits. Plenty long enough for coach and tow. The BBQ dinner delivery to your door was very good and reasonably priced. It's a good spot if visiting Carlsbad Caverns as well as Roswell. Would stay again.
Mar 18, 2021
Served dinner and prices were very reasonable. Staff is incredible. Our neighbor had a motorhome issue and the staff was able to tell them what it was.
Apr 13, 2021
Very nice! Clean, friendly, and helpful! Loved our stay there!
- janice Deliramich on Google
Apr 11, 2021
Very nice RV park. The campground workers are extremely friendly. On-site Barbeque and they will deliver to your site!
- Nancy Dubea on Google
Apr 10, 2021
The tent site was great, but the food we ordered was overpriced (and wasn't the greatest). The reason I gave this KOA 5 stars was because of the staff. They were kind, cheery, friendly, and very helpful. They gave us info about the area and events going on, and even talked with us for a bit as though we were old friends. I would love to stay here again.
- Kaylee Dawn on Google