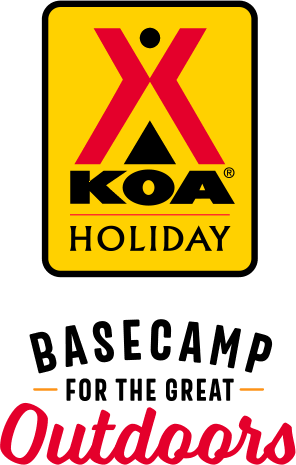 KOA Holiday Campgrounds
Whether you're exploring the local area or hanging out at the campground, KOA Holidays are an ideal place to relax and play. There's plenty to do, with amenities and services to make your stay memorable. Plus, you'll enjoy the outdoor experience with upgraded RV Sites with KOA Patio® and Deluxe Cabins with full baths for camping in comfort. Bring your family, bring your friends, or bring the whole group – there's plenty of ways to stay and explore.
KOA Holidays Feature:
RV Sites with a KOA Patio®
Deluxe Cabins with full baths
Premium Tent Sites
Group meeting facilities
Directions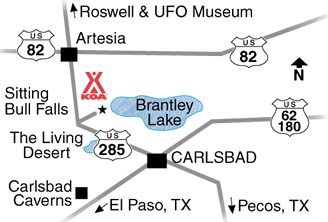 Located 13 miles north of Carlsbad, between mile markers 51 and 52 on US Hwy 285 N.
GPS: N 32 degrees 35.198', W 104 degrees 24.987'
GPS: N32.586465, W104.416234
Get Google Directions
Jul 22, 2021
We've rented a deluxe cabin and it's not clean very well when we got there. The cabin is outdated. The whole site has a lot of flies so eating outdoor is impossible. One the other hand, my three teenagers enjoyed the recreation center a lot and the wifi in the rec center was good.
Jul 22, 2021
The park is the nicest in the area. Friendly office staff. Restrooms, laundry room, & swimming pool were clean. My only wishes for an even better campground: more deluxe patio sites available & paved roads.
Jul 22, 2021
We had the best time at the Carlsbad KOA. All the staff were kind, helpful, and friendly. We especially appreciated Carl and John Henry. The facility was clean and easy to navigate for us novice RVers.
Jul 21, 2021
Nice campground outside of city, 45 minutes to Caverns.
Jul 21, 2021
Beautiful and clean campgrounds. Super friendly and helpful staff. Very nice game room with tons of games
Jul 21, 2021
I was upset to find that it was an hour drive to the National Park but after seeing other camping options in the area, I was very glad to be staying at the KOA! It is the nicest one in the region. Great service and amenities are there. The campground was clean and well cared for.
Jul 21, 2021
Great place to stay.
Jul 20, 2021
Loved the grounds, activities, pool. BUT our shower had no water pressure, some minor upkeep problems (the screen fell off window), I thought it was a full kitchen but it had no oven, grills we're provided but not 1 metal utensil was available to use on the grill, queen bed was worn/swayed/very uncomfortable. Had fun but I believe I paid too much for all these problems to occur.
Jul 20, 2021
The design of the campsite in tent village was not ideal for air flow though the campsite. We found that because of the solid walls and fence surrounding 3 sides of the site we had stagnant air most of the time. This also attracted massive amounts of bugs and flies. Great idea in theory but I definitely wouldn't want it again. Super friendly staff and overall nice experience.
Jul 20, 2021
This review has been removed by KOA due to profanity.
Jul 19, 2021
Wi fi misconfigerd staff could care less.
Jul 19, 2021
A tent camper checked in and setup at 2:00 AM he was POUNDING on stakes setting up a tent for over half an hour! They woke up me and my family, along with who knows how many other guests! I politely advised the man that it was quiet hours, he used profanity and made physical threats! I cannot have my family around this type of people, so packed up my camp at daylight and we left. NEVER AGAIN
Jul 19, 2021
From what we saw, we were impressed by your camp. My husband was frustrated that the men's bathroom close to our cabin was under renovation. Also, we were concerned that the mattress we slept on had stains and didn't have the customary plastic covering which allows for easy disinfecting.
Jul 18, 2021
Always a great place to stay with excellent staff to help.
Jul 18, 2021
Except for spotty Wi-Fi it was wonderful stay. Wish the pool stayed open longer. It's also too bad the men only had one bathroom to use especially when you're doing laundry.
Jul 18, 2021
The constant harassment from the campgrounds "security" worker, made the trip unbearable. While I never sped or even drove over the 9.8 limit, he continued to come and be incredibly rude to me in front of my peers, even when I wasn't even driving a vehicle.
Jul 18, 2021
stayed for two nights July 13 and 14 2021. Clean and well maintained campground. Easy access from hiway 285.
Jul 17, 2021
Had a great time at the KOA! The staff was very friendly and extremely helpful. Our campsite was very clean and the pool was very refreshing! Thank you!!
Jul 17, 2021
This is a beautiful campground with so many amenities. We wished we could have stayed longer! The staff was friendly and helpful. If you are unsure where to stay when visiting the caverns, this campground should be your number one choice!
Jul 17, 2021
The hosts were very kind and the game room was a fun respite from our hot tent, but the men's restroom in the main building was being remodeled and the only other option was halfway across camp.
Jul 16, 2021
Beds hard and rooms dirty
Jul 16, 2021
Even though it's in the middle of the NM desert, it's super inviting and comfortable! The pool is super refreshing after a long day's drive. The check-in staff is super friendly (go, Kerrville!), the general store has tons of snacks and goodies. LOVED having the on-site dining options - the bbq combo plate is delicious, the keylime pie was a delicious cool treat! I'd definitely stop by again :)
Jul 15, 2021
Clean facilities and RV area. Staff very nice and helpful!�
Jul 15, 2021
Everything was great except for the fact that the tent camping sites were smooshed together and right next to the main building which meant the lights were glaring into our tents all night long and we were woken by the RV traffic throughout the night as they drove past us writhing 15 feet. A little more seclusion would make it worthwhile
Jul 14, 2021
Nestled between Roswell and Carlsbad worked well for us. Both are a hour away. Get reservations for the caverns. Wifi poor, wound up using my tv antenna instead of cable. Birds singing outside were wonderful.
Jul 14, 2021
Needs many many upgrades. Only three showers. Too expensive for what you get. I cannot recommend this place.
Jul 14, 2021
We were extremely pleased with the professionalism of the staff. Check in was easy. We stayed in one of the cabins. It was clean and well stocked. I particularly appreciated the Keurig coffee set up. I was able to enjoy the sunrise and have 2 cups of coffee as I sat in the front porch swing. The BBQ brisket, ribs and potato salad was spot on Thank you for such a relaxing time.
Jul 13, 2021
Very pleasant! All equipment worked. With exception of the the refurbishment of the men's restroom (no showers), everything at this KOA was great.
Jul 13, 2021
Great place to stay. Friendly staff. Clean park. Lots of activities to do at park.
Jul 13, 2021
The grass was uncut and long in our spot the whole time. Other areas had been cut not sure how they were able to manage that. Women's restroom appeared to be left unclean the 5 days there. They did restock the toilet paper. Appeared to be well staffed.
Jul 13, 2021
Friendly staff.
Jul 13, 2021
It was only for one night but it was clean and quiet.
Jul 12, 2021
Our cabin was dirty when we checked in at 6 in the evening. The toilet hat poop in it and our ac was not working. They gave us the wrong information when we called the day before our trip and so we brought stuff we didn't need and couldn't buy souvenirs for our family because we didn't have enough room. The wifi was only working in the rec room.
Jul 12, 2021
Lovely place.
Jul 11, 2021
The campground is nice, but it is very far from everything.
Jul 11, 2021
We loved our Deluxe RV spot. It was a great stay.
Jul 11, 2021
Great place, nice flat spots, good pool. Didn't get a chance to grab their BBQ but sure did smell good.
Jul 11, 2021
We stayed 1 night with full hookups and pull through site. The sites were clean and nicely spaced apart. This KOA offers BBQ that would be brought to the site which was great after a very long day.
Jul 11, 2021
Very nice, great facilities and staff was awesome. My only complaint and it is what it is, is that we stayed longer then most but had no shade. It gets hot with no shade. That being said, we will be back! Oh and two sewer connections per site!
Jul 11, 2021
Camp staff weren't very friendly. Ok campground.
Jul 11, 2021
This was a fantastic site. The service was so great, the spaces were large and comfortable, and the area was very clean! We can't wait to go back.
Jul 11, 2021
Great facility, only downside was one of the bathrooms was being renovated so there was a shortage of men's facilities
Jul 10, 2021
The Carlsbad KOA is our first stop on our vacation and our last stop as we head home. The personnel are very friendly. The park is quiet. The pizza is great!
Jul 10, 2021
Such a wonderful park! Conveniently located between lots sites and places with things to do, or just hangout at the KOA. The campground has great amenities, and plenty of space between sites with grass, trees, and wildlife. We even saw a quail walking through the campground. We look forward to returning.
Jul 10, 2021
We had a great stay. Wonderful staff. Very clean and well maintained.
Jul 09, 2021
I wish we had known the men's bathroom was being remodeled and was not available. Other than that, it was great.
Jul 09, 2021
We came specifically to go to sitting bull falls, but it was closed due to flooding. We ended up going to the caverns but they would not allow for a late check out which was disappointing. We had to rush to make check out and could not enjoy the caverns as long as we would have liked. The Carlsbad KOA needs more shade trees and longer pool hours.
Jul 18, 2021
Nature shows you incredible moments. enjoy them this is a good place
- Maria Diaz on Google
Jul 18, 2021
Very friendly. Nice & clean.. great game area for kids, pool, s'more nights, dog park that is completely enclosed & a playground. We had a nice guy that even drove us on golf cart to our spot 😃
- Veronica Beals on Google
Jul 14, 2021
Super clean! Great staff
- Rick Turner on Google