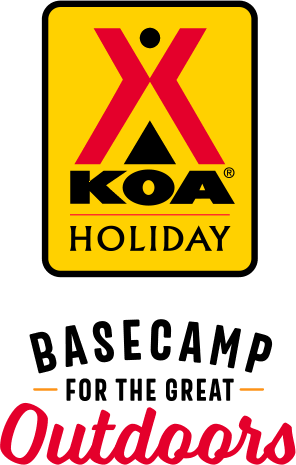 KOA Holiday Campgrounds
Whether you're exploring the local area or hanging out at the campground, KOA Holidays are an ideal place to relax and play. There's plenty to do, with amenities and services to make your stay memorable. Plus, you'll enjoy the outdoor experience with upgraded RV Sites with KOA Patio® and Deluxe Cabins with full baths for camping in comfort. Bring your family, bring your friends, or bring the whole group – there's plenty of ways to stay and explore.
KOA Holidays Feature:
RV Sites with a KOA Patio®
Deluxe Cabins with full baths
Premium Tent Sites
Group meeting facilities
Directions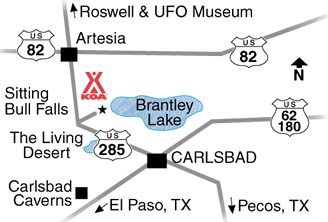 Located 13 miles north of Carlsbad, between mile markers 51 and 52 on US Hwy 285 N.
GPS: N 32 degrees 35.198', W 104 degrees 24.987'
GPS: N32.586465, W104.416234
Get Google Directions
Apr 18, 2021
The reason for the poor review is this KOA does not enforce its rules evenly. The quiet time is clearly posted with a 10 pm not to exceed. We were awakened at midnight on 4-16 by a loud truck towing a trailer. It parked right across from us and setup for the next hour. Truck running, door slamming, lights, loud voices until 1 am in the morning. You should have parked them in overflow.
Apr 18, 2021
Management very nice, extra amenities such as delivery of fresh barbecue meal at dinner. Men's restroom was under renovation at the time. WiFi was not good; very weak. Pretty campgrounds.
Apr 18, 2021
Friendly staff, great BBQ delivered to our site
Apr 18, 2021
Great centralized location for day trips to local attractions. Have the BBQ! Men's bathrooms at main building were being remodeled so the lines were long at the other building. We were made aware of this when we checked in so no big surprise. It was the only inconvenience but will not deter us from returning.
Apr 18, 2021
It was good. Only issue is that linens were provided for full bed but not the bunk bed. Also the kuerig was not cleaned out of prior use - the used coffee pod was Still in it
Apr 18, 2021
The place was very clean And the spaces were nice size with fire pit and picnic table/ The lady in front office was very nice and polite along with the other staff.
Apr 18, 2021
Name is deceiving as it is 20 miles north of town. Caverns, which is about the only thing to see in the area, are 20 miles the other way. WiFi did not work at our site. Brochure shows 39 cable channels, our TV scan picked up 5 and non came in at all. Otherwise it was typical KOA except not right on the highway. Laundry was clean and working, park was well maintained.
Apr 18, 2021
Very roomy campground, large, well spaced sites.
Apr 17, 2021
Great KOA, friendly staff, clean & neat. The best part is the in-house menu of delicious food & they even deliver right to your site!
Apr 16, 2021
Spent only two nights but felt the park was really nice for the area. Would definitely stay again. Large sites and easy pull-through's with full hookups. In a 45' Motorhome with toad. Sites was large enough to keep both w/o unhooking.
Apr 16, 2021
Site was fine. For a park this size, I would recommend an additional bath house. The clubhouse bath was closed due to remodeling and the 3 unisex bathrooms in the bath house needed updating. Easy access to Carlsbad and Brantley lake.
Apr 16, 2021
What a delightful place! Clean, super friendly and helpful. A quiet place to home base while exploring the C. Caverns, Sitting Bull Falls and the town. We couldn't have asked for a better spot!
Apr 16, 2021
Beautiful clean park!! Wide pull through and a great dog area. About an hour from Carlsbad caverns and 2 1/2 hours from white sands NP,NM BBQ was perfect after a long day!
Apr 16, 2021
Need to update the bathrooms there a little outdated. Staff was very friendly and very helpful very nice. I appreciated that they put us right by the playground when I have three children with me. I would like a grill that would be available for large parties if reserved ahead of time.
Apr 15, 2021
Your men's bathroom was closed & the three days that I was there I saw no attempt or anyone trying to reopen it. That should have been disclosed when we made our reservation. I myself would have tried to find other accommodations.
Apr 15, 2021
Staff at check in were friendly/helpful. Worker in the RV Park (Allen) was extremely helpful with resolving a problem I had at campsite. Park was a little farther from city than I thought but it all worked out great.
Apr 15, 2021
Loved listening to the birds.
Apr 15, 2021
Fabulous KOA. Doesn't get much better!!
Apr 15, 2021
Very friendly and helpful staff
Apr 14, 2021
Everything was great. We stayed in a simple cabin. My only complaint is the amount of light pollution on the property...makes star gazing impossible. Such a pity, as youre out in the middle of nowhere, perfect place to stargaze.
Apr 14, 2021
Only stayed one night, but it lived up to the KOA standards
Apr 14, 2021
The bathrooms were pretty dirty. We were surprised cause we have stayed at many koas and haven't had this experience . Not having garbage pick up was odd . And the pool closure was disappointing . Staff were very friendly. They deserve 5 stars .
Apr 13, 2021
Staff very friendly, park well kept, close to all the Carlsbad attractions!
Apr 13, 2021
This place is an oasis in the desert. Everything was clean (as opposed to the surrounding land) and the staff was super friendly. They have meal delivery onsite and I would recommend it at least one night if you are tired of cooking for yourself. If I get this way again, I will be stopping by.
Apr 13, 2021
It's a bit of a drive to the caverns. Also, there are Trump flags flying in many of the RVs. Not our thing but if you're into that you'll fit right in.
Apr 13, 2021
Very friendly staff and nice big spots.
Apr 13, 2021
We loved our stay it was nice, quiet, and fun. Your AC's need to be worked on though. But other than that it was perfect and the people were friendly. The cabin was awesome...
Apr 12, 2021
Great overnight stay. Large site. Didn't have to disconnect the toad. Having bbq delivered to our site was an unexpected treat. We didn't have to cook. Thanks!
Apr 12, 2021
First time to stay at a KOA and we enjoyed the Carlsbad one. Clean, peaceful and pleasant, staff very friendly and helpful, thank you. Where ever we go, if KOA is there, we will be there too.........gracias.
Apr 12, 2021
Loved it! Besides being clean and friendly we were able to order BBQ brought to our campsite. It was centrally located for several places we wanted to visit.
Apr 12, 2021
Quiet clean refreshing air. Friendly staff and will be back
Apr 11, 2021
Super friendly & helpful person at check in! Quiet- pretty Rosemary plants! A bit far from White Sands but doable!
Apr 11, 2021
It was very pleasant and the staff was helpful . We had a great dinner . The campground was further from the caverns than I thought but it was a nice stay .
Apr 10, 2021
Stayed for one week and found it to be a good, solid RV park. Situated just off a highway between Carlsbad and Roswell, easy access to places we wanted to go and for movement to our next location. Check in was quick & the camp hosts were professional and courteous. They had a nice store stocked with supplies which is important since the closest store was almost 30 minutes away. Great sunsets!
Apr 10, 2021
Great Campground. Off Highway and quiet, great large sites. Amenities great, especially the BBQ. Will stay again when we come back.
Apr 10, 2021
We had a great time. The laundry facilities were well maintained. The bathrooms were basic but fine. We enjoyed playing games outside as a family.
Apr 10, 2021
Our stay was amazing! The staff was extremely friendly and helpful. Our site was a generous size and we didn't feel like we were on top of our neighbors. The amenities were clean, and had a great variety! Only downfall would be the lack on internet for us work from home vacationers but makes for a great reason to tune out the world and enjoy the family! We will be back!
Apr 10, 2021
Nice layout of sites. Nice staff. The wind was annoying. Not your issue I know.
Apr 10, 2021
Nice Campground, very clean and the staff is very friendly
Apr 10, 2021
Everything was fine but the lot H4 had a dog that would bark at anything or anyone it saw. Very annoying.
Apr 09, 2021
The campground was excellent and super clean. All the staff were friendly and helpful. I only wish it was closer to the Caverns.
Apr 13, 2021
Very nice! Clean, friendly, and helpful! Loved our stay there!
- janice Deliramich on Google
Apr 11, 2021
Very nice RV park. The campground workers are extremely friendly. On-site Barbeque and they will deliver to your site!
- Nancy Dubea on Google
Apr 10, 2021
The tent site was great, but the food we ordered was overpriced (and wasn't the greatest). The reason I gave this KOA 5 stars was because of the staff. They were kind, cheery, friendly, and very helpful. They gave us info about the area and events going on, and even talked with us for a bit as though we were old friends. I would love to stay here again.
- Kaylee Dawn on Google