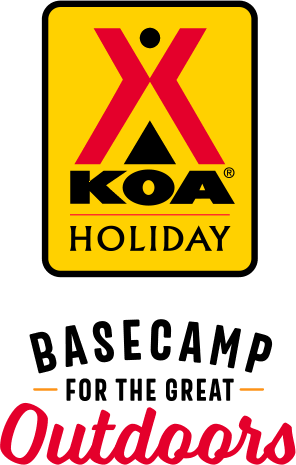 KOA Holiday Campgrounds
Whether you're exploring the local area or hanging out at the campground, KOA Holidays are an ideal place to relax and play. There's plenty to do, with amenities and services to make your stay memorable. Plus, you'll enjoy the outdoor experience with upgraded RV Sites with KOA Patio® and Deluxe Cabins with full baths for camping in comfort. Bring your family, bring your friends, or bring the whole group – there's plenty of ways to stay and explore.
KOA Holidays Feature:
RV Sites with a KOA Patio®
Deluxe Cabins with full baths
Premium Tent Sites
Group meeting facilities
Directions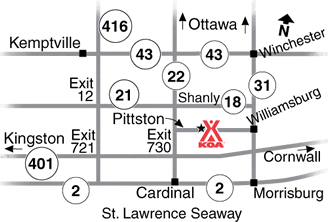 From 401: Exit 730 (Shanley Rd), north 6 km, right on Pittston Rd. From 416: Exit 12 (CR21), right (east) on 21, right (south) on CR22, left (east) on Pittston Road. From Hwy 31: Exit west CR18 Williamsburg.
USING GPS: enter 609 Pittston Road, Pittston, ON.
Get Google Directions
Sep 28, 2020
The Halloween themed weekend was beyond our expectations. What an amazing job staff and campers did to make it safe and fantastic. Phenomenal weekend - thank you!
Sep 14, 2020
This was our first time experiencing a KOA campsite and it was awesome!! Couldn't believe how much there was to do for our daughter. Would definitely stay here again.
Sep 08, 2020
The campground was extremely clean and quiet. The sanded tent pad was perfect for our over sized tent. Would definitely go back!
Aug 30, 2020
Amazing as always. My son and I created s'more memories! The staff is incredible. The grounds are clean and well maintained. And I felt very safe with all the covid-19 arrangements made. Thank you again for another great stay. See you next year!!
Aug 29, 2020
We booked for 2 nights. We had to delay visit at last minute due to Covid testing. Staff was very accommodating to allow us to move reservation without penalty till we were cleared. Also super nice front desk staff and employees. Pool was very clean. Bingo was fun. Bathrooms immaculate. Only thing is firewood was was overpriced 11$ for 6 small pieces and no kindling. It's was dry tho.
Aug 27, 2020
You are not allowed to tie any rope/string/clothes line on the trees, so if you want to put a turf over your tent, you will have to basically peg them on the ground and be creative. The washrooms were kept clean at all times but the showers are kind a outdated compared to others. I wish the staff are a little bit more friendlier and accommodating like the other KOAs we've been.
Aug 21, 2020
My family and I had a great stay at this KOA. It was not our first stay at a KOA and once again we were not disappointed. Even with Covid-19 and having to use the washroom/shower facilities, the pool, the playground we still felt comfortable and safe to use them. The staff was always smiling and friendly. This KOA is driving distance to some of Ontario's top attractions.
Aug 21, 2020
We had a wonderful time at this KOA. We enjoyed the activities like mini golf, bikes and bingo. Very creative way to handle an activity like a campground bingo game while ensuring everyone is social distancing! We loved the pool booking system too! The staff were extremely friendly and helpful! We wish renters could stay on sites other than the 4 designated tent sites. Thanks for a fun few days!
Aug 20, 2020
Campground is great and all their staff is great except the owner he is a old guy who is extremely rude and the other thing I did not like was they do not want anything tied to their trees so we couldn't put a tarp up to protect ourselves from rain..... also we wanted to put up a hammock but couldn't do that either ......
Aug 18, 2020
The campground was amazing � and the people were very friendly. Awesome service. Really enjoyed it.
Aug 13, 2020
This was our second year in a row staying with you guys. Our family had a great time. Everything was clean and well-organized.
Aug 08, 2020
Amazing campground with excellent covid measures in place!
Aug 07, 2020
We had a great stay! Bathrooms were very clean lots of things to do very friendly staff our only complaint would be another tenter allowing there toddler to scream for over an hour at 5am but that's by no means the campgrounds fault! We will definitely be returning it was an amazing family break and a nice distraction during this pandemic!
Aug 05, 2020
Even with the pandemic going on there was still tons to do they delivered a very fun time and we will keep going for years to come !! Love it there the staff is so friendly and they go out of their way to make things nice there
Aug 05, 2020
We had a great stay, despite the rain. The staff was very friendly and made everything fun and Covid friendly. We had so much fun we booked another weekend :)
Aug 01, 2020
Overall , it was very good.I was in a tent with wife and two boys under 5. The staff were helpful. Pretty quiet overall except for somebody with a trailer and a hammer rolling in at around 3am making some noise which probably should not have happened
CAMPGROUND RESPONSE / COMMENTS:
Thank you for staying with us. We sincerely apologize for the campers that arrived after our 11 pm cut off time. This rule is in place to prevent this from happening. Unfortunately, some campers do not consider their impact on others or feel the rules don't apply. Travel Safely!
Jul 27, 2020
We stay at KOA Cardinal every summer. We love camping here. There is always so much for the kids to do and a really great family campsite. I always bring my daughter for a girls camping weekend and I always feel safe and I love how clean the facilities are. The staff is always working hard and are very friendly and helpful. I have recommended KOA Cardinal to all my friends.
Jul 23, 2020
I've been to 3 or 4 KOA sites and I think this is my favourite. Very clean and super friendly people.
Jul 20, 2020
Was nice clean good faciliries
Jul 11, 2020
Been camping at cardinal loss for 8 years now. Always happy with service and staff. Even with rona, they try to make it fun :)
Jul 11, 2020
The site is extremely well taken care of, very clean, pit fires regularly cleaned, the pool is also very well maintained and clean, sanitary block also very well maintained and great variety of entertainment for kids and the staff is very courteous. I would recommend this site.
Jul 08, 2020
I really applaud the staff for being so courteous. We were there for 1 day and the gentlemen at the service desk extended the pool hour to allow us to enjoy it as the next day was fully booked. It was much appreciated as our son was looking forward to swim time. Amenities were clean. Many activities despite Covid
Jul 04, 2020
I was happy to see the pool & splash pad area being cleaned between Every family visit. Great job on adjusting due to COvid. I love the crafts are being delivered and other activities have been adjusted so we can participate from our site.
Jul 02, 2020
My family and I had a wonderful stay . We always fell welcome and at home at Cardinal KOA. The social distancing activities were amazing and the fireworks for Canada day blew us away! Washrooms and buildings were always very clean but we could see the extra care the staff and owners were doing to keep us safe. They made our visit a worry free experience . We can't wait to return to Cardinal KOA!
Jan 07, 2020
Had a wonderful time! The staff were very accommodating and took care of all our needs.
Aug 31, 2019
Great time. Our kids enjoyed the activities. Excellent service!!
Aug 30, 2019
Very clean, lots of activities for kids and very friendly staff
Aug 28, 2019
My kids said it was the best camp site we have ever stayed at. I was impressed with the impeccable cleanliness. Great fun, quiet and nice. We will be returning next year!
Aug 27, 2019
I love this place! There is so much to do and the staff are all amazing. I really appreciate the enforcement of the quiet time. Keep up the great work!
Aug 23, 2019
The sand pit to put a tent on is a pain. The sand ended up everywhere in the tent, bags, clothes, etc. I prefer lawn to put a tent on. Even if it is not a perfectly leveled ground.
Aug 16, 2019
Wonderful campground! A lot of activities for the kids. Campground is immaculate, staff are friendly and we love camping here. The addition of the Gaga pit was a nice addition! We will be back again next year.
Aug 13, 2019
We love KOA Cardinal. The staff is always great, washrooms are always clean and lots of things for kids to do. My only criticism would be there are not enough tent sites which make it difficult to get a reservation.
Aug 10, 2019
This was our family's first time camping at KOA and we had a great time. Campground and facilities were very clean and well taken care of. There were also lots of things for our kids to do. We'll definitely go back!
Aug 10, 2019
We had an awesome stay at Koa Cardinal/Ottawa South. The staff is very friendly. From Karen who made our reservation over the phone to the nice lady who jump started our car batterie at the end of our stay �ϋ� Our kids had plenty of stuff to do and are eager to go back! We will come back for sure
Aug 05, 2019
Loved this site!! Best one we've been to!!
Aug 02, 2019
Great! Was just missing benches near the back baby play structure (near the swings) and the fence surrounding the baby play structure should be repaired. Other than that, it was great! Lots were huge, bathroom and showers were clean, staff was friendly and activities and play structure were great to entertain the kids. Thanks for a great vacation spot! We'll be returning some other time!
Jul 31, 2019
Very clean bathrooms and well maintained property. Tent site was large and shaded.
Jul 23, 2019
The campsites are large, shaded and well spaced. The amenities are great - lots to do. We didn't get to take part in activities but there appeared to be plenty going on to keep the kids busy. Staff were friendly and knowledgeable. The location was very nice - away from any traffic/train noise. The facilities were very clean. A/C in the washrooms would be nice. Overall very impressed !Well done :)
Jul 12, 2019
Took 4 girls there...ages 8 and 12...we had a great time! Very clean, organized, friendly, and safe. Lots of activities for kids...we will definitely be back!
Jul 08, 2019
Kids had a great time. Staff was helpful.
Jul 04, 2019
The staff at Cardinal KOA are amazing . The programation was done well . Truly a great place to camp with children . I told all my colleagues and friends about the activities and all the fun we had .
Jul 03, 2019
Aside from the price of the stay, everything was great
Mar 18, 2021
I've been to many campgrounds in North America, and for families looking for a peaceful, restful, campground, with the most activities and play structures for all ages of children, there is no better place than this KOA. I am a grandfather of 6 and they love this place.
- Gary E. Lockhart on Google
Oct 03, 2020
Go to this camp site every time we go to ottawa.
- tom villeneuve on Google