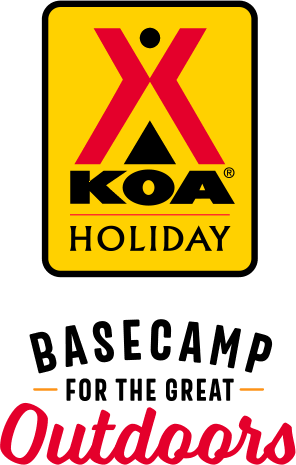 KOA Holiday Campgrounds
Whether you're exploring the local area or hanging out at the campground, KOA Holidays are an ideal place to relax and play. There's plenty to do, with amenities and services to make your stay memorable. Plus, you'll enjoy the outdoor experience with upgraded RV Sites with KOA Patio® and Deluxe Cabins with full baths for camping in comfort. Bring your family, bring your friends, or bring the whole group – there's plenty of ways to stay and explore.
KOA Holidays Feature:
RV Sites with a KOA Patio®
Deluxe Cabins with full baths
Premium Tent Sites
Group meeting facilities
Directions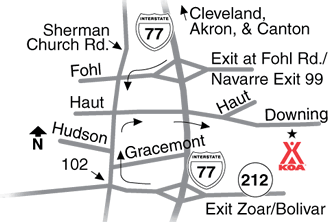 Southbound I-77 to Exit 99 - West at Fohl Road, left at Sherman Church Road, 3 miles to Haut, left for 1 mile.
Northbound I-77 to Exit 93 - left to first stop, right 3 miles (parallel to I-77) to Haut, right 1 mile.
Get Google Directions
Mar 30, 2020
I stayed in the one room cabin. It was clean quiet and a wonderful setting.
Mar 29, 2020
Nice park, small and quiet. I stayed there in late March, so expectedly many of the amenities were not open. The staff was very pleasant.
Mar 26, 2020
Quick overnight stay while heading home. Didn't really appreciate the Trump picture when checking in (thru a walk up window due to the virus) dont really think it's an appropriate place for politics. Also rather than space campers apart, we were placed basically in a row with 2 other campers. It was fine for 1 night, wouldn't have been happy for more than that there.
Mar 26, 2020
KOA should be apolitical. We found it shocking to find a photo of Trump at the entrance and so would at least half of the population of the US. Our site, a parking spot on gravel was at full price, and had just the basics, and it was missing a cable adapter. We stayed hundreds of nights in campgrounds. KOA is usually more expensive but with that you get a guarantee of a better stay, not this time.
Mar 24, 2020
The property is beautiful. Went hiking, horseback riding. The staff was great and everything was clean.
Mar 24, 2020
Great campground with premium sites and sites ideal for a quick overnight stay when you're on the move.
Mar 24, 2020
Cable did not work
Mar 22, 2020
Just a stop over during return trip from FL to MI. Nice simple pull-thru made stopping easy. Water pipe had heat tape (stayed in mid-March. Did not use FHU. Arrived very late (after midnight) due to tow vehicle issue.
Mar 03, 2020
We stayed warm in the kabin with heaters they provided. Our dog enjoyed the dog park. We enjoyed our first campfire of the year. The bathrooms were clean and warm. It was an awesome weekend getaway in Ohio in February!
CAMPGROUND RESPONSE / COMMENTS:
Glad you enjoyed your first campfire of the year at the Canton/East Sparta OH KOA! Come back again!
Feb 05, 2020
We travel for work and stay there any time we're in the area very friendly excellent people awesome camp ground
CAMPGROUND RESPONSE / COMMENTS:
Thanks for camping with us as you travel for work!
Jan 03, 2020
This was our second stay and both times have been great!
CAMPGROUND RESPONSE / COMMENTS:
Thanks for camping at the Canton/East Sparta OH KOA again! Glad you enjoyed your stay.
Dec 27, 2019
Muddy and under construction. No hot water in women's sink in bathroom. Booking service was friendly and helpful!
Dec 15, 2019
Great camp ground, very friendly hosts, close to Canton Football Hall of Fame. Would definitely stay there again.
CAMPGROUND RESPONSE / COMMENTS:
Glad you enjoyed your stay and hosts at the Canton/East Sparta OH KOA!
Nov 30, 2019
It was an odd time of year for camping and the staff worked with us as we had high winds...they gave me a refund for my second night! Thank u all so much!
Nov 27, 2019
Very good people running the campground and it's very clean and peaceful. Not far from Amish country make it great for me. I will definitely camp here again!!
CAMPGROUND RESPONSE / COMMENTS:
Glad you enjoyed your stay, the cleanliness and peacefulness. And the Amish country. Looking forward to seeing you again!
Nov 23, 2019
Wonderful, helpful people. A pleasure staying there.
CAMPGROUND RESPONSE / COMMENTS:
Thank you for camping with us!
Nov 21, 2019
Very accommodating staff. Easy in, easy out.
Nov 19, 2019
Lovely campground, enjoyed stay, open all year is a bonus.
CAMPGROUND RESPONSE / COMMENTS:
Glad your stay was enjoyable and that you appreciated the campground being open all year!
Nov 05, 2019
Nice campground and very friendly staff in eastern Ohio. Canton, Akron, Cuyahoga Falls, Cuyahoga Valley National Park all within an hour's drive. "Amish" countryside is pretty drive but overcommercialized; avoid on weekends unless you miss the city's traffic and crowds.
CAMPGROUND RESPONSE / COMMENTS:
Thank you for your comments about how nice the campground is and friendliness of the staff.
Nov 04, 2019
Very nice nice campground. Really appreciated that we were able to stay here in November on our way south. Very nice reception,
Oct 31, 2019
Beautiful campground and wonderful staff
Oct 29, 2019
Nice park. We would definitely stay here again.
Oct 29, 2019
Easy in and out with 39 ft 5th wheel. Clean. Friendly
Oct 29, 2019
Clean and friendly. Nice pull thru site for motorhome with trailer
Oct 25, 2019
$74 is way too much. Office was closed both times we went during normal business day. Unsightly grounds. No amenities except a mini-golf. Won't stay there again.
Oct 23, 2019
The campground and cabins were nice but waking up Sunday morning to no water was unacceptable. Could not flush toilets or take a shower was not a good way to start our day. Office was closed so there was nobody to complain too.
Oct 23, 2019
Water sucks(stinks so bad) stayed 12 months here. Checked out 12 days early no refund and had to pay electric. Buddy wanted to move into my spot so he wouldn't have to pay and they told him no. So he had to pay one more weeks rents. Koa has been great except this one park. Theft is bad in this park also. Nothing of mine but my co workers/neighbors. And 35/hr to ride a horse lol
Oct 22, 2019
Gina and Natalie are the best!! My grandson had a great time on his 1st horse ride, he wants a horse of his own now!! Thanks for being awesome, girls!!
Oct 22, 2019
The campground had trouble with their 50 amp service at the pull through sites so we had only 30 amp service. This was ok since we wouldn't be running two AC units. The water was off for several hours one day. Little inconveniences. We've stayed here before and had trouble with the water then, too. They are open year around which is helpful if we get called home for an emergency.
Oct 22, 2019
Great time Good stay. Though some minor issues with power and water. Some things can't be helped don't blame staff
Oct 18, 2019
What a great place! We loved it. Everyone there was friendly and wow was it clean! Lots to do and a quick drive into Amish country. We'll be going back!
Oct 17, 2019
It was very peaceful & we really enjoyed our visit with our family who stayed in the neighboring cabin. The cabin was very neat and we enjoyed the outside grill, picnic table, fire ring and porch swing. The lady who checked us in was very friendly and helpful. The campgrounds were very neat. My dog and I enjoyed our daily walks around the park. We can't wait to come back again.
Oct 17, 2019
Was very wonderful.. staff was very friendly
Oct 17, 2019
1st time at BearCreek, very clean, will be back!
Oct 17, 2019
Friendly staff and beautiful campground.
Oct 16, 2019
We were not pleased with the site we had been assigned, but the staff was very helpful and quickly re-assigned us to a beautiful new site.
Oct 11, 2019
Good location-needs additional restroom area
CAMPGROUND RESPONSE / COMMENTS:
There are 3 restroom/shower facilities on premise. Glad you liked the location.