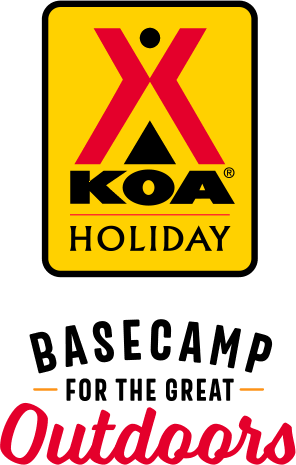 KOA Holiday Campgrounds
Whether you're exploring the local area or hanging out at the campground, KOA Holidays are an ideal place to relax and play. There's plenty to do, with amenities and services to make your stay memorable. Plus, you'll enjoy the outdoor experience with upgraded RV Sites with KOA Patio® and Deluxe Cabins with full baths for camping in comfort. Bring your family, bring your friends, or bring the whole group – there's plenty of ways to stay and explore.
KOA Holidays Feature:
RV Sites with a KOA Patio®
Deluxe Cabins with full baths
Premium Tent Sites
Group meeting facilities
Directions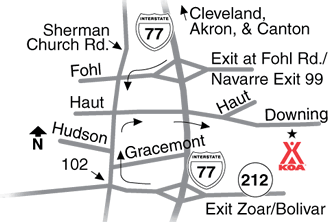 Southbound I-77 to Exit 99 - West at Fohl Road, left at Sherman Church Road, 3 miles to Haut, left for 1 mile.
Northbound I-77 to Exit 93 - left to first stop, right 3 miles (parallel to I-77) to Haut, right 1 mile.
Get Google Directions
Jun 10, 2020
We love the location, friendly, helpful and knowledgeable staff.
Jun 10, 2020
We had the best time. The staff was super nice and extremely helpful. The pool was awesome, and the trails at the park were just what we were looking for. We will definitely be back. Thank you!
Jun 10, 2020
Had a wonderful time with the grandsons as well as the wife. Was the boys first time camping and they are very excited to return as well as myself and my wife. The staff were very kind and pleasant.
Jun 10, 2020
Great place! Nice staff, very clean. Going back next week to go horseback riding
Jun 08, 2020
Your gentlemen Jimmy and especially Steve helped me very much. I really appreciate their help with my RV.
Jun 06, 2020
Friendly, helpful staff. Bathrooms & Showers very clean day & night. Pool was Excellant but, very cold, cover not on at night, made it worse.The small camper cabin was nice but grounds were full of weeds/large rocks in path Tent sites poor, too small, so unlevel, so wet, rain filled quickly, staking tent unsecure both days. Need more space between sites. Nice to get ice and wood@reasonable $
Jun 03, 2020
The staff were amazing. Super helpful with everything! They went above and beyond for us while we stayed for 2 months. Bolivar is a cute town not far away with restaurants and stores.
Jun 03, 2020
We were able to enjoy our stay while observing all the COVID19 guidelines.
Jun 03, 2020
Always have a very nice quiet stay there. Everyone is very nice and helpful. The facilities are always super clean. The pool area is well maintained. We would recommend it to everyone.
Jun 03, 2020
Staff was wonderful and helpful! We loved the huge pool and the horse riding experience. Definitely will be coming back!
Jun 02, 2020
As always, the place is super clean, staff is pleasant and attentive. Great place to just unwind and relax. Only suggestion, all the grass was mowed except the K9 area and it was long. Thanks for a great stay and see you in October.
Jun 02, 2020
Had a great time just would of been better if there was a dj or something sat and the playground was open but i understand at this time it cant the trails were cool we will do it again like to come for a them weekend and the workers kept everything clean throughout day
Jun 02, 2020
I'd be happy to tell you why I rated this as mediocre, but with a 400 character limit I can't properly convey the pros and cons. Consider increasing the limit if you really want meaningful feedback.
Jun 02, 2020
Love this place! Lee and Carol really care about their customers!
Jun 01, 2020
It was very peaceful, Great place to go relax and have fun!
May 31, 2020
Very nice well maintained park.
May 30, 2020
We very much enjoyed our stay there and will come back.
May 30, 2020
We stay here all the time. Couldn't wait for campground to open during the covid 19. We knew things would be different. Although NOONE told us there was a wild cat problem underneath our cabin. The smell was horrific! And you can here them at night. But we sucked it up, it was nice just to get out with the kiddos. Hopefully next time the cats will be gone as we will be back.
May 30, 2020
Very nice staff grounds were clean and easy access to all our trailer needs. The pond was a hit
May 29, 2020
Great place very clean. Enjoyed our stay
May 29, 2020
The camp site we had was nice all except for it was like a swamp. Couldn't have a fire because it was in the middle of mud and water. The camp ground was mostly on the side of a hill.
May 29, 2020
Always friendly, clean, and worth it.
May 29, 2020
The owners and staff are very friendly and helpful! It's a great place to go to relax with a pool, horseback riding, kids play area, and miniature golf. We love it there!
May 29, 2020
Loved the horse back riding but the dog park being right by the area that all the waste goes to was horrible and the campsite was nice
May 29, 2020
Very awesome campground! We loved the horses and the kids got a kick out of the cows. The trail ride was really fun and it was the highlight of our trip. All employees we interacted with was very friendly and helpful. Even with the campground being full for Memorial Day it was quiet and peaceful. We will be coming back! our only complaint was the firepit was too close to our neighbor site 5
May 29, 2020
First time here.....nothing open due to COVID pandemic but friendly staff and nice area of Ohio. We enjoyed our stay and would consider staying again if we find ourselves in that area in the future.
May 26, 2020
Easy check-in and quiet night's sleep!
May 24, 2020
Under the circumstance of the pandemic, I feel that there would have been alot to keep my family busy there and if I'm ever that way again I will be sure to stay again.
May 22, 2020
We enjoyed our spots but none of the activities were open so it was hard to completely enjoy!!
May 18, 2020
I loved to see the horses grazing on the hill..beautiful
May 15, 2020
Loved it here! Most things were closed due to Covid but we had an awesome horseback ride and can't wait to come back when everything is in full swing!
May 15, 2020
Very helpful staff.
May 12, 2020
Nice campsite. Nothing really open plus limited food ordering. Nice people in the office
Apr 29, 2020
The people werevery helpful and great to work with for my uncertain schedule. The site is well layed out and campsites are well maintained.
Apr 28, 2020
I was a difficult customer with my late check in and going to the wrong spot, staff was amazing and accommodated me. Travel to camp sites alot and by far the top of my list.
Apr 23, 2020
We enjoyed our stay. The staff is very nice. We didn't get to do any of the activities due to the stupid shut down from cover-19 :[ May have to go back when things return to normal!
Apr 23, 2020
Overnight stay, very grateful for the place to stop. Looked like improvements were in the works. We didn't use any of the facilities The check in was a great experience.
Apr 14, 2020
People were very nice. We stayed before everything was open, but it looks great! Big pool,miniture golf, even horseback riding! We can't wait to go back in the summer!
Mar 30, 2020
I stayed in the one room cabin. It was clean quiet and a wonderful setting.