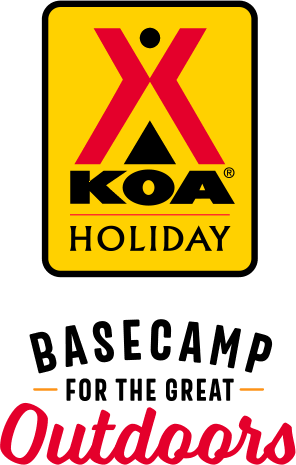 KOA Holiday Campgrounds
Whether you're exploring the local area or hanging out at the campground, KOA Holidays are an ideal place to relax and play. There's plenty to do, with amenities and services to make your stay memorable. Plus, you'll enjoy the outdoor experience with upgraded RV Sites with KOA Patio® and Deluxe Cabins with full baths for camping in comfort. Bring your family, bring your friends, or bring the whole group – there's plenty of ways to stay and explore.
KOA Holidays Feature:
RV Sites with a KOA Patio®
Deluxe Cabins with full baths
Premium Tent Sites
Group meeting facilities
Directions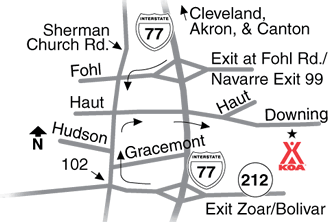 Southbound I-77 to Exit 99 - West at Fohl Road, left at Sherman Church Road, 3 miles to Haut, left for 1 mile.
Northbound I-77 to Exit 93 - left to first stop, right 3 miles (parallel to I-77) to Haut, right 1 mile.
Get Google Directions
Jul 04, 2020
Thanks for the very nice pool it was 90 out.
Jul 03, 2020
Had a lot of trucks in and out, other than that was not bad
Jul 02, 2020
Loved the campsite. Grounds very nice a d quiet. Would return again.
Jul 01, 2020
No issues, the girls that checked us in were fantastic, very friendly and easy to joke with.
Jul 01, 2020
We have been visiting this location for over 10 years and they are definitely on the continuous improvement program. They have the BEST patio sites of any KOA we have visited.
CAMPGROUND RESPONSE / COMMENTS:
Thank you for your wonderful comments and for being a valued camper!
Jun 30, 2020
Being a KOA Holiday, I expected the grounds to be much nicer. The grounds really need need some work. Especially around minature golf course.
Jun 30, 2020
It was great! We walked to the stables just in time to watch the horses run to the pasture, that was fun, nice site, nice place, booked 2 more weekends this year
Jun 30, 2020
We enjoyed our stay in the smaller cabins. We were slightly confused about check out but we managed. Thank you!
Jun 30, 2020
Love this campground! The staff is so nice, friendly and helpful. The pool is well kept. We went horse back riding and the horses are very well cared for and the guides were kind and helpful. Can't wait to go back. Very nice campground, very clean and kept up
Jun 30, 2020
It was beautiful! And quite!
Jun 30, 2020
We had a nice site and a quiet relaxing weekend. We will be back.
Jun 27, 2020
Our site was on a tiered hill The connections were about 40ft away Back at the site behind us The people were super nice and tried to accommodate us at another site But none available We were going to stay 3 nights but left after 1 BAD EXPERIENCE!!
Jun 26, 2020
we really liked the campground and the pool!
CAMPGROUND RESPONSE / COMMENTS:
Glad you enjoyed the campground and the pool! Thanks for camping at the Canton/East Sparta OH KOA!
Jun 25, 2020
This one was one of the cleanest campgrounds I've stayed at very friendly people. however its was also the smallest
Jun 24, 2020
Campground was clean, check in was easy. The ladies in the office were super helpful.
Jun 24, 2020
Always a great place to relax. Nice people working there.
Jun 24, 2020
Fabulous campground. Plenty to do and enjoy. We especially enjoyed the stables and the horses. The staff was exceptional. Nice level spot.
Jun 24, 2020
Me and our family had a very nice time! My Grandaughters had plenty of things to do!!
Jun 24, 2020
We had a great time, the staff was very nice and helpful. The grounds were very well kept, we stayed in K1 and it's a nice little cabin. The only thing I had a hard time with was getting around, I am disabled and I brought a 4wheeler but wasn't able to ride it on the grounds, only golf carts are allowed. I get your reasons, it was just really hard for me to get around. Great place though.
Jun 22, 2020
We don't get to camp very often. But every time we stay here the staff is more than friendly and accommodating!! We love everything about it and have already been telling friends and family about how nice the cabins are and how great everything is! We love staying here! It is is always a wonderful experience!!
Jun 21, 2020
Great time. Very clean
Jun 21, 2020
We love this campground!! Staff is super helpful and our deluxe patio site was fabulous.
Jun 20, 2020
We had a beautiful patio spot and enjoyed the fire pit.
Jun 20, 2020
This campground was clean and well kept. Although we did not have shade, there were plenty of shaded campsites. It was very quiet and relaxing with plenty of areas to walk our dogs. The staff were very helpful and pleasant. Great place if you want some quiet time.
Jun 17, 2020
Not a relaxing place to stay. All you hear all night is the diesel trucks running in and out and in between people walking around and talking. No supervision or respect for quiet hours. Also had a deluxe koa patio site and it was so unlevel it took multiple attempts to find the right amount of spacers to get halfway there. A very nice campground overall but wont be back!
Jun 17, 2020
We loved the friendly staff & all of the activities available! We were a little off put by how close the campsites were to one another but we hadn't been to a KOA before this one so we didn't know what to expect. The staff at the store building were super sweet & helpful & riding horses was so much fun! We definitely know what to expect with KOA's from now on & will continue to stay at them.
Jun 17, 2020
Very relaxing, peaceful atmosphere. Staff is wonderful and helpful!
Jun 17, 2020
Nice clean quiet. Nice and friendly staff. The Trump picture was great just wish it was poster size LOL
Jun 17, 2020
Very clean was very happy with out site ,staff was very helpful and lots of activities.
Jun 17, 2020
I had stayed at the campground the week prior and loved it. I then booked again the following weekend and requested a specific site that I was told was available. When I checked in I was told that the site I requested was booked and my request was never acknowledged. Needless to say I was disappointed. It was a bad start. The site that I was given wasn't adequate because I couldn't unload my A
Jun 17, 2020
Campground is very clean and well maintained. The staff was very friendly. We will definitely be bsck.
Jun 16, 2020
GREAT place for a friend's retreat!!! Definitely making plans to return soon!!
Jun 15, 2020
Been coming here for years the owners Lee & Carol have always been very nice to us.
Jun 13, 2020
The place was nice clean, very professional, restrooms and showers were clean. The cabin I stayed in was very clean and nice.
Jun 13, 2020
This was a spur of the moment camping trip and we really enjoyed ourselves. The staff was very pleasant and helpful. The site was clean and well kept up. The bathrooms were spotless. We were tent camping and they placed us a couple sites away from the other tent campers so we all enjoyed our privacy. The main reason we picked this KOA was horseback riding and It was great. Boys enjoyed pool too
CAMPGROUND RESPONSE / COMMENTS:
Glad you enjoyed your spur of the moment camping trip! That you found the staff pleasant and helpful, the site was clean, and bathrooms spotless. Hope to see you again soon!
Jun 10, 2020
Nice place to stay. Had 3 issues during the week; all were addressed with grace & resolved. Great owners, great employees. Our stay was during the Covid-19 lockdown, so not much was open. Still, enjoyed our visit.
Jun 10, 2020
We have stayed here in the past, and , as always, it was very nice. Clean and quite. Very enjoyable.