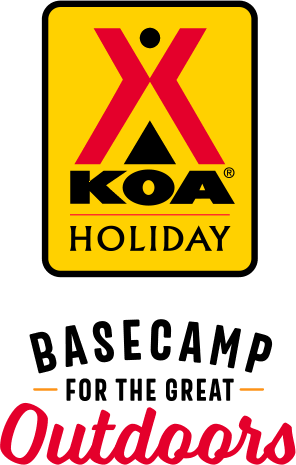 KOA Holiday Campgrounds
Whether you're exploring the local area or hanging out at the campground, KOA Holidays are an ideal place to relax and play. There's plenty to do, with amenities and services to make your stay memorable. Plus, you'll enjoy the outdoor experience with upgraded RV Sites with KOA Patio® and Deluxe Cabins with full baths for camping in comfort. Bring your family, bring your friends, or bring the whole group – there's plenty of ways to stay and explore.
KOA Holidays Feature:
RV Sites with a KOA Patio®
Deluxe Cabins with full baths
Premium Tent Sites
Group meeting facilities
Directions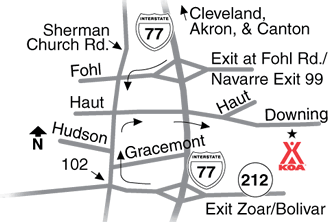 Southbound I-77 to Exit 99 - West at Fohl Road, left at Sherman Church Road, 3 miles to Haut, left for 1 mile.
Northbound I-77 to Exit 93 - left to first stop, right 3 miles (parallel to I-77) to Haut, right 1 mile.
Get Google Directions
Jun 13, 2019
We enjoyed our stay. The first camp site we were given wasn't the best because it was in front of the shelter house that way going to have a karaoke night that weekend. They did let us walk around and choose another available campsite. Everyone we came in contact with was really nice. The kids had a lot of fun.
Jun 13, 2019
First off someone from Corporate needs to get in to straighten this place out. Checked in no one shows you anything. They hand you a map. Every other KOA has someone direct you ri your campsite. We did not see any employees our whole stat ( 3 nights) . You can smell sewer throughout the whole place. If I had it to do over I would not stay there.
Jun 13, 2019
Stay was great nice campground and friendly staff and guest
Jun 13, 2019
They always are so nice there. They make it feel like home.
Jun 12, 2019
Stayed 2 nites
Jun 08, 2019
This trip was not our first visit to Canton/East Sparta KOA and probably will not be our last! This is a beautiful campground, the staff is very accommodating and the entire facility is top tier!
Jun 06, 2019
We enjoyed the stay, the only thing missing was that the pool was not open. The staff were very friendly and helpful. I would recommend the camp. Horse back riding was an extra bonus.
Jun 04, 2019
Very clean. Friendly staff.
Jun 02, 2019
Very friendly people, nice amenities.
May 30, 2019
We had a pull through site with a drop off that once our steps were down was really no room. On the other side of drop off was like a swamp. The bath house was ok had a few broken tiles in shower no fan. Staff friendly and had lots of things to do for the children. Pavilion had bird poop cover tables. Had to pay for horse back riding and atv trail access, appeared in KOA book was included .
May 30, 2019
While our patio site w grill was excellent . Staff was very friendly . Easy to get to with our large class a motorhome . Now the negatives were we are very close to a landfill and the sewage system for the park was very close to our site where we could see and sometimes smell.
May 30, 2019
I had so much fun. I love the horses and the pool. One of my favorites campgrounds.
May 30, 2019
I would love to rank this higher, as we have stayed at a lot of KOA's and the deluxe patio site was perfect. But there were several items thst outweighed the site. Pool was a dirty green color and only the 2nd day open. The location of the dog park was right next to water treatment location and runoff area (septic drain area) and did not matter what way wind was blowing it stunk.
May 30, 2019
This was our first time there, it was wonderful. The grandkids enjoyed it so much everything from riding horses to Karaoke. The camp ground was very clean and well kept as were the bathroom facilities. I would highly recommend this camp ground. The sites were nice and more roomy than a lot I've been in. If your looking for a great time and the quiet serene evenings than this is the place to go.
May 30, 2019
Clean campsite very clean nice bathrooms quiet at night beautiful view of the stars.
May 22, 2019
Stay was very nice. Place very clean and friendly people. The site we had was excellent and the activities that we did was very enjoyable.
May 21, 2019
Loved the country atmosphere here it's very quiet
May 20, 2019
Nice people and good for several day stay.
May 19, 2019
From pulling up to my perfect cabin to leaving I could not have asked for a better time. I was there for my birthday and it was the most relaxing birthdays in a long time. The area is beautiful. Thank you!
May 17, 2019
It was not pleasant. Unreliable, almost non existent Wi-Fi, the smell from the garage dump was horrible even in the winter. Spotty cell service at best.
May 16, 2019
We stayed in the pet friendly deluxe cabin again. NICE. The cabin is VERY clean and has updated dishes and bunk beds. The cemented fire ring area with the outdoor swing&full size table/chairs is a nice feature. The office check in is simple and the staff are always friendly. We do look forward to a little getaway when they have their Care Camp and Buy One Get One with ValuKard savings.
May 16, 2019
Last minute decision to book there while on my way home from Florida but found the road in very lengthy and indirect. Staff was very professional but the TV cable reception was very poor a real customer complaint in my case. ---Only there for one night but because of the above --I would not recommend this KOA to any friends . ---Sorry but I must be honest .
May 16, 2019
This is our second time at this Koa. I really liked the space we were in -610. We visit family when we are here so we didn't really use the grounds much. Tons of people there on the weekend but everyone was quiet and it was peaceful.
May 16, 2019
One of the nicest KOA's we have ever stayed at! We have already recommended it a family in Jersey that camps a lot with other friends and family. Staff was very friendly and helpful.
May 15, 2019
The staff was very friendly and knew every answer to my questions. We had the only tent so it was nice picking any spot we wanted. We stayed last year in a cabin. Bear creek is a beautiful place to stay and I'm happy they have extra activities on the weekends to keep people busy. We can't wait to come back in a few weeks!
May 14, 2019
Great place to go! People are friendly and staff is wonderful! We'll actually be parking there permanently for the summer.
May 12, 2019
Nice campground and friendly employees.
May 11, 2019
Very nice people.
May 08, 2019
We stayed in a pull thru 50 amp site. Water pressure was very low. Office staff was very nice and helpful.
May 02, 2019
I loved it andwould like to thank the lady who gave me tea bags when it was raing and cold out from behind the counter that was so appreciated.
Apr 29, 2019
The Deluxe Patio site was wonderful. Very level and clean.
Apr 28, 2019
Dated and not over friendly staff. A LOT farther from I-77 than we thought.
Apr 26, 2019
Probably sad for me to say but being only a few campgrounds open year round in the north we wouldn't complain about much of anything. Think $10 per extra person is a little much, but we paid it because, again, the campground is open when we needed it to be. Nice sites, level, well graded, well kept, friendly.
Apr 19, 2019
nice place to camp clean restroom and showers.
Apr 17, 2019
Super froendly....very helpful....we LOVE this KOA!!!
Apr 17, 2019
We spent 3 nights here nothing special sewer drains are up hill and hard to get a complete pump out
Oct 28, 2020
It was great they had horses you can ride and a big fishing area
- Dustin Collins on Google
Oct 15, 2020
First impression- beautiful! Helpful and friendly staff!
- Kristen Henry on Google
Oct 10, 2020
Beautiful!!!
- Theresa Paul on Google