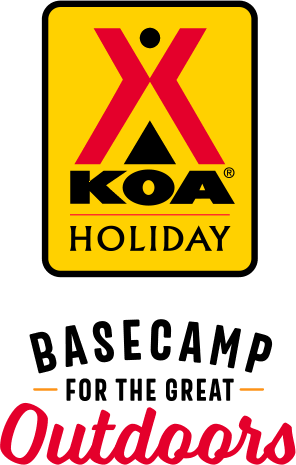 KOA Holiday Campgrounds
Whether you're exploring the local area or hanging out at the campground, KOA Holidays are an ideal place to relax and play. There's plenty to do, with amenities and services to make your stay memorable. Plus, you'll enjoy the outdoor experience with upgraded RV Sites with KOA Patio® and Deluxe Cabins with full baths for camping in comfort. Bring your family, bring your friends, or bring the whole group – there's plenty of ways to stay and explore.
KOA Holidays Feature:
RV Sites with a KOA Patio®
Deluxe Cabins with full baths
Premium Tent Sites
Group meeting facilities
Directions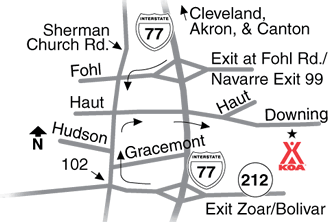 Southbound I-77 to Exit 99 - West at Fohl Road, left at Sherman Church Road, 3 miles to Haut, left for 1 mile.
Northbound I-77 to Exit 93 - left to first stop, right 3 miles (parallel to I-77) to Haut, right 1 mile.
Get Google Directions
Jul 15, 2019
Very clean facilities and friendly staff. Very impressed with the clean up of a tree that had fallen. They were right on it the next day! The only reason why I give it 4 stars is bc I was disappointed that the rate online for the ATV trails is $20 and we were charged $25. It was brought up to the girl at the front desk and nothing was done about it. Also, the putt putt could have been a cleaner.
Jul 14, 2019
We had a very good time. First time there and we have no complaints and we would go again.
Jul 13, 2019
Great place..pool and game room and camp store are great..staff is top notch..We like to camp in the primitive section and spend a day or two in the a tv trails a mile up the road(or ten miles around the holler if the flood closes the road down)..always a great weekend at Bear Creek
Jul 12, 2019
We really enjoyed our stay and definitely will return for another weekend. The pool was very clean. Staff was friendly, had activities for kids and the adults. Thank you for a good wedkend.
Jul 12, 2019
Always nice, friendly staff
Jul 12, 2019
The campground it's self is fairly nice. The sites were great. However there was poison ivy growing up over the sidewalk to the pool and also at our site. We had to make sure we kept our kids away from it. We would not recommend this place though because there was an argument between the owner and another camper. The owner pulled a knife out and threatened to "gut the man like a fish"
CAMPGROUND RESPONSE / COMMENTS:
The incident you describe was NOT the owner. What the man pulled was not a knife but his glasses out of his pocket so he could see because it was getting dark. The sheriff was called and he said the site was drinking heavily. Sorry, but you should get all the facts before you spread such statements. This is not the type of campground you portray or we would not have the great reviews we get.
Jul 11, 2019
Staff was friendly. Campground very clean and quiet at night.
Jul 08, 2019
Everything was great, nice accommodations and horseback riding was amazing. We all left covered in poison ivy though, definitely something to look into as we only were on the main walkways, and minigolf.
Jul 08, 2019
Nice camp grounds. The premium sites need a few shade trees and the WiFi is a little weak. Other than that we enjoyed our stay and would come back again.
Jul 08, 2019
AWESOME KOA! Very clean and the staff is top notch!
Jul 07, 2019
We come every year and stay in the kottages. Glynna and another new person at the front desk tried to get us to pay more than the weekly rate. It would be great if all staff understood the charges before asking people to pay $400 more than actual price. We enjoy our family vacations there.
Jul 07, 2019
4 days. Very relaxing. Great facility. Staff friendly & helpful. Would recommend.
Jul 07, 2019
Nice KOA! We enjoy staying here when we go to Amish Country
Jul 06, 2019
My site was kinda weird(#80) and NO shade at all. Gas grill didn't work. Parking situation at checkin was weird. No garbage pickup was a pain. Nice pool and game room.
Jul 05, 2019
Campground was fine but someone stole $60.00 from my granddaughter's purse at the pool. She didn't notice till we got home.
Jul 04, 2019
Great proximity to Niagara Falls but lots were pretty narrow - very nice hosts
Jul 04, 2019
Stay was great! Staff should warn arriving guests that a route from the south is blocked due to high water. Waze recommended the blocked route. We were caused unnecessary stress due to the lack of a heads up.
Jul 04, 2019
This was our first time there. it is a wonderful place to stay with lots of activities to keep the kids busy and a beautiful place to relax. the only negative thing I can say is that people who have dogs do not keep them on a 6-foot leash. I had a couple dogs lunch at my children when we are trying to walk to the restroom. It frightened my kids and myself. I think the rule should be more enforced.
Jul 04, 2019
I know the owners cannot control what type of customers come into their Campground. However in talking with them about someone stealing my Fitbit at the pool & my girlfriends cover up nothing was done. Another camper informed them that someone stoled their cooler & firewood. At that time no one knew how to work the security camera to look back at the tape. Shame on the OWNERS for doing NOTHING!!!!
Jul 04, 2019
The staff was really friendly, the amenities were nice, & there was a lot of different activities for the kids. In the downside, there's not a lot of shady places to relax. Also, during our weekend stay we had our coolers stolen, another lady had her fit bit taken from her at the pool, & more. Knowing that anything you have will be stolen was a huge downside.I loved the patio, grill, & furniture.
Jul 03, 2019
Facilities were clean, campsite was clean, only problem was that the road seems to close often due to rain which was an inconvenience getting to the ATV riding area, but great trip otherwise.
Jul 02, 2019
The campground was very nice, we were in a 40 foot coach and towing. The spot we had was a pull through and very tight. Other then that it's a nice place, nice pool and dog park.
Jul 02, 2019
Passing thru and needed a place to stay for the night. Tried making a reservation on line but couldn't because a 2 night minimum was required. Called the office and they found a spot for us for the night. Friendly staff. Great looking pool and mini golf course. Reasonably priced.
Jun 29, 2019
Only gripe I have is with the sites being a little close together. The weekenders love their campfires, and my camper was engulfed in smoke every weekend. Was wishing for dry season and fire bans.
Jun 29, 2019
Friendly owners. Very helpful. Beware that there is a Land Fill not very far from this location. Wind blows the wrong way, not the most pleasant setting.
Jun 29, 2019
The playground area needs work. There were tons of weeds and muddy areas. The bathrooms smelled a little off, kind of like a mold. Was kind of annoying finding it with the road washed out. Should have probably gotten some warning about that. Other than that we had a good time.
Jun 29, 2019
This was a great location for my wife and her twin sister to celebrate their 73rd birthday together. They had a great time.
Jun 27, 2019
The people were very nice, and the only thing I could say that wasn't 100 percent. Was the concert pad could have been blown off. But the stay was very nice.
Jun 27, 2019
My boys enjoyed the pool and see-saw. It was nice that a dog park was offered.
Jun 27, 2019
Very clean facilities.
Jun 27, 2019
The place was clean! Very clean. Once checked in you never saw another employee. Loose gravel on some of the roads, which cause myself to fall and receive stitches. Quiet, not much road noise.
Jun 27, 2019
Great campground. !! We always stay at Beer Creek coming east and again going back out west were we live.Very nice accommodations in all aspects. Even enjoyed the miniature golf course. Fantastic staff at this KOA campground.
Jun 26, 2019
We had a great stay and the staff was wonderful.
Jun 26, 2019
Been here several times over the years with our family kids are grown up an we keep going back great people.
Jun 23, 2019
We didn't get to enjoy the campground too much because it rained all but one day of our 4 day stay. Check in was good. I dud think the rates were very high. Your rate only included 2 people and we had to pay for our children. How can a family afford this?
Jun 21, 2019
Quiet, beautiful, and picturesque. We are from the desert and our haws dropped at the greenery. Super clean and friendly staff.
Jun 20, 2019
Pull through sites need improved to make them higher than the sewage inlet. Overflow of sewage, near water source, from the ground during rain. Sewer system not sealed. poor drainage when it rains leaving large puddles.
Jun 16, 2019
the cabins are nice. and the people are friendly
Jun 14, 2019
Had a great time. Campground is clean. Site arrangements are different, but kind of neat. Owner is sweet. Store workers were very friendly. Nice playground.
Jun 14, 2019
3 nights stay in East Sparta KOA, honestly we only slept there at night and didn't use any of the amenities, pool or put-put golf. Nice quiet campground.
Oct 28, 2020
It was great they had horses you can ride and a big fishing area
- Dustin Collins on Google
Oct 15, 2020
First impression- beautiful! Helpful and friendly staff!
- Kristen Henry on Google
Oct 10, 2020
Beautiful!!!
- Theresa Paul on Google