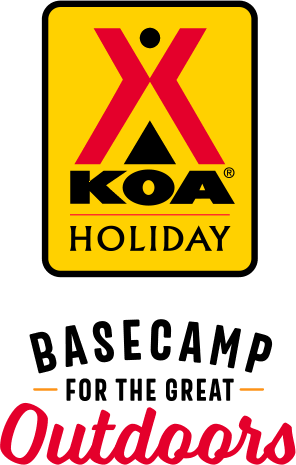 KOA Holiday Campgrounds
Whether you're exploring the local area or hanging out at the campground, KOA Holidays are an ideal place to relax and play. There's plenty to do, with amenities and services to make your stay memorable. Plus, you'll enjoy the outdoor experience with upgraded RV Sites with KOA Patio® and Deluxe Cabins with full baths for camping in comfort. Bring your family, bring your friends, or bring the whole group – there's plenty of ways to stay and explore.
KOA Holidays Feature:
RV Sites with a KOA Patio®
Deluxe Cabins with full baths
Premium Tent Sites
Group meeting facilities
Directions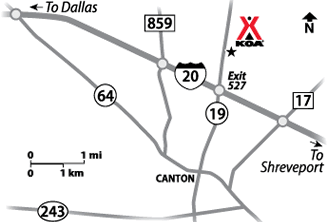 From Interstate 20 take the #527 exit (HWY 19 exit) off of Interstate 20. Go north on Hwy 19 for 1/2 mile. When you go over the small bridge start slowing down.  The entrance to the KOA of Canton is on the east side (right side) of the road. There will be a large entrance sign that reads Silver Spur Resort. The KOA of Canton is within the Silver Spur Resort.
Get Google Directions
Oct 13, 2020
Enjoyed our stay with y'all. Did not like the sprinklers that came on in the early morning or the dust on the ends of the park rows.
Oct 12, 2020
ONE OF MY TOP 5 FAVORITES.. HAD EVERYTHING..POOL..STORE..DOG PARK AND GREAT RESTAURANT THAT DELIVERED !!!
Oct 10, 2020
We were traveling from seeing family back to Utah, and stumbled on the KOA in Canton Texas. What a lucky find! We stayed in a tiny house they call The Coop. It was perfect for my daughter and I. They upgraded us to The Coop, and let us have a late checkout because of my daughter's online college classes (fall 2020). Everything was great! The staff, The Coop, and the Q & Brew. Great place!
Oct 10, 2020
Great campground with plenty of room, paved sites, great staff!
Oct 06, 2020
People were super friendly, they went out of their way to ensure a pleasant stay.
Oct 06, 2020
All in all it was a very nice stay. We did have a problem that the restrooms were freezing and we did not want to take a shower in there. It was warm during the day so the A/C was required, but the heater was not turned on soon enough to warm it up once the sun went down. It was 7:00 at night and it was freezing in the restroom, it was warmer outside.
Oct 06, 2020
For the price you need t.v. Everything else is top notch! we'll be back
Oct 06, 2020
Quiet, peaceful, great location, clean cabin. Will return
Oct 06, 2020
Very nice campground! Loved the bbq place on site and ate there 3 nights, it was fantastic. Very clean and still being built but very nice place to stay.
Oct 06, 2020
we were told the bathroom was under construction and we couldnt use it when we sat there and watched people go in and out all day and at 3 in the morning we got drowned by the sewage sprinkler system i guess the tent campers money isnt good enough as the RVs are and the only reason we didnt leave there was no where else to go i will never stay there again
Oct 05, 2020
Second time to stay here. Several improvements and expansion since last stay in 11/2019. Great amenities and sites.
Oct 05, 2020
The chuck wagon was great. I want one at my home.
Oct 05, 2020
It was a great place to stay and the staff people were friendly and helpful. Lots of fun things to do. I only gave it 4 stars because the mosquitos were so bad-I have lots of mosquito bites.
Oct 05, 2020
Great time, friendly, clean park.
Oct 05, 2020
This is an awesome facility and provides a very relaxing environment to enjoy your stay. Grounds are kept sparking clean and staff was very nice. Activities available for all ages to enjoy while visiting. We have a travel trailer, but can bring more guests that can stay in the many cabins , tent camp, or the very unique wagon experience. This is a great destination for couples or families .
Oct 05, 2020
New KOA but very nice. Staff was awesome!
Oct 05, 2020
Very clean site's and staff very friendly
Oct 05, 2020
The staff there were wonderful and friendly. Very impressed with everything. I would highly recommend staying there.
Oct 05, 2020
Very nice and well kept campground!!
Oct 05, 2020
My daughter and I stayed in the Conestoga wagons. They were very clean and the bed was very comfortable. We participated in the chuckwagon dinner, which was exceptionally delicious. People that run the KOA were very nice.
Oct 05, 2020
We love the resort. The only issue we had was the service at the Brew and Q. The staff was very friendly but the service was very disorganized, orders were wrong and the service was very slow. Otherwise it was an amazing stay and we will be back.
Oct 05, 2020
Checked in, wagon wasn't clean or ready. Had to wait. Not friendly or professional at all.
Oct 05, 2020
excellent stay except for the wifi. We will definitely be back.
Oct 05, 2020
This is the nicest KOA I have ever stayed at.
Oct 04, 2020
My 2 adult daughters and I rented a cabin. Loved every second of our stay. If I had to complain, it would only be that girls need mirrors. There was only the one small one above the bathroom sink. The food at the chuck wagon was delicious. Everyone is so nice! We will only stay here from now on.
Oct 04, 2020
Very nice and clean
Oct 03, 2020
Very disappointed in the Campground. We arrived after 6pm, after a long day of driving to Canton, shopping and eating, only to find out our room was not ready. Bottom line, we sat in our cars for over an hour, with a 2 year old, while they cleaned the cabin. I felt like it was a little ridiculous that office people didn't realize room wasn't cleaned, since it was supposed to be ready by 3:0
Oct 02, 2020
The site was one of the better ones we have stayed at. We did have neighbors that partied until 3:45 in the morning. We felt like the campground should have shut the party down. Quiet hours were not observed.
Oct 02, 2020
Clean. Beautiful location. Had difficulty getting a correct price quote for a 2 day stay with dog. Took 3 phone calls for an accurate price. Not a big problem. Glad I pursued because it's a wonderful park.
Sep 30, 2020
Friendly staff
Sep 28, 2020
We had the most relaxing yet fun weekend and KOA Canton. Staff was super friendly and attententive throughout our stay. We shopped at the general store on site and rented out a few games to play. The bathrooms/showers were very clean and stocked everytime we used them. Would definitely stay again.
Sep 27, 2020
Wonderful facility. Club room had plenty of space for our group of 21 with room to spare. On-site store and restaurant was great. Looking forward to our return.
Sep 27, 2020
Quiet, clean and very enjoyable. Great location.
Sep 27, 2020
The most pristine, cared for and engaging rv park we have ever stayed in! You should go out of your way to visit this park.
Sep 27, 2020
One night stay as we headed home. Everything was great. Will be back
Sep 26, 2020
wonderful ,very relaxing and a neat clean place for families
Sep 25, 2020
Level concrete sites/ two sewer hookups/on site restaurant has good food and service
Jan 05, 2021
Brew and Q is a awesome place to eat the food and beer was great
- John Gibson on Google
Dec 31, 2020
Beautiful campground, emaculate facilities!!
- Ernie Turbyfill on Google
Dec 24, 2020
Very nice and friendly service, really enjoyed my night there while traveling west.
- Harold Honeyman on Google