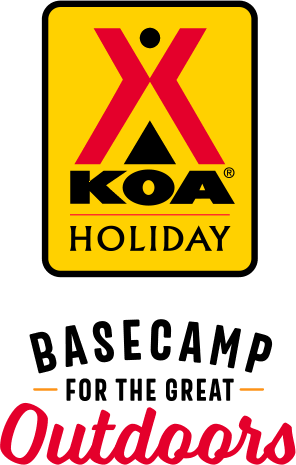 KOA Holiday Campgrounds
Whether you're exploring the local area or hanging out at the campground, KOA Holidays are an ideal place to relax and play. There's plenty to do, with amenities and services to make your stay memorable. Plus, you'll enjoy the outdoor experience with upgraded RV Sites with KOA Patio® and Deluxe Cabins with full baths for camping in comfort. Bring your family, bring your friends, or bring the whole group – there's plenty of ways to stay and explore.
KOA Holidays Feature:
RV Sites with a KOA Patio®
Deluxe Cabins with full baths
Premium Tent Sites
Group meeting facilities
Directions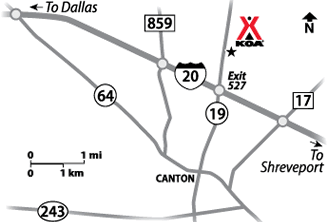 From Interstate 20 take the #527 exit (HWY 19 exit) off of Interstate 20. Go north on Hwy 19 for 1/2 mile. When you go over the small bridge start slowing down.  The entrance to the KOA of Canton is on the east side (right side) of the road. There will be a large entrance sign that reads Silver Spur Resort. The KOA of Canton is within the Silver Spur Resort.
Get Google Directions
Dec 11, 2020
The people here are very accommodating and friendly. The park needs cable. It's inconvenient to work other forms of entertainment. If I weren't somewhat prepared for this, it would not have been good.
Dec 11, 2020
Everyone was very friendly. The campgrounds were very clean.
Dec 09, 2020
Very nice and clean Campground, nice wide and long paved sites. Very convenient to Interstate and to Canton Marketplace!
Dec 09, 2020
Overall we enjoyed the campground and restaurant. Our site had muddy ruts in the grass area in front of door from previous campers.
Dec 09, 2020
We were surprised by this KOA. Very clean, staff was great. Restaurant was very good. We didn't have our meal delivered to us in our camper, but what a convenient service after a long day walking. Great stay and very close to downtown Canton and all the shopping.
Dec 09, 2020
Grounds very clean, sites large , loved the tables and fire pits! Staff extremely friendly and helpful! Restaurant so handy, food excellent and prices reasonable!
Dec 09, 2020
Very nice place with awesome staff members! The Chuckwagon dinner and live music was the best!!! You must give it a try! I am not one to leave comments. However, this place was such a great stay with a tremendous staff, I felt the need to do my part and leave good feedback. Keep up the great work and we look forward to coming back.
Dec 09, 2020
Arrived later than office hours. Information left was incorrect and confusing. Car tag said one location, map said another. East fix, young lady working office was very friendly and professional. The main road of campground is not paved but when seen during skylight, they are still developing other areas. There are lots amenities and would like try to return again in Spring.
Dec 09, 2020
The only reason we didn't give 5 stars is due to WiFi. The WiFi was extremely spotty and we rarely had a connection while the park was full. Other than that it was an AMAZING place. The food was awesome, spotlessly clean, conveniently located with extremely helpful and courteous staff!! Really wanted to give 5 Stars.
Dec 07, 2020
Very clean, great amenities especially the restaurant, people extremely friendly and helpful!
Dec 07, 2020
Our stay was wonderful. The resort is exceptionally clean and well maintained. We stayed in one of their cabins and it was wonderful! The staff was great and very friendly. The Q and Brew restaurant was delicious! We will definitely stay there every time we're in Canton TX! 5 stars isnt enough...we give it 10 stars!
Dec 07, 2020
Lack of tv and internet access was a bummer. Room lighting much too dark or nonexistent. Table stools were not comfortable; we kept sliding out of them. The drive should be wider and the sidewalk path more narrow or laid out in a different pattern to widen drive. I wish we had known there was no coffee pot before arriving. Management was nice but never returned with a burned out bulb.
Dec 07, 2020
A TV in the cabin would have been good.
Dec 07, 2020
Our stay was wonderful! This was our first time to stay at an KOA and we were impressed!! Soo nice and the restaurant was the Best!! We will be back.
Dec 06, 2020
We stayed in a great cabin at the Silver Spur Resort in Canton. The people who work there are great!
Dec 06, 2020
All great except for a couple of items. Need Cable TV. The unpaved roads are a mess. Need to be paved. Wish the K9 Camp Dog Park was bigger, but glad you have a place for off leash.
Dec 06, 2020
Excellent stay. The young man that checked us in was very friendly, helpful and professional. We loved the cabin and it was very clean. The bed was very comfortable. We will stay here again!
Dec 05, 2020
Wonderful place! The food delivered to our motor home was fantastic and fast!!
Dec 05, 2020
Wonderful resort, clean and fun
Dec 04, 2020
Very friendly and helpful staff. Great sites. Well maintained. Would stay here again.
Dec 02, 2020
Excellent place to camp for a night or an extended stay. Great staff and super clean restrooms. They went out of their way to accommodate my special request.
Dec 01, 2020
Wonderful new facility, very clean and welll kept grounds.
Nov 30, 2020
Each time we visit it gets better. My grandson loved the boats,fishing and playing at the playground
Nov 29, 2020
Great hosts and wonderful camp sites.
Nov 29, 2020
Very easy check in. And the staff was very helpful. Also grounds were well kept
Nov 27, 2020
Wonderful patio spot! Once cable gets installed, will be perfect! Restaurant onsite delicious!
Nov 27, 2020
Really liked the park, and the barbeque restaurant was the best. Will definitely stay again.
Nov 26, 2020
My only complaint was there were no utensils in the kitchen, such as plates, cups, or silverware. A TV would've also been nice. Otherwise it was clean, comfortable, and plenty of towels and toiletries.
Nov 26, 2020
Great time, much to do around the resort! We will be back and have already told friends to give it a try!!
Nov 26, 2020
Very nice campground, will be back!!
Nov 25, 2020
Campground was very clean. Wifi was acceptable. Trash picked up several times each day. Fire pits cleaned after each departure.
Nov 24, 2020
We loved "glamping" in the covered wagons! The staff that we encountered were friendly and efficient. A couple of minor issues - there were tons of wasps all around the wagons. When called, someone came and sprayed. The other issue was that the website listed the bathrooms as private, however several campers from the tent camping area used the entrance code to use the bathrooms often.
Nov 24, 2020
One night stop over but definitely a very nice KOA resort.
Nov 23, 2020
We had a great time. The cabin we stayed in was very nice, very clean, and well equipped. Our hosts were friendly and helpful.
Nov 22, 2020
Beautiful new park. Had a level, paved pull-through with a view of the fishing pond. Loved that there was a nice BBQ restaurant at the entrance. Made the first night a cinch! Garbage pickup is a little early (between 8 and 9). Only complaint was lack of masks on employees, especially in the tiny laundry room. Might be low risk in Canton, but visitors from all over make it more so in a tight space.
Nov 22, 2020
First class park. Great people, great sites and location. Enjoyed Q and Brew! Impressed with nice level concrete pads and amenities. Do think wi-fi could be improved.
Nov 16, 2020
We came in from MD, and stayed in a cabin that sleeps 6. The grounds & cabins and are lovely, but I highly suggest tv's, plates, coffee cups, bowls, cutlery, a dresser, & more hooks in the bathroom. We were really inconvenienced with not having those items. 6 suitcases, 6 people showering, and nowhere to put it all. Other than that the place is lovely.
Nov 16, 2020
Very enjoyable. I stayed in a tiny house and it was very clean and comfortable. The on-site restaurant had great service and delicious food.
Jan 05, 2021
Brew and Q is a awesome place to eat the food and beer was great
- John Gibson on Google
Dec 31, 2020
Beautiful campground, emaculate facilities!!
- Ernie Turbyfill on Google
Dec 24, 2020
Very nice and friendly service, really enjoyed my night there while traveling west.
- Harold Honeyman on Google