5 Fun Ideas for Camping with Kids at Canton KOA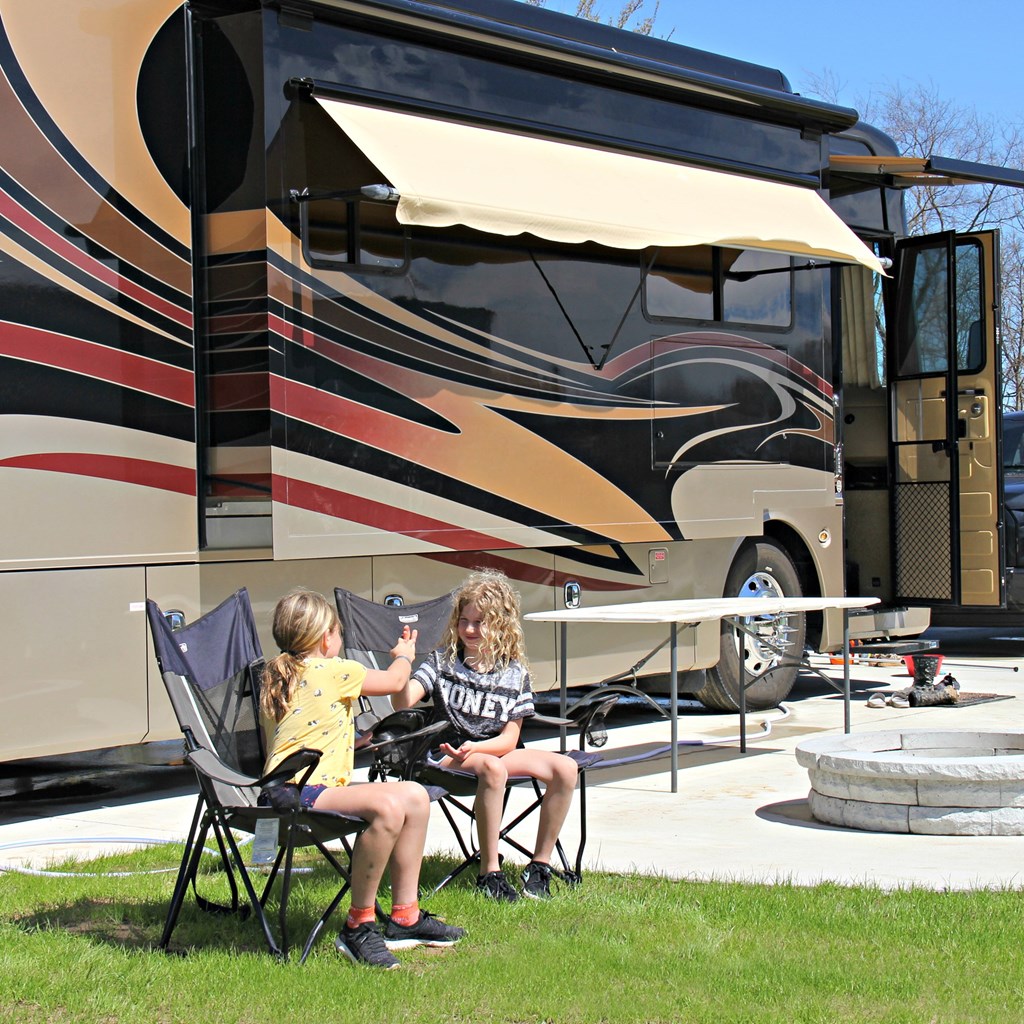 The Silver Spur Resort is officially a KOA Kampground site, and we couldn't be more excited! Once fully completed, the KOA portion of the Resort will have over 100 RV spots, including back in, pull through and patio campsites.
Camping with your kids can be an unforgettably wonderful experience for the whole family. It can also be… a challenge when the kids are fighting, the dog is barking, and you're ready to turn the car around and head back home. Learning more about our kampground and all the amenities we offer can help your family know what to expect before your arrival.
Here are our tips for planning a super fun RV or camping trip to Canton KOA with your family – without wanting to pull your hair out!
Pick the right spot for you
As of Fall 2019, the Silver Spur will have four different types of camping spots in the KOA portion of our resort.
Deluxe Tent Sites: (Coming Fall 2019!) We make tent camping easy with an extra comfy place to pitch your tent, only a short walk to bathrooms. These sites will come with access to the pool & fun recreation. This is a great option for families with kids of all ages.
Deluxe RV Pull-Through: If you want an extra-special spot for your RV, our deluxe pull-through spot is perfect. It includes a concrete pull through with firepit, outdoor furniture, water, 20/30/50 electric, and sewage, large deluxe patio sites with space to stretch out, patio furniture, and a fire ring. The site also includes room for a small tent. This option is great for larger families.
Standard RV Pull-Through: Great for families of all sizes, this is our most requested site complete with patios and picnic table. Several fire rings are located on the property for anyone to use on a first-come, first-serve basis.
Full Hook-up 50 AMP Back-In: (Coming Fall 2019!) These spacious back-in sites give you enough room for your camper but are also great for pop-ups, vans or tents.
Plan a family game night.
Get in touch with our staff ahead of time, and we'll be able to open an activity room for you so you can have a family game night with everyone in your party. The Resort has board games, Cornhole, outdoor checkers, and outdoor Jenga for you to enjoy. This is an awesome idea for RV Caravanners, where you're traveling with multiple families in your own separate RVs.
Have a special dinner at the Q & Brew Restaurant.
Your KOA campsite will have everything you need for grilling and campfire cooking, but if you're looking for a special dinner experience, our Q & Brew Restaurant is the place to be! Traveling with a larger group? Our team can help you plan a family style meal in our restaurant or private room – just get in touch in advance of your trip to set it up!
Hangout and enjoy the outdoors.
The Silver Spur Resort has a ton of fun stuff to do on-site. You can walk to our catch-and-release pond to teach the kids how to fish, or rent a couple of paddle boats. It is a great way to spend some time together, and kids love to ride the paddle boats around the water fountain! As of August 2019, our pool is now open, and we're working on a pavilion for outdoor movie nights and live music for yet another hangout space at the resort.
Book an escape room experience.
Looking to beat the heat with an indoor activity? Try out our Escape Room for a fun and exciting challenge. Choose to save the world from certain Apocalypse, or escape the cave walls as a Treasure Hunter! Our escape rooms are designed to fully immerse players into the game, while creating tons of fun memories for your group.
BONUS: Don't forget to check our event calendar to discover what is going on 'round here. From movie nights, to scavenger hunts, to ice cream making and more, there's something fun for every family member!
Planning a group RV trip or family camping trip to Canton, Texas? Check out all of our KOA options and book your space here!
(Blog first written for the Silver Spur Resort, and adapted for Canton KOA)