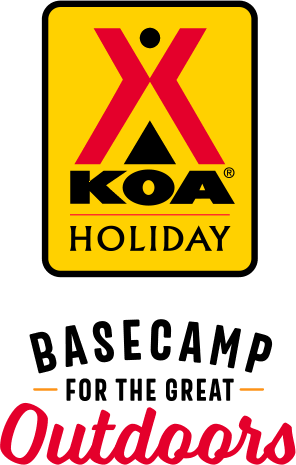 KOA Holiday Campgrounds
Whether you're exploring the local area or hanging out at the campground, KOA Holidays are an ideal place to relax and play. There's plenty to do, with amenities and services to make your stay memorable. Plus, you'll enjoy the outdoor experience with upgraded RV Sites with KOA Patio® and Deluxe Cabins with full baths for camping in comfort. Bring your family, bring your friends, or bring the whole group – there's plenty of ways to stay and explore.
KOA Holidays Feature:
RV Sites with a KOA Patio®
Deluxe Cabins with full baths
Premium Tent Sites
Group meeting facilities
Directions
We're right off of Utah's Scenic Byway Hwy 12 & North RedRock Drive, in Cannonville, Utah. 12 miles east of Bryce Canyon National Park. 
We strongly recommend you use maps instead of relying on your GPS navigation devices. Some have been known to send you to unfamiliar locations and off roads. If you choose to try your GPS we recommend that you enter in the address and the town.
Get Google Directions
May 10, 2021
Great stay very nice host
May 09, 2021
We loved the Cannonville/Bruce Valley KOA. The communal kitchen was incredible! The bathrooms and showers were always clean. The KOA even had a great place to sit to wait for my laundry to finish. All of the staff were kind and friendly.
May 08, 2021
Lovely tent camping site, although a bit hot and sunny, no shade....sometimes high winds.....otherwise staff very friendly and professional, helpful
May 08, 2021
The camp spot was clean. The shower and bathrooms were great. There is an area for kitchen needs but it isn't enclosed and was far to windy to use. My issue was the WiFi that didn't work behind a hill they Initially put me. I had to throw a fit before being moved. I only wanted what I was paying for. It would have been nice to have shading for picnic tables.
May 07, 2021
My first KOA experience and it was great. Showers, kitchen area w/stovetops and running water. And it was very central to all the sites we explored.
May 06, 2021
awesome place and hosts, we loved it!
May 04, 2021
Had a great experience with the staff, everyone was active and proactive, smiling and acknowledging. The campground was clean and all the services were in order at all times
May 03, 2021
Last minute reservation. Everyone was so kind and helpful. The grounds were spotless and clean. Best KOA I've been to!!
Apr 26, 2021
Well tended campsites and clean bathroomroom facilities! I usually prefer public campgrounds but this one won me over. The primative sites are secluded, and near some trails good for older children to explore.
Apr 24, 2021
This is the best campground! We had a spacious camp site with an amazing view. The bathroom/shower was very clean and has hooks and shelves to hang your stuff! There is a fantastic kitchen area that is open for all to use. The staff is very welcoming and helpful. We will return for sure!
Apr 23, 2021
Very nice kampground
Apr 20, 2021
The people who work there are SO nice. The facilities are clean and in good condition. The campsites are wonderful--not like usual KOAs where you're on top of each other.
Apr 12, 2021
Especially good phone help with expectations before arriving. Friendly and helpful staff throughout my stay. The best tent camp site of my 3-week adventure. Topped off by a great view! My thanks to all at the Cannonville/Bryce KOA campground!
Apr 10, 2021
Very friendly and helpful staff. Clean camps and facilities. Very dog friendly too!
Apr 05, 2021
Fantastic in all respects!
Oct 30, 2020
Enjoyed our stay. Very clean facilities, friendly staff and beautiful views.
Oct 27, 2020
really friendly staff, the place also has every amenity needed, and greatest of all is the incredible scenery/ sky. I visited here to do astrophotography and the claim that this is a dark sky park is 100% valid!
Oct 22, 2020
Only stayed for a short night because we were on a roadtrip -but the bathrooms were very clean and the community kitchen was very helpful. Great views, as well. Will definitely be recommending in the future.
Oct 12, 2020
The place was nicely located and we had a good stay overall except that campsites were veryyyy close to each other. Basically it felt like neighbors were camping with us. Also, one of employees was very rude.
Oct 10, 2020
This campground was amazing. It was so clean, the campsites weren't right next to each other. They have showers, a small store, laundry and nice bathrooms. I highly recommend this place when going to Bryce Canyon or areas around cannonville.
Oct 09, 2020
Our stay was amazing, tent site 7 is in perfect proximity to the bathrooms/showers and the pavilion that has a stove and a fridge. The employees are wonderful and so nice, Jody went out of her way to help us with the Wi-Fi so we could buy tickets to our next destination. There's even a store where we bought yummy local NY strip steaks! The night sky with all the stars-indescribable. Stay here!
Sep 28, 2020
I really enjoyed our stay. So appreciated the clean restroom and showers. Grounds were well maintained. The dish washing area was a bonus. Down side was the close proximity of other tent sites to ours as I could overheat conversations and snoring. A bit more privacy would have been better. Thank you to all the friendly staff!
CAMPGROUND RESPONSE / COMMENTS:
There's nothing like camping and enjoying some of the benefits that come from staying at a KOA. It's good to hear that you enjoyed the perks. We look forward to seeing you here again.
Sep 28, 2020
Amazing views, friendly staff, clean facilities!
CAMPGROUND RESPONSE / COMMENTS:
Thank you! We appreciate your kind words.
Sep 28, 2020
Excellent staff
CAMPGROUND RESPONSE / COMMENTS:
All of us here want to thank you!
Sep 27, 2020
Camp was great. Location was super clean. Staff and manager very helpful and kind
CAMPGROUND RESPONSE / COMMENTS:
We loved having you. Thanks for choosing to stay with us.
Sep 27, 2020
Thank you Jody for going above and beyond. She def made my stay easier when I had to switch days and ended up staying a second night. I really appreciate ppl like her that go above and beyond being helpful. The other staff were very friendly too. I loved watching the stars at night, the shared kitchen was a huge plus. I like making coffee in the morning and tea at night.
CAMPGROUND RESPONSE / COMMENTS:
Thanks to you, too. We try our best to help our campers out when things change. Whenever we can, we will.
Sep 22, 2020
Very helpful staff with area information and helping with Wi-Fi.
Sep 22, 2020
nice amenities , just wish the wifi was better that was kind of typical we were at a tent site
CAMPGROUND RESPONSE / COMMENTS:
We're glad you enjoyed the campground offerings and your stay with us. Wish you would have come in to see us about the WIFI, we've done extensive upgrades and have been told it's the best there is. We would have loved the opportunity to help with your connectivity issues. See you next time!
Sep 21, 2020
Great Staff! Clean! Clean! Clean facilities! I showered in the KOA shower everyday and it was always clean. Same for the restroom. It was always well stocked and spotless! The on site KOA store was clean and well kept and prices were fair. This trip was a motorcycle ride with buddies. I plan on coming back up with my wife next summer.
CAMPGROUND RESPONSE / COMMENTS:
We're so glad that you enjoyed the campground and how committed we are to keeping it clean. We're looking forward to seeing you and your wife next summer!
Sep 21, 2020
Very comfortable stay, bathroom is very clean, campsite size big enough for all of us, We will definitely come back again.
CAMPGROUND RESPONSE / COMMENTS:
We're so glad you enjoyed your stay. We can't wait to see you back here!
Sep 21, 2020
If this place had a strong wifi, I would stay for a week. I think it is important to have strong wifi especially during the COVID-19 era. Everything is virtual now (telework/school)
CAMPGROUND RESPONSE / COMMENTS:
We wish you would have come in to see us and allow our team and our WIFI providers the opportunity to help you get connected and stay connected. We have been told our WIFI is one of the best that they have experienced both at campgrounds and hotels. We would have loved the opportunity to show you.
Sep 15, 2020
Loved the overall experience, facilities were modern and cleaned daily, pitch locations were excellent with amazing scenery. All the staff were extremely friendly and professional. We would definatly recomend
CAMPGROUND RESPONSE / COMMENTS:
Thanks for your recommendation. We're excited to hear that you enjoyed the entire experience.
Sep 15, 2020
Exceeded our expectations! VERY CLEAN specially RESTROOMS/showers, our basic & most important qualifications when we're choosing a place to stay, CLEANLINESS & safety. Staff, SUSAN who made us feel at ease when we called on a short notice just 15 minutes away while driving around looking for a place to stay before sunset. THANK you for a great accommodation, a HOME away from home�ϋ�
CAMPGROUND RESPONSE / COMMENTS:
Wow! Thanks for noticing all that our team does to help our campers and keep our campground safe for everyone. We hope to see you again in the near future. Travel safe.
Sep 08, 2020
Great place, with friendly staff and clean bathroom peaceful and beautiful
Sep 01, 2020
Really beautiful camp. Great location
CAMPGROUND RESPONSE / COMMENTS:
Thanks so much for the kind words. We hope to see you again in the near future.
Aug 25, 2020
Great spot tucked away near Bryce. They had an outdoor kitchen that was also pretty cool. Plus they had a great view!
Aug 25, 2020
Even before arrival, I was welcomed with open arms. Jody, Susan, Joan, Sherry ... Gary and Carl... were all so wonderful. I felt like family there. The tent site I had was perfect for Privacy and morning yoga. THERE ISNT A SINGLE BAD THING ABOUT THIS CAMPGROUND. Definitely best one in the area. Close to Tropic, the town, for coffee, pizza and only 15 min from Bryce Canyon town and Park!!
Aug 18, 2020
This KOA is always welcoming,clean and the views can't be beat!
Nov 25, 2021
1st - LOVE the staff! Everyone was happy, kind, helpful and never made us feel uncomfortable about wearing masks (important to us during Covid). 2nd, we were on the upper hill and loved the combination of pretty views and some native vegetation between sites to give us a feeling of having our own space. 3rd, clean restrooms + being able to buy some staples. No complaints. We would definitely come back!
- kgB188TK on Trip Advisor
Nov 10, 2021
The manager here is the sweetest lady ever. But that doesn't mean she will put up with any BS from anyone. Love this place!
- Jake Wang on Google
Oct 27, 2021
Nice RV campground. Staff was friendly. Although the RV pads are gravel, they're level. Ample space between pads.
- Mario Nunez on Google