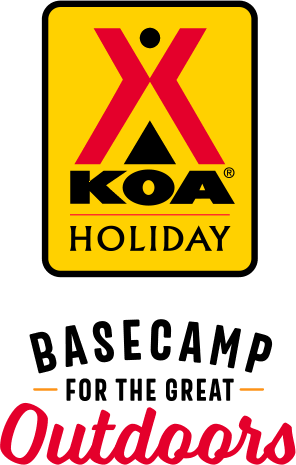 KOA Holiday Campgrounds
Whether you're exploring the local area or hanging out at the campground, KOA Holidays are an ideal place to relax and play. There's plenty to do, with amenities and services to make your stay memorable. Plus, you'll enjoy the outdoor experience with upgraded RV Sites with KOA Patio® and Deluxe Cabins with full baths for camping in comfort. Bring your family, bring your friends, or bring the whole group – there's plenty of ways to stay and explore.
KOA Holidays Feature:
RV Sites with a KOA Patio®
Deluxe Cabins with full baths
Premium Tent Sites
Group meeting facilities
Directions
We're right off of Utah's Scenic Byway Hwy 12 & North RedRock Drive, in Cannonville, Utah. 12 miles east of Bryce Canyon National Park. 
We strongly recommend you use maps instead of relying on your GPS navigation devices. Some have been known to send you to unfamiliar locations and off roads. If you choose to try your GPS we recommend that you enter in the address and the town.
Get Google Directions
Jul 12, 2021
it was ok.. too hot tho.. wish we get the other one that has more shade from the tree.. but it was good.. ill def come back
Jul 10, 2021
We got the highest elevation tent site which had a great view! The store had everything, and the pavillion/public kitchen area with a ping pong table is great!
Jul 09, 2021
Nice and clean
Jul 07, 2021
The grounds are impeccably maintained, the restrooms and showers are very clean all the time, and the staff are outstanding! They were helpful, patient, knowledgeable, and so kind and welcoming to everyone that stays!
Jul 07, 2021
Very impressed with the hospitality and cleanliness of this KOA. We have stayed in almost 60 different KOAs and I would say this was the cleanest by far. Thank you.
Jun 28, 2021
Camped here and went to Bryce NP. Conveniently located and good atmosphere. Try to get a shady tent spot during summertime!
Jun 28, 2021
Absolutely beautiful location. The site across from us came in extremely loud at 145 am - 230 am, making a lot of noise.
Jun 27, 2021
Cannonville / Bryce Valley KOA is the best campground we ever stayed at so far. Very clean, convenient with a fully-equipped kitchen. The staff are so friendly. Highly recommended.
Jun 27, 2021
The campground was in a beautiful place and the staff were very kind!
Jun 26, 2021
Amazingly clean and organized! Bathroom and shower facilities were impeccable! Tents sites were distanced just enough to allow some privacy from your neighbors. We would definitely stay here again. It has peaked our interest in staying at other KOAs around the country. I hope they are as great as this one!!!
Jun 24, 2021
It was alright, clean. It could have been better if they let us upgrade to an available cabin but won't let us because their system will not take it because of the 2 nights minimum. Wrong business move. It was passed 7pm when we asked, chances are it will be vacant overnight. They'd rather lose revenue for 1 night than work it out for their guests. Be accommodating when you're in this busi
Jun 22, 2021
The facilities were super clean (including bathrooms and showers), had wonderful pool, and the staff was great.
Jun 22, 2021
Perfect location if you want to visit Bryce Canyon
Jun 20, 2021
Perfect! We rented two sites for the night and we were all very pleased with the facility.
Jun 20, 2021
We stayed here as part of our trip to see Utah National and State parks. We were in Cannonville to visit Kodachrome Basin. Both our stay and the state park were wonderful. All the employees we interacted with were very friendly and helpful. I would definitely stay here again.
Jun 16, 2021
�‍���
Jun 14, 2021
We were told it was a bigger site for two tents, it was not. Our view was a junk yard. Not happy may cancel my KOA card
Jun 13, 2021
Very nice stay. Friendly staff, clean restrooms and showers. Property was well taken care of. Beautiful scenery.
Jun 13, 2021
Tent sites close together. Dusty.
Jun 09, 2021
First time at a KOA; Jodie and her staff were amazing! They all have such great, positive energy. We had a great time!
Jun 06, 2021
Great customer service!!!
Jun 05, 2021
Late Check-In; need a drop box for firewood. Sites were BEAUTIFUL and well-kept. Felt safe and comfortable in an open tent! Bathrooms were clean (could use updates to plaster on walls, but that's pretty picky, right?) Overall, excellent friendly service on the phone and at checkout, and VERY nice grounds! Will recommend to anyone coming out this way... we wish we'd have stayed the whole trip here!
Jun 04, 2021
Great spot, friendly employees, everything you could ask for!
Jun 02, 2021
Satellite bathroom & laundry facility was very useful. Staff quite helpful.
May 31, 2021
Excellent stay! The staff was super nice and helped us with an issue we had. Koa was in a beautiful location near some mountains. If we ever come back, we will stay here
May 31, 2021
The employees were all so welcoming and nice. Went above and beyond! Is a very clean location and in a good spot too! I loved it and will be staying there again at my next visit! Felt right at home!
May 31, 2021
Very nice and clean. Not sure about the chanting I heard in the morning...sounding like: send an earthquake?!! But every thing absolutely wonderful!!
May 30, 2021
One of the very best KOAs to use as base camp anywhere in the West. Being in the SW, you need to be ok with dust.
May 28, 2021
Dirty - shower curtain mold Restroom - far from tent area requiring long walk over uneaven large gravel with poor lighting Would not stay again or recommend
May 25, 2021
Good stay...great amenities. We tent camped. Extraordinarily windy. The weather impacted the stay
May 22, 2021
The staff was very nice and supportive. Charlie was well equipped and even helped jump our car when the battery died. The campground was convenient and well maintained.
May 21, 2021
Very accomodating RV park well situated close to Bryce Canyon. Clean restrooms and nice management.
May 21, 2021
We loved our stay, the staff was awesome! Can't wait to do it again!
May 21, 2021
Too windy in b21 campsite. Was about blown away. Otherwise very good site. Enjoyed my stay. Thanks!
May 19, 2021
Easy checkin and beautiful spot! Unfortunately it was windy the whole entire time we were there and sand everywhere. Next time think we'll get a cabin!
May 17, 2021
Always happy with KOAs. Thanks for taking good care of us. Loved the Kamping Kitchen to wash dishes. Showers and ladies room spotless. Convenient location. The mini gnats bit the dickens out of us but that is part of camping.
May 17, 2021
Tent site was awkward.. NO SHADE.. inconvenient parking and layout.. very displeased.. Staff was friendly, though, and the "facilities" were nice.
May 15, 2021
Everything was great, the views were pretty, everything was clean. Just remember if you get site T-11 you'll have a cabin just above you with their fire pit about 10 ft away. So they'll always be looking down into your site which is a little annoying. They could probably move T-11 fire pit and table a few ft away from the cabin and it wouldn't be nearly as much as an issue. But it was still
May 12, 2021
Super nice people, pretty close to Bryce Canyon, and very clean facilities. The views of the stars and mountains were amazing from the campsite. The only downside to my stay was that the wind was terrible and the temperatures dropped below freezing through the night making camping a bit miserable. However, in the summer when it's warmer this would be my favorite KOA I've stayed at!
May 11, 2021
The upper camping spot was not as secluded as said. It also did not have any tethering poles for your tent for windy nights. The showers could also have been cleaner.
May 11, 2021
The staff and setup are great, but while we were there, there was gale force wind that made it impossible to enjoy the site or even build a fire. 30-40mph wind all day and night meant we had fine silt sand everywhere in our tent, inside our sleeping bags, in our eyes, ears, noses, and mouths. It was very uncomfortable, and we noticed several other campers left rather than deal with it.
May 11, 2021
It was the best KOA I've been to so far. I loved upon arrival we were given an escort to our tent site for the night. The amenities are great. Love the community microwave and ping pong area. The bathrooms and showers were clean. I thought the staff was awesome. We spoke to Jenna the most at the desk who was so friendly and helpful. Keep it up because I would totally recommend this KOA.
Nov 25, 2021
1st - LOVE the staff! Everyone was happy, kind, helpful and never made us feel uncomfortable about wearing masks (important to us during Covid). 2nd, we were on the upper hill and loved the combination of pretty views and some native vegetation between sites to give us a feeling of having our own space. 3rd, clean restrooms + being able to buy some staples. No complaints. We would definitely come back!
- kgB188TK on Trip Advisor
Nov 10, 2021
The manager here is the sweetest lady ever. But that doesn't mean she will put up with any BS from anyone. Love this place!
- Jake Wang on Google
Oct 27, 2021
Nice RV campground. Staff was friendly. Although the RV pads are gravel, they're level. Ample space between pads.
- Mario Nunez on Google