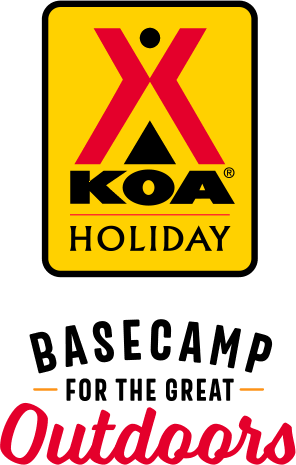 KOA Holiday Campgrounds
Whether you're exploring the local area or hanging out at the campground, KOA Holidays are an ideal place to relax and play. There's plenty to do, with amenities and services to make your stay memorable. Plus, you'll enjoy the outdoor experience with upgraded RV Sites with KOA Patio® and Deluxe Cabins with full baths for camping in comfort. Bring your family, bring your friends, or bring the whole group – there's plenty of ways to stay and explore.
KOA Holidays Feature:
RV Sites with a KOA Patio®
Deluxe Cabins with full baths
Premium Tent Sites
Group meeting facilities
Directions
We're right off of Utah's Scenic Byway Hwy 12 & North RedRock Drive, in Cannonville, Utah. 12 miles east of Bryce Canyon National Park. 
We strongly recommend you use maps instead of relying on your GPS navigation devices. Some have been known to send you to unfamiliar locations and off roads. If you choose to try your GPS we recommend that you enter in the address and the town.
Get Google Directions
Oct 29, 2021
The staff were incredibly friendly. We loved cuddling with poncho the camp cat, and taking advantage of our first warm shower in days. Definitely a nice place to glamp, and a good change of pace to our trip.
Oct 27, 2021
This is an excellent campground! Everything was clean and very well maintained. Our tent site was even freshly raked when we arrived. Loved the camp kitchen! I could go on and on about how tidy the whole property was... But what really sets this KOA apart from other campgrounds was the staff. Jody and her crew were so friendly and accommodating. They are absolute gems all around!
Oct 25, 2021
Great staff! I was in tent spot 3 and would have liked the trees to be trimmed back from the table. It made coking challenging to constantly be ducking under branches.
Oct 25, 2021
woman working desk was great! liked having kitchen, showers clean, great experience
Oct 14, 2021
This was, by far, one of the nicest KOAs we've stayed at. Susan greeted us with a warm smile and helped with all of our needs. The facilities are very clean and the property is well maintained. We will most certainly stay here again in the future. Thank you, Susan.
Oct 10, 2021
We really enjoyed our stay at this KOA! So much so, we stayed two nights. :)
Oct 09, 2021
Stayed for one night visiting black canyon national park. Staff was helpful, able to leave firewood at our campsite for our late check in. Check in process was easy. Loves the soft tent pad and privacy from the trees at our tent site. Nice and clean bathrooms!
Oct 07, 2021
This was a perfect place to stay while we visited Bryce Canyon National Park. The hosts were so nice and helpful. Views are beautiful.
Sep 26, 2021
Very clean especially the bathrooms Nice location
Sep 22, 2021
Enjoyed the scenery and the staff is awesome!!!
Sep 20, 2021
We loved our stay at Cannonville Bryce Valley KOA, Utah. We enjoyed meeting the following employees of KOA: Anthony, Susan, Jodie, Chuck, and Rick to mention a few, all of whom worked onsite, provided excellent service and showed us kindness during our stay there. We plan on going back despite the long trek there on motorcycles from our home in Vancouver, Washington.
Sep 17, 2021
I very much liked the sand box for the tent spot. Very easy on the knees, and easier to keep out of the tent. Everyone was accommodating, and the area is gorgeous. The only thing I wasn't as crazy about was the distance to the bathroom. Older bladders have a hard time! The large gravel on the drive was loud, and next to the tent site, and boy, did it get noisy as cars and RVs made their way past
Sep 16, 2021
My sister and I stayed at the Cannonville/Bryce Valley KOA for one night. The amenities were great and well-kept. The bathrooms and outdoor kitchen area were nice and clean. The view from our campsite (upper loop) was incredible! All of the staff we encountered were very friendly and welcoming. It was our first time at a KOA and it won't be our last!
Sep 15, 2021
Would be nice to have a common area with lounge chair by fireplace and outdoor games like horseshoes for campers to enjoy and hangout. KOA Moab does that and loved it.
Sep 15, 2021
We stayed 3 nights at a tent site. The facilities and campground including campsite were incredibly well maintained and clean! We had ample space for 2 tents. Staff were very kind and attentive. They ensured that other campers followed the quiet hours, which was appreciated. I have all ready recommended the campground to other people. We will be back!
Sep 13, 2021
well cared for, incredibly helpful staff. loved it
Sep 11, 2021
Tents need to have at least a trangle tarp on all exposed tent sites - like so many other k o a have - but great people workimg there -I recomend getting a cAbin if its over90 degress if you were tenting it . Location is good pretty close to bryce like a 15!-20 min to park entrance which is a plus its a quiter biway than some other k o a spots and .canyon views all aroumd beautil!
Sep 08, 2021
There was an empty tent site right next to us you could've put us in. You put us next to a cabin. Neither of us had privacy. They were trying to have a romantic campfire with us just feet away. Clean showers and bathrooms, but one shower was out of order.
Sep 05, 2021
Great location with lovely views of the surrounding mountains. You really sense Bryce being nearby here. Pool is clean and refreshing. The bathroom, showers, and kitchen areas were spotless and well maintained. Really friendly staff.
Sep 01, 2021
We loved the campground. It was so clean and the amenities were far beyond what we expected. Staff was so friendly and helpful. Day and night views were amazing. We laid on the picnic table for hours looking at the stars. We would happily stay here again.
Aug 29, 2021
Very friendly people. Very quiet on a August Monday. Great location close to Bryce. Entire family enjoyed the experience. Having a nice pool (a bit cold) when camping is a great bonus. Thank you for a great stay.
Aug 29, 2021
Summer of 2021 I stayed a week two different times, once in July and once in August. Camp is kept in pristine condition, and you will not find a more professional or friendly staff anywhere. I highly recommend this KOA to anyone considering a visit to the Bryce/Grand Staircase area.
Aug 15, 2021
Excellent, friendly staff. Clean bathrooms, showers, and pool.
Aug 09, 2021
Restrooms were extremely clean, and cleaned regularly-- and the staff was very friendly and helpful. It's far enough from the road that the traffic isn't a significant sound at night; and the stars are amazing.
Aug 07, 2021
Staff was very attentive and helpful!!!
Aug 04, 2021
The women in the camp store gave great food recommendations and answered all of our questions. Such a great location and dark enough to see every star in the sky.
Aug 02, 2021
Friendly staff, very clean bathrooms, great cooking areas, beautiful views. Will definitely return to this campground.
Jul 30, 2021
Very cool and friendly hosts! Camping was beautiful and amenities great. Just missed a little more shadow when the sun was hot but is a pretty dry area anyways
Jul 21, 2021
Everything was perfect. We loved staying there and will return!! Thank you!!
Jul 19, 2021
Loved the kitchen for tent campers
Jul 19, 2021
Just what I expected. Nice campground; nice site; extremely friendly and helpful staff! I'd like to thank "Susan", AGAIN, for her helpfulness in lending me a AC/DC converter! We'll be back...
Jul 17, 2021
Good location. Great services! Staffs are very friendly and helpful. Love to come back and camp at this KOA location.
Jul 13, 2021
Love the kitchen area!
Jul 13, 2021
The camp was well maintained. The bathrooms were extremely clean. The staff was so friendly. We loved our stay!
Nov 25, 2021
1st - LOVE the staff! Everyone was happy, kind, helpful and never made us feel uncomfortable about wearing masks (important to us during Covid). 2nd, we were on the upper hill and loved the combination of pretty views and some native vegetation between sites to give us a feeling of having our own space. 3rd, clean restrooms + being able to buy some staples. No complaints. We would definitely come back!
- kgB188TK on Trip Advisor
Nov 10, 2021
The manager here is the sweetest lady ever. But that doesn't mean she will put up with any BS from anyone. Love this place!
- Jake Wang on Google
Oct 27, 2021
Nice RV campground. Staff was friendly. Although the RV pads are gravel, they're level. Ample space between pads.
- Mario Nunez on Google