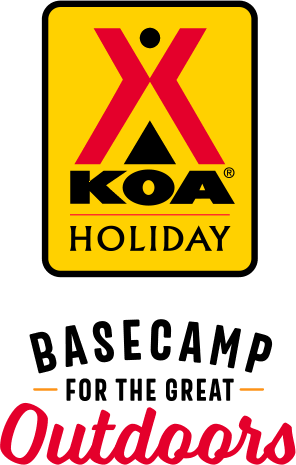 KOA Holiday Campgrounds
Whether you're exploring the local area or hanging out at the campground, KOA Holidays are an ideal place to relax and play. There's plenty to do, with amenities and services to make your stay memorable. Plus, you'll enjoy the outdoor experience with upgraded RV Sites with KOA Patio® and Deluxe Cabins with full baths for camping in comfort. Bring your family, bring your friends, or bring the whole group – there's plenty of ways to stay and explore.
KOA Holidays Feature:
RV Sites with a KOA Patio®
Deluxe Cabins with full baths
Premium Tent Sites
Group meeting facilities
Directions
We're right off of Utah's Scenic Byway Hwy 12 & North RedRock Drive, in Cannonville, Utah. 12 miles east of Bryce Canyon National Park. 
We strongly recommend you use maps instead of relying on your GPS navigation devices. Some have been known to send you to unfamiliar locations and off roads. If you choose to try your GPS we recommend that you enter in the address and the town.
Get Google Directions
Jul 19, 2021
We didn't have any hot water the entire time we stayed. They replaced an element that didn't seem to help at all. The manager was helpful sending someone to look at it but it seemed like an inconvenience for him to actually do the work to fix it. We left at 3:00 and and before we left I took a shower and it was cold after about 3 minutes. Aside from that frustration everything else was great!
Jul 18, 2021
We had a perfect little cabin with great views. Pool was a little small and not much amenities but staff was great
Jul 16, 2021
The staff was so wonderful and welcoming. We stayed in a deluxe camping cabin and it was clean and the bed very comfortable. We had a couple of minor issues and once we told a staff member, it was resolved in a matter of minutes!! That's true customer service. We were given a couple of recommendations for good places to have dinner. We tried both and they were excellent!!!
Jul 11, 2021
Great camper cabin, enjoyed our stay. Thanks �
Jul 07, 2021
We stayed in a deluxe cabin. The cabin was cute, fully finished, and had spectacular views. The sheets needed some fabric softener. The neighbors fire pit area so close to ours we didn't feel like we could sit out there without being in their space. Maybe a bush or big boulder to separate would give some privacy. Overall park very clean and staff friendly! Never had an escort to our site before!
Jul 07, 2021
Very nice place to stay. My first time in a camping Cabin. The bathrooms were very clean! I was impressed.
Jul 06, 2021
Facilities were very clean. Friendly employees. Though the CC1 Cabin was to close to RV space. Not privacy at all. The other cabins are spread out in the campground.
Jul 01, 2021
Friendly, helpful staff. Facilities are well maintained. Location is easily accessible with great views. Enjoyed our stay!
Jun 30, 2021
We were very comfortable in the cabin we occupied! The staff were very congenial, helpful and efficient. I was really happy that there was breakfast to have before going on our excursions!
Jun 29, 2021
Great location. Spotlessly clean. Cabins spaced nicely apart. Some camp sites have spectacular views. Very friendly staff.
Jun 28, 2021
Loved all your employees, the very best!!! And your cleanliness was outstanding!!!! The only problem was the heat & no umbrellas or tarps allowed at cabin sites......hello!!!!! Put in your own umbrella stands sofolks can tolerate/shade the heat. With climate change, you need better shade. Your cabin AC units are less than adequate. � Love Koa's...feel safe & adequate.
Jun 28, 2021
Cabin, bathrooms and pool were well kept. Staff was very friendly. Super convenient for going to Bryce Canyon activities. Out kids loved it :) we will be coming back!
Jun 25, 2021
Our family had a good time but would encourage later closing times for the pool. By the time we would return from sightseeing it was closed and the grandkids were disappointed. Also would suggest propane grills at the deluxe cabins, especially since there is fire danger.
Jun 24, 2021
This KOA is a tidy little place tucked out of the way but in the perfect place to see all of Southern Utah. The hosts were very nice and helpful. Everyone smiled! They have a great camp kitchen! The only reason I didn't give it a 5 was because our cabin got all the afternoon sun si it was too hot to sit outside. However, there are lots of cabins to choose from. I would definitely stay here ag
Jun 24, 2021
Stayed in a couples cabin. The air conditioner didn't work great, but it was really hot and not an insulated space. Very friendly staff, great store. Everything was very clean and in good repair.
Jun 20, 2021
My cabin was perfect location. Staff was very friendly and informative.
Jun 20, 2021
I can't say enough wonderful things about the staff here! Every single one of them was incredibly helpful and friendly! Cabin was great and very clean as well as the pool! The views off the patio were second to none! Will definitely be returning to this campground again in the future.
Jun 16, 2021
Wonderful people. Beautiful view. They bent over backwards to make our stay easy and nice!
Jun 16, 2021
The nicest staff ever, and so clean. Cabins had perfect little benches inside so our luggage wasn't on the floor, and a lamp so we could turn on a less intense light in the middle of the night. Staff took the time to realize we were a family group w/5 independent reservations & clumped us together. Delicious great price - hot breakfast, cool pavilion for shaded dining, shower - great h20 pressur
Jun 13, 2021
Best KOA we've stayed at! The hosts were so friendly and helpful, and we had a beautiful view from our cabin. The bed was really comfortable and the kids enjoyed the ping pong. There weren't as many activities as other KOAs, but there are so many other activities to do in the area, that wasn't a big deal. Great proximity to Bryce and other attractions.
Jun 13, 2021
Nice pool. Clean cabin and beautiful views! Super close to great adventures on the scenic byway.
Jun 10, 2021
The office closed too early. I wanted buy some stuffs but I couldn't.
Jun 09, 2021
Friendly check in, very well-maintained property! Beautiful area and close to Bryce Canyon.
Jun 07, 2021
The staff at Cannonville are fantastic. They have a breakfast of pancakes and sausage that is very nice. We had a great time there
Jun 06, 2021
I have stayed at the Cannonville KOA location about 10 or so times since the 90's. Very enjoyable place to relax! In fact, it's the only KOA location that I like����
Jun 02, 2021
We loved the shared camp kitchen and microwave! It was our first time in a cabin (not a tent) and it was nice having electric plugs and overhead lights. We were in the basic cabin but it was all we needed. The pool was cooler than 80 degrees but the fact they had a pool (many KOAs don't) it was definitely a plus. Our kids loved it after a long hike. All in all, we would definitely recommend it!!
Jun 01, 2021
Our stay at Bryce canyon KOA was absolutely awesome �.. highly recommend! we stayed 4 nights in a camping cabin, did NOT want to leave.. ALL the staff especially Anthony were so nice and friendly, helpful and inviting..thanks again Jody..
Jun 01, 2021
Had another amazing stay here at the KOA. Jodie, the manager, is the BEST. Can't wait to come back!!
Jun 01, 2021
Clean, well kept grounds and extremely friendly staff
May 31, 2021
Everything was perfect. Campgrounds are clean and well organized. I stayed in the deluxe cabin. It's nice to be pampered. Pancake breakfast & the ice cream social was a nice touch.
May 29, 2021
Excellent KOA near Bryce and the highway 12. Thanks
May 28, 2021
Our four nights here were wonderful! The views were amazing from our spacious deck and patio area, and we enjoyed a fire in our fire pit each evening. The cabin was beautiful and included everything that we needed. Staff was super friendly and helpful. We highly recommend this KOA!
May 27, 2021
Great staff, a very, very clean camp, and by far the best cooking and dish washing facilities we have seen at any KOA.
May 26, 2021
Stayed in a camping cabin while on a motorcycle trip, it was great. Staff was excellent, facility was great, over all it was an excellent experience, will definitely use a camping cabin again!
May 23, 2021
Didn't have any linens for the bunkbeds, no coffee, pot or cups. Left this message on the review card and received a great message from the manager explaining why. We did have enough sheets/blankets to make up for what wasn't in the room (too many sheets on the queen bed so used them on the bunk). Don't care for the mattress cover, but I understand. Other than that everything was great.
May 19, 2021
We have stayed here before and really enjoyed it then and now. Will definitely return.
May 19, 2021
Clean cabin and shower facilities. We enjoyed our stay.
May 18, 2021
Great place! Staff and management were excellent. Restrooms immaculate. I was impressed!
May 17, 2021
Clean, efficient, quiet, picturesque. Better than anticipated.
May 14, 2021
Beautiful area!!!!! KOA Staff was so friendly and helpful on places to hike. We stay for 3 nights in a Kabin that faced the canyon. We were there in May, perfect weather. If we had any questions about Cannonville or Bryce Valley. This is a must see and stay for anyone.
May 14, 2021
My stay here was wonderful. We had a deluxe cabin. It was wonderful. Having camping meet comfort was just so nice to have. All the campground people were also very pleasant and helpful. We'll definitely becoming back.
May 11, 2021
Wonderful location, and great people and accommodations! Incredibly clean and comfy place to rest for the night after a day exploring the area. Convenient general store, quiet, and our cabin was fantastic. We will return to see more of the area and enjoy a cute cabin again!
May 10, 2021
We loved it! Great location near Bryce Canyon- 20 minutes!
Nov 25, 2021
1st - LOVE the staff! Everyone was happy, kind, helpful and never made us feel uncomfortable about wearing masks (important to us during Covid). 2nd, we were on the upper hill and loved the combination of pretty views and some native vegetation between sites to give us a feeling of having our own space. 3rd, clean restrooms + being able to buy some staples. No complaints. We would definitely come back!
- kgB188TK on Trip Advisor
Nov 10, 2021
The manager here is the sweetest lady ever. But that doesn't mean she will put up with any BS from anyone. Love this place!
- Jake Wang on Google
Oct 27, 2021
Nice RV campground. Staff was friendly. Although the RV pads are gravel, they're level. Ample space between pads.
- Mario Nunez on Google