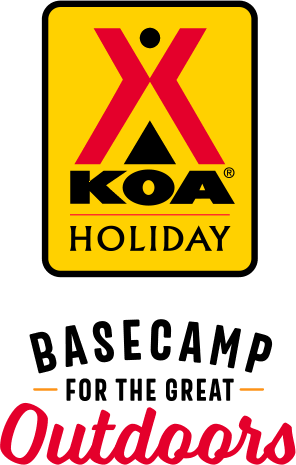 KOA Holiday Campgrounds
Whether you're exploring the local area or hanging out at the campground, KOA Holidays are an ideal place to relax and play. There's plenty to do, with amenities and services to make your stay memorable. Plus, you'll enjoy the outdoor experience with upgraded RV Sites with KOA Patio® and Deluxe Cabins with full baths for camping in comfort. Bring your family, bring your friends, or bring the whole group – there's plenty of ways to stay and explore.
KOA Holidays Feature:
RV Sites with a KOA Patio®
Deluxe Cabins with full baths
Premium Tent Sites
Group meeting facilities
Directions
We're right off of Utah's Scenic Byway Hwy 12 & North RedRock Drive, in Cannonville, Utah. 12 miles east of Bryce Canyon National Park. 
We strongly recommend you use maps instead of relying on your GPS navigation devices. Some have been known to send you to unfamiliar locations and off roads. If you choose to try your GPS we recommend that you enter in the address and the town.
Get Google Directions
Oct 17, 2021
Great safe, clean place to stay!
Oct 15, 2021
We had a fabulous stay! Staff was friendly and helpful, campground was clean, location was amazing! We can't wait to come back!!
Oct 10, 2021
Cabin and laundry facilities were great. Think there should be more hooks to hang bags, jackets on.
Oct 09, 2021
Well Kept//Good location
Oct 08, 2021
Very nice campground
Oct 06, 2021
The staff was very friendly and helpful. Our cabin was clean with fresh linens and the view and location was epic the only reason I don't give it a 10 is that in the deluxe cabin with partial kitchen there are no cooking or grilling utensils. I think offering a rental package of basic utensils would not only be helpful but could be profitable for any KOA. All in it was wonderful.
Oct 05, 2021
love this Koa!! very clean and friendly staff
Oct 04, 2021
We had a wonderful time. Cabin was perfect for us.
Oct 01, 2021
Staff friendly and helpful. Clean and neat facilities. WiFi and cell service almost nonexistent
Sep 29, 2021
Loved the deluxe cabin and the outdoor kitchen areas were great. Will never stay at a kamping cabin again. A deluxe cabin is the way to go. Very friendly staff just couldn't ask for a perfect place to stay.
Sep 26, 2021
Very relaxing and quiet.
Sep 25, 2021
Even more friendly management and staff than our typical KOA experience!
Sep 24, 2021
I hauled a 20' Uhaul from Portland Oregon to Tucson AZ and chose to sty at KOA cabins along the way. Bryce was a short side trip off my hwy 89 route but boy was it worth it! One of the best KOAs I've stayed at, nice showers, clean cabins, the usual super friendly and helpful staff on site, and amazing views of the monuments of Bryce canyon all around the campground. 5 stars Bryce canyon!
Sep 23, 2021
Beautiful setting and easy to get to all the sites we wanted to see.
Sep 23, 2021
A few things that I didnt like. 1- I hit my head twice on the low overhang on the ends of the cabin. 2- The mattress in the cabin was so hard, I couldnt sleep well and I hot out of bed with an achy back. Please spend some money and get better mattresses. Those are horrible. 3- pool should have been available for use.
Sep 21, 2021
Great views and friendly staff. The cabin was clean and had everything we needed.
Sep 20, 2021
Very welcoming and friendly staff. Also helpful with visitor information. The place is spotlessly clean and has all the amenities one would need. Rosie, my dog, and I loved our stay there!
Sep 19, 2021
Stayed in a cabin. The manager was very accommodating. First time to stay in a cabin in a KOA campground.
Sep 19, 2021
It was very pleasant and quiet, just like my wife and I like it. The facilities were adequate and clean. The staff were very friendly and helpful. The cabin we stayed in was confortable. The only thing that could have been better was the internet coverage; it was an on and off situation throughout our stay, specially while inside the cabin. Otherwise our stay was an excellent experience overall.
Sep 17, 2021
The air didn't work nor the wifi. I called for assistance but no answer or reply. When I mentioned it to the clerk the next day, she wasn't accommodating or offer any price reduction. The campground one of the most expensive I've stayed at with not many amenities.
Sep 09, 2021
The staff was super friendly! Pancho the camp cat was pretty cute, too. They had a nice store set up with a good selection of beer both local craft as well as regular domestic. Awesome all the way around!
Sep 06, 2021
It was just 0k. The bathrooms were clean but the shower was very small. The WiFi didn't work in our cabin and no one seemed to really care. But most everything else was fine.
Sep 04, 2021
We absolutely loved our stay. Beautiful cabin. Great staff, very knowledgeable of the area. Very accommodating.
Aug 31, 2021
All nice and friendly clean campground beautifull location be back next year
Aug 29, 2021
Everyone was so friendly, and the facilities were very clean! It was so convenient to be able to use the camp kitchen for some cooking and washing up. The location was close to Bryce Canyon where we spent most of our time.
Aug 23, 2021
Clean campsite. Lots of hiking within a short drive.
Aug 23, 2021
Wonderfully kept facility. Very clean!!
Aug 22, 2021
Very friendly staff, beautiful cabin and beautiful setting. Thank you
Aug 20, 2021
It was an awesome campground but the showers had a funny way to turn the water on and they didn't stay on you had to keep turning it on again �
Aug 17, 2021
Great cabin. Clean. Everything worked. Great vibe to the campground all around.
Aug 16, 2021
This KOA like so many others is just amazing! Full of the friendly, helpful, and polite staff we've come to except at KOAs. It had clean facilities, plenty of useful things like a cooking pavilion to use, and a pool. Just an over all wonderful location! 10/10 for sure!!!! :)
Aug 16, 2021
The lady at the desk was very friendly and personable. This is by far one of the best KOAs we have stayed at. It was extremely clean and quiet.
Aug 13, 2021
KOA was very clean. No refrigerator or TV was a minus. A big minus for the area was no cell phone service.
Jul 31, 2021
Quiet campground. We stayed here as base camp for exploring the parks. Hwy 12 is a beautiful road! Our cabin was great.
Jul 30, 2021
the host was super friendly,,the cabin needed better cleaning, cob webs with dead flies in bunk window, corners in bathroom floor missed, ledge on cabinet next to refridge looked like never cleaned caked on dirt, shower curtain bottom edge badly stained and musky smell the laundry room super nice, out door kitchen was a plus, over all campsites clean, neat
Jul 28, 2021
This was simply an overnight stay for us. We arrived late and left early, so we didn't have a chance to fully experience the campground. The after hours check-in was very easy. We rented a cabin and everything including the shower and restroom facilities were clean and well maintained. We woke up to the beautiful views of the rock formations around the campsite. Wish we could have stayed longer.
Jul 27, 2021
The deluxe cabin was well equipped and a great location with a wonderful outdoor patio area. The cabin wasn't as clean when we got there as we had expected. We had to sweep the floors before we started moving stuff in. Otherwise it was great. It's only a quick drive (if no road construction) to Bryce Canyon and lots of other great things to do in the area.
Jul 24, 2021
My first KOA since the 70s/80s. Five families from the Baker clan stayed here and they all agreed that it was an exceptional campground. However, the wife and I stayed in a "Deluxe" cabin, no camper, and our take on the cabin is just "ok". The couch is miserable to sit on and refrigerator is ridiculously small for anything more than one night; we spent 4. I would recommend with these complaints
Jul 24, 2021
This is my 3rd stay there using a cabin. With the latest upgrades to cabin and bathroom & showers, it is the top KOA I ever stayed at.
Jul 21, 2021
Showers and bathrooms were clean. Very nice place and close to Bryce Canyon. Loved that the cabins had A/C in them.
Jul 21, 2021
We stayed here for a few days. Great starting off point. Bathrooms were clean and we had everything we needed!
Jul 19, 2021
We didn't have any hot water the entire time we stayed. They replaced an element that didn't seem to help at all. The manager was helpful sending someone to look at it but it seemed like an inconvenience for him to actually do the work to fix it. We left at 3:00 and and before we left I took a shower and it was cold after about 3 minutes. Aside from that frustration everything else was great!
Oct 07, 2021
This is a very nice campground, beautiful views and sunrise and sunsets. The staff is friendly and helpful, the sites are nice and level. It's convenient to Bryce Canyon NP, as well as other activities nearby. The ride to get there was just beautiful.
- tawny1956 on Trip Advisor
Oct 06, 2021
The lady at the front desk, Jody, was fantastic! She gave us recommendations on where to eat and other things in the area! Cabin was nice and clean. We'd definitely stay here again.
- Brandon Heyboer on Google
Oct 02, 2021
Loved it!
- Richard Malerba on Google