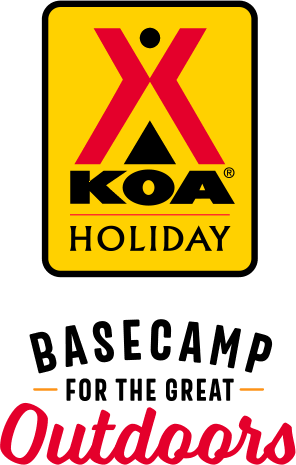 KOA Holiday Campgrounds
Whether you're exploring the local area or hanging out at the campground, KOA Holidays are an ideal place to relax and play. There's plenty to do, with amenities and services to make your stay memorable. Plus, you'll enjoy the outdoor experience with upgraded RV Sites with KOA Patio® and Deluxe Cabins with full baths for camping in comfort. Bring your family, bring your friends, or bring the whole group – there's plenty of ways to stay and explore.
KOA Holidays Feature:
RV Sites with a KOA Patio®
Deluxe Cabins with full baths
Premium Tent Sites
Group meeting facilities
Directions
We're right off of Utah's Scenic Byway Hwy 12 & North RedRock Drive, in Cannonville, Utah. 12 miles east of Bryce Canyon National Park. 
We strongly recommend you use maps instead of relying on your GPS navigation devices. Some have been known to send you to unfamiliar locations and off roads. If you choose to try your GPS we recommend that you enter in the address and the town.
Get Google Directions
Aug 15, 2021
Very accommodating people...Staff very friendly...I will highly recommend this place...�����
Aug 15, 2021
Excellent, friendly staff. Clean bathrooms, showers, and pool.
Aug 14, 2021
Bathrooms & showers were super clean, staff is very friendly. Campground is very well maintained but playground needs to be upgraded. We enjoyed our stay at this KOA.
Aug 13, 2021
KOA was very clean. No refrigerator or TV was a minus. A big minus for the area was no cell phone service.
Aug 12, 2021
Friendly staff, beautiful view, close to Bryce Canyon (short drive).
Aug 12, 2021
It was great, friendly,helpful staff and a very clean restrooms/ showers
Aug 10, 2021
great people, facilities were fine. I would put some fly traps out . You camp next to some cattle and they bring the flies. We live near horse ranches and a steady and not expensive supply of Home Depot fly traps makes life that much more enjoyable. love the pool in the summer! kevin
Aug 10, 2021
Bathrooms and showers were very clean. Friendly staff and a nice general store.
Aug 09, 2021
This is a we'll maintained KOA campground. We visited Bryce Canyon and Zion National Parks from here, so that was a plus (Zion is farther than Bryce). Dining at idk in Tropic Utah was AWESOME. Also dining at Escalante Outfitters in Escalante, Utah was The Bomb!. Both recommended by the KOA staff. There were lots and lots of flies. That is why I cannot rate this stay a 5 Star KOA. Not their fault
Aug 09, 2021
Staff was friendly and helpful. Campsite was clean and easy to locate.
Aug 09, 2021
Restrooms were extremely clean, and cleaned regularly-- and the staff was very friendly and helpful. It's far enough from the road that the traffic isn't a significant sound at night; and the stars are amazing.
Aug 07, 2021
Staff was very attentive and helpful!!!
Aug 07, 2021
Super friendly!! Loved the kitchen too!! Great views and quiet!! Thank you!!
Aug 07, 2021
Great atmosphere, great scenery. Staff was very helpful and friendly. The downside is the WiFi is virtually useless and the pool was very cold. We would stay again.
Aug 06, 2021
Wonderful campground
Aug 04, 2021
The women in the camp store gave great food recommendations and answered all of our questions. Such a great location and dark enough to see every star in the sky.
Aug 03, 2021
We so enjoyed our stay !Clean facilities/grounds ! Super friendly staff � We will be back still so much to see
Aug 03, 2021
Beautiful scenery!
Aug 03, 2021
We loved this KOA! The camp kitchen was definitely a highlight, and the showers/bathrooms were always clean. Jody and Shelby were incredibly helpful in the camp office, and we loved the area! We would definitely stay there again.
Aug 02, 2021
Lovely campground with very friendly staff. We would definitely stay there again.
Aug 02, 2021
Spent 5 nights in this KOA and it was wonderful. Staff was the best people from pulling in until we left on day 6. We had a wonderful time in this very clean and friendly place. They all accommodated all our needs as we did have some trailer issues while there like our refrig. not working but we used ice chest the whole time. I'm going back for sure as they are close by 3 of the National Parks.
Aug 02, 2021
Friendly staff, very clean bathrooms, great cooking areas, beautiful views. Will definitely return to this campground.
Jul 31, 2021
I thought this KOA was great! It was well maintained, obviously being upgraded in some areas which is good and service was really friendly. Campsite was large, easy to navigate and clean.
Jul 31, 2021
Great stay! The campground is nice and the staff are so friendly. We'll be back!
Jul 31, 2021
Quiet campground. We stayed here as base camp for exploring the parks. Hwy 12 is a beautiful road! Our cabin was great.
Jul 30, 2021
the host was super friendly,,the cabin needed better cleaning, cob webs with dead flies in bunk window, corners in bathroom floor missed, ledge on cabinet next to refridge looked like never cleaned caked on dirt, shower curtain bottom edge badly stained and musky smell the laundry room super nice, out door kitchen was a plus, over all campsites clean, neat
Jul 30, 2021
Very cool and friendly hosts! Camping was beautiful and amenities great. Just missed a little more shadow when the sun was hot but is a pretty dry area anyways
Jul 30, 2021
Had a great time in the campground. Met several nice people from Switzerland. Extended our stay one day to see all the beautiful sights.
Jul 28, 2021
What a hard working staff you have. Keep up the good work.
Jul 28, 2021
Staff members were very friendly. The reason I give it 4 stars - we stayed with our two dogs and noticed that during the entire time the "poop"bags in the dog fenced area were empty and the dog poop trash was never emptied. Some areas of campground are worn down, but overall it was a good stay. Definitely a rugged outdoor feel.
Jul 28, 2021
Showers were great, staff super friendly, and view was amazing!
Jul 28, 2021
This was simply an overnight stay for us. We arrived late and left early, so we didn't have a chance to fully experience the campground. The after hours check-in was very easy. We rented a cabin and everything including the shower and restroom facilities were clean and well maintained. We woke up to the beautiful views of the rock formations around the campsite. Wish we could have stayed longer.
Jul 27, 2021
The deluxe cabin was well equipped and a great location with a wonderful outdoor patio area. The cabin wasn't as clean when we got there as we had expected. We had to sweep the floors before we started moving stuff in. Otherwise it was great. It's only a quick drive (if no road construction) to Bryce Canyon and lots of other great things to do in the area.
Jul 27, 2021
Very nice campground. Jodi, Anthony and Susan were great people to work with.
Jul 27, 2021
Great place. Super clean and friendly staff.
Jul 26, 2021
The staff was incredibly friendly and helpful. We loved our stay. The basketball court and playground were great amenities for our kids.
Jul 25, 2021
Very friendly staff. Great site. Clean, well maintained. Great value.
Jul 25, 2021
The bathrooms were clean, the staff was very friendly, we checked in after hours and they had all the information waiting for us, and the scenery is beautiful.
Jul 24, 2021
My first KOA since the 70s/80s. Five families from the Baker clan stayed here and they all agreed that it was an exceptional campground. However, the wife and I stayed in a "Deluxe" cabin, no camper, and our take on the cabin is just "ok". The couch is miserable to sit on and refrigerator is ridiculously small for anything more than one night; we spent 4. I would recommend with these complaints
Jul 24, 2021
This is my 3rd stay there using a cabin. With the latest upgrades to cabin and bathroom & showers, it is the top KOA I ever stayed at.
Jul 24, 2021
The staff was very friendly and helpful. The campground was beautiful.
Oct 07, 2021
This is a very nice campground, beautiful views and sunrise and sunsets. The staff is friendly and helpful, the sites are nice and level. It's convenient to Bryce Canyon NP, as well as other activities nearby. The ride to get there was just beautiful.
- tawny1956 on Trip Advisor
Oct 06, 2021
The lady at the front desk, Jody, was fantastic! She gave us recommendations on where to eat and other things in the area! Cabin was nice and clean. We'd definitely stay here again.
- Brandon Heyboer on Google
Oct 02, 2021
Loved it!
- Richard Malerba on Google