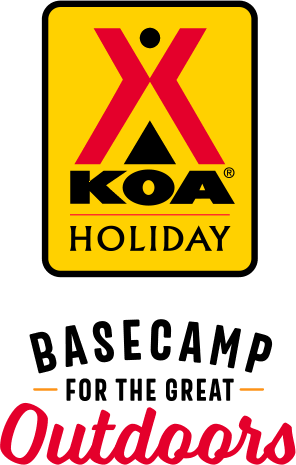 KOA Holiday Campgrounds
Whether you're exploring the local area or hanging out at the campground, KOA Holidays are an ideal place to relax and play. There's plenty to do, with amenities and services to make your stay memorable. Plus, you'll enjoy the outdoor experience with upgraded RV Sites with KOA Patio® and Deluxe Cabins with full baths for camping in comfort. Bring your family, bring your friends, or bring the whole group – there's plenty of ways to stay and explore.
KOA Holidays Feature:
RV Sites with a KOA Patio®
Deluxe Cabins with full baths
Premium Tent Sites
Group meeting facilities
Directions
We're right off of Utah's Scenic Byway Hwy 12 & North RedRock Drive, in Cannonville, Utah. 12 miles east of Bryce Canyon National Park. 
We strongly recommend you use maps instead of relying on your GPS navigation devices. Some have been known to send you to unfamiliar locations and off roads. If you choose to try your GPS we recommend that you enter in the address and the town.
Get Google Directions
Sep 11, 2021
Pool closed, horrible highway noise, virtually no WiFi reception, no cable tv. Below average for a KOA.
Sep 10, 2021
Lot 16 was excellent. Facilities were clean, service was great, and people were very friendly. Would highly recommend. They accommodated a wide range of camping styles from tents to big rigs.
Sep 10, 2021
We called ahead to see if they had phone service, which they said they had wifi. We went ahead and reserved a trailer spot. They put us in a.back up spot that was in sage brush and our table was behind our trailer. As for the phone service , we could never make a phone call. The reservationist lied to us. We asked too see why we could not call out and she blamed it on our phones.
Sep 09, 2021
I would have rated it a five, but for the $30 "extra pet fee"(we have 4 dogs) this did not sit right with us, we paid it.Our dogs go where we go, so they spent very little time at the campground, we clean up after them, so not sure what the "the extra pet fee" is for? We have not encountered this fee any other KOA we have stayed at, just a note for those of us that travel with more than tw
Sep 09, 2021
Loved our stay and staff was great
Sep 09, 2021
It is a very beautiful and scenic area. Enjoyed it very much.
Sep 09, 2021
The staff was super friendly! Pancho the camp cat was pretty cute, too. They had a nice store set up with a good selection of beer both local craft as well as regular domestic. Awesome all the way around!
Sep 09, 2021
One of the best KOA's we have stayed at. Lots of thoughtful touches. Sparkling clean bathrooms. Very well managed. Showers should be more spacious.
Sep 08, 2021
Absolutely cleanest koa we have stayed at. Office staff friendly and knowledgeable of the area.
Sep 08, 2021
There was an empty tent site right next to us you could've put us in. You put us next to a cabin. Neither of us had privacy. They were trying to have a romantic campfire with us just feet away. Clean showers and bathrooms, but one shower was out of order.
Sep 07, 2021
Nice campsite, very friendly and helpful staff, had a great time. The only downside would be the small showers.
Sep 06, 2021
It was just 0k. The bathrooms were clean but the shower was very small. The WiFi didn't work in our cabin and no one seemed to really care. But most everything else was fine.
Sep 06, 2021
The campground is set in a very rural, pleasant setting. The staff is very friendly and professional. We had an electrical issue and a member of the staff did not hesitate to "jump in" and try to help us resolve it.
Sep 06, 2021
The park is clean, personnel was helpful and friendly. Setting is excellent with wonderful views of the nearby mountains.
Sep 05, 2021
Absolutely love the people and the cleanliness, everything was spotless. Only complaint is the width of the sites.way too narrow.
Sep 05, 2021
Great location with lovely views of the surrounding mountains. You really sense Bryce being nearby here. Pool is clean and refreshing. The bathroom, showers, and kitchen areas were spotless and well maintained. Really friendly staff.
Sep 04, 2021
The staff is kind courteous and patient
Sep 04, 2021
Everything very clean and tidy. Would definitely recommenend! Great people and great place!
Sep 04, 2021
We absolutely loved our stay. Beautiful cabin. Great staff, very knowledgeable of the area. Very accommodating.
Sep 03, 2021
Beautiful location, nice patio & firepits, great staff, well taken care of. Would definitely go there again.
Sep 02, 2021
beautiful site! Very clean bathrooms and showers, We slept in tents and our only issue was the wind. We were not prepared for how strong the wind got at night.
Sep 01, 2021
We loved the campground. It was so clean and the amenities were far beyond what we expected. Staff was so friendly and helpful. Day and night views were amazing. We laid on the picnic table for hours looking at the stars. We would happily stay here again.
Aug 31, 2021
The campground was nice and located close to Bryce. The bathroom and laundry was clean and nice.
Aug 31, 2021
Had a nice site with trees on one side. Sites are on a hillside and are stone (more like small round rocks). Spaced out nicely, very quiet at night. There was a lot of red dirt on our site too. Grocery store was 5 miles away from this KOA. We would go back.
Aug 31, 2021
All nice and friendly clean campground beautifull location be back next year
Aug 31, 2021
After several days without any amenities in Yellowstone and Teton Nat'l parks, we really enjoyed the hospitality of the KOA here in Cannonville. Thank you for a nice place to camp.
Aug 30, 2021
Super well maintained KOA. A lot better than we have seen in other K O A's.
Aug 30, 2021
Very clean restrooms and nice sites. The loose gravel was very hard for our motorcycles to ride through. The pool was clean but cold.
Aug 30, 2021
Very friendly very nice campground was a wonderful place for us to have a 2 day stop over on our 4100 mile trip
Aug 29, 2021
Very friendly people. Very quiet on a August Monday. Great location close to Bryce. Entire family enjoyed the experience. Having a nice pool (a bit cold) when camping is a great bonus. Thank you for a great stay.
Aug 29, 2021
The campground is very clean and well maintained. They have a nice pool and the staff are very friendly and helpful.
Aug 29, 2021
Summer of 2021 I stayed a week two different times, once in July and once in August. Camp is kept in pristine condition, and you will not find a more professional or friendly staff anywhere. I highly recommend this KOA to anyone considering a visit to the Bryce/Grand Staircase area.
Aug 29, 2021
Everyone was so friendly, and the facilities were very clean! It was so convenient to be able to use the camp kitchen for some cooking and washing up. The location was close to Bryce Canyon where we spent most of our time.
Aug 29, 2021
This was our first visit to Bryce Valley KOA and it was excellent. We will return next time we are in the area.
Aug 28, 2021
Great location super staff bathrooms a 10 !! Stayed 3 nites early August 2021
Aug 28, 2021
Great campground and staff. Jody warmly greeted us and answered our many questions. Susan and Anthony shared many commonalities with us. Added an extra day with Jodi so we could visit both Bryce and Zion. Discussed the Work Kamping program with Jodi.
Aug 25, 2021
The people are very nice but the sites are small, there is no shade, and there is nothing to do at the campground. We were also stuck next to a dumpster so the flys were unbearable. The only reason I'm giving this 3 stars is because the staff was super friendly and the views were amazing.
Aug 23, 2021
Clean campsite. Lots of hiking within a short drive.
Aug 23, 2021
Wonderfully kept facility. Very clean!!
Oct 07, 2021
This is a very nice campground, beautiful views and sunrise and sunsets. The staff is friendly and helpful, the sites are nice and level. It's convenient to Bryce Canyon NP, as well as other activities nearby. The ride to get there was just beautiful.
- tawny1956 on Trip Advisor
Oct 06, 2021
The lady at the front desk, Jody, was fantastic! She gave us recommendations on where to eat and other things in the area! Cabin was nice and clean. We'd definitely stay here again.
- Brandon Heyboer on Google
Oct 02, 2021
Loved it!
- Richard Malerba on Google