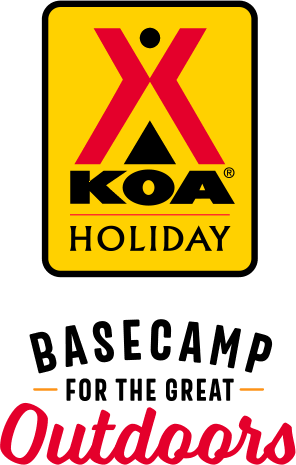 KOA Holiday Campgrounds
Whether you're exploring the local area or hanging out at the campground, KOA Holidays are an ideal place to relax and play. There's plenty to do, with amenities and services to make your stay memorable. Plus, you'll enjoy the outdoor experience with upgraded RV Sites with KOA Patio® and Deluxe Cabins with full baths for camping in comfort. Bring your family, bring your friends, or bring the whole group – there's plenty of ways to stay and explore.
KOA Holidays Feature:
RV Sites with a KOA Patio®
Deluxe Cabins with full baths
Premium Tent Sites
Group meeting facilities
Directions
We're right off of Utah's Scenic Byway Hwy 12 & North RedRock Drive, in Cannonville, Utah. 12 miles east of Bryce Canyon National Park. 
We strongly recommend you use maps instead of relying on your GPS navigation devices. Some have been known to send you to unfamiliar locations and off roads. If you choose to try your GPS we recommend that you enter in the address and the town.
Get Google Directions
Sep 23, 2021
We originally booked for two nights and then added another two nights since we liked it so much. Great facilities and pleasant staff!
Sep 23, 2021
Good campground, nice staff, clean restrooms and grounds and good location. All you need.
Sep 22, 2021
Loved this campground. beautiful view of the mountains and the people were great also
Sep 22, 2021
Enjoyed the scenery and the staff is awesome!!!
Sep 22, 2021
Cleanest restrooms and showers ever!
Sep 21, 2021
Great views and friendly staff. The cabin was clean and had everything we needed.
Sep 21, 2021
Very clean and nice. Kitchen area if you needed it laundry facilities.
Sep 20, 2021
Fantastic staff, and a beautiful area. I would love to stay here again!
Sep 20, 2021
The bathrooms were clean. Loved the use of the microwave and option to use the kitchen. And was visited by the most friendliest cat which was great because I was missing my fur babies.
Sep 20, 2021
It was a two night stay. The staff was very friendly and helpful. I got sick and they were very helpful in directing us to an urgent care. I'm better!
Sep 20, 2021
A very nice place perfect view very friendly staff and helpful on where to go and what to see in tthe area
Sep 20, 2021
Beautiful background setting!! Clean and well groomed. Close to everything.
Sep 20, 2021
Very welcoming and friendly staff. Also helpful with visitor information. The place is spotlessly clean and has all the amenities one would need. Rosie, my dog, and I loved our stay there!
Sep 20, 2021
We loved our stay at Cannonville Bryce Valley KOA, Utah. We enjoyed meeting the following employees of KOA: Anthony, Susan, Jodie, Chuck, and Rick to mention a few, all of whom worked onsite, provided excellent service and showed us kindness during our stay there. We plan on going back despite the long trek there on motorcycles from our home in Vancouver, Washington.
Sep 20, 2021
Very nice campground, gorgeous setting, close to Bryce Canyon NP. The staff was friendly and helpful, facilities clean. So quiet at night.
Sep 19, 2021
Very clean. Beautiful scenery. Super friendly staff.
Sep 19, 2021
This is the best KOA, period! Amazing views in every direction and super-friendly staff make this a must-stop location! Susan and her husband took great care of us on check-in. And the sky turns completely dark at night. It's incredible to step right outside your RV and count the stars in the Milky Way. Bryce Canyon, Capitol Reef and Grand Staircase Escalante are all conveniently located nearby.
Sep 19, 2021
Stayed in a cabin. The manager was very accommodating. First time to stay in a cabin in a KOA campground.
Sep 19, 2021
A wonderful campground. Very clean. Super nice staff. Wifi worked great. Would definitely go again!
Sep 19, 2021
Very nice place
Sep 19, 2021
It was very pleasant and quiet, just like my wife and I like it. The facilities were adequate and clean. The staff were very friendly and helpful. The cabin we stayed in was confortable. The only thing that could have been better was the internet coverage; it was an on and off situation throughout our stay, specially while inside the cabin. Otherwise our stay was an excellent experience overall.
Sep 18, 2021
Small campground, WiFi was okay, great cooking area, clean facilities, nice store.
Sep 18, 2021
Susan was very helpful. She shared information about parking our RV rig in the Bryce Canyon National Park overflow parking. We were able to do some exploring in the park before setting up at the KOA. I didn't get the names of the other two staff members but they were very friendly and helpful as well. I'd definitely recommend staying at this KOA,
Sep 17, 2021
I very much liked the sand box for the tent spot. Very easy on the knees, and easier to keep out of the tent. Everyone was accommodating, and the area is gorgeous. The only thing I wasn't as crazy about was the distance to the bathroom. Older bladders have a hard time! The large gravel on the drive was loud, and next to the tent site, and boy, did it get noisy as cars and RVs made their way past
Sep 17, 2021
This is the best KOA I've stayed at! The employees take pride in their job. The office staff is helpful and the campground is so clean and well maintained.
Sep 17, 2021
The air didn't work nor the wifi. I called for assistance but no answer or reply. When I mentioned it to the clerk the next day, she wasn't accommodating or offer any price reduction. The campground one of the most expensive I've stayed at with not many amenities.
Sep 16, 2021
Very friendly and responsible staff, very clean, nice shade. Dog park was GREAT to have (they are all too rare in RV parks), but could be a little bigger.
Sep 16, 2021
While the internet worked just fine at the office, neither it nor phone service (AT&T) did not work at my location (#3) which was close to the office. Showers were great.
Sep 16, 2021
My sister and I stayed at the Cannonville/Bryce Valley KOA for one night. The amenities were great and well-kept. The bathrooms and outdoor kitchen area were nice and clean. The view from our campsite (upper loop) was incredible! All of the staff we encountered were very friendly and welcoming. It was our first time at a KOA and it won't be our last!
Sep 16, 2021
Very nice campground. We were fortunate enough to make a last minute reservation. Staff was very friendly and helpful. Bathrooms were clean as well
Sep 15, 2021
always a great place to stay! Exceptionally clean restrooms, etc. Staff there work very hard and are very helpful and nice!
Sep 15, 2021
Great location! Friendly staff, very clean restrooms and showers. Loved our stay there!
Sep 15, 2021
Staff was very friendly and attentive. The scenery was beautiful, however we were right next to the highway, which was loud. The dog "park" was disappointing. It was a very tiny pen with little room for our active pup to romp around in. Campground was in a good location for going to Bryce, Zion and Kodachrome Basin. Would definitely stop here again when we come back to do more at Bryce.
Sep 15, 2021
Would be nice to have a common area with lounge chair by fireplace and outdoor games like horseshoes for campers to enjoy and hangout. KOA Moab does that and loved it.
Sep 15, 2021
We stayed 3 nights at a tent site. The facilities and campground including campsite were incredibly well maintained and clean! We had ample space for 2 tents. Staff were very kind and attentive. They ensured that other campers followed the quiet hours, which was appreciated. I have all ready recommended the campground to other people. We will be back!
Sep 15, 2021
This was one of the nicest campgrounds I have ever stayed. The sites were large, level & not on top of your neighbor. The staff was extremely nice & helpful. Nice clean showers & laundry room. Great views & amenities! Thanks!!
Sep 14, 2021
What an adorable KOA! Close to Bryce Canyon National Park, but away from the crowds. Staff was so nice. Bathrooms and laundry spotless! Would highly recommend.
Sep 14, 2021
Great camping and outstanding staff!!
Sep 13, 2021
Wonderful staff, very friendly and helpful. This is a gem of a campground with all of the hidden treasures in the form of views from the back side. We will definitely return.
Sep 13, 2021
well cared for, incredibly helpful staff. loved it
Sep 12, 2021
This is a perfect location to visit all the parks. Great RV park! clean, laundry facilities, friendly and helpful staff. Quiet location, nice pull through sites and back in. Pet area could be larger, but other than that this is a wonderful campground. 12 miles from Bryce, 8 miles to a slot canyon hike, 9 miles to Kodachrome, 6 miles to Mossy Cave.
Sep 11, 2021
Staff was extremely helpful and friendly. The facility is very clean with extra thoughtful features like laundry baskets and cooking utensils. Our site felt private but accessible. The location is very convenient for Bryce and Kodachrome SP.
Sep 11, 2021
Tents need to have at least a trangle tarp on all exposed tent sites - like so many other k o a have - but great people workimg there -I recomend getting a cAbin if its over90 degress if you were tenting it . Location is good pretty close to bryce like a 15!-20 min to park entrance which is a plus its a quiter biway than some other k o a spots and .canyon views all aroumd beautil!
Oct 07, 2021
This is a very nice campground, beautiful views and sunrise and sunsets. The staff is friendly and helpful, the sites are nice and level. It's convenient to Bryce Canyon NP, as well as other activities nearby. The ride to get there was just beautiful.
- tawny1956 on Trip Advisor
Oct 06, 2021
The lady at the front desk, Jody, was fantastic! She gave us recommendations on where to eat and other things in the area! Cabin was nice and clean. We'd definitely stay here again.
- Brandon Heyboer on Google
Oct 02, 2021
Loved it!
- Richard Malerba on Google