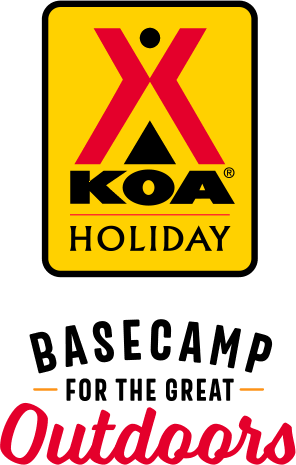 KOA Holiday Campgrounds
Whether you're exploring the local area or hanging out at the campground, KOA Holidays are an ideal place to relax and play. There's plenty to do, with amenities and services to make your stay memorable. Plus, you'll enjoy the outdoor experience with upgraded RV Sites with KOA Patio® and Deluxe Cabins with full baths for camping in comfort. Bring your family, bring your friends, or bring the whole group – there's plenty of ways to stay and explore.
KOA Holidays Feature:
RV Sites with a KOA Patio®
Deluxe Cabins with full baths
Premium Tent Sites
Group meeting facilities
Directions
We're right off of Utah's Scenic Byway Hwy 12 & North RedRock Drive, in Cannonville, Utah. 12 miles east of Bryce Canyon National Park. 
We strongly recommend you use maps instead of relying on your GPS navigation devices. Some have been known to send you to unfamiliar locations and off roads. If you choose to try your GPS we recommend that you enter in the address and the town.
Get Google Directions
Oct 02, 2021
The park has just about everything you'd need and it was clean. The people in charge were great. The only reason I did not give a 5 was because the sites are pretty small and everyone was encouraged to have a campfire. We had to sleep with our windows closed which was disappointing.
Oct 02, 2021
Amazing setting with wide, level sites. 40' motor home fit nicely in the pull through site, with ample room to park our tow vehicle behind. Staff is very friendly and accommodating. Facilities are very clean well maintained. Highly recommend this KOA for visiting the Scenic 12 Bypass and the parks along the route.
Oct 02, 2021
Beautiful location
Oct 01, 2021
Had a great time here great location to see the sights.
Oct 01, 2021
Staff friendly and helpful. Clean and neat facilities. WiFi and cell service almost nonexistent
Sep 30, 2021
Bathrooms were a long distance from our site and extremely hard to find in the dark at night due to the tiered layout of the campground and inadequate lighting. Wifi was just ok. The provided kitchen for food prep and clean up was very nice and staff were friendly.
Sep 30, 2021
Bathrooms were a distance from our camper and there was not a clear way to get to them. The park is dark at night and we kept getting lost at night
Sep 30, 2021
Staff was incredibly helpful. Park was clean and beautiful. Only negative was the cell service was spotty.
Sep 30, 2021
We stayed at Cannonville KOA in September. It was clean, and a quiet campground. It was perfect for us , since we were visiting Bryce, Escalante and Capitol Reef area.
Sep 29, 2021
Loved the deluxe cabin and the outdoor kitchen areas were great. Will never stay at a kamping cabin again. A deluxe cabin is the way to go. Very friendly staff just couldn't ask for a perfect place to stay.
Sep 29, 2021
Nice people. Clean park. But NO cell signal and WiFi was a joke.
Sep 29, 2021
The views were wonderful but the most impressive thing about this KOA was the tip we got from Anthony. Not only did he help us get parked and set up but he was delightful to visit with. His tip about Kodachrome State Park was spot on. We felt like we had it all to ourselves. Thank you so much Anthony! You're the best!
Sep 28, 2021
Everyone was kind, the views were amazing and all the facilities were very clean! We would highly recommend this place!
Sep 28, 2021
Sites are too close together. We couldn't even put up our awning because of the natural landscape. Susan in the front office is AWESOME!!!!
Sep 27, 2021
Great location and friendly staff.
Sep 27, 2021
Site was very narrow and unlevel, unable to put awning out. We requested spots close together with others in our group and that did not happen even though we reserved 7 months in advance.
Sep 27, 2021
Helpful folks. Cute little campground.
Sep 27, 2021
This campground had a very nice laundry and shower area, and great camper kitchens. I found the staff person who escorted me to my site impatient with me. The site was so unlevel that I could not correct for it with my 4" Anderson levelers. I was directed to park my camper so far back into a hillside that I could not operate the rear stabilizers. Internet service was spotty at best.
Sep 26, 2021
Nice well maintained campground. A little tight, but doable. We camped in a 45 ft coach with toad. Good utility hookups. Only issue on our site was a sage tree right behind front door. Ruined patio access due to length of coach.
Sep 26, 2021
Very relaxing and quiet.
Sep 26, 2021
Very clean especially the bathrooms Nice location
Sep 26, 2021
We enjoyed our stay. Super quiet park and is in a beautiful setting. Loved watching the sun rise over the mountains!
Sep 25, 2021
The manager pointed out a few more points of interest and they were great!! Spots were a little tight but a very nice stay
Sep 25, 2021
Even more friendly management and staff than our typical KOA experience!
Sep 25, 2021
It was a nice facility and the staff were super friendly, but some were flippant about coronavirus. I was told I could remove my mask by an employee, which was shocking, as I am traveling with my unvaccinated 5 year old.
Sep 25, 2021
Very clean property, with a very friendly staff
Sep 24, 2021
I hauled a 20' Uhaul from Portland Oregon to Tucson AZ and chose to sty at KOA cabins along the way. Bryce was a short side trip off my hwy 89 route but boy was it worth it! One of the best KOAs I've stayed at, nice showers, clean cabins, the usual super friendly and helpful staff on site, and amazing views of the monuments of Bryce canyon all around the campground. 5 stars Bryce canyon!
Sep 23, 2021
Beautiful setting and easy to get to all the sites we wanted to see.
Sep 23, 2021
Staff was fantastic. Constantly working on grounds. Our site was level. Really enjoyed our visit.
Sep 23, 2021
The staff are very friendly. The sites are kept up and well groomed.
Sep 23, 2021
A few things that I didnt like. 1- I hit my head twice on the low overhang on the ends of the cabin. 2- The mattress in the cabin was so hard, I couldnt sleep well and I hot out of bed with an achy back. Please spend some money and get better mattresses. Those are horrible. 3- pool should have been available for use.
Sep 23, 2021
Centrally located between Bryce Canyon National Park and Escalante National Monument. Everything very clean, people super nice and helpful
Sep 23, 2021
We originally booked for two nights and then added another two nights since we liked it so much. Great facilities and pleasant staff!
Sep 23, 2021
Good campground, nice staff, clean restrooms and grounds and good location. All you need.
Sep 22, 2021
Loved this campground. beautiful view of the mountains and the people were great also
Sep 22, 2021
Enjoyed the scenery and the staff is awesome!!!
Sep 22, 2021
Cleanest restrooms and showers ever!
Sep 21, 2021
Great views and friendly staff. The cabin was clean and had everything we needed.
Sep 21, 2021
Very clean and nice. Kitchen area if you needed it laundry facilities.
Sep 20, 2021
Fantastic staff, and a beautiful area. I would love to stay here again!
Sep 20, 2021
The bathrooms were clean. Loved the use of the microwave and option to use the kitchen. And was visited by the most friendliest cat which was great because I was missing my fur babies.
Sep 20, 2021
It was a two night stay. The staff was very friendly and helpful. I got sick and they were very helpful in directing us to an urgent care. I'm better!
Oct 07, 2021
This is a very nice campground, beautiful views and sunrise and sunsets. The staff is friendly and helpful, the sites are nice and level. It's convenient to Bryce Canyon NP, as well as other activities nearby. The ride to get there was just beautiful.
- tawny1956 on Trip Advisor
Oct 06, 2021
The lady at the front desk, Jody, was fantastic! She gave us recommendations on where to eat and other things in the area! Cabin was nice and clean. We'd definitely stay here again.
- Brandon Heyboer on Google
Oct 02, 2021
Loved it!
- Richard Malerba on Google