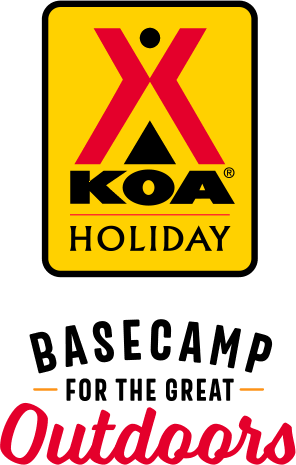 KOA Holiday Campgrounds
Whether you're exploring the local area or hanging out at the campground, KOA Holidays are an ideal place to relax and play. There's plenty to do, with amenities and services to make your stay memorable. Plus, you'll enjoy the outdoor experience with upgraded RV Sites with KOA Patio® and Deluxe Cabins with full baths for camping in comfort. Bring your family, bring your friends, or bring the whole group – there's plenty of ways to stay and explore.
KOA Holidays Feature:
RV Sites with a KOA Patio®
Deluxe Cabins with full baths
Premium Tent Sites
Group meeting facilities
Directions
We're right off of Utah's Scenic Byway Hwy 12 & North RedRock Drive, in Cannonville, Utah. 12 miles east of Bryce Canyon National Park. 
We strongly recommend you use maps instead of relying on your GPS navigation devices. Some have been known to send you to unfamiliar locations and off roads. If you choose to try your GPS we recommend that you enter in the address and the town.
Get Google Directions
Oct 16, 2021
Very clean facility and great camp hosts. Always cleaning up and on top of things we appreciate them.
Oct 15, 2021
We had a fabulous stay! Staff was friendly and helpful, campground was clean, location was amazing! We can't wait to come back!!
Oct 15, 2021
It was nice and we enjoyed it. We prefer spots with a little more space but it is a nice place to stay.
Oct 14, 2021
Very friendly clean and helpful
Oct 14, 2021
This was, by far, one of the nicest KOAs we've stayed at. Susan greeted us with a warm smile and helped with all of our needs. The facilities are very clean and the property is well maintained. We will most certainly stay here again in the future. Thank you, Susan.
Oct 13, 2021
Very nice, clean, staff was very pleasant and helpful. Laundry room a little small but nice. Good place to chat with people on a rainy day.
Oct 13, 2021
Very nice couple assisted us. Everything was very clean.
Oct 12, 2021
I had a awesome stay. The staff were super friendly. I like that this KOA kept my CC on file so I could add purchases easily. I would just ask for some wood and it would be there. I have stayed at numerous KOA's this one rates high on my list for a return. Very relaxing stay, thank you again.
Oct 12, 2021
Restroom/shower fair. Sites on top of each other.
Oct 12, 2021
People very friendly and helpful. Sites on the short side. Laundry room needs upgrading. Overall pleasant with beautiful views and close to many parks.
Oct 12, 2021
Staff was real nice, the place is kept up. They take the time to have a staff member lead you to your site.The sites are a wee bit narrow but there's some vegetation between you for a little bit of privacy.
Oct 12, 2021
The staff was very helpful in getting us the information needed to enjoy our stay both inside the campground and the surrounding area. Great location to stay while visiting Bryce Canyon NP. Twenty minutes from entrance to park.
Oct 12, 2021
We loved visited this place, staff is super helpful and courteous!!!
Oct 12, 2021
It's a really nice campground. The internet is not too good, but everything else is nice.
Oct 11, 2021
A little out of the way, but nice facilities. Our site was easy in and out and very peaceful.
Oct 10, 2021
Amazing staff and location that is out of the way. We loved not being in the hustle and bustle of Bryce Canyon Town. Great big sites, lots of trees, watch out for goatheads they are everywhere if you stray off the path. There is limited cell service there, but their internet more than makes of for it! We actually streamed on it and were pleased. Overall we really enjoyed our stay!
Oct 10, 2021
Cabin and laundry facilities were great. Think there should be more hooks to hang bags, jackets on.
Oct 10, 2021
Perfect location. Loved our campsite. Great fire pit that was private without interfering with your neighbor camper. The shower, washing machines/dryers were good and outside kitchen area was something we have not seen in the many KOA campgrounds we have stayed in over the years. I would highly recommend this campsite to travelers visiting this area. Also, the staff was so helpful!
Oct 10, 2021
One of the few places that remember what customer service is. Special thanks to Anthony. He picked up our garbage bags and filled our propane tanks and returned them to us. Thank you.
Oct 10, 2021
Quite park and beautiful scenery
Oct 10, 2021
We really enjoyed our stay at this KOA! So much so, we stayed two nights. :)
Oct 09, 2021
Well Kept//Good location
Oct 09, 2021
Would have been higher score if bathroom by us had been open . Very friendly helpful staff and well cared for sites that afforded more privacy than is typical for these places.
Oct 09, 2021
Great set up, very nice staff. Will be back
Oct 09, 2021
Stayed for one night visiting black canyon national park. Staff was helpful, able to leave firewood at our campsite for our late check in. Check in process was easy. Loves the soft tent pad and privacy from the trees at our tent site. Nice and clean bathrooms!
Oct 09, 2021
Friendly people. Site was good. Had to use showers at the lower level because the upper lever was closed. Showers were clean.
Oct 08, 2021
Very nice campground
Oct 08, 2021
This campground is one of the very BEST MAINTAINED I've ever stayed at. Actual grass at every site,even at summers end!
Oct 07, 2021
This was a perfect place to stay while we visited Bryce Canyon National Park. The hosts were so nice and helpful. Views are beautiful.
Oct 06, 2021
We really enjoyed the stay here. The staff was super friendly and the location perfect. Can't wait to come back!!
Oct 06, 2021
The staff was very friendly and helpful. Our cabin was clean with fresh linens and the view and location was epic the only reason I don't give it a 10 is that in the deluxe cabin with partial kitchen there are no cooking or grilling utensils. I think offering a rental package of basic utensils would not only be helpful but could be profitable for any KOA. All in it was wonderful.
Oct 06, 2021
We only stayed one night but were quite impressed with the campground, including the cleanliness of the facilities and the charming campsites.
Oct 05, 2021
love this Koa!! very clean and friendly staff
Oct 05, 2021
Internet at the site spotty. Friendly staff. Clean toilets and showers. Quiet
Oct 04, 2021
We had a wonderful time. Cabin was perfect for us.
Oct 04, 2021
Staff members were very professional, efficient and helpful. The site was clean and well maintained.
Oct 04, 2021
The staff and grounds were wonderful. Highly enjoyed the views as well.
Oct 02, 2021
Very courteous and helpful staff. BBQ joint within tje complex makes it easy
Oct 07, 2021
This is a very nice campground, beautiful views and sunrise and sunsets. The staff is friendly and helpful, the sites are nice and level. It's convenient to Bryce Canyon NP, as well as other activities nearby. The ride to get there was just beautiful.
- tawny1956 on Trip Advisor
Oct 06, 2021
The lady at the front desk, Jody, was fantastic! She gave us recommendations on where to eat and other things in the area! Cabin was nice and clean. We'd definitely stay here again.
- Brandon Heyboer on Google
Oct 02, 2021
Loved it!
- Richard Malerba on Google