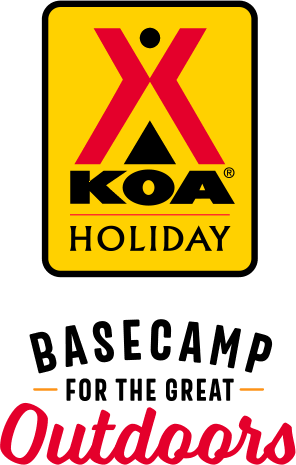 KOA Holiday Campgrounds
Whether you're exploring the local area or hanging out at the campground, KOA Holidays are an ideal place to relax and play. There's plenty to do, with amenities and services to make your stay memorable. Plus, you'll enjoy the outdoor experience with upgraded RV Sites with KOA Patio® and Deluxe Cabins with full baths for camping in comfort. Bring your family, bring your friends, or bring the whole group – there's plenty of ways to stay and explore.
KOA Holidays Feature:
RV Sites with a KOA Patio®
Deluxe Cabins with full baths
Premium Tent Sites
Group meeting facilities
Directions
We're right off of Utah's Scenic Byway Hwy 12 & North RedRock Drive, in Cannonville, Utah. 12 miles east of Bryce Canyon National Park. 
We strongly recommend you use maps instead of relying on your GPS navigation devices. Some have been known to send you to unfamiliar locations and off roads. If you choose to try your GPS we recommend that you enter in the address and the town.
Get Google Directions
Jun 10, 2021
Staff was very friendly. Good location to the park. We had a group of 6 rv's, and they kept us together. Ice cream social and daily pancakes and sausage were a huge hit.
Jun 10, 2021
Wonderful campsite in a beautiful setting.
Jun 10, 2021
The office closed too early. I wanted buy some stuffs but I couldn't.
Jun 09, 2021
Friendly check in, very well-maintained property! Beautiful area and close to Bryce Canyon.
Jun 09, 2021
The staff was very friendly and helpful. We didn't like the large rocks on the ground. The web site stated it had gravel it was not gravel it was rocks and difficult for dogs to walk. I requested a site with the patio and was told they were all taken however the entire time were were there I saw several sites empty. Instead we were put on a site with a tree and we were unable to use our awning.
Jun 09, 2021
First time at a KOA; Jodie and her staff were amazing! They all have such great, positive energy. We had a great time!
Jun 09, 2021
Beautiful sunset
Jun 09, 2021
Staff was very nice. Sites are cramped and small.
Jun 08, 2021
It wasn't a bad spot at all, but some of the campsites looked pretty cramped. I think we got lucky with our spot and felt like we had enough space, while another group that went on the trip with us had a very small spot.
Jun 08, 2021
Clean grounds, great access to Bryce, Escalante and other State Parks
Jun 07, 2021
This campground was perfect. It is so clean and the staff is super friendly. You can tell that there is pride in the campground. And let's talk about the views. The sun casts amazing shadows and colors during the sunrises and sunsets on the cliffs. It's such a beautiful area of the country. Definitely on my list to come back and stay again.
Jun 07, 2021
Great customer service! John helped us with an issue with our rig. He went above and beyond to assist!!
Jun 07, 2021
Kind and accommodating staff.
Jun 07, 2021
The staff at Cannonville are fantastic. They have a breakfast of pancakes and sausage that is very nice. We had a great time there
Jun 06, 2021
Excellent staff. Immaculate showers and toilets. Located close to Bryce, Kodachrome ,Zion and Escalante. Very well stocked store. Grounds clean and manicured .Stayed 5 days would highly recommend.
Jun 06, 2021
I have stayed at the Cannonville KOA location about 10 or so times since the 90's. Very enjoyable place to relax! In fact, it's the only KOA location that I like����
Jun 06, 2021
Great customer service!!!
Jun 06, 2021
Great home base for exploring Bryce Canyon and Zion Park. We really appreciated the dog area for our 3 pups to run around off leash. The campgrounds are quiet at night and so clean! Also, Anthony is a gem!
Jun 06, 2021
Very friendly staff and clean facilities.
Jun 05, 2021
Jody and her staff were a pleasure to work with and a joy to be around. They made us feel like family and took care of us like family. A+ everyone.
Jun 05, 2021
Great park in a very pretty setting. Super clean and very well cared for. Knowledgeable and friendly staff. Only knock is the pool is small, but would definitely stay here again and highly recommend!
Jun 05, 2021
They we're excellent, I had even mixed up my reservations, and they fixed no problem. Everything was clean and well taken care of shower, bathrooms and pool.
Jun 05, 2021
Late Check-In; need a drop box for firewood. Sites were BEAUTIFUL and well-kept. Felt safe and comfortable in an open tent! Bathrooms were clean (could use updates to plaster on walls, but that's pretty picky, right?) Overall, excellent friendly service on the phone and at checkout, and VERY nice grounds! Will recommend to anyone coming out this way... we wish we'd have stayed the whole trip here!
Jun 04, 2021
Fantastic location with a gorgeous nature trail. Super friendly staff, clean facilities, and private tent sites.
Jun 04, 2021
Great spot, friendly employees, everything you could ask for!
Jun 03, 2021
The staff is awesome. The grounds are clean.
Jun 03, 2021
Clean campground small pool, wonderful staff. Actually called to check on us, we were 1 day late arriving. Little farther from NP than I would have preferred but was very quiet.
Jun 02, 2021
Very clean, well kept. Enjoyed our stay!
Jun 02, 2021
The staff was fun and helpful. Really enjoyed our stay.
Jun 02, 2021
We loved the shared camp kitchen and microwave! It was our first time in a cabin (not a tent) and it was nice having electric plugs and overhead lights. We were in the basic cabin but it was all we needed. The pool was cooler than 80 degrees but the fact they had a pool (many KOAs don't) it was definitely a plus. Our kids loved it after a long hike. All in all, we would definitely recommend it!!
Jun 02, 2021
Satellite bathroom & laundry facility was very useful. Staff quite helpful.
Jun 01, 2021
Staff is very friendly and efficient. Grounds both positive and negative. First my campsite had very little grass for my dog and the rock drives were very difficult for my dog to walk on due to her age. Other campsites had very nice grass areas so comparing my site to others, mine was lacking. No cable TV may be a problem with other campers. Digital TV not easy to access.
Jun 01, 2021
Very nice location surrounded by mountains. Facilities were clean and very camper friendly with mini-kitchens for tenters.
Jun 01, 2021
Our stay at Bryce canyon KOA was absolutely awesome �.. highly recommend! we stayed 4 nights in a camping cabin, did NOT want to leave.. ALL the staff especially Anthony were so nice and friendly, helpful and inviting..thanks again Jody..
Jun 01, 2021
Had another amazing stay here at the KOA. Jodie, the manager, is the BEST. Can't wait to come back!!
Jun 01, 2021
Clean, well kept grounds and extremely friendly staff
Jun 01, 2021
Very nice campground! Our kids loved the pool
May 31, 2021
Excellent stay! The staff was super nice and helped us with an issue we had. Koa was in a beautiful location near some mountains. If we ever come back, we will stay here
May 31, 2021
Great stay, super clean and very friendly staff.
May 31, 2021
We were in the front section, right across from the office. The sites were close but level. Our site had some trees for shade. We could hear every vehicle that came in or out. It did get quiet at night so there wasn't any problem with that. They offered a pancake breakfast for $6. The pool opened for the season while we were there and others enjoyed it. Very close to Tropic and even Bryce Canyon
May 31, 2021
Everything was perfect. Campgrounds are clean and well organized. I stayed in the deluxe cabin. It's nice to be pampered. Pancake breakfast & the ice cream social was a nice touch.
May 31, 2021
The employees were all so welcoming and nice. Went above and beyond! Is a very clean location and in a good spot too! I loved it and will be staying there again at my next visit! Felt right at home!
May 31, 2021
Very nice and clean. Not sure about the chanting I heard in the morning...sounding like: send an earthquake?!! But every thing absolutely wonderful!!
May 30, 2021
The staff were very friendly and helpful
Jun 07, 2021
Nice place. ATT and Verizon nonexistent. WiFi very strong and solid; slow 3mb for free and 10mb premium a few bucks a day. Had zoom calls no problem. Pool is small but clean and the small kids loved it.
- Christopher Samp on Google
Jun 05, 2021
Much better location than St. George.
- Alex Fane on Google
May 26, 2021
Stayed in one of the camping cabins while on a motorcycle trip. Great experience, the facility was clean and well kept, staff was great, highly recommend this location.
- Michael McCarthy on Google