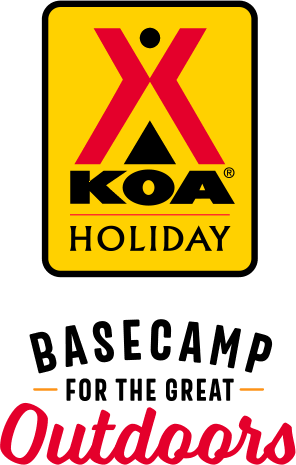 KOA Holiday Campgrounds
Whether you're exploring the local area or hanging out at the campground, KOA Holidays are an ideal place to relax and play. There's plenty to do, with amenities and services to make your stay memorable. Plus, you'll enjoy the outdoor experience with upgraded RV Sites with KOA Patio® and Deluxe Cabins with full baths for camping in comfort. Bring your family, bring your friends, or bring the whole group – there's plenty of ways to stay and explore.
KOA Holidays Feature:
RV Sites with a KOA Patio®
Deluxe Cabins with full baths
Premium Tent Sites
Group meeting facilities
Directions
We're right off of Utah's Scenic Byway Hwy 12 & North RedRock Drive, in Cannonville, Utah. 12 miles east of Bryce Canyon National Park. 
We strongly recommend you use maps instead of relying on your GPS navigation devices. Some have been known to send you to unfamiliar locations and off roads. If you choose to try your GPS we recommend that you enter in the address and the town.
Get Google Directions
Sep 17, 2021
I very much liked the sand box for the tent spot. Very easy on the knees, and easier to keep out of the tent. Everyone was accommodating, and the area is gorgeous. The only thing I wasn't as crazy about was the distance to the bathroom. Older bladders have a hard time! The large gravel on the drive was loud, and next to the tent site, and boy, did it get noisy as cars and RVs made their way past
Sep 17, 2021
This is the best KOA I've stayed at! The employees take pride in their job. The office staff is helpful and the campground is so clean and well maintained.
Sep 17, 2021
The air didn't work nor the wifi. I called for assistance but no answer or reply. When I mentioned it to the clerk the next day, she wasn't accommodating or offer any price reduction. The campground one of the most expensive I've stayed at with not many amenities.
Sep 16, 2021
Very friendly and responsible staff, very clean, nice shade. Dog park was GREAT to have (they are all too rare in RV parks), but could be a little bigger.
Sep 16, 2021
While the internet worked just fine at the office, neither it nor phone service (AT&T) did not work at my location (#3) which was close to the office. Showers were great.
Sep 16, 2021
My sister and I stayed at the Cannonville/Bryce Valley KOA for one night. The amenities were great and well-kept. The bathrooms and outdoor kitchen area were nice and clean. The view from our campsite (upper loop) was incredible! All of the staff we encountered were very friendly and welcoming. It was our first time at a KOA and it won't be our last!
Sep 16, 2021
Very nice campground. We were fortunate enough to make a last minute reservation. Staff was very friendly and helpful. Bathrooms were clean as well
Sep 15, 2021
always a great place to stay! Exceptionally clean restrooms, etc. Staff there work very hard and are very helpful and nice!
Sep 15, 2021
Great location! Friendly staff, very clean restrooms and showers. Loved our stay there!
Sep 15, 2021
Staff was very friendly and attentive. The scenery was beautiful, however we were right next to the highway, which was loud. The dog "park" was disappointing. It was a very tiny pen with little room for our active pup to romp around in. Campground was in a good location for going to Bryce, Zion and Kodachrome Basin. Would definitely stop here again when we come back to do more at Bryce.
Sep 15, 2021
Would be nice to have a common area with lounge chair by fireplace and outdoor games like horseshoes for campers to enjoy and hangout. KOA Moab does that and loved it.
Sep 15, 2021
We stayed 3 nights at a tent site. The facilities and campground including campsite were incredibly well maintained and clean! We had ample space for 2 tents. Staff were very kind and attentive. They ensured that other campers followed the quiet hours, which was appreciated. I have all ready recommended the campground to other people. We will be back!
Sep 15, 2021
This was one of the nicest campgrounds I have ever stayed. The sites were large, level & not on top of your neighbor. The staff was extremely nice & helpful. Nice clean showers & laundry room. Great views & amenities! Thanks!!
Sep 14, 2021
What an adorable KOA! Close to Bryce Canyon National Park, but away from the crowds. Staff was so nice. Bathrooms and laundry spotless! Would highly recommend.
Sep 14, 2021
Great camping and outstanding staff!!
Sep 13, 2021
Wonderful staff, very friendly and helpful. This is a gem of a campground with all of the hidden treasures in the form of views from the back side. We will definitely return.
Sep 13, 2021
well cared for, incredibly helpful staff. loved it
Sep 12, 2021
This is a perfect location to visit all the parks. Great RV park! clean, laundry facilities, friendly and helpful staff. Quiet location, nice pull through sites and back in. Pet area could be larger, but other than that this is a wonderful campground. 12 miles from Bryce, 8 miles to a slot canyon hike, 9 miles to Kodachrome, 6 miles to Mossy Cave.
Sep 11, 2021
Staff was extremely helpful and friendly. The facility is very clean with extra thoughtful features like laundry baskets and cooking utensils. Our site felt private but accessible. The location is very convenient for Bryce and Kodachrome SP.
Sep 11, 2021
Tents need to have at least a trangle tarp on all exposed tent sites - like so many other k o a have - but great people workimg there -I recomend getting a cAbin if its over90 degress if you were tenting it . Location is good pretty close to bryce like a 15!-20 min to park entrance which is a plus its a quiter biway than some other k o a spots and .canyon views all aroumd beautil!
Sep 11, 2021
Pool closed, horrible highway noise, virtually no WiFi reception, no cable tv. Below average for a KOA.
Sep 10, 2021
Lot 16 was excellent. Facilities were clean, service was great, and people were very friendly. Would highly recommend. They accommodated a wide range of camping styles from tents to big rigs.
Sep 10, 2021
We called ahead to see if they had phone service, which they said they had wifi. We went ahead and reserved a trailer spot. They put us in a.back up spot that was in sage brush and our table was behind our trailer. As for the phone service , we could never make a phone call. The reservationist lied to us. We asked too see why we could not call out and she blamed it on our phones.
Sep 09, 2021
I would have rated it a five, but for the $30 "extra pet fee"(we have 4 dogs) this did not sit right with us, we paid it.Our dogs go where we go, so they spent very little time at the campground, we clean up after them, so not sure what the "the extra pet fee" is for? We have not encountered this fee any other KOA we have stayed at, just a note for those of us that travel with more than tw
Sep 09, 2021
Loved our stay and staff was great
Sep 09, 2021
It is a very beautiful and scenic area. Enjoyed it very much.
Sep 09, 2021
The staff was super friendly! Pancho the camp cat was pretty cute, too. They had a nice store set up with a good selection of beer both local craft as well as regular domestic. Awesome all the way around!
Sep 09, 2021
One of the best KOA's we have stayed at. Lots of thoughtful touches. Sparkling clean bathrooms. Very well managed. Showers should be more spacious.
Sep 08, 2021
Absolutely cleanest koa we have stayed at. Office staff friendly and knowledgeable of the area.
Sep 08, 2021
There was an empty tent site right next to us you could've put us in. You put us next to a cabin. Neither of us had privacy. They were trying to have a romantic campfire with us just feet away. Clean showers and bathrooms, but one shower was out of order.
Sep 07, 2021
Nice campsite, very friendly and helpful staff, had a great time. The only downside would be the small showers.
Sep 06, 2021
It was just 0k. The bathrooms were clean but the shower was very small. The WiFi didn't work in our cabin and no one seemed to really care. But most everything else was fine.
Sep 06, 2021
The campground is set in a very rural, pleasant setting. The staff is very friendly and professional. We had an electrical issue and a member of the staff did not hesitate to "jump in" and try to help us resolve it.
Sep 06, 2021
The park is clean, personnel was helpful and friendly. Setting is excellent with wonderful views of the nearby mountains.
Sep 05, 2021
Absolutely love the people and the cleanliness, everything was spotless. Only complaint is the width of the sites.way too narrow.
Sep 05, 2021
Great location with lovely views of the surrounding mountains. You really sense Bryce being nearby here. Pool is clean and refreshing. The bathroom, showers, and kitchen areas were spotless and well maintained. Really friendly staff.
Sep 04, 2021
The staff is kind courteous and patient
Sep 04, 2021
Everything very clean and tidy. Would definitely recommenend! Great people and great place!
Sep 04, 2021
We absolutely loved our stay. Beautiful cabin. Great staff, very knowledgeable of the area. Very accommodating.
Sep 03, 2021
Beautiful location, nice patio & firepits, great staff, well taken care of. Would definitely go there again.
Sep 02, 2021
beautiful site! Very clean bathrooms and showers, We slept in tents and our only issue was the wind. We were not prepared for how strong the wind got at night.
Sep 01, 2021
We loved the campground. It was so clean and the amenities were far beyond what we expected. Staff was so friendly and helpful. Day and night views were amazing. We laid on the picnic table for hours looking at the stars. We would happily stay here again.
Aug 31, 2021
The campground was nice and located close to Bryce. The bathroom and laundry was clean and nice.
Sep 17, 2021
Really nice and clean
- A Google User on Google
Sep 15, 2021
Great quiet smaller park with a small pool. clean. very friendly. well appointed. we'd stay again for sure. trees in the right spots. fire pit with grill grates. 20 min from bryce.
- A Google User on Google
Sep 14, 2021
The view is great, the staff are friendly, and there is an outdoor kitchen near the tent sites! This is a big plus, there are 3 sinks for washing dishes, and a stovetop(out of order during our visit) and microwave. I believe there may have even been some games... We would visit here again!
- A Google User on Google