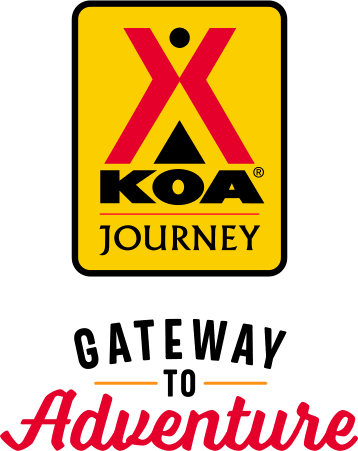 KOA Journey Campgrounds
KOA Journey campgrounds are the perfect oases after a day on the road. Whether it's along the way or a quick getaway, they've got you covered. Located near the highways and byways of North America with long Pull-thru RV Sites, they deliver convenience to the traveling camper. Pull in, ease back and take a load off.
KOA Journeys Feature:
Pull-through RV Sites with 50-amp service
Premium Tent Sites
Well lit after hours check-in service
Directions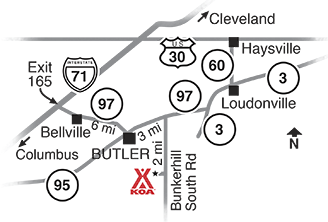 I-71 Exit 165 to 97E: Go 12 miles thru Bellville and Butler. Right on Bunker Hill Rd, south 2 miles. Please do not follow your GPS.
Get Google Directions
Jul 31, 2019
Very family friendly - we will be back !!!
Jul 30, 2019
We just stayed overnight. We were on a great pull through site, and wished we could have stayed longer to truely enjoy your campground.
Jul 29, 2019
There were bedbugs in 2 of our family members cabins. We checked out a day early in fear of getting them.
Jul 29, 2019
Loved the site! Quiet setting first 2 nights. 3 night loud parties a few sites down. Apparently are permanent sites. Clean bath houses. Loved that Amish came through selling baked goods. Very close to Mohican State forest. Drive to Amish country is about an hour. But beautiful country side.
Jul 29, 2019
We stayed for 3 nights, over "Christmas in July" weekend. Very clean and well kept. We had a great site and really enjoyed the stay. Would love to see a few more activities, but the fire truck with Santa was great and our little granddaughter got to make a craft. I would definitely recommend this campground. This was our first time and will be coming back.
Jul 29, 2019
Dirty restrooms. not much activities.
Jul 29, 2019
Nice friendly people large lots
Jul 29, 2019
Great family atmosphere. Owners were incredibly nice. And a lot of fun and activities for the whole family!
Jul 28, 2019
The staff was very friendly and helpful. The cabin was clean and well maintained. We had a great stay!
Jul 27, 2019
Great as usual.
Jul 24, 2019
If you want to hang out with beer guzzlers in a pool and listen to terrible mariachi music at 3:00a being blasted across the campground then this campground will be perfect for you. Horrible experience and none of the policies are enforced except for the one to not allow people to switch campsites of course. 1st and last KOA we will stay at.
Jul 24, 2019
The park had everything we needed (miniature golf, pool, full hook up sites, playground and sports area) but it is an older park. Everything was maintained well and staff was helpful. The location is a bit difficult to get to if you don't map your route ahead of time.
Jul 23, 2019
Love the Butler KOA. Terri in the office is always so helpful!
Jul 23, 2019
Very hospitable staff clean hot showers reasonable prices in the camp store nice pool and lake
Jul 23, 2019
Awesome. Except for the roaming teenagers beating on the bathroom door and running around our site at 0000.
Jul 22, 2019
Site 90 was totally awesome. Cleanest shower I've ever seen in a campground. Overall very impressed. will most definitely be back.
Jul 22, 2019
Rented a rustic cabin but was under impression it had air conditioner so that's my fault for not checking for sure (95-97 degree days with heat index of 103-105 was not going to go over well in a cabin with no air). The reason for the low rate was the convenience to the bath/shower house. One thing specifically advertised is convenient to everything well that was not true.
Jul 21, 2019
The host were very nice, but we were very disappointed with the appearance of the campground. Pulling in was a bad first impression, we did stay but wished we had left. driving around we saw many campgrounds that were much nicer. KOA standards need to be made aware of.
Jul 21, 2019
My husband and I stayed in a 1 room cabin, near the dog walk - it was very private with practically no "neighbors". There was an occasional sulfur smell in the air a couple of times throughout the week, but it never lasted more than a few minutes. We think it was from the pump house/pump station nearby. Accommodations were wonderful and all facilities were clean all day - everyday. Very friendly!
Jul 19, 2019
My husband and I plus family members and our dogs on occasion stay at this KOA at least once a year. They know us so well we stay in the same cabin every year. Everyone is so friendly and if you need help they are always available..
Jul 19, 2019
No internet. No phone service .
Jul 18, 2019
We was in an awkward location on a hill and ground wasnt that level to pitch a tent. And mornings was very loud everyone leaving but overall if were in the area we will stay again with a better spot.
Jul 17, 2019
It was great! Friendly staff! Please get rid of that steel mailbox! It took out my camper door!
Jul 17, 2019
Nice family oriented park with various activities available. Good pull through RV sites. Friendly staff. Would stay here again. Only negative for us was spotty wifi, probably due to its location way out in the countryside. Very scenic!
Jul 17, 2019
Nice campgrounds friendly people
Jul 17, 2019
When we visited in June, we had a wonderful time. The staff was pleasant and very accomdating. The park was clean and it was a great experience. During this stay, we were highly disappointed and won't be returning. The restrooms were not clean, and the park residents did not obey quiet time hours. It was clique and residents were not kind. We were not satisfied with noise or space.
Jul 16, 2019
Butler KOA is our favorite KOA. The staff are super friendly, the campsites are large and we love all the walking trails. They always have fun activities. And their location is close to Amish towns for shopping. We highly recommend this campground!
Jul 16, 2019
Sites and restrooms are clean and nice. Hiking trails, frog pond, and lake are great. Entrance is a bit confusing. Office had several cats and strong cat urine smell ( not appealing when purchasing a snack, or allergic)
Jul 16, 2019
Camp was clean and welcoming. Office staff was amazing
Jul 16, 2019
The campground made me sign a paper that I would keep my dog on a 6foot leash at all times. We followed this rule. The first night there we walk up to the bathrooms (with our dog on a leash) and the campground owners dog, who was NOT on a leash or with its human, started growling at our dog. Pool was nice though and the owners were friendly and their dog was friendly to humans.
Jul 16, 2019
We had a great time. This was our first camping trip with our 8 grandkids and they all want to come back. The staff are very pleasant. My only recommendation is better maintenance on the pool. The water was green when we arrived Wednesday and Thursday, but by Friday on into Saturday it was cleared up.
Jul 16, 2019
Everyone is very friendly. Restrooms, showers and cabins are always clean. Grounds are kept very clean as well. The pool is very refreshing and the kids love it. Lake is good to relax and fish. Love this place. My kids love it too. Until next year. Have a great summer!!
Jul 16, 2019
We had a great stay at the Butler KOA. Our family camped at site 12, a nice-sized wooded site with privacy. Very pleased that mosquitoes/bugs were minimal. A little distance to the bathroom. Great play area with huge sandbox. Giving a four rating as some things could be updated/improved aesthetically...mini golf, pool (water color), lodge interior. Definitely would stay here again.
Jul 16, 2019
This was one of the cleanest & best staffed camp grounds we have ever stayed out. The planned activities were great. The campground had a ton to do. My only complaint was that the sites were a bit small so cars/trucks were parked by the road making it even more narrow.
Jul 15, 2019
We had a very enjoyable stay with family. Check in was quick and easy. The sites were nice. We were not pleased with the game room and pool. The game room had a musty smell and the pool water was green. The bathroom and shower stalls were okay, but they were not as nice as other KOAs that we have stayed at in the past.
Jul 15, 2019
Quiet campground. Friendly staff About midway for as base camp for activities in Mansfield or Berlin Stayed on Lot 106 end Lot very spacious No phone signal no WiFi signal Could pick up about 4 tv stations with Camper antennae
Jul 15, 2019
Loved it so did they
Jul 12, 2019
Clean, very spacious sites. Site well maintained. They emptied garbage twice daily. Very peaceful, very quiet at night. One of the BEST Campgrounds we have ever visited. Staff is very friendly, knowledgeable & helpful.
Jul 12, 2019
very clean ,staff moved us to split up campers and it was the best spot we could of had,will try to stay again sometime in the future
Jul 12, 2019
Great staff. The kampground activities equipment needs updated. All of the activities equipment are old and ragged and need resurfaced or replaced.
Jul 11, 2019
Only stayed 1 nigt but enjoyed the camp
Nov 08, 2020
Everyone is very friendly and accommodating. Beverly is amazing! They treat you like family!
- That Guy on Google
Oct 25, 2020
Had a seasonal spot for 3 years that is the best and it so sad when the season is over.. Great place for families and kids to spend time in nature and meet new friends. Kids enjoy the crafts, fishing and the games that are there. The staff is very friendly and helpful as they make your stay memorable forever.
- patmH5736KP on Trip Advisor
Oct 22, 2020
Very quiet camp ground.
- Christine Farquharson on Google