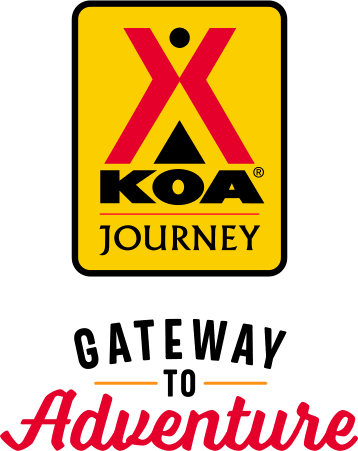 KOA Journey Campgrounds
KOA Journey campgrounds are the perfect oases after a day on the road. Whether it's along the way or a quick getaway, they've got you covered. Located near the highways and byways of North America with long Pull-thru RV Sites, they deliver convenience to the traveling camper. Pull in, ease back and take a load off.
KOA Journeys Feature:
Pull-through RV Sites with 50-amp service
Premium Tent Sites
Well lit after hours check-in service
Directions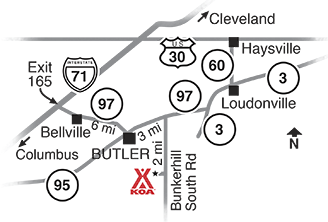 I-71 Exit 165 to 97E: Go 12 miles thru Bellville and Butler. Right on Bunker Hill Rd, south 2 miles. Please do not follow your GPS.
Get Google Directions
Sep 04, 2019
nice and clean! lots for the kids to do! The bathrooms were always clean!! I would definitely go there again! and recommend it to friends/family!
Sep 04, 2019
We had a great time. The amenities are numerous and varied. The granddaughters especially liked the carnival and games. We will definitely return in the future.
Sep 04, 2019
We had so much fun at this campground first time but definitely not the last.
Sep 02, 2019
Our stay was one of the best. Our site was beautiful, peaceful, well maintained, and everything we hoped for. The people who run this camp are the nicest people, and they were very helpful. The campground is lovely. We would love to stay here again sometime.
Aug 31, 2019
Great camp to observe the summer Milky Way stars overhead. Can't do that in the city lights.
Aug 30, 2019
We have stayed here every time in area. These people are super great and very much appreciated. When in area we stay because we do business in the area. It's a lovely place.
Aug 28, 2019
Great service from the entire staff!
Aug 28, 2019
First of all, the drive in was way off the beaten path in the middle of nowhere. The campground was not in a real picturesque part of the country (just farmland) and didn't warrant an extra 30 minutes to drive to it. It was a rainy Sunday which is no reflection on the campground, but we were one of two campers staying that night. Campground facilities were not in great shape. Not recommended.
Aug 27, 2019
Second stay here in 2 months. We enjoy how clean and quiet it is. Going to try and get back before end of the season, if not, we will be back next year
Aug 22, 2019
We have stayed at this campground off and on over the years. My biggest disappointment was that the shower house wasn't clean like past stays. Bandaids were laying on the ground all weekend and hair was on the shower walls, the same hair in the same location. I know it's difficult to keep things clean over a holiday weekend but it didn't even look like an effort was made.
Aug 21, 2019
The great grandkids love the crafts and the fire truck . It was fun for them .
Aug 20, 2019
Friendly people, helpful hosts. Nice laundry facilities. Loved the big orange kitties. The old fire truck was amazing.
Aug 20, 2019
Overall nice place however needs some cleaning and updates. A few travel trailers that appear to maybe be seasonal need done TLC. Sewer drain at our site and neighboring sites were backed up.
Aug 20, 2019
This campground place is very beautiful. It is in nice hilly, wooded setup. We enjoyed our stay here. Campground employees are very friendly and helpful. They cleaned the rest rooms as soon as it gets dirty or when we asked. It was very quick and clean. One suggestion is, they may need to replace the toilets. They get clogged/blocked very quickly and wastes lot of water.
Aug 20, 2019
Camp staff was very nice and friendly. Restrooms and showers kept nice and clean. Pool was not heated like website said. Also on web mentioned activities for kids. No communication on times and what activities and other weekend events. Camp store smelled like cat. Campground could use some updates in a few areas but not enough bad not to come back and stay. Very please overall with stay.
Aug 16, 2019
The staff there was extremely kind and welcoming and really worked hard to find the right accommodation for my group. They have my a great deal and would reccommend them again. Clean facility and a beautiful space.
Aug 16, 2019
The campground is in a beautiful location with dense forest and lush vegetation. Some of the campground buildings could use a little TLC but it's generally a very nice place to stay.
Aug 15, 2019
We stay every year for a family reunion in Ankenytown, OH. The Mohican KOA, is well maintained and clean, the staff is very friendly, they knew who I was when I walked in the door!!! I like that!
Aug 15, 2019
This was our 2nd year camping at KOA Butler and we love it! We love the Mohican area and this campground is perfect for our family with little kids! The staff was very friendly and very accommodating! The pool was a little busy but the campground was pretty full so that is understandable. My kids are already talking about going back next year and we cannot wait! Thanks for a great stay!
Aug 15, 2019
We had a great family bonding weekend. All the employees were super friendly and helpful. We will definitely recommend to others and be back soon.
Aug 15, 2019
It took forever for someone to take us to our site upon checking in. Once we were taken to our PREMIUM site we paid for, it was the most unloved site I have ever seen, barely enough room to even put two camp chairs and put out our awning and the gravel on the site was all but nonexistent. We paid for two nights... stayed for one and left and stayed elsewhere forfeiting our second night.
Aug 14, 2019
The grounds were clean,the showers were very clean and the park was quiet. We enjoyed our stay. Thank you
Aug 14, 2019
Everyone was very friendly and the campgrounds were clean and very well maintained.
Aug 14, 2019
Very nice and friendly staff . Love the cats they came and visited us at our cabin .
Aug 14, 2019
Everything was great! My only complaint is that the kids get way to rowdy in the pool for the younger ones. My 3 year old almost got put underwater due to kids jumping in at the steps over and over, their parents wouldn't say anything so we went back to our camp area! Other than that everything was nice. The owners, the workers everything! Nice area!
Aug 14, 2019
It was a last minute stay and this was only place available but we had a great time. Very nice campground with lots of trees. We would definitely consider coming back again.
Aug 11, 2019
Although they were very accommodating, we arrived early and stayed later. The restrooms by office were just bad, toilets did not work have the time and there was no hot water in mens room by office, had to ho to other side of park to shower. All the workers were very kind and helpful. Wifi was terrible, understand however we were in the middle of no where. We did have a great time however.
Aug 08, 2019
I have NEVER seen bathrooms this clean and spacious! Stayed during the week - very peaceful.
Aug 08, 2019
At first I thought the campground appeared run down compared to where I usually camp, but even though they could've mowed better and made things appear cleaner with better landscaping the place was amazing due to the other campers and especially the friendliness of the staff
Aug 07, 2019
Stayed for 4 nights in a primitive campsite. Great stay. Only problem was lack of hot water in shower room by office.
Aug 06, 2019
Had a great time except are pop up camper was on rough terrain and very hard to level so would want a flat area for my next trip and there will be cuz I liked it there thank you
Aug 06, 2019
My kids had a great time and it was very quiet at night. The only down side was the excessive horse play at the pool by several adults and also the pool side smoking.
Aug 05, 2019
Excellent camping experience. I have been coming to this campground for over 30 years. Astronomy is a hobby of mine and the night sky is very dark here on a night without clouds. Also there are many activities for the kids, especially on week ends. Nice pool also although it can get crowded at times.
Aug 05, 2019
The staff was very friendly! This particular location was not the easiest to get to from where we were coming from. The bath rooms were nice near our campsite but the bathrooms by the entrance needed some major attention. There was no tv or WiFi signal at all but for 1 night it was nice to be kinda off the grid.
Aug 03, 2019
Good people working there. WiFi horroble
Aug 02, 2019
Nice secluded KOA. If you need to get "Far" Away. This is the place for you. Very quiet and accommodating. Enjoyed our stay with our dogs. They loved Camp K9
Aug 01, 2019
Layout was nice and the staff was very friendly. I was very disappointed with the WiFi and cell reception. We had no way for our little guy to watch his movies before bedtime. I think it's reasonable to have WiFi boosters installed.
Nov 08, 2020
Everyone is very friendly and accommodating. Beverly is amazing! They treat you like family!
- That Guy on Google
Oct 25, 2020
Had a seasonal spot for 3 years that is the best and it so sad when the season is over.. Great place for families and kids to spend time in nature and meet new friends. Kids enjoy the crafts, fishing and the games that are there. The staff is very friendly and helpful as they make your stay memorable forever.
- patmH5736KP on Trip Advisor
Oct 22, 2020
Very quiet camp ground.
- Christine Farquharson on Google