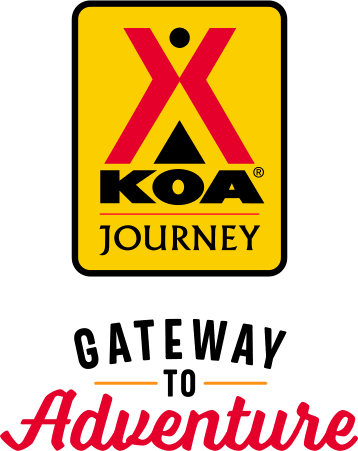 KOA Journey Campgrounds
KOA Journey campgrounds are the perfect oases after a day on the road. Whether it's along the way or a quick getaway, they've got you covered. Located near the highways and byways of North America with long Pull-thru RV Sites, they deliver convenience to the traveling camper. Pull in, ease back and take a load off.
KOA Journeys Feature:
Pull-through RV Sites with 50-amp service
Premium Tent Sites
Well lit after hours check-in service
Directions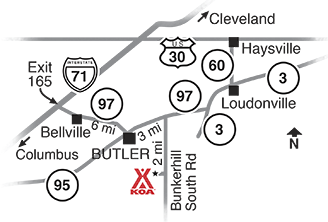 I-71 Exit 165 to 97E: Go 12 miles thru Bellville and Butler. Right on Bunker Hill Rd, south 2 miles. Please do not follow your GPS.
Get Google Directions
Jul 06, 2020
It was so peaceful and the staff were spectacular! I've never had such a perfect camping trip! We will be going back soon for sure! Thanks!
Jul 05, 2020
Great place to camp �
Jul 05, 2020
Enjoyed the mowed walking trails available in the park through the woods. They were a very pleasant surprise.
Jul 04, 2020
Great place to bring kids, they have trails, fishing pond, & nice playground, plus fields to play around. Many shaded sites, clean & friendly staff
Jul 04, 2020
everything was awesome at the campground... just those darn bullfrogs in the lake kept us adults from getting sleep. wish i brought ear plugs. but staff and grounds were really nice
Jul 02, 2020
We had a great time here recently! Loved the hiking trails! The pool was a nice place for my daughter and nieces to swim as it is partly shaded during parts of the day. It was definitely a very great place to escape in the Mohican area!
Jun 29, 2020
Had another great family reunion at the KOA. This was our 30th year.
Jun 29, 2020
We got to our site when it was raining and was not pleased they did accommodate and change out location. They lady was helpful and respectful. Clean bathrooms and showers. Very nice staff - everyone was very friendly. Pool was clean and keep up. I will stay again .
Jun 28, 2020
Overall a great place to stay. One of the group sites was quite loud until nearly midnight so I was unable to get a full night's sleep after 10 hours of driving. I was a bit away from them in a single tent site. I wish that KOA had made their quiet hours better known. Bathrooms and everything else were nice and clean. Staff was friendly.
Jun 27, 2020
my family always enjoys Bev and her crew. they are the ultimate best. the rv sites are spacious and the grass is always kept mowed. this is our home at this koa. thanks again to Bev and everyone there for making every stay an enjoyable experience. Karen and Gene Young from Cranfills Gap, Texas.
Jun 23, 2020
I don't think I got the site I originally reserved. I know I was told a site a different site than I got when I showed up. At the end of the day, the site we had worked out great since we were closer to the playground. All in all, it was a good weekend of camping.
Jun 23, 2020
Everyone that works there was there to help. I got my site on line. They said my RV would not fit in the site. Gave us another site. Being my first time with a camper, they guided me into the site. They made our 1st time camping great. We will be back. Thank you all.
Jun 23, 2020
I really enjoyed my stay and staff were very nice. Campground was a little hard to navigate but we figured it out. If planning to kayak on the Mohican river this campground was a little far away but overall good experience.
Jun 23, 2020
Local hooligans pretty much took the camp over Friday night with a large gathering of archery equipment. Laundry services were poor, the equipment is old and needing replaced. Rest rooms were fair. Upon arrival there was a man employee smoking in the men's room. This camp needs some work to bring it up to KOA standards!
Jun 23, 2020
Very polite staff, Nice place
Jun 23, 2020
The check in people were rude. Glass an trash all over our camp site when we got there. We left after the first night.
Jun 22, 2020
I had a great time with family, though I do wish there had been a bit more control of noise late at night. The overhead light behind my campsite (site 15) was glaring, so if there is some way to change that in the future it would be nice! Love the employees and the grounds, though, and will definitely be back.
Jun 22, 2020
Very small campground with not much to offer. Pool was nice and lake was nice for fishing. Everything else was small- including campsites. Picnic tables are nasty and wobbly. Nothing like the pics on the website. Would not return.
Jun 22, 2020
We are VERY new to camping and were nervous about our first trip out. The people were very helpful and kind--despite what I'm sure were a lot of newbie questions and mistakes! The pool is warm and nice. The grounds were clean. Thank you!
Jun 20, 2020
The site we had was very nice, full hookup was great.
Jun 19, 2020
It had all the amenities, but was very run down. Needs to be modernized. The pool looked nice though.
Jun 16, 2020
The staff was very helpful and super friendly. There was plenty to do with kids and the campsite was lovely. We will definitely come back!
Jun 15, 2020
Staff was very helpful at check-in, and guided us to our campsite. This location was ideally situated for our activities during our stay. Looking forward to staying at this facility sometime in the future.
Jun 15, 2020
So nice to be back. Bev and Tom are doing a great job.
Jun 15, 2020
Loved this campground! Quiet and friendly, super clean facilities, and close enough to mohican activities :) Definitely will be back!
Jun 15, 2020
The only thing we found that didn't work well was the sewer hook-up. Site 111 had an up-hill hook-up from the camper. We had to lift up our hose to drain it. Also the campsites need to have some division between them. A little too close to the neighbors. Other than that the campground was clean and the roads were maintained nicely. The firepit was warm and cozy.
Jun 15, 2020
This is by far THE WORST KOA we have ever stayed at. The customer service is rude, our site was flooded and mud everywhere, the managers did nothing to accommodate us after complaining. You were only allowed to swim for 30 minutes, the restroom was out of order in multiple stalls, the showers had no hot water, and there was cats everywhere in the office. The whole office at check in smelled bad.
Jun 15, 2020
We left right after we found another place to camp. The description was very misleading. Very old campground with lots way to close. People were mowing their own lot grass. Looked very ran down. Needed a lot if updating
Jun 15, 2020
Love th e cabins. Bathrooms nice. Love the lake and camping near it. Liked it was close to mohican
Jun 15, 2020
The staff is wonderful and very accommodating. I wish there was more hot water in the showers...It was tad chilly. The grounds are nicely wooded and it seemed that all the campers were very cordial and respectful to quiet times
Jun 15, 2020
We've never stayed at a KOA before but we had a great time! Staff was helpful, everything was clean, the dog and cats that lived there were adorable! Even with restrictions with Covid-19 there was still plenty to do. The only negative I can say is the showers very cold! We will be back again!
Jun 15, 2020
The staff was amazing! We will be back in July to camp again! The facilities were clean and the campground was well taken car of.
Jun 14, 2020
Super friendly and helpful staff. Extremely clean restrooms and pool. Very well run place.
Jun 13, 2020
We had a nice time! The sites are spacious and shaded. The workers were very friendly and helpful. The facilities were older but clean.
Jun 13, 2020
Great Staff. Spacious pool. Following safety guidelines well. Sites have plenty of space.
Jun 12, 2020
The majority of the sites (excluding tent camping) appear to be permanent. Most of them not maintained to the standards you would expect from a KOA.
Jun 10, 2020
Had a great time tent camping. Fishing was great and so was the pool. Friendly staff and great tent sites. Thank you!
Jun 10, 2020
We had a wonderful time! Clean campground and facilities and friendly people made for a fantastic weekend. We'll definitely be back!
Jun 09, 2020
Good. Need to get pool reservation schedule worked out better
Jun 08, 2020
Nice quiet campground with shade or sun. Wide trails cut through the woods for hikes... totaling a mile or more long. Fishing with lots of Bluegills, Bass, and others.
Jun 08, 2020
Loved the primitive site, had the lake right there to fish. Trails to go hiking, only gripe, need a bathroom a little closer for the primitive camping sites. other than that 5 stars!!!
Jun 08, 2020
Small campgrounds. Poor amenities. I've been to 5 KOAs in the last year. This is the only one I would not go back to.
Nov 08, 2020
Everyone is very friendly and accommodating. Beverly is amazing! They treat you like family!
- That Guy on Google
Oct 25, 2020
Had a seasonal spot for 3 years that is the best and it so sad when the season is over.. Great place for families and kids to spend time in nature and meet new friends. Kids enjoy the crafts, fishing and the games that are there. The staff is very friendly and helpful as they make your stay memorable forever.
- patmH5736KP on Trip Advisor
Oct 22, 2020
Very quiet camp ground.
- Christine Farquharson on Google