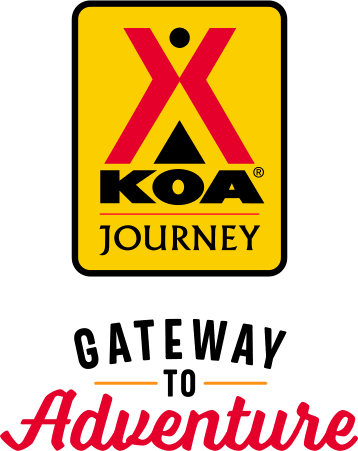 KOA Journey Campgrounds
KOA Journey campgrounds are the perfect oases after a day on the road. Whether it's along the way or a quick getaway, they've got you covered. Located near the highways and byways of North America with long Pull-thru RV Sites, they deliver convenience to the traveling camper. Pull in, ease back and take a load off.
KOA Journeys Feature:
Pull-through RV Sites with 50-amp service
Premium Tent Sites
Well lit after hours check-in service
Directions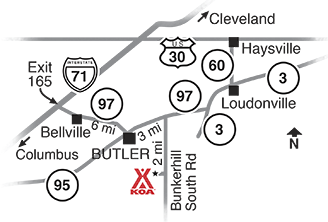 I-71 Exit 165 to 97E: Go 12 miles thru Bellville and Butler. Right on Bunker Hill Rd, south 2 miles. Please do not follow your GPS.
Get Google Directions
Jul 31, 2020
Friendly staff. Nice pool and fishing pond. Could use a little cosmetic updating. Staff didn't wear a mask in store. It's a statewide mandate.
Jul 30, 2020
The staff is very friendly. Also very clean family campground.
Jul 30, 2020
Had a great spot on the end that we backed our RV into which was very private and quiet! Grandsons really liked the swimming pool
Jul 29, 2020
The stay was fine. The property could use some clean up! Over grown weeds, poison ivy, mini golf was gross, and just not super appealing.
Jul 28, 2020
Had a great stay. The lady's bathroom is hard to keep up with. No toilet paper twice. Staff are always very friendly we had a great time. The cabin we had 2 of them were clean and cool.
Jul 28, 2020
Staff was friendly and helpful, campground was always clean. Definitely be coming back again and again.
Jul 28, 2020
Very accommodating, campsite was very homey and we loved the wooded tent site! Everything is just far distance to feel like you're "roughing it" but bathroom and store we're not more than a 5 minute walk. Will definitely be returning!
Jul 28, 2020
We stayed in a cabin without a kitchen, bathroom or ac, and we very much enjoyed it. The cabin included electricity and a much needed fan. It was wonderful to have a reprieve from the bugs and a bed to sleep in after long days spent hiking and canoeing. We came in July and the employees came around Saturday to hand out gifts to the kids for Christmas in July. Such a kind touch. KOA is one awesome!
Jul 27, 2020
Had a very nice time. The staff was friendly and helpful. Can't wait to go again.
Jul 27, 2020
Great place to stay! We enjoyed the privacy our cabin offered and convenience of the camp store, restrooms and showers. The pool is small but well kept and warm. Overall it was a great experience and we will be back soon!
Jul 27, 2020
They asked us to have our dogs on teathers which is completely fine for myself and my wife...yet there was a dog that was allowed to roam at will off leash. If one customer is expected to follow the rules, people who live at the campsite should abide by the same rules. What is spoken of dog but a customer, or a customers dog. Seems like it could be a legal problem for the campground.
Jul 26, 2020
Nice and quiet, just what we needed. Thanks
Jul 26, 2020
It was the first time in the area, and we enjoyed our stay. The employees and owner were polite, and if we needed something, they were there to help. The restrooms, each lot and pool were clean. I would highly recommend them.
Jul 26, 2020
They were very friendly and helpful!
Jul 26, 2020
Great camping clean friendly. Definitely going back.
Jul 26, 2020
Great stay and easy to work with
Jul 25, 2020
Bathrooms were kept up. Our wood was delivered. I was able to get assistance with the large bags of ice. We have camped here for many years. It is our favorite campground!
Jul 25, 2020
Very nice people and really clean sights . A really nice place to stay.
Jul 25, 2020
It was very quiet and beautiful scenery. But the overall campground needs alot of TLC. Very run down for what we expected from a KOA. Bathrooms were nice and clean. Staff person was nice. But we always felt like we were bothering them( in office).
Jul 25, 2020
Fantastic employees are outstanding.
Jul 25, 2020
The KOA was a lot further off from the interstate then we're hoping. It was an overnight stay so driving 20 miles to this location over farm roads in country Roads with a full-size couch towing a F150 was a bit far. The people were nice the space was near level on gravel and the roads and the KOA were a bit larger than driveways
Jul 17, 2020
it isnt at all what i expected, too small and there wasnt much to do on the grounds. the pond was dirty there were baby fish camp sites were so close together it wasnt quiet water in bathroom showers were always cold and everything at the store was super pricey for no reason 10.00 for 2 bags of ice... the WiFi was spotty there isnt any service at least have WiFi as you advertise but there wasnt.
Jul 16, 2020
Grandsons loved the swimming and liked the hiking paths.
Jul 14, 2020
It was nice having the pool open with people keeping a safe distance apart from each other. You had to bring your own chair. Very nice campground
Jul 14, 2020
Not impressed I have to fill out paperwork about my dog and told I need to keep them on leash (which we ALWAYS do) but yet it's okay they to let the rot camp dog run loose and bother others. Old, run down and way too many seasonals that think nothing of cutting through your site all day, everyday.
Jul 13, 2020
I was disappointed that the super soaker weekend had been cancelled and that we were not notified of this. This is the main reason that we brought our grand daughter camping for this particular weekend. I understand that due to COVID that things are different but this should have been communicated. Other than that our stay was fine.
Jul 13, 2020
There were 2 of us, we checked in on a Thursday and checked out on Sunday. Our site was close to the road, so you could hear traffic. Thursday night was decent. Friday and Saturday night was annoying. You could hear everyone around you. Loud talkers, people playing music. 10:30 quiet hour was not honored. There were children riding their bicycles through our campsite all day Friday and Saturday.
Jul 13, 2020
Kind and helpful staff , beautiful wooded area!
Jul 13, 2020
Nice camp ground, but multiple guest near our site had very bad language and loud (explicit language) music. Makes it difficult for families with children.
Jul 13, 2020
Quiet and secluded. Wifi was a little slow at times. Staff was extremely friendly and helpful.
Jul 13, 2020
Very Enjoyable, nice location and Fridley staff
Jul 12, 2020
Convenient to park; quiet, and friendly staff
Jul 11, 2020
Staff was very helpful and friendly. Grounds are well maintained. Site was very clean, trash emptied from random trash cans regularly. Hook-ups worked great. We didn't use any other amenities. Conveniently close to Mohican State Park. Very pet friendly.
Jul 10, 2020
It was extremely disappointed that the game room was closed and no activities. Paid A LOT of money for the holiday weekend but there was nothing to do. A discount should have been given. Also come Monday, the shop was closed and most of the bathrooms. For the price you pay to stay the mini golf course was extremely run down. The shower walls had slime so they were not being cleaned as should.
Jul 09, 2020
I have stayed at a lot of KOA's and they all cleaned the bathrooms at night so that in the morning when you got up you had a nice clean bathroom to go into. Well this one didn't clean the bathrooms until 11:00 the next day. Their was a pair of underwear on the counter, the trash cans were overflowing! This was a nice KOA, but please clean the restrooms regularly!!
Jul 08, 2020
Staff are fun and very accommodating. Facilities were kept clean. We had a great time.
Jul 08, 2020
Was a good relaxing time for the family, with plenty to do regardless of covid restrictions. Only negative thing was loud neighbors blasting music until 2 am with no quiet time enforced, had to tell them myself once i was fed up enough.
Jul 06, 2020
Peaceful setting with lots of shade and nice size pool. My end site was very spacious but many middle ones are very narrow and small. Sites were very uneven, very old outdated playground, dirty bathroom/showers, no phone reception and the campground WiFi is very basic no broad band high speed service.
Nov 08, 2020
Everyone is very friendly and accommodating. Beverly is amazing! They treat you like family!
- That Guy on Google
Oct 25, 2020
Had a seasonal spot for 3 years that is the best and it so sad when the season is over.. Great place for families and kids to spend time in nature and meet new friends. Kids enjoy the crafts, fishing and the games that are there. The staff is very friendly and helpful as they make your stay memorable forever.
- patmH5736KP on Trip Advisor
Oct 22, 2020
Very quiet camp ground.
- Christine Farquharson on Google