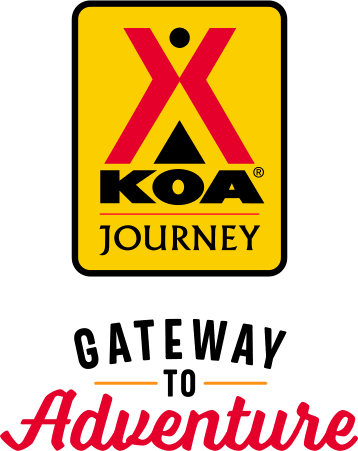 KOA Journey Campgrounds
KOA Journey campgrounds are the perfect oases after a day on the road. Whether it's along the way or a quick getaway, they've got you covered. Located near the highways and byways of North America with long Pull-thru RV Sites, they deliver convenience to the traveling camper. Pull in, ease back and take a load off.
KOA Journeys Feature:
Pull-through RV Sites with 50-amp service
Premium Tent Sites
Well lit after hours check-in service
Directions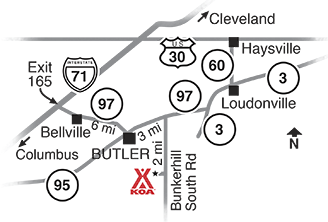 I-71 Exit 165 to 97E: Go 12 miles thru Bellville and Butler. Right on Bunker Hill Rd, south 2 miles. Please do not follow your GPS.
Get Google Directions
Aug 19, 2020
Bev and Tom are the best. Terri and the rest of the gang are awesome too!!
Aug 18, 2020
We really enjoyed our stay!! Everyone is very accommodating. Bathrooms were spotless. Pool very nice!
Aug 18, 2020
Everything was great except for when trying to get a hold of someone when checking in. Yes, it was late but it was just a little much waiting as long as we did. Other than that everything was great!
Aug 17, 2020
This review has been removed by KOA due to profanity.
Aug 17, 2020
Bev an Terry are great
Aug 17, 2020
Great, quiet, small camp. Nice people and staff. Great place if you're trying to relax. Mohican Stare Park is minutes away. This is where you want to go if you are trying to get away!
Aug 17, 2020
Nice and quiet on week days; easy to get in and out.
Aug 17, 2020
We had a wonderful time! All the staff are very friendly the bathrooms were very clean the location is perfect and we will definitely be back. Our cabin was nice and the air conditioning works great the mattresses were nice and thick we are going to recommend you to everyone
Aug 15, 2020
First 2 days pool was closed. No tv other than pbs by antenna. Bring extra tire blocks sites are very unlevel. Do not come in from the South STONE roads. Good place to read or sit.
Aug 15, 2020
We really enjoyed it. The people were outstanding. We liked the cabin, the pool, the quiet atmosphere. It was a quick check-in. We'll definitely be back.
Aug 14, 2020
The staff was friendly and helpful. The campground was peaceful and cleanly. I would like to have seen a better mini-golf area so kids had something to do.
Aug 12, 2020
Third stay. Always quiet. Always clean. Great place to stargaze.
Aug 11, 2020
Very clean campground and a very friendly staff. Will definitely go back.
Aug 11, 2020
My two adult daughters and I rented a one room cabin. It was VERY clean. (Except for the two windows. They needed a good scrubbing.) The cabin was perfect for us. More hooks on the wall by the other hooks would have been very helpful. The build in shelf by the window was fantastic. We put the fan that KOA provided up there in front of the window and the cabin never got hot. Thanks.
Aug 10, 2020
Nice campground. Very friendly staff. Extremely clean restrooms. Grounds well maintained. Allowing 3 vehicles on one campsite created overcrowding and late night noise that disrupted a good night's sleep.
Aug 10, 2020
Very Friendly staff, had a great stay!
Aug 10, 2020
Great campground! Very clean. Cleanest bathroom we have ever had. Very nice staff. Will stay again.
Aug 10, 2020
Very disappointing that the pool was closed. We had our grandchildren with us, and the pool is always their favorite thing. This is why we always choose a KOA campground. Also, KOAs are always clean, but this KOA had litter around the playground area. A disappointing camping trip unfortunately.
Aug 10, 2020
Vary nice will be back and the staff was super friendly. Most definitely will be letting people know
Aug 10, 2020
We stayed in a tent in the primitive area of the campground. The sites were spacious with lots of trees. The office staff were very friendly and helpful. The bathrooms were kept clean. We all liked the campground a lot!
Aug 09, 2020
Loved our large lot. Didn't feel like we were on top of other campers.
Aug 08, 2020
All and all a great camping experience. The cabin was clean, the pool was wonderful and the employees were very friendly and helpful with whatever we needed. Showers could use some updating as a couple handles didn't work right.
Aug 08, 2020
This was our first time out with our new camper. Wanted a quiet place. Wanted to be near Mohican State Park and Holmes County. Perfect spot. Grounds and facilities were nice, clean and well kept.
Aug 07, 2020
2nd time staying here. Will definitely come back.
Aug 07, 2020
I would not stay here again. The internet is spotty at best and we had a teacher with us trying to teach online for an hour a day and she could not do that. Showers were cold most of the time & restrooms were average cleanliness. The people were very friendly and I appreciated them. I liked the lack of light pollution.
Aug 06, 2020
We loved the setting of this KOA. Very woodsy and many trails around the campground that we could walk through the woods. We could not get cell phone service, but during our stay the Wi-Fi on the campground worked very well! Workers were Pleasant and accommodating. The negative situation was having a camper placed next to us on our 2nd night that had 3 dogs that barked Way too often.
Aug 05, 2020
We had a great time camping with our family! We'll be back.
Aug 05, 2020
Super nice employees very clean will stay again great all around environment
Aug 04, 2020
We had a wonderful time at the Butler Mohican KOA. The staff was very helpful and friendly, the facilities were well kept, and the grounds were beautiful. We're already making plans to return with friends!
Aug 03, 2020
Very much liked the tent site, by the lake with plenty of trees between sites. The kids had a wonderful time.
Aug 02, 2020
Everything was great except for the water temperature in the showers.
Aug 02, 2020
Kids loved the pool and the sound of horses coming down the road. The staff was friendly and helpful. We will be back.
Aug 01, 2020
very nice quiet, all the employees that I interacted with were extremely nice and helpful
Jul 31, 2020
Well kept grounds, very kind staff. Thank you!
Jul 31, 2020
Very poorly laid out campground. Site was not very level and poorly maintained. I was going to stay 3 days and poled out after 1 night.
Nov 08, 2020
Everyone is very friendly and accommodating. Beverly is amazing! They treat you like family!
- That Guy on Google
Oct 25, 2020
Had a seasonal spot for 3 years that is the best and it so sad when the season is over.. Great place for families and kids to spend time in nature and meet new friends. Kids enjoy the crafts, fishing and the games that are there. The staff is very friendly and helpful as they make your stay memorable forever.
- patmH5736KP on Trip Advisor
Oct 22, 2020
Very quiet camp ground.
- Christine Farquharson on Google