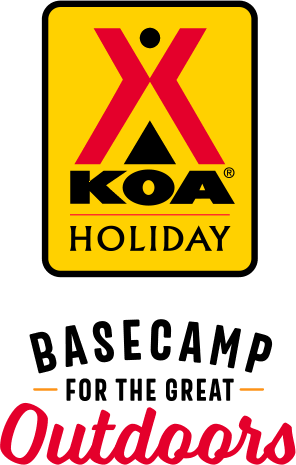 KOA Holiday Campgrounds
Whether you're exploring the local area or hanging out at the campground, KOA Holidays are an ideal place to relax and play. There's plenty to do, with amenities and services to make your stay memorable. Plus, you'll enjoy the outdoor experience with upgraded RV Sites with KOA Patio® and Deluxe Cabins with full baths for camping in comfort. Bring your family, bring your friends, or bring the whole group – there's plenty of ways to stay and explore.
KOA Holidays Feature:
RV Sites with a KOA Patio®
Deluxe Cabins with full baths
Premium Tent Sites
Group meeting facilities
Directions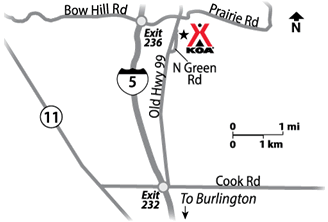 20 miles south of Bellingham. From I-5 Northbound Exit 232: North on old Hwy 99 3 1/2 miles. Southbound Exit 236: Left on Bow Hill Road, right on old Hwy 99.
Get Google Directions
Apr 20, 2021
We had an amazing stay! staff very friendly, helpful and accommodating. We loved that we were tucked into a corner that was quiet. We will defiantly be returning
Apr 19, 2021
Very clean! Staff was awesome.
Apr 19, 2021
What a nice place to stay. Very clean and accommodating. The people working there were so helpful and kind. Thanks for a great weekend!
Apr 19, 2021
From the moment we stepped foot on the KOA property at Burlington/Anactortes the staff were so welcoming and helpful. They made our stay fun and enjoyable, the property was clean and well maintained. They have so many fun options for kids at this location, we will be back!
Apr 19, 2021
Very clean and safe! We had a blast. The kids had a great time! Our cabin was amazing!! We will def come again this summer!
Apr 18, 2021
beautiful place and grounds. we loved this place!
Apr 18, 2021
Great staff and security, we really loved your new paved parking lot and entrance at the gate the dust really went down since our last time there, my children a little disapointed no mini golf but hopefully our return to your area in augest your brand new course will be ready. And yes your pool was open was one of our highlights of our visit to your koa.
Apr 17, 2021
Nice campground, well located for activities in Mt Vernon and Anacortes. The campsites are spread out, so we had quiet and privacy. Picnic table and fire pit at each site. Excellent Wi-Fi. Only negative is that they didn't have cable TV available.
Apr 17, 2021
We had a great time. All the employees were very helpful
Apr 16, 2021
Clean and quiet. Three night stay at a premium pull through site across the stream. (38' class A, towing). Looks like some fun play areas for kids.Pleasant & staff. There was a cable connection that we were not able to get working. We never explored a solution and opted to get news and weather on ipad. During our stay we went to Larrabee State Park and Tulip town. Skagit Valley is lovely.
Apr 16, 2021
Loved the pool. You really should pressure wash or clean picnic tables with something before guests arrive. My light jeans got a slime green stain on them. Nice to see you have done some new gravel and paving. Hope the putt putt will be good but don't think $5.00 charge is fair.
Apr 16, 2021
Clean and friendly. Best WiFi we've experienced at any KOA. The KOA's as a whole, draw the best campers. And yours is no exception. We met a few. Wonderful stay.
Apr 15, 2021
Facility was clean clean clean! Grounds are very well kept. Staff was cordial as well. Lots of signage telling people what not to do, but that is probably necessary. We will happily return.
Apr 14, 2021
Everyone there was so nice and helpful.
Apr 14, 2021
Kids loved the pool. It is a nice facility. 3.75 for 2 quarts of milk is a bit severe. Won't take a credit card on anything under 5 dollars is just tightwad.
Apr 12, 2021
Very organized, tidy, beautiful KOA campground. We stayed in a deluxe cabin and I was convinced it was brand new, only to find out late that it was three years old. That's how well the campground was kept up to a high standard.
Apr 12, 2021
We enjoyed how clean the entire beautiful campground was! And the staff was friendly
Apr 11, 2021
After the long isolation of 2020 and not being able to be with our granddaughter until we were finally vaccinated we highly anticipated a destination camping trip where she could go swimming and planned for her parents to come over for a picnic, But NO Visitors are allowed. Had fire wood to bring, but NO all wood must be purchased from KOA. The camp was clean well kept. Customer relations poor.
CAMPGROUND RESPONSE / COMMENTS:
So sorry that you were disappointed. Our website states no visitors. We discussed this via phone the day before your arrival.
Apr 10, 2021
More rules than usual for a KOA but it was still fun. Just unusually strict about everything such as no visitors even just for a few hours which meant family we came to see couldn't have lunch with us at our site. No kids in hot tub and the bathrooms were freezing which made it difficult to shower in them. And a few other weird rules but they didn't look like they were enforcing.
Apr 10, 2021
We love the stay, a great place for the kids. the site were very well kept. We could see the staff working hard to update and up keep, The showers near the teepee were not dirty but not very clean either. The pool was very nice but closing it and maze area at 6 was to early. We will come back, the park is nice, clean and we felt safe. Safety is very important. The office staff was great!
Apr 09, 2021
We enjoyed our clean cabin. Wish the pool opened at 9 to give time for a swim and shower before 11 am check-out. Also the mini-golf was closed, but the website still lists it as an amenity. We had fun with the trampoline, the maze and badminton.
Apr 09, 2021
We decided for an impromptu mid-week getaway to see the early bloom of the tulips and booked online. It was well maintained offered an indoor pool which is so nice in a rainy state like Washington. Both family and pet friendly
Apr 09, 2021
Everything was great until we read that we could not use our own fire wood that we bought. So obviously we didn't have a fire because of buying wood twice.We feel that for the price of the one night stay it should be free.
Apr 06, 2021
The camp ground was very clean and the staff was very helpful. I wish that the mini golf would of been open and that they would of had more activities for kids especially over the holiday weekend.
Apr 05, 2021
Wonderful campground with lots of activities and a great staff. The campground is kept spotless and the sights are some of the best that I have seen. If you have kids this is the place for you.
Apr 05, 2021
Great area with even better staff.
Apr 05, 2021
We had a wonderful time at this KOA. Wonderful staff and location.
Apr 04, 2021
Clean and well cared for. Pleasant staff
Apr 04, 2021
We stayed only two days at this campground and we had a wonderful time. The women in the office treated us nicely by changing the assigned camp slot to accommodate our tenting son and children so we can stay together. The guy who filled our propane gas was nice enough to deliver the propane thank to our camp sight and invited us back to our van camping in the near future. Thank you, guys.
Mar 31, 2021
very well kept campsites nice and quiet the place is very kid friendly I wish that everything was open for use but the pandemic you know the Wi-Fi was awesome will be back again
Mar 31, 2021
Nice and friendly staff. The grounds are well taken care of. We will definitely be back!
Mar 31, 2021
Was great. Staff very friendly and accommodating. Grounds nice and we'll kept. Would have been nice if the jump pillow was cleaned and ready but I understand it's the off season. Kids had a great time especially.
Mar 31, 2021
We've stayed here twice and have had a pleasant time each stay. The campgrounds are nice and clean and the staff was extremely friendly. My only complaints were that the store was only open for a small window a couple of hours a day, and had very low inventory (due to pandemic?); playgrounds could also use some updating.
Mar 29, 2021
Very nice park.