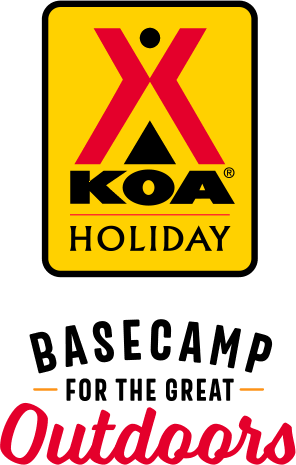 KOA Holiday Campgrounds
Whether you're exploring the local area or hanging out at the campground, KOA Holidays are an ideal place to relax and play. There's plenty to do, with amenities and services to make your stay memorable. Plus, you'll enjoy the outdoor experience with upgraded RV Sites with KOA Patio® and Deluxe Cabins with full baths for camping in comfort. Bring your family, bring your friends, or bring the whole group – there's plenty of ways to stay and explore.
KOA Holidays Feature:
RV Sites with a KOA Patio®
Deluxe Cabins with full baths
Premium Tent Sites
Group meeting facilities
Directions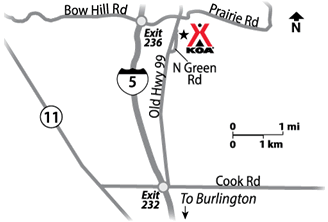 20 miles south of Bellingham. From I-5 Northbound Exit 232: North on old Hwy 99 3 1/2 miles. Southbound Exit 236: Left on Bow Hill Road, right on old Hwy 99.
Get Google Directions
May 25, 2021
It was a very nice stay.Every thing was exelent ,however cable TV would be nice, perhaps some day...
May 25, 2021
It was a great weekend. The campground is very clean, quiet and bright. Sites are large and we never heard sounds from neighbors. We had not been here for at least ten years and will definitely be back.
May 25, 2021
Very friendly, when asked they stopped pressure washing the sites during Sunday. Seems like this task should be done earlier in spring when less camping happening or schedule everyone to one side of bridge while noisy pressure washing is taking place. Other than that time & place was great.
May 25, 2021
It was our first RV so we were trying it out close to home. I only wish our adult kids could have visited and seen our trailer but not willing to pay 10.00 a person for company.
May 24, 2021
It was very clean, lots of family things to do, yet really quiet for those of us whose children are grown. Very pet friendly.
May 24, 2021
We were charged $25 ($10/person + $5/car) for my daughter & her boyfriend to visit the site for an hour. Hosts were uninterested in discussing, With the exception of the field the big motorhomes were parked on, the place was mostly empty. $10-15 is what all other KOAs I checked charge (this KOA does not post these charges). The picnic table was very wobbly & covered in bird droppings.
May 24, 2021
For the most part this is a very nice KOA. There were three things that frustrated us and may prevent us from returning. 1. Our premium site was covered in bird poop when we arrived. Had to spend time washing all the tables, chairs, swing, and cement pad before we could use. 2. No cable tv! Really? Why? 3. No visitors policy. Couldn't have sister come visit! Really? Not necessary now.
May 24, 2021
Rude, impolite, inconsiderate staff. Stay clear, Poorest customer service I have ever witnessed. Never stay here again. May terminate KOA membership because of the treatment.
May 23, 2021
Convient to amenities and clean.
May 21, 2021
There was a special that weekend for 20.00 for Saturday. We didn't receive that price.
May 20, 2021
Great time out on a quick one night trip. My kids love the playgrounds! The pool was awesome! And the staff is very friendly and helpful! I can't wait to come back and play the really cool looking mini golf course that they are almost done building!
May 19, 2021
Hot tubs closed for repair, but no notice till we had changed, showered, and entered pool area. A toilet was clogged repeatedly. Electric outlet malfunctioned in the night. We had to use power from another pole. Also, water did not turn off when we were ready to leave. KOA person working on it when we left.
May 18, 2021
very beautiful campground your brand new mini golf course was fantastic my kids loved it, your staff was super friendly and your security officer kept the rowdy late night campers quiet with one warning or you will be kicked out. Thanks for fun time we will be back
May 18, 2021
We were overcharged for our stay by over $10 per night and when I asked about it, the owner said I chose the wrong spot for my motorhome size. I explained that you have to put in your motorhome size before you choose a space, I was told. Too late, I charge you card already. I said, your website says the space was $53/ night, she says you want to stay here, you pay what I charge you. Very dishonest
May 18, 2021
We loved everything, enjoyed being spaced out and having lots of room
May 17, 2021
Excellent staff, site, store. great campground. Pet area could use some grass. Not our first stay. Will not be our last. Thank you KOA for a wonderful experience.
May 17, 2021
Has one of cleanest restroom / shower. Staffs are friendly.
May 17, 2021
Everything was great. The campground is kept very clean, and the staff are extremely helpful and kind. The spaces were good sized, and easy to access. My only negative and it is small would be more grass and less rock in the dog park.
May 15, 2021
Beautiful and clean campground in a great location. But we would not have booked if we had known absolutely no visitors were allowed. We had planned to have our daughter and son in law over for dinner and a camp fire.
May 15, 2021
a beautiful place to stay. Very well managed with grounds like a park. Lots of activities for families.
May 14, 2021
Campground was beautiful but everyday they were mowing, and power washing in the daytime for several hours each day-the noise was really annoying��-this is why only 3 stars -the campground was immaculate -the staff was really nice ����
May 13, 2021
Just one night traveling through, the park was clean with well manicured lawns and friendly staff.
May 13, 2021
Little on the expensive side but worth it. Safe. Clean. Kids have a blast. Lots to keep them having fun.
May 10, 2021
Beautiful campground. Will be back
May 06, 2021
Staff was incredible! What a relaxing place to stay! Thank you!
May 03, 2021
Very professional office staff with multiple people at counter. Very kid and family friendly campground in picturesque setting. Will be back for sure.
May 03, 2021
I wish that the putt putt golf that is advertised was open and that they had activities for the kids on the weekends.
May 03, 2021
All the buildings and the campsite was immaculately clean. The staff was super nice. The facility and the staff made our first time camping experience a really great time that we as a family will remember forever. Thanks so much for just being a wonderful place to stay and we will absolutely be back.
Apr 30, 2021
Quite and scenic campground
Apr 28, 2021
Quiet and relaxing location. Friendly staff. Clean bathrooms. We would definitely return.
Apr 26, 2021
Great sites with awesome options for kids to play.
Apr 26, 2021
Been here before, that's why we came back, very nice campground, clean, quiet, secure
Apr 26, 2021
Friendly staff. Quiet and clean facility. My kids had fun specially with the indoor pool.
Apr 24, 2021
Excellent stay. We love camping with you.
Apr 24, 2021
This is our favorite KOA. After full timing for the last ten years, we always find ourselves back at this campground. This is the Pacific Northwest's best kept secret. Beautiful facility with an abundance of things for the family to enjoy!
Apr 24, 2021
Just 2 nights on business. Did not use family much. Genersl appearance & maintenance were very good
Apr 24, 2021
The price is way too high. We should have stayed at another campground for $33. At the last KOA we paid around $40 and it was almost to capacity compared to this one. Definitely will not staying here again and I recommend people not to stay here.
Apr 23, 2021
A very nice campground..clean, well cared for. We only had 2 days but would like to come back and stay longer!
Apr 23, 2021
Beautiful campground! Loved the pool!
Apr 21, 2021
Always a well-maintained site, with very clean restroom facilities - thanks!
Apr 21, 2021
Stayed here last weekend in a cabin. There was damage inside the cabin when I arrived and now they are blaming me for the damage and charged me $500. Be careful, these people are thieves.
CAMPGROUND RESPONSE / COMMENTS:
The cabins are checked and cleaned after every camper stays. This cabin is brand new. Guest sign and initial a consent before staying ;and it says to inform us of any damage on arrival. The $500. is not enough to cover the damages you caused by moving the heavy sleeper bed fix
Apr 20, 2021
Very clean resort, staff was very friendly and helpful