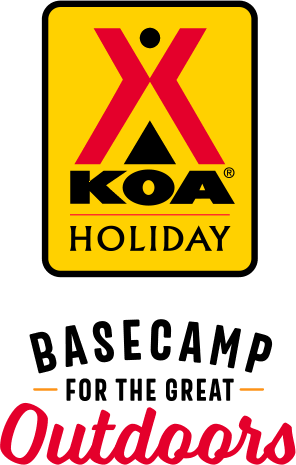 KOA Holiday Campgrounds
Whether you're exploring the local area or hanging out at the campground, KOA Holidays are an ideal place to relax and play. There's plenty to do, with amenities and services to make your stay memorable. Plus, you'll enjoy the outdoor experience with upgraded RV Sites with KOA Patio® and Deluxe Cabins with full baths for camping in comfort. Bring your family, bring your friends, or bring the whole group – there's plenty of ways to stay and explore.
KOA Holidays Feature:
RV Sites with a KOA Patio®
Deluxe Cabins with full baths
Premium Tent Sites
Group meeting facilities
Directions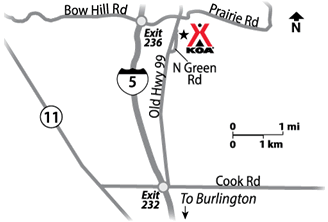 20 miles south of Bellingham. From I-5 Northbound Exit 232: North on old Hwy 99 3 1/2 miles. Southbound Exit 236: Left on Bow Hill Road, right on old Hwy 99.
Get Google Directions
Jun 15, 2021
Everything was great until the rain turned the roads into a clay mess for walking. Other than that, our stay was great!
Jun 15, 2021
The Cabin was clean and well maintained. That is all that was positive here. Unfriendly front desk staff, ridiculous pool and store hours. The race track nearby has cars racing until 10 PM. Left us more stressed after the weekend. The playground is very dated and has gravel all over, dusty and even dangerous for kids. The hot tub is old and was closed, probably for a while judging by the sign.
Jun 15, 2021
Very accommodating and friendly staff. The campgrounds and restrooms are very clean. Highly recommend this KOA.
Jun 14, 2021
BEAUTYFUL CLEAN WELL MAINTAINED CAMPGROUND. ALL THE STAFF WENT ABOVE AND BEYOND TO MAKE OUR TWO FAMILIES STAY PERFECT
Jun 14, 2021
The staff was terrific. The facilities very clean and the grounds, outstanding. We loved our site and hope to get it again after Labor Day. The BEST KOA we have ever stayed at and we have stayed at many! Thank you all for a wonderful stay.
Jun 14, 2021
This is our go to campground it's a full-service campground and it's a destination there are things to do there they have lots of pull through for trailers for us as close to home about an hours drive so we come here often the Wi-Fi is fabulous if you want a full service park this is the ultimate
Jun 14, 2021
Beautiful setting and very quiet. We were disappointed that the pool and miniature golf closed so early, but it looked great from what we saw.
Jun 14, 2021
Very clean and quiet. The restrooms were spotless. Very friendly staff. The only unfortunate thing was the office hours are reduced and we went to buy some things around 7:00 pm and they were already closed for the evening.
Jun 13, 2021
Very nice and quite campground. Plenty of kid activities to keep kids busy.
Jun 13, 2021
Beautiful site, Safe, clean. Bathrooms spotless Well managed campground. Would stay again.
Jun 11, 2021
We had a nice quiet stay everything was so clean and the grounds were maintained one of the best I've seen yet. I will stay here again.
Jun 09, 2021
Great place for kids! Lots of neat cabins and play stuff for kids and toddlers. Clean and quite with lovely ladies at check in
Jun 08, 2021
Our group had a wonderful weekend! The campground is well maintained! Spacious sites in the back each offer a good-sized grass area for lawn games, bathrooms were clean, the kids had fun on the inflatables & swimming in the pool. The pet-friendly cabin was nice, too. They only things we were a little bummed about was that day guests were not currently allowed to visit & the hot tubs weren't ope
Jun 08, 2021
Very nice, clean camp ground! Would definitely stay again!
Jun 08, 2021
Very clean campground. One of the best I've seen. Very friendly staff also. Do not to have better stock for refreshments.
Jun 07, 2021
The gal that runs this frnchise has no clue about camping still. Never had and please take this campground away from her. By the way she blames as much as possiable on KOA headquarters
CAMPGROUND RESPONSE / COMMENTS:
We have no clue what you talking about. Please call our office if you had any issues we could resolve! Thanks
Jun 06, 2021
A hidden gem!!! Pleasant surprise! Location, location, location! Central to artsy LaConner, Chuckanut drive to Larrabee State park and Bayview park for some beachcombing. After 2 peaceful nights here we were on our way over the North Cascade highway 20 to Winthrop and completing the Cascade loop. The camp staff was personable and checked in to see if anything was amiss. We loved this park.
Jun 06, 2021
I was disappointed that there was no cable or over the air TV available, but your wifi made up for that as we were able to stream a movie.
Jun 03, 2021
Super friendly clean campground!
Jun 03, 2021
Friendly staff and tidy grounds! We enjoyed our stay!
Jun 02, 2021
Stayed over Memorial Day weekend. Packed full of families.
Jun 02, 2021
Very strict bad customer service. My daughter wanted to come for dinner. I asked to pay for them to come for the day. They said I have to pay for them all 3 days or not have them come at all. So I did. When they showed the office ladies were rude to them and even told my daughter that she pronounced our last name wrong. Terrible service. I was also loud until 1am. Left a day early!
Jun 02, 2021
Probably had the worst spot at this KOA (#49), no room to move or enjoy the site, fire pits were all inline with each other with "NO" privacy. The sites along this row are advertised with a patio, I have know idea where they were.
Jun 02, 2021
We love this KOA, the owners & staff are all so friendly & accommodating, the grounds are amazing and every year they are adding or making something New!! I would highly recommend them to anyone, single, couples and especially Families.
Jun 01, 2021
Over all a nice place a very strict in the rules. Friends couldn't come have a drink with us or hang at our site. A couple of junky RVs parked long term. Mud Pie, pancake breakfast were very good.
Jun 01, 2021
Everything was Great, except the WiFi was very poor rarely able to stay on more than a few seconds.
Jun 01, 2021
Friendly and clean
Jun 01, 2021
Enjoyed that it was close to alot of places that we wanted to see. Able to park and be within 30 minutes of hiking, tidepools and beaches. Also enjoyed being able to come back to the campground and just relax while the kids had plenty of things to do. Very nice and well kept campground.
Jun 01, 2021
It was our first time staying at the B/A KOA. Checkin was fine, the site was excellent, and weather was perfect (thanks for that too <lol>). KOA's are on the "expensive" side of locations, but they are perfect for our 6 yr old son. Lots of other kids to play with, a pool, "bouncy", very safe environment, etc. We live pretty close by, only a couple of hours, so we'll be back!
Jun 01, 2021
This is the Best KOA the staff and owners are Awesome !! We always love going here they are doing a Awesome job!!! The owners Sunnie and Howard are the Best.. Very clean Park and the restrooms are kept spotless we loved the new Putt Putt ...
Jun 01, 2021
We liked our stay & property but we have a small 8' trailer & use a single man tent with it (2 inside 1 out). The website was not clear no tent. We do not call our tent a "recreation vehicle" [Recreation vehicles are trailers, motor homes, tent trailers, not tents] We used the tent for two nights & then were told NO. So we can't stay at KOA again. We won't rent two sites just to use a tent!!
Jun 01, 2021
Excellent place to stay and very kid friendly. The staff are very helpful and friendly. One of the best places to stay at in Washington.
Jun 01, 2021
Overall we had a blast. The bathroom and shower house over there were clean. The maze and bouncy thing were fun and the playset by the front entrance was awesome. The kids loved swimming. The highlight was doing the gemstone mining at the front. Overall a very good trip. We were very disappointed no tents were allowed next to our trailer. And no outside firewood was a pain - $7 bucks a bundle!?!
Jun 01, 2021
Impressed with how quiet and relaxing our stay was with a full campground! Security is great. We had a great weekend with our teenagers. Camping is the thing that connects us lately lol
Jun 01, 2021
I think Dogs that seem aggresive should not be allowed ! Even if they are chained up ,Scared the kids every time they walked past The pool should be on Summer hours as of Memorial Weekend bieng the Start Of Summer & Hot Tub closed was dissapointing? Since it has been closed all Covid Year should have been plenty of time for issues to be fixed and up & running ! Carol was very kind and helpfull
Jun 01, 2021
DONT go here. Very rude women at the desk. Amenities are old & worn down. Badly need replacing. Greedy KOA. No visitors. No military discount. Tiny ice bags. Miserable stay. Tent sites are 5 feet from playground & 2 feet apart. Not relaxing. Screaming kids & rocks being thrown from 8am-9pm. No outside wood. $7 a bundle for 4-5 small "logs" cost $$$. Store is dirty & empty. Will never come ba
Jun 01, 2021
Pads are ok - nice to be on grass vs. gravel and kept clean. Indoor pool (small). Most KOA folks were quite nice. Manager could smile more and was not very friendly. Had friends who have a 1000Trails membership that is expiring and came by to check out our site (on foot) and were not allowed to even walk over to see our spot. So, we went to 1000Trails La Conner which was beatiful!
May 31, 2021
Staff was amazing and very helpful
May 30, 2021
Great place for kids. Lots to keep busy (bounce pad, maze, large playset & pool. mini golf, and three wheel bikes to rent. RV spots to west of creek had more road noise. Much quieter on other side of creek. In all the KOA was clean & staff was very friendly. The only reason for giving 4 stars, they were mowing sites and a worker hit and scratched our RV slideout with his push mower.
May 29, 2021
Very pleasant stay with a perfect site. We changed plans to not stay at another nearby campground at the last minute and were warmly received here. The staff was very pleasant and did a great job accommodating our needs. The camp itself was well maintained. The bathrooms were spotless. We would stay here again.
May 27, 2021
Loved the grounds. Loved the clean bathrooms. Loved the friendly staff. Would like quiet time to extend to 11 on weekends
May 26, 2021
bouncy house and maze was super fun for kids. lots of playground area. everything was very clean.
May 25, 2021
My siblings and I traveled to Washington State to visit with grandparents. We stayed in a cabin set in a picturesque location! Beautiful location for relaxing surrounded by forest and wildlife. The bathrooms and showers were the cleanest we have experienced in any campground. The staff was amazing. We loved every minute of our stay and book another trip out in July! Thanks Burlington KOA!