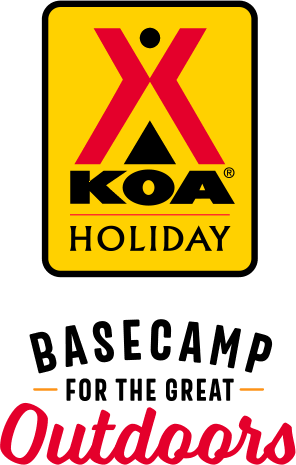 KOA Holiday Campgrounds
Whether you're exploring the local area or hanging out at the campground, KOA Holidays are an ideal place to relax and play. There's plenty to do, with amenities and services to make your stay memorable. Plus, you'll enjoy the outdoor experience with upgraded RV Sites with KOA Patio® and Deluxe Cabins with full baths for camping in comfort. Bring your family, bring your friends, or bring the whole group – there's plenty of ways to stay and explore.
KOA Holidays Feature:
RV Sites with a KOA Patio®
Deluxe Cabins with full baths
Premium Tent Sites
Group meeting facilities
Directions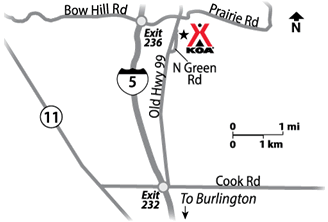 20 miles south of Bellingham. From I-5 Northbound Exit 232: North on old Hwy 99 3 1/2 miles. Southbound Exit 236: Left on Bow Hill Road, right on old Hwy 99.
Get Google Directions
Jul 11, 2021
Loved our weekend here. Was clean and a lot of activities for kids. We will be back!!
Jul 11, 2021
We really enjoyed staying here. The park has two sections. We were in the back section. It was quiet, plenty of trees to look at and the site was large enough to accommodate our 40' 5th wheel and truck. If you have smaller children the playground and pool are in the 1st section. Great farmers market in Anacortes. The produce was amazing!! The baguettes from Breadfarm are super delish.
Jul 10, 2021
The deluxe cabin was clean and like new. Patio/fireplace was fantastic. Staff was kind and helpful. WiFi worked perfectly! This was an extremely quiet KOA campground, and even though we had 3 little kids with us, we never felt unwelcome. Would highly recommend and would stay again.
Jul 09, 2021
Not welcoming. Threats and rules everywhere. Cameras everywhere, even cloud based camera in swimming area…uh…no thank you. Explicit music blasted while staff danced setting up kids foam event. Finally a mother had to ask for it to be shut off. 34+35 Ariana Grande song…explicit…look it up. No activities for kids on 4th. Not what you look for in a KOA at all.
Jul 09, 2021
The Burlington/Anacortes KOA is one of the best! They make you feel welcome and they are always happy to see you. We were running very late on our arrival day so they put us in a space that was easy to find, pull in, and go to bed. We have stayed here before and we will stay here again!
Jul 09, 2021
We had an amazing time! Everyone was so friendly and nice!
Jul 07, 2021
I spent a week here and the site I chose was awesome. The place is immaculate and the staff were all very helpful. The park was completely full on the holiday weekend but it was enjoyable to watch all the families having fun. The amenities were all available and clean. Would come back here no doubt. A great place to stay for this amazing area with so much to do.
Jul 07, 2021
We enjoyed our stay here. There are two parts to this KOA that are separated by a creek. We have to cross over the creek on this cute little bridge to get to the side that accommodates big rigs. We had a long-level gravel site. We spent our time at the KOA sightseeing so we did not use the pool or other amenities. The camp store was very nice and the staff was very friendly and helpful.
Jul 07, 2021
My only complaint is allowing camp fires by each RV and the smell of smoke.
Jul 07, 2021
We always have a Awesome Experience the most Friendly and Caring Staff by far at any KOA. The owners are the BEST!!!! This is our home away from home. They have done so much to improve the Park so much to do with the kids.. New Playground ,Mini Golf and swimming also a New Game room. Highly recommend this KOA for a Family outing of Fun Camping !!!!! Thanks to the owners Howard and Sunni !!!!!
Jul 07, 2021
Staff was friendly! Great breakfasts and coffee!
Jul 07, 2021
We had a wonderful stay, the park was full but still not crowded and very relaxing. Our teenage daughters really enjoyed the swimming pool. Thank you
Jul 07, 2021
This Is a pretty/spacious campground. I was less happy with the staff that greeted me on my checkin here. I seem to an interruption to more important matters, same when I went to buy ice. The sites that are not full hookup also lack shade and you park your rv on grass. I thought that to be odd. But, I am new to KOA's, so parking on grass might be normal :).
Jul 06, 2021
new area has no shade, lots of kids around one way in and out of the new area on a small bridge , adults and kids walking on it and lack moving over when driving over / on it , last stay was charged to " clean the fire pit " when it was ash from using as it was when getting there hence " fire pit " great for small kids lots to do
CAMPGROUND RESPONSE / COMMENTS:
After checking your receipt and charges, we see NO extra charges other than your daily stay cost and the charge for 'SELECT MY SITE'. Have no idea why you think you were charged for cleaning your fire pit! Please phone us to let us know.
Jul 06, 2021
Everything is good. They have everything for full service hook-up. This is our go to Park. The only thing we didn't like was we were trying to get away from our house because of fireworks and our dogs the problem is the fireworks were very loud and it says they do not allow fireworks but I believe they couldn't help it because people are fire them Off outside of camp and it wasn't their fa
Jul 06, 2021
Excellent location, great amenities, very pleasant place to stay, we are already planning our next trip there
Jul 06, 2021
Grounds were very well-maintained; staff was friendly and courteous; showers were clean; campsites had good hook ups, a nice grill, and good picnic table. We will definitely plan on staying here again :)
Jul 06, 2021
My family camped over the 4th of July weekend. The campsite is very well taken care of and has something for everyone to enjoy. Also close to Burlington, state parks, the lake, and Bellingham, so you can adventure out if you want to. The staff was so nice. We enjoyed our stay very much!
Jul 06, 2021
The campground is ok, but the staff is HORRIBLE, rude, unresponsive and difficult. For this reason we will not be back.
CAMPGROUND RESPONSE / COMMENTS:
Sorry you feel that we were 'rude, unresponsive and difficult. We thought we had made your stay pleasant after the mix up in your reservation. To our knowledge, no one was rude to you
Jul 05, 2021
Office staff were SO FRIENDLY! Clean grounds and bathrooms.
Jul 01, 2021
Couldn't have asked for more friendly staff. The owners Sunny and Howard were kind, friendly and did everything they could to make the stay inviting.
Jun 30, 2021
Everything was perfect. Check in was friendly, site was clean, owners and staff are delightful! This is one of our favorite camping sites.
Jun 29, 2021
It was clean, kids loved the different activities and things to do. Loved the foam party. Pool could use access to sit outside so on a hot day you could sit in the sun and swim. Also, we stayed in space 56 and I don't know if it was the heat wave or the woods back there but the flies were unbearable on Sunday. We couldn't sit outside. Staff was great and friendly- thank you
Jun 29, 2021
It was unfortunate because of the heat, it was a rare 100+ degrees around the NW, but the power to the campground went out twice and we decided to pack up and leave early, didn't work out so well without A/C in the trailer with a pet and trying to stay cool, the staff should have kept us informed of what was going on with the power outage!
CAMPGROUND RESPONSE / COMMENTS:
Sadly the power outage with a utility company issue when the transformer blew and burned a power line. At least you understand that it is a RARE 100 degree event in PNW. If only we had any information to give, we would have done so. We had not control of the utility company schedule.
Jun 28, 2021
Nice park with large sites, friendly staff I only give it a 4 as I did not like the rocks in the dog park, crushed rock or grass would be much nicer than the larger rocks in this park.
Jun 28, 2021
Bathrooms were very dirty. Power was an issue. I hope we receive a credit for not having power. A power surge blew our refrigerator power panel.
Jun 28, 2021
Was absolutely horrible, the campground lost power multiple times and the weather was extremely hot outside so we had no A/C in our 5th wheel RV the inside of our RV got to 96 degrees it was horrible, multiple times the power at this resort failed.
Jun 25, 2021
The staff was very accommodating adjusting mu reservation because of a breakdown of my motorhome in Salt Lake City for 10 days.
Jun 25, 2021
This was our second time in a month, and both times were awesome. The sites are large, clean and the staff does a great job beginning at check-in. There are so many things to do around the area that provide more than ample interest. We'll be back!
Jun 24, 2021
Me and my family has the pleasure of staying in a deluxe cabin for a few days. The entire staff was friendly, polite and always had a smile. If you have kids this is the one stop vacation spot. Multiple playgrounds, inflatible maze and bouncy house. Put put golf and even a gem prospecting station that kids can pan for gemstones and fossils. Truly a family retreat. 100 out of 100.
Jun 24, 2021
First time RVing for us and this campground was perfect. Easy in and easy out. Very clean facilities, pool and campground. Staff were all very approachable and friendly. We will definitely be back again.
Jun 24, 2021
We used to camp 20+ years ago. This was always our favorite KOA to stay. We had young children and it's very family friendly. Sold the trailer and after 20 years, decided we're ready to camp again. This was our first choice and it's just as good as we remember. Actually, it's better. Lots of improvements, super friendly staff, swimming pool, creek, activities for kids. A+++++
Jun 24, 2021
We have stayed at this campground since we were kids & never had as much issues as we did this time. The people who work there are horrible & watch you like a hawk. They have a new rule, which is NO VISITORS! They were very rude about it & we had to beg & plead to have our kids come visit us, not to mention we had to pay $10/person (even a 2 yr old child) to come see us. It was ridiculous.
CAMPGROUND RESPONSE / COMMENTS:
We are sorry but we made rule because of people like you. You live next door our campground and reserve one spot and bring many people every day . Our camp site is for 6 guest max. You had 11 VISITORS in a 2 day time frame. That's the reason we are forced to have this rule.
Jun 24, 2021
Hostess were rude and unaccommodating. Unfriendly!!
CAMPGROUND RESPONSE / COMMENTS:
Sorry you felt that our host was rude and unaccommodating for asking you to move your car off the grass. You parked side ways across the yard on the grass. You should make adjustments for your vehicle to fit either in front of or behind your rig WHILE PARKING.
Jun 23, 2021
Very nice with everything and much improved.
Jun 23, 2021
Pull through sites are too close together. WE COULD NOT PUT UP OUR CANOPY. We ended up staying pretty much in the motorhome as there was not much shade on the site they gave us.
Jun 22, 2021
All the staff was very friendly. The campground was comfortable with clean facilities. We would stay again.