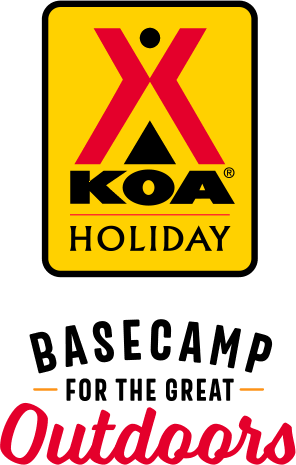 KOA Holiday Campgrounds
Whether you're exploring the local area or hanging out at the campground, KOA Holidays are an ideal place to relax and play. There's plenty to do, with amenities and services to make your stay memorable. Plus, you'll enjoy the outdoor experience with upgraded RV Sites with KOA Patio® and Deluxe Cabins with full baths for camping in comfort. Bring your family, bring your friends, or bring the whole group – there's plenty of ways to stay and explore.
KOA Holidays Feature:
RV Sites with a KOA Patio®
Deluxe Cabins with full baths
Premium Tent Sites
Group meeting facilities
Directions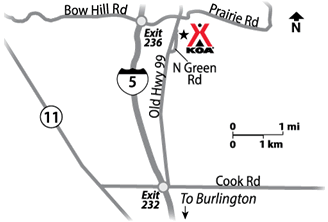 20 miles south of Bellingham. From I-5 Northbound Exit 232: North on old Hwy 99 3 1/2 miles. Southbound Exit 236: Left on Bow Hill Road, right on old Hwy 99.
Get Google Directions
Jul 30, 2021
Very clean cabin, quiet surroundings; didn't get to enjoy all the activities and amenities, but they looked very fun! Pool was a bit dirty the one time that my kids used it.
Jul 30, 2021
Campground itself is good. Much more space between sites than in typical KOAs. No highway noise. Disappointing that they charge for early checkin. We have never had that problem anywhere else.
Jul 29, 2021
My family traveled from Virginia Beach for a week's much needed vacation. We are so thankful we landed in one of the beautiful Deluxe Cabins at this KOA, Everything from the cabin, grounds, facilities and staff was AMAZING. This will be our go to spot on the West Coast!!! Thanks!
Jul 29, 2021
This is the best KOA experience we've had! Friendly staff, well kept grounds, and excellent WIFI.
Jul 29, 2021
Wonderful staff and a lovely campground.
Jul 28, 2021
Our stay was fine. We were a party of three campers and the staff accommodated us perfectly. Could have done without the groundskeeper mowing the dust. It's gonna take me a week to clean the truck and camper. Also, the WiFi was appreciated since AT&T has no signal there, but the WiFi could be much, MUCH better.
Jul 27, 2021
My son and I took an unexpected trip to the PNW and chose this campground to stay 4 nights at. This is the very best get away we have had in a very long time. Beautiful, peaceful setting with amazing landscaping. The hard working staff were always onboard with a helping hand if needed. Thanks Burlington KOA for a remarkable visit. We will be back
Jul 27, 2021
Great place for the family
Jul 27, 2021
Very well kept place. Nice and quiet with very little road noise. Nice playground areas and dog park. We would definitely stay there again.
Jul 26, 2021
Very dusty. Garbage bins overflowing campsites have zero privacy
Jul 26, 2021
Worker are friendly and clean in restroom, but not much food or things in the store also cost mini golf 5.00 each not including since other KOA always including free also closed early at 8 for swimming pool other KOA closed at 10pm
Jul 26, 2021
Pros: Lots for the kids to do, pool was clean and grounds well maintained, and very level spots. Cons: spaces too close together side by side, dog park way too small ( would suggest using a much better lawn area). Only 2 dumpsters so it gets full super fast.
Jul 26, 2021
Lots to do coming back in 2 weeks.
Jul 26, 2021
Easy no problems�
Jul 26, 2021
Great staff, great site, great pool. And Erik security guard is spot on very help full. The restrooms and showers very clean. We'll be back
Jul 25, 2021
Stayed here for several days in record heat for the area. We had a very large site that was perfect. WiFi was not working and there were no guests allowed, but other than that the park was good.
Jul 25, 2021
Being a full time rv'er, we have visited many campgrounds in the last five years! This is the best of the best. Beautiful facility and very clean. The staff were amazing to work with. Well kept, beautiful grounds as well as spotless clean bathrooms. Thanks for all your hard work. You are greatly appreciated.
Jul 22, 2021
Very accommodating! Beautiful mature trees. Very clean. Great security features.
Jul 20, 2021
Loved the park but like most there was no TV cable or antenna reception. I realize we are camping but we are traveling and would like to keep up with the weather and fires. But the Campground itself was quiet, peaceful and beautiful. Centrally located to Anacortes, the Cascades mountains, Seattle and everything in between. Super clean!
Jul 20, 2021
The pool was closed for maintenance.
Jul 19, 2021
We loved the quiet, laid back atmosphere! Facilities were very clean and staff were exceptionally helpful!
Jul 19, 2021
We had a great stay. The park was quiet. Cabin was clean and my kids loved the bunk beds. They also loved all the activities!
Jul 19, 2021
Tent site 97 was very close to the road and neighboring barking dogs. Would have preferred more space between tent sites. The amenities were great and very kid friendly. Will definitely be back but bring a camper next time.
Jul 19, 2021
Nice stay, and we had fun but my only complaint was the smell of the general store and Womens restroom facilities. They seemed clean but both had an ammonia or old Lysol smell lingering….couldn't figure it out but it was noticeable and maybe some citrus air fresheners would help. Overall everything was great, staff was friendly and we enjoyed the mini golf, foam party, swimming.
Jul 19, 2021
We've stayed at this campsite often. Out of all of the KOA's near us, Anacortes/Burlington is our absolute favorite. We recommend the cabins to our friends often! The staff is incredible! Always friendly and cheerful. Best group of KOA staff I've ever seen. The campground is kept immaculately clean and it's such a lovely campground.
Jul 19, 2021
Small tent sites, but great facilities & service.
Jul 19, 2021
Clean sites, clean restrooms, good security, friendly staff!
Jul 19, 2021
Staff is very helpful and friendly. Kids activities are fun and the price is included in your reservation. The foam party was a blast! Everything was great except the sites are a little tight with not much shade.
Jul 19, 2021
Kudos to the staff. Everyone was helpful and friendly. Extremely clean everywhere, bathrooms were spotless! Thank you for a good place to stay. When we have our grandkids we will bring them there with no hesitation.
Jul 19, 2021
Quiet and safe.
Jul 19, 2021
You need some FRIENDLY workers.
Jul 19, 2021
I could give this park five stars except for the dusty dirt roads, their failure to honor the American Express card, and the place is micro-managed with three people behind the counter, a conspicuous security force with prominent gold badges, an automobile with conspicuous red lights on top, and a uniformed crew in golf carts speeding on the dusty roads seemingly all over the park all the time.
Jul 19, 2021
Had a nice relaxing weekend with grandson who enjoyed the pool.
Jul 18, 2021
Initial impression poor as we got to the KOA just after 1 PM and were informed that we would be charged extra for the less than an hour early check-in. The receptionist was not friendly. We declined and went up the road to explore a county park for a bit. The KOA was reasonably taken care of and clean, although we didn't use the facilities, we did walk around every day.
Jul 18, 2021
Wonderful campground, My family stayed here for 2months while our house was being remodel ed staff was very friendly,well kept,very clean and there new mini golf was awesome.i do want say if you like to stay up late and party this probably isn't the campground as I witnessed security kick a group people out for being loud after 10pm quiet hours.
Jul 18, 2021
No hot water in swimming pool showers. Toilet almost tipped over when I sat on it. Very old. New toilets are a cheap improvement instead of trying to bolt those old ones down often. Sites with tree stumps would have more room if you rented a grinder and took them out.
Jul 17, 2021
We just loved staying here. It was peaceful, spacious and everyone was just so friendly. We loved the pool and we're actually able to swim laps in it. Thank you!
Jul 16, 2021
Well organized, well managed, secure, quiet RV park with all the amenities. The premium pull through's have spacious lawns, and all spaces have fire pits. I would easily give the park five stars except for two things: dusty dirt roads, and they do not accept the American Express card.
Jul 13, 2021
Very nice and clean. No visitors on weeks ends and $10 per person to just visit. Had I known that we not have chosen the hurl koa. Policed a bit much for us. Nice campers