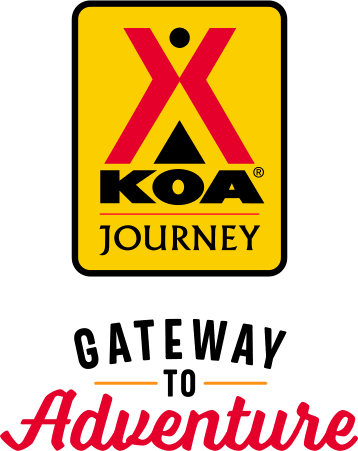 KOA Journey Campgrounds
KOA Journey campgrounds are the perfect oases after a day on the road. Whether it's along the way or a quick getaway, they've got you covered. Located near the highways and byways of North America with long Pull-thru RV Sites, they deliver convenience to the traveling camper. Pull in, ease back and take a load off.
KOA Journeys Feature:
Pull-through RV Sites with 50-amp service
Premium Tent Sites
Well lit after hours check-in service
Directions
From Independence Pass after getting over the pass take a right onto US24, continue through Buena Vista, 2 miles south of Buena Vista turn east onto US 24/285, then go 1.3 miles. KOA is on the left side of the highway on CR 303.
From I70 take US91 through Leadville onto US24, continue through Buena Vista, 2 miles south of Buena Vista turn east onto US 24/285, then go 1.3 miles. KOA is on the left side of the highway on CR 303.
.
From Denver/Colorado Springs take US 24/285 directly to CR 303 on the right side of the highway.
Get Google Directions
Jul 21, 2021
We held a family reunion at the BV KOA. A good time was had by all.
Jul 21, 2021
The setting was beautiful and our grandson enjoyed climbing on the large rocks. The RV site was not very level, and there were a few cold showers in the shower house that our camping cabin site used. But, they are renovating and the game room was great and made up for the other issues. The staff were friendly and helpful.
Jul 21, 2021
I spent 4 nites as a tent camper. It was a positive experience...attractive tent site. Also, all nearby guests were very quiet during those hours, and were attuned to camping ethics too. The part was full all 4 nites, and the men's bathroom took a beating unfortunately with overuse damage to some of the fixtures. All in all, I found it a quality place to be and will use the BV KOA again.
Jul 21, 2021
Nice campground. Great views. Away from the highway, so it's quiet. It's not in the town, so not walk friendly, but that's ok. I stayed there and liked it so well, I came back a couple of days later on my return trip. Hot water was not working when I was there, so I ended up taking a cold shower. They are doing some remodeling/improvements/upgrades and that happens!
Jul 21, 2021
This campground gives KOA a very bad name! Dusty roads and RV spots, zero hot water in the showers, power went off and the phone number on the door went no where. If it wasn't for a camper the power would have stayed off. The office doesn't open till 9 which is ridiculous! Probably because they didn't want to hear complaints from campers leaving! Absolutely will not go back!
Jul 21, 2021
Service was satisfactory. It looks like the are in the process of a remodel and they didn't have hot water for showers or laundry. What they have remodeled is nice and you can see the potential.
Jul 20, 2021
We stayed for three nights. When we arrived on Monday, July 12, the water tank was empty, and we had no water for several hours. After the water tank was refilled their was air in the line, and we could not get enough pressure to run our city water connection. Later in the evening, the pressure was fine an we could run on city water. WE like the improvements that are being made to the campground.
Jul 20, 2021
it was nice. kind of messy. the cost was a bit too expensive. also charging us $15 more for coming in 45 mins early was shocking!!!
Jul 20, 2021
Everything was great but we were in cabin 7 across from the dump station and the smell was awful. Please, please move the dump station away from where people are staying.
Jul 20, 2021
Beautiful location and a nice campground. Trees between the spots make the campground feel roomy. The kids loved the playground and the pedal cars.
Jul 20, 2021
Pizza kiosk closed. Breakfast bar closed. TV has been removed from cabin. Very little water coming from kitchen faucet. Have stayed here several times before and loved it in the past.
Jul 20, 2021
We stayed in the Columbia Tiny Home and enjoyed our Stay. Loved the set up and views. Staff Great too!
Jul 20, 2021
Very small and tight camp ground. All dirt roads, not in great conditions so you need to level your rig. Very crowded and congested. Overnight stay was ok, but would not return for a lengthy stay.
Jul 19, 2021
This location is under new management and in the process of making improvements. The views are great.Good job guys.
Jul 19, 2021
Convenient, Great facilities.
Jul 19, 2021
I really appreciate that KOA is trying to update this camp ground but efforts have fallen way short. The rest rooms appear modern but are far from it. No urinals in men's restroom, no hot water for showers. Our campsite B9 consistently smelled of sewer gas and made for a pretty unpleasant stay
Jul 19, 2021
They have beautiful views. They have a little more space between sites than many newer places. The new owners don't seem to care about those staying there. Bathrooms are clean, but soap dispensers and paper towel dispensers stayed empty all three days we were there. There was no wifi, they don't tell you ahead of time but when you ask they blame it on the flood two weeks earlier. other issues!
Jul 19, 2021
I don't usually leave feedback but here it is. I know they were under construction but bath a shower facilities were a bit off. No toilet paper in newer bath house first thing in morning,6am, come on! Advised to not use remodeled shower glitchy hot water heater. Replace or fix . Store/ office not open till 9 a.m. have you ever met campers?. We got a great night's sleep,all in all it was ok.
Jul 19, 2021
We liked that site B7 was private but it had standing water and smelled Like rotten dirt. Also only 1 of 2 shower houses had hot water & the next day that shower house didn't have hot water. We stayed at 5 other campgrounds while in Colorado for one week & none of them were as expensive as this KOA (which KOA's are always considerably more $) and all other 5 were in much better shape.
Jul 18, 2021
We enjoyed our stay. The campground is kept very clean and staff are all friendly and helpful. We will be returning to enjoy the area in the future. It would be helpful if the water in the office building showers was hotter.
Jul 18, 2021
Unfortunately, we were quite uncomfortable in the bed in our Glamping tent. The bedding was incredibly itchy. So much so that we had to set up our own tent and sleep in our sleeping bags.
Jul 17, 2021
Park needs cleaned up and picked up. I asked to move by my son and grandsons. After the first Night for the rest of the stay and they said it would overlap. Well after we left on Friday morning it was clear the gal at the desk didn't want to screw with it.
Jul 17, 2021
The sewage pvc at our site was about 10" off the ground, making the intake higher than the output. Absolutely ridiculous! Clearly we weren't the first ones with this problem as there were several big rocks around to try to circumvent the problem. I've never seen such a high sewage intake valve. So we paid for full hookups but left with 1/4 tank of grey, 1/4 tank of black. Thanks for the memo
Jul 17, 2021
Wonderful spacious area, quiet campground, beautiful views and great children's playground. Staff very friendly & helpful! Going back again this year!
Jul 17, 2021
Positives: Super friendly, polite, and helpful staff. Spotlessly clean! Adorable camping cabin #10. Negatives: I was sad to see the meadow torn up for new trailers, and the sites are very close together. There was a group of 6-8 teenagers camped right next to my cabin with one of their tents set up in their parking spot. I was so concerned I might run over their tent! Mattress was very bad
Jul 16, 2021
No water for the first day, and very low water pressure for the next two days. This was severe enough that I will check online before making reservations here again.
Jul 15, 2021
Despite the renovations taking place, the KOA team is upbeat and friendly to campers, ensuring the best possible outcome for all campers. Madison was extremely helpful and forthright in helping our family have the best possible experience!
Jul 14, 2021
We had a great time on our maiden voyage. Dave S helped us a lot! The staff at the store was very friendly and the campsites and bathrooms were great!
Jul 14, 2021
Beautiful campground! Such a great view of the mountains and the campsites had so much room!
Jul 14, 2021
Loved staying in TK1. Can't wait to come back.
Jul 13, 2021
This is such a beautiful place to stay! We stayed in our tent up on the hill. The kids explored and the adults relaxed by the fire. This is our second time here and we will certainly be back. The rating isn't a 5 because the men's bathroom was not very clean. The women's was newly renovated and very tidy but there was a mess when my son went in to the men's bathroom.
Jul 12, 2021
arrived 45 min before official check in time and were offered a $ 15 early check in fee. I have never heard about a fee like this. I did not like that.
Jul 12, 2021
$15 to check in 15 minutes early. Really??
Jul 12, 2021
We had a great camp site with fire place and the restrooms were extra clean . They are doing improvements also .Also a neat store for last minute items like ice and wood.
Jul 12, 2021
Would have given higher ratings if not for the issue of being out of water 1 night and not being able to flush the stools, both men and the women. Other than that it was a good stay and we will be back!!!
Jul 12, 2021
Great place, great staff! Very appreciative of the free water and coffee. Super disappointed the water for showers were cold. Was recommended to the bath house but couldn't locate it in the dark.
Jul 12, 2021
Staff was helpful and knowledgeable. Grounds were clean. Restrooms clean. Range of services and good information.
Jul 22, 2021
No pool. Clean bathrooms. Beautiful view
- Julie Marshall on Google
Jul 17, 2021
Fantastic place for camping!! Great tent sites, cabins, and RV spots! Newly remodeled bathrooms and showers - extra clean! They have added an additional bathhouse with 5 private shower areas since our stay last summer. Ongoing upgrades to electrical and water at all sites. Phenomenal views of several 14s. Close to trails for hiking, biking, OTVs. Great, helpful staff. Have stayed here multiple times.
- Smittys_gurl on Trip Advisor
Jul 22, 2021
1 night was $50.00. The bathrooms were clean but didn't have a handicap shower. We loved playing games in their recreation room that offered a pool table an air hockey game and lots of books and board games. This was a nice place to hang out in while waiting out the rain to stop. They also offered a 4 person bike which was fun for the kids. The campsites could be leveled better. We couldn't get our motorhome leveled out in our spot B27. They also had a great laundry facility.
- Dana Spidel on Google