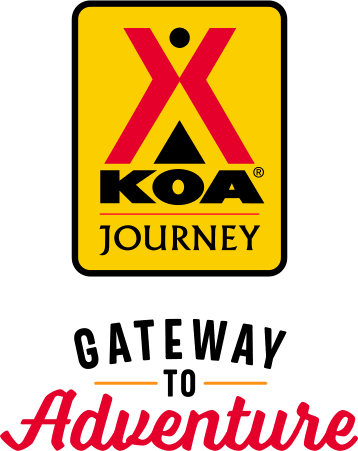 KOA Journey Campgrounds
KOA Journey campgrounds are the perfect oases after a day on the road. Whether it's along the way or a quick getaway, they've got you covered. Located near the highways and byways of North America with long Pull-thru RV Sites, they deliver convenience to the traveling camper. Pull in, ease back and take a load off.
KOA Journeys Feature:
Pull-through RV Sites with 50-amp service
Premium Tent Sites
Well lit after hours check-in service
Directions
From Independence Pass after getting over the pass take a right onto US24, continue through Buena Vista, 2 miles south of Buena Vista turn east onto US 24/285, then go 1.3 miles. KOA is on the left side of the highway on CR 303.
From I70 take US91 through Leadville onto US24, continue through Buena Vista, 2 miles south of Buena Vista turn east onto US 24/285, then go 1.3 miles. KOA is on the left side of the highway on CR 303.
.
From Denver/Colorado Springs take US 24/285 directly to CR 303 on the right side of the highway.
Get Google Directions
Sep 15, 2021
We stayed in Buena Vista KOA for seven nights. Our site was perfect for my rig and our tent (P41). The staff was very helpful, bathrooms and showers were clean. The ice was cheater than buying in town. The only thing I would've like more is hotter water in the showers. Overall a very nice experience. I would stay here again.
Sep 15, 2021
Porch light on Cabin 2 didn't work. The maintenance man came and put in a new light, but it still didn't work.
Sep 15, 2021
This location isn't up to our basic required standards. Sites are dirt and sand, not level, bare, and only used for a quick overnight stay. We had a very difficult time leveling the Class A, even using 2" outrigger heavy duty pads with "snap pads" installed. Only good was the politeness of staff.
Sep 15, 2021
Beautiful small campground with nice private spot. Friendly staff and nice new facilities.
Sep 14, 2021
Helpful workers, accommodating, great location!
Sep 13, 2021
Loved the "buddy pads". The campground itself seemed like it needs lots of maintenance, weed control, tree trimming. Also, the smell of sewer was overpowering at times.
Sep 13, 2021
It has changed since last year. The sites are much smaller . There is a shared picinic table, but not sure the front told our neighbors it was to be shared. I will stay there again as it is close to the fairgrounds we are there for. Not everyone at the front desk knows what they are doing. But it was nice.
Sep 13, 2021
Loved the "glamping" tent! Beautiful view of the mountains and comfortable, clean accommodations. It was great that there was electricity too!
Sep 13, 2021
Friendly staff, updated facilities and loved the tent.
Sep 12, 2021
One major problem was the lack of internet and cell service in the park. This needs to be fixed right away. I know that they are making good improvements there which is very good but cell and internet needs to be a priority
Sep 12, 2021
We always like staying at the Buena Vista KOA usually at least once per year. There are a number of sites being updated and include a cement patio type of arrangement with a fire pit do you have an estimate on when it will be complete throughout the different sites? Also could you all look at re-leveling the sites? Thank You & see you all again soon.
Sep 12, 2021
Super helpful staff lovely facilities
Sep 11, 2021
The campground improvements are coming along nicely! We think you might have pushed opening up the new areas a little due to not being finished, and some major tripping hazards from not being back filled etc, but new pads, furniture, free go carts, fire pit, tiled bathrooms lots of work being done shows!! Nice improvements.
Sep 11, 2021
Very nice��
Sep 10, 2021
Nice to see updates - including bathroom. But how about actually having hot (not lukewarm) water in the showers? Can't keep using Covid (as has been the case for over a year) as an excuse for shortcomings like no park internet.
Sep 09, 2021
Nice upgrades to the campground and the Bathroom/showers. Really enjoyed our stay.
Sep 08, 2021
My husband and I stayed at the model cabin. The deck and hanging chairs were great. The sliding glass doors to get into the cabin did not have curtains or shades so car headlights would shine right in to the cabin. A tv would be nice and we were unable to connect to ur wi-fy and we tried several times over our 3 day stay The common area was very nice with the pool table and outside area.
Sep 08, 2021
Clean facilities, friendly staff, well maintained grounds and nice updates!!
Sep 08, 2021
Great Experience
Sep 08, 2021
I was disappointed in the amount of kids running rampant through the campground screaming at 9 at night. I understand that quiet time isn't until 10, but when we bring younger kids that go to sleep at 8, and nobody is controlling the older kids, it's incredibly frustrating. The showers were not cold, but they definitely weren't hot. I'd expect more.
Sep 07, 2021
Great location - friendly staff. Our site was a bit uneven but staff extremely helpful and provided extra blocks!
Sep 07, 2021
We were impressed with the quality of this campground and the staff friendliness. You should value your receptionist and give her a Christmas bonus for doing such a good job. Aside from our noisy neighbors with off leash dogs at B9 (not your fault), the only complaint I had was that we could periodically smell the dump station and I had to close the windows a few times. Site B10
Sep 07, 2021
Staff works hard to keep everything clean. Wi-Fi is advertised, but not available unless you are sitting at the office, so I wouldn't advertise it's available.
Sep 07, 2021
Loved this stay, lots of fun and nice clean bathrooms all weekend!!
Sep 06, 2021
Love the newly remodeled bathrooms
Sep 06, 2021
Compared to other KOAs, this was subpar. Small spaces!!
Sep 06, 2021
I stayed in a truck-tent on Site 40 on Sept 4th, 2021. My tent site was big, elevated, and could comfortably accommodate 3 vehicles and at least 4 three-person tents. The left pad is provided mid-day shade thanks to a tree; the right pad is open to the sun. The staff was friendly and went out of their way to make my stay great! BTW: Happy birthday, Madison! I hope you enjoyed those Blue M
Sep 05, 2021
Great place to stay with awesome views of the local mountains.
Sep 04, 2021
No wifi, especially troubled when no cellular reception. Uneven sights. Dirt, not grass or concrete sights
Sep 03, 2021
We loved our spot it was nice and cozy the way the trees and the fire pit was set up was perfect it was as if we were in our own oasis highly recommend
Sep 02, 2021
Nice scenic site. Sewage is uneven as you are on the mountain side. Wifi is ONLY around office, you will not have wifi at your site.
Sep 02, 2021
Beautiful location. Quiet and peaceful. Great staff. New owners spending lavishly to restore the park to what will be a marvelous venue.
Sep 01, 2021
Some of the RV sites had concrete pads. We were given one that didn't. It made trying to find a level spot on the site impossible, especially since we did not have a way of leveling the RV.
Sep 16, 2021
It's always a pretty drive and location. I have always enjoyed myself when here.
- Davin Rude on Google
Sep 13, 2021
Great cabins, plenty of space to move around with a nice grill and fire ring area. Clean recently remodeled showers and restrooms. The social area is cool with a fire pit. Nice ice cream social on Saturday night. We can't wait to come back!
- Sheri Williams on Google
Sep 07, 2021
Have stayed at Buena Vista KOA 4 times and have never been disappointed. A very unique calling experience, reasonable pricing and friendly staff. The campground is going through renovations (updated bathrooms, new bathroom facilities and tiny home options). Whether you are tent camping or in an RV or renting a cabin this is a great place!
- Maggie Lewis on Google