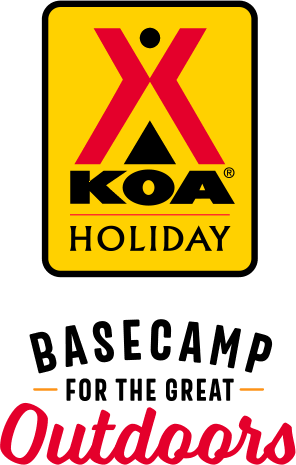 KOA Holiday Campgrounds
Whether you're exploring the local area or hanging out at the campground, KOA Holidays are an ideal place to relax and play. There's plenty to do, with amenities and services to make your stay memorable. Plus, you'll enjoy the outdoor experience with upgraded RV Sites with KOA Patio® and Deluxe Cabins with full baths for camping in comfort. Bring your family, bring your friends, or bring the whole group – there's plenty of ways to stay and explore.
KOA Holidays Feature:
RV Sites with a KOA Patio®
Deluxe Cabins with full baths
Premium Tent Sites
Group meeting facilities
Jul 09, 2020
The cabin I rented was incredible & very clean. The grounds are also very clean & the staff are very polite. I will definitely go back again in the future. My only complaint is that they need to upgrade the mattresses and the pillows because they were very uncomfortable but besides that my stay at my cabin was fantastic!!
Jul 07, 2020
Despite the rain & not being able to enjoy many of the amenities due to COVID-19, we still enjoyed our cabin so much, coming from a family that loves being at home, we loved the peaceful stay. We will definitely be back next year when hopefully everything will be open again!
Jul 06, 2020
Our stay was great as usual, the only think I didn't like was the positioning of the cabin (DC04) and how the outside area faces the following cabin and it sort of took away some privacy, peace and relaxing time by the fire pit and seating area as the following cabin was over crowded all day and kind of rowdy.
Jul 05, 2020
My family and I love this place. Its beautiful and everyone is so friendly. Everything is so clean and well taken care of. The staff are friendly and like to see the kids enjoying themselves. Our cabin was amazing and clean it has everything you need. We rented a golf cart and we drove around the camp grounds It truly was a wonderful experience and we cant wait to go back as often as possible.
Jul 04, 2020
Cabin was spotless . Pool was nice . Covid 19 precautions made us feel safe. We had a good time.
Jul 04, 2020
We thoroughly enjoyed our stay! The campground is very nice Lots of space to enjoy and well maintained. Friendly staff. The cabin far exceeded our expectations. Not only was it very clean but much like a hotel room - spacious, modern decor, all linens and silverware and plates provided, coffee maker as well as shampoo, conditioner soap dispensers and hair dryer! And a Weber grill!
Jul 03, 2020
Great and very helpful staff very clean place to be. Can't wait to go again
Jul 02, 2020
we had a very nice stay �
Jul 01, 2020
Cabin could have been cleaner, floors were very dirty
Jun 30, 2020
We had a great time! Our first time camping as a family, the deluxe cabin was wonderful! Our kids had a blast, even puddle jumping on the rainy day. My only complaint was the refrigerator doors opening from the wrong side made it difficult to open/close, as you couldn't stand in front of it having the table in the way. Otherwise great stay! We'll be back, thank you!
Jun 29, 2020
We had a wonderful time even without all the extras
Jun 29, 2020
Our second stay here. Very attractive, nicely laid out and well kept campground. We stayed in a deluxe cabin, which was spotless. The a/c worked great but was noisy, which we adjusted to. The staff on both visits were cheerful and helpful. There is plenty to do at the campground but we opted to sight see and visit area beaches. This will be a go to destination for us from now on. Thanks to all!
Jun 25, 2020
We had a great time and staff was very nice. We did miss being able to cool off in the pool but did know ahead of time that it couldnt be opened yet. It was a very hot, humid couple of days so difficult to sleep in hot cabin but other than that a very nice stay. Would definitely go again.
Jun 22, 2020
The staff was very helpful and the cabin was very clean.
Jun 20, 2020
Very clean and peaceful experience.
Jun 19, 2020
stay was wonderful. only complaint i have is that there was no hot water any time that i tried to take a shower. also the locks on the shower doors were both broken and would not lock.
Jun 16, 2020
It was just okay. Mini golf is lame, sites are very close together. They let you stay only 3-11 and after 11 you can't even use pool, mini golf etc, you immediately have to leave the grounds. If you want to come before or stay after, even just 1 hour, they ask for extra $25 both days. I would not recommend this place. I would not go again.
Jun 15, 2020
I had an excellent stay at KOA. The staff was friendly and stayed calm and professional during phase 2 of reopening after the pandemic. Thank you to the entire staff for everything!
Jun 14, 2020
The cabin was very nice fully loaded with towels dishes air conditioning tv cable it's was great nice people clean beatitful
Jun 13, 2020
We had a great time only gave a 4 because amenities weren't open, not your fault. But for the price paid I wish it was a little reduced. We did bring our own golf clubs and balls. The kids had fun 1:1 baseball. The staff was awesome and we even got firewood delivered to our cabin! Loved the cabin. Thanks again!
Jun 11, 2020
We had a camp site and our kids had 3 deluxe cabins. Other than 1 security person on Friday night, the staff was friendly. It was great to see kids playing all around the camp ground and the first time we felt 'normal' since March. We loved the food truck there on Saturday June 6th! We will be back.
Jun 11, 2020
Rented a deluxe cabin in Highlands. Very quiet area with great people. During Covid so no amenities open but overall we would definitely rent the cabin again!
Jun 08, 2020
Rude and unprofessional staff member named Greg. He made us feel very uncomfortable and unwelcome during our entire three night stay at the campground.
Jun 06, 2020
It was the first time we went out of the house/neighborhood in more than 2 months. It was awesome! The cabin was very clean, which obviously is extremely important in 2020. We had a relaxing weekend. Thank you!
Jun 05, 2020
The deluxe cabin was very nice. It had everything needed for an easy glamping experience. The cable didn't work which was kind of a bummer. I enjoy falling asleep to the TV. They had a radio though so it wasn't that bad.
Jun 01, 2020
Pleasant staff, clean park with lots of family activities, went during phase 1 of quarantine, much was not available to use. We stayed in a deluxe cabin which was clean and comfortable, a/c and ceiling fans throughout and a full bath. The cabins are separated and situated well. 20 min. from Plymouth, beaches and Edaville RR. Highway noise may stand out for tent or popup . We will go back.
Jun 01, 2020
Our stay was absolutely amazing very nice service very clean the grounds are so beautiful an people are just very friendly I will def be coming back for another stay ty
Nov 11, 2019
We stay here several times a year during the fall. We rented a cabin. Neat and clean, mattress was awful. Seems to be a trend with rentals. As usual the campground was neat and clean. Staff, as usual are very friendly and courteous. This time was Halloween weekend so it was pretty busy, no issues.
Nov 11, 2019
Had a blast! I stayed in a tent in September although I would of rather had a lil more privacy from my neighbors, but they were good people. Then Stayed Halloween week in A cabin had so much fun dressing up and passing out candie the Haunted trail and DJ:))) Definitely going to use that heated pool next year!!! Thank you keep up the good work�
Nov 07, 2019
WE HAVE RENTED CABINS 3 TIMES. i WAS A LITTLE DISAPOINTED THIS TIME BECAUSE THERE WAS NO STOVE TOP AND ONLY A SMALL UNDER COUNTER REFRIGERATOR. IF I HAD KNOWN THAT I WOULD HAVE PLANNED DIFFERENTLY. I WAS CHARGED THE SAME AND THE DESCRIPTION WAS THE SAME ON ALL OF THE CABINS WE RENTED SO I AM NOT SURE HOW I WAS SUPPOSED TO KNOW THE DIFFERENCE
Nov 02, 2019
Halloween weekend #2......you guys did an awesome job with the events during the weekend....we had a blast!
Nov 02, 2019
My family & I enjoyed Halloween weekend very much.
Nov 02, 2019
Amazing as usual! Cabins always clean and staff is always friendly and helpful. We cant wait for next season! Thanks so much!
Oct 29, 2019
Great cabin and wonderful campground!
Oct 28, 2019
Had a fantastic time
Nov 03, 2020
Great place to go lodging if you don't have a RV or Mobile Home. People there were courteous and respectful. Too close to I-495 you can hear vehicles go by.
- Stuart MacGillivray on Google