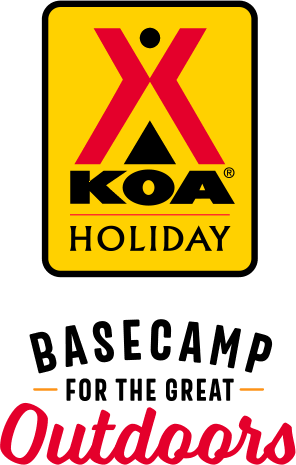 KOA Holiday Campgrounds
Whether you're exploring the local area or hanging out at the campground, KOA Holidays are an ideal place to relax and play. There's plenty to do, with amenities and services to make your stay memorable. Plus, you'll enjoy the outdoor experience with upgraded RV Sites with KOA Patio® and Deluxe Cabins with full baths for camping in comfort. Bring your family, bring your friends, or bring the whole group – there's plenty of ways to stay and explore.
KOA Holidays Feature:
RV Sites with a KOA Patio®
Deluxe Cabins with full baths
Premium Tent Sites
Group meeting facilities
Aug 04, 2020
Payed $475 for a weekend and my children never got to swim once this visit sucked
Aug 04, 2020
Stopped in the office on way out. Thanked them Staff did the best they could with COVID. Some of the campers were a little sloppy with masks and distancing. Whole Staff is great. Thank you
Aug 04, 2020
It was a bit hit or miss dealing with anyone in the camp store... The grounds were good, a little tight for camping... Dennis and his wife were a pleasure to meet... Very helpful and informative... The girls helping my grandkids do the tie dye t-shirts were awesome with the kids... Overall it was ok... JeffC
Aug 03, 2020
We had w wonderful time!!! Love KOA Middleboro
Aug 03, 2020
Dc7 needs door fixed to bathroom. Son smashed hand..floor was disgusting dirty.
Aug 03, 2020
We had a very rude experience with the staff. We were questioned upon arrival because my parents who were staying in the cabin with us check in before we did and were given our car pass by a staff member. Then we go to sign up for the pool and I took the last 6 spots.The staff member doing the sign ups told me "then you better all show up because there are other people that want to swim"
Aug 03, 2020
Was a great stay! Only issues we had, which weren't so bad is that things "closed" pretty early. The store closed at 6 some days and 8 others, the play areas were shut down around 8 (jump pads).
Aug 02, 2020
We loved it! Staff was great and helpful and our kids had the best time.
Aug 02, 2020
Our stay was amazing, everyone was so friendly & the staff was so helpful! My little one met Donna at the store & when we called down for a late checkout she remembered her & said your "s'mom"! We wish we could've stayed longer & definitely will be back! Our only regret was that we saw someone had drawn several swatikas on a common Firepit in the area next to the volleyball net. That asid
Aug 02, 2020
Beautiful and clean. However very unsafe. Had to leave early because multiple large birthday parties. Spoke with staff, not enough staff on to manage situation.
Aug 01, 2020
Awesome stay Staff was excellent. See you next year
Aug 01, 2020
Internet access could be a lot better. I wouldn't be able to stay and work at this site
Aug 01, 2020
We stayed in a full cabin place was very clean, beds confortable used the gas grill outside it was very clean also. Nice camp group for families
Jul 30, 2020
Cabin was very clean. Loved the sign up sheet for the pool, limiting the # of people in the pool allowed us to really enjoy it (last year was also very hot and you could barely move in the pool because there were so many people in it). The kids had a great time as usual especially on the jumping pillow (maybe consider opening it earlier as the kids wanted to start jumping right away!)
Jul 30, 2020
The bathroom on the Cabin needs a handle is to high to get out or maybe a step almost fell . I got bad back was hard to get out of the bath tub .
Jul 29, 2020
Everything was seamless from checking in to checking out and firewood delivery and all
Jul 29, 2020
Very friendly, pleasant stay, and clean.
Jul 29, 2020
This was the perfect way to escape this summer for a bit and still feel safe and socially distant. The best part, however, was having an accessible cabin option for my husband who uses a manual wheelchair! That is a very rare find, especially when camping. And the shower bench was great! We've stayed in upscale hotels with terrible accessibility. Thank you for making everything comfortable for u
Jul 27, 2020
Very pleasant experience. We were so happy to be able to bring our dog with us! The staff was super friendly & looked like they were doing a great job keeping everything clean and following social distancing guidelines! Can't wait to come and stay again!
Jul 27, 2020
Absolutely amazing and will be staying again soon
Jul 26, 2020
Very buggy didn't spray the cabin for bugs Didn't spray the fields or woods from mosquito's Service was awful waited 1hr for propane to get filled no one showed up Trash was not doubled checked for pick up during the day Worse stay I've hsd in 30 yrs of going there Didn't tell us about construction at 8 pm on RT 44 took 2 hrs to get back to campground from detours. Awful customer service
Jul 26, 2020
We had an amazing stay at the Boston KOA. Everything was very clean.
Jul 25, 2020
Always the best
Jul 25, 2020
All was great..... Except for the fact that the water in the women's shower was running HOT 24/7. This is a terrible waste of water and energy.
Jul 21, 2020
Bathrooms were very clean, the cabin was very clean, the campground itself was clean and well kept, the kids enjoyed the pool and jumping pillow and pad, the staff were pretty good, would definitely stay here again
Jul 21, 2020
Very nice place, mini golf needs updating and the fridge in cabin was a pain to get into which can be fixed by changing the doors so the open towards the wall
Jul 20, 2020
It was very nice the cabin was not cleaned properly but I took care of that so not a problem we will return it was good for the little kids they loved it the big kids thought the pool was too shallow to swim so will bring just the littles next time.
Jul 20, 2020
It was ok. The staff were very mean and I come a few times a year and never experienced this.
Jul 20, 2020
Stayed in a Deluxe Cabin, which was very clean. AC was wonderful and we enjoyed the patio/gas grill. Staff was very responsive and friendly. Enjoyed hiking nearby and saw many beautiful views. Very convenient location with nearby supermarket. We had a great time!
Jul 19, 2020
We love the location, the grounds are lovely and there are plenty of family activities. Our cabins have been spotless on previous visits but this was not the case on this one, guessing they have been busier as quarentines are lifted. Hoping that this was the reason for it. Incredible staff as always. Looking forward to our next trip. Thanks again folks!
Jul 18, 2020
Great staff clean bathrooms and good sites.
Jul 16, 2020
My stay with my family was excellent. Everything about it was exceptional from the cabin to the staff to the recreation. We will be returning in the fall and will only be camping with KOA in the foreseeable future.
Jul 16, 2020
The grounds were beautiful. Very clean. The bathroom was clean. The cabin was nice. I would go back. Bring a fan if you are staying in a cabin without air conditioning because it can be quite warm inside. Lots of activities. Family friendly.
Jul 14, 2020
It is such a nice and friendly place, the staff is great and so kind, the cabins are clean and in great shape. It is such a family camping environment. The location here is great to be able to go out and do stuff local attractions, beach dining. This is are 2 or 3 time here. I am looking forward to becoming a full-time camper and traveling and working for KOA.
Jul 13, 2020
we got screamed at for not having a mask on but no one else had their mask on.. very uncomfortable place to try and relax
Jul 11, 2020
The cabins without AC get insanely hot. Believe they should be equipped with small AC units for the cost of the nights stay. Staff was amazing. Nice and clean
Jul 10, 2020
really nice cabin, had everything i needed, staff super friendly, nice and quiet. I will camp again at this site.
Jul 09, 2020
It's always a pleasure staying on KOA ,always fun and with happy moments. Clean and comfortable place . Thank you.
Jul 09, 2020
It was a busy holiday weekend yet staff we Were friendly. They did a good job keeping the areas clean and enforcing physical distancing and mask wearing. Enjoyed our stay. Only disappointment was the few drunk persons who were rude.
Jul 09, 2020
Wonderful and memorable experience. We are already booked to come back!
Nov 03, 2020
Great place to go lodging if you don't have a RV or Mobile Home. People there were courteous and respectful. Too close to I-495 you can hear vehicles go by.
- Stuart MacGillivray on Google