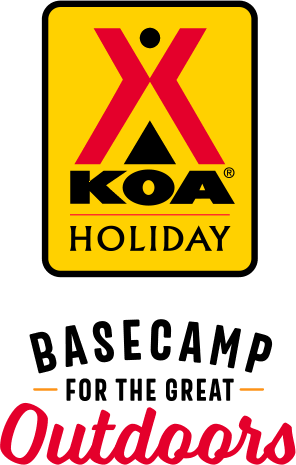 KOA Holiday Campgrounds
Whether you're exploring the local area or hanging out at the campground, KOA Holidays are an ideal place to relax and play. There's plenty to do, with amenities and services to make your stay memorable. Plus, you'll enjoy the outdoor experience with upgraded RV Sites with KOA Patio® and Deluxe Cabins with full baths for camping in comfort. Bring your family, bring your friends, or bring the whole group – there's plenty of ways to stay and explore.
KOA Holidays Feature:
RV Sites with a KOA Patio®
Deluxe Cabins with full baths
Premium Tent Sites
Group meeting facilities
Aug 26, 2020
The cabin was great, but we were a little disappointed there were no activities happening for the kids. We stayed the week prior at KOA in Strafford and there was soooo much for the kids to do all day. But we still had lots of fun!
Aug 25, 2020
It was a lot of fun, until the storm moved in on Saturday afternoon @ 4:00, we lost power, which ruined the day & night, lost all the food in the fridge & freezer, never got to sleep that night because it was to hot, power didn't come back on until 4:30 the next morning, should be credited for the night.
Aug 23, 2020
We loved our vacation at KOA! The cabin was very comfortable and clean. It was equipped with thoughtful amenities like dish washing detergent, coffee, and sugar. The queen bed was very comfortable! The service we received at the office was excellent. This was our first experience at a campsite, and we are sold. We have already reserved a cabin for next summer. Can't wait!
Aug 23, 2020
We are really looking forward to returning to this campground. The staff was so friendly! Even the seasonal residents that were next door to us were so helpful and friendly. The campground is so clean and well maintained. We just wish we could reserve specific sites! But regardless, we will be back!
Aug 23, 2020
Campsites are very very close together. There are no spots that have any privacy. The positives were being able to have wood and ice delivered to your site and garbage picked up daily, also at your site. The pool was nice. But the extra activities like mini golf-they didn't carry any of the equipment to play. So unless you have your own person mini golf club and ball, it's a waste.
Aug 22, 2020
Staff for the most part was good Came in at 3 like we were told and was in a line did not get in until 45 minutes later...other then that was a good time
Aug 22, 2020
We enjoyed staying in the camping cabin. Very clean and friendly staff.
Aug 20, 2020
Though state COVID restrictions prevented some of KOAs activities from opening during our stay, we still had a blast. This is our 3rd time staying at KOA Boston and each time we never want to leave. Opted for a small cabin this time, and it was perfect for my son and I. The staff here are great, and so helpful and friendly. They really make you feel at home. Cant wait till next year!
Aug 18, 2020
my stay was great except for the online check-in.I had 2 choices on how to make my payment.First to use the credit card which I have on file (which I DID NOT want to use), or to pay at check-in using another method.I moved money out of my savings account to my checking account to avoid the interest charges associated with the credit card.This request was not honored.very disappointed.
Aug 18, 2020
If I had to any complaint it would be the use of golf carts. Too many youngster behind the wheel driving definitely not 7 1/2 mph. My truck an few cars near our cabin was almost hit several times. And the fight that took place and was shut down, did not have to get that far. Those young people were walking around drinking, they were loud and obnoxious (horse shoe pits). Staff were present.
Aug 18, 2020
The cabin was beautiful, we had a nice time. Thank you!
Aug 17, 2020
My only issue is the Covid restrictions that took away some of the activities (i guess that was EEE as well) nothing KOA is able to do about that, so let's hope things are better next year. My best friends and our kids live close by and this is our favorite get together for the summer. We will be back!
Aug 16, 2020
We were not aware of basically everything at the campground being cancelled. Not much for kids to do activity wise.
Aug 16, 2020
Just wish more avaliable would have stayed long et
Aug 15, 2020
While the deluxe cabin we stayed in was beautiful, there was some things about the campground itself that needed work. The children's amenities were all weathered and not properly maintained. The mini golf had huge tears in the green turf, the bouncy pad had huge lumps in it, etc... The pool was unable to be used do to being "overbooked". For the money... :/
Aug 15, 2020
The deluxe cabin was lovely, comfortable bed , plenty of pillows, very nice kitchen great full bath, nice grill and fire pit and IF we had stayed during April or October I may have given 5 stars, however our visit was during August and the air conditioning was very poor- the price we paid did not reflect this inadequacy
Aug 15, 2020
Dc cabins are over priced, since so many kids activities are unavailable because of covid 19 a discount should be given to people with kids, also price includes NO kids, overall nice place but prices are ridiculous, for the price it should be a luxurious campground and it's definitely not.
Aug 15, 2020
Under the circumstances, I packed extra material to clean the cottage. But it looked super clean so there was not much I had to do. Thank you. We will see you again.
Aug 15, 2020
Awsome just wish more available
Aug 14, 2020
The staff was unprofessional and rude. We were told we could not utilize the swimming pool on the day we were leaving, when we were not supposed to be checked out until 11am. There is nothing in the terms and conditions states you may not use the facilities the day you are leaving PRIOR to check out. I have been to multiple KOA's and usually have a wonderful time. Now I will book elsewhere.
Aug 13, 2020
Check in was easy and safe. Cabin was clean and sanitary. Staff was pleasant and helpful.
Aug 13, 2020
Nothing but issues and lies and cost a boat load of money ! So not worth the money !
Aug 12, 2020
The campground was good about protecting guest from Covid. It was easy to sign up for a time slot for the pool. The cabin was uncomfortable at night because it was so warm. The fan didn't help much. Would stay again when it's cooler outside. Overall campground was nice except for the mini golf course that needs a lot of work.
Aug 11, 2020
Todo muy bien como siempre, excepto que cuando pregunté en las oficinas porque en mi Cabaña Deluxe no tenía acceso a WiFi me respondieron con un simple "no todas las cabañas tienen un punto de acceso". Si es así no entiendo porque en mi brochure me proporcionaron una clave de WiFi si nunca tuve un punto de conexión
Aug 11, 2020
Don't advertise you have WiFi when it's obvious you need more bandwidth!We were in Cabin DC-10.Went to office Friday after not connecting.Given provider card.Turned off and on cell phones, tablet and laptop as the provider told us to do, then connect to Middle Bath 15 and nothing for ALL 4 days!Told by camp they were full and kids streaming probably caused it.Wasn't raining!Extra phone data charge
Aug 11, 2020
Only issue online it told me i was aloud 8 people in the deluxe cabin and was informed only 6 when i showed up. Other than that it was great.
Aug 10, 2020
Don't take customers for granted, as the attitude of some of the employees was disturbing. Your entire company is based on customer service, you should train your employees to act a certain way (AKA nice). Also you must fix your horseshoe pits and miniature golf area's. Either make them functional & inviting, or just remove them. They make your campground look very cheap and as if you don't care.
Aug 10, 2020
Loved it ! Can't wait to come back. Hoping that as time goes by the pool restrictions will be more flexible , with 90 degree heat it's hard to schedule just 1 two hour swim per day.
Aug 10, 2020
This is the second time in a month that I have stayed at this campground and enjoy it very much. Everything is so clean and my experience with staff has been wonderful with one exception with two male employees that worked pool area. They were very unprofessional in the way the handled a situation that they had identified the wrong person it was upsetting but I will stay again
Aug 10, 2020
We enjoyed our stay but we were a little bored. We only got to swim in the pool once and when we did it wasnt that clean and it was cloudy. I was very disappointed in how unclean our cabin was. I used Disinfectant wipes on everything and I can't tell you how dirty those wipes were. That is very disturbing to me considering we are in a pandemic. I can tell you more through email
Aug 10, 2020
Great staff, clean cabin, very relaxing place to be, will be returning as soon as possible
Aug 09, 2020
My bad experience began a week prior to my arrival, poor customer service via phone call. Her name was Donna. Our family had 6 sites and sent 1 person to sign everyone up for pool time to reduce the number of guests in the office due to Covid, on day 5 we were told each site had to sign up individually. Donna & Sandy rudely corrected my child in front of me as if i wasn't right there. Unacceptable
Aug 09, 2020
We had a few issues, but they were addressed by staff immediately and nicely. My only concern was the "extra sanitation" of the cabin. When we got there there was trash filling the fire pit. When we went inside, there were visible fingerprints on the buttons of the microwave - later that day we spilled milk on the floor and wiped it up with paper towel - the towel was filthy from wiping.
Aug 08, 2020
We really enjoyed our stay. The staff are amazing, friendly and helpful.
Aug 07, 2020
We stayed in the cabins and had a great time! Everything was really clean and well kept. The campground and bathrooms were always clean and the staff is very polite and helpful. This is a great family campground I highly recommend it.
Aug 05, 2020
Clean. Comfortable. Had all necessary amenities. Kids had a lot of fun!
Nov 03, 2020
Great place to go lodging if you don't have a RV or Mobile Home. People there were courteous and respectful. Too close to I-495 you can hear vehicles go by.
- Stuart MacGillivray on Google