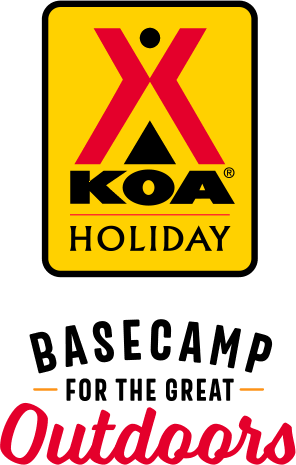 KOA Holiday Campgrounds
Whether you're exploring the local area or hanging out at the campground, KOA Holidays are an ideal place to relax and play. There's plenty to do, with amenities and services to make your stay memorable. Plus, you'll enjoy the outdoor experience with upgraded RV Sites with KOA Patio® and Deluxe Cabins with full baths for camping in comfort. Bring your family, bring your friends, or bring the whole group – there's plenty of ways to stay and explore.
KOA Holidays Feature:
RV Sites with a KOA Patio®
Deluxe Cabins with full baths
Premium Tent Sites
Group meeting facilities
Nov 19, 2020
We really enjoyed our stay! The cabin was clean and cozy, the staff we met were friendly and helpful, and the location was convenient for visiting local attractions.
Nov 08, 2020
Cabins are very close together, I would have left if I had neighbors! Some old guy working threatened us and said if we go in woods cops will be called. How we suppose to get fire wood. Close to cities like hour away
Nov 06, 2020
It was a great campground. I love that they have the ability to check in the next day if your a late arrival. They just leave your information for you in an overnight box!
Nov 06, 2020
We had a great time even though is rained the 1st day and snowed the 2nd but the last 2 days were awesome. The bed was actually really comfortable.. definitely planning on staying again.
Nov 06, 2020
We really enjoy our time at the campground. We definitely plan to go again when the weather is warmer.
Nov 05, 2020
The deluxe cabin was absolutely amazing the only thing I wish if the pool is heated why can't it stay open
Oct 31, 2020
Cabin was very nice and clean, every thing l needed for cooking. Hot water.
Oct 30, 2020
Cabin was clean, had tables indoor and out, even a gas grill! Lots for kids to do. Restrooms were spotless. Check in / out was a breeze, friendly staff. Fellow campers followed rules and were all pleasant.
Oct 30, 2020
the cabin looked nice on first sight, however upon entering noticed it was not very clean . considering the covid situation I was very disappointed in the cleanliness. thankfully I brought my own cleaning supplies and disinfectant sprays. went in and spent 45 minutes cleaning before I allowed my family to enter. the floors were absolutely filthy , to the point that we had to keep our shoes on.
Oct 29, 2020
My family and I have just discovered this Massachusetts gem! The campground is perfect for bike riding, roasting marshmallows, and enjoying nature. The cabins are perfect for us. We really appreciated the welcoming staff too! We will definitely be back again soon!
Oct 28, 2020
Site are very close. Cabins are nice. No clearing of the fire pits of leaves for a fire.
Oct 27, 2020
My wife and I had a great time with the grandkids on Halloween weekend.
Oct 26, 2020
Our stay was absolutely amazing and have already reserved for next year October 2021.
Oct 26, 2020
I had to leave a day early because no one was wearing any masks not even the staff. Nobody took this COVID-19 seriously and masks are mandatory. I was for fear for my children. I'm not very happy about our stay
Oct 25, 2020
Awsome time .very clean bathrooms so nice to see.pet friendly a plus.
Oct 23, 2020
Awesome 1st Halloween weekend - Haunted trail is incredible!!! Great Job KOA!!!
Oct 21, 2020
Very clean and staff was great.
Oct 20, 2020
Our neighbors at I believe cabin 16 were terrible from the moment they woke up until a bit after quiet hours started there was drinking, yelling and swearing. We had teens with us, so it was not anything that hadn't heard before, however it did make it impossible to enjoy being outside and sitting at our table, campsite. We don't mind noise because its life but this was over the top and unneeded.
Oct 20, 2020
Had a wonderful time. My son got married that weekend so we all stayed there. The deluxe cabins were great. would come back for and other vist.
Oct 18, 2020
I love staying up in the highlands.The only problem was no hot water in the bathroom sink,no matter how long I ran it.The bath tub and kitchen sink had hot water.
Oct 18, 2020
We had a great time. We loved the cabin
Oct 17, 2020
Cabin smelled weird and could have used an extra outlet. Everything else was good.
Oct 14, 2020
Staff was friendly, cabin was clean
Oct 14, 2020
Staff was very friendly. Place was very clean. Highly recommend
Oct 13, 2020
Renting the deluxe cabin was the best camping decision I have made. Having 2 6-year-olds and a 10-month-old makes old fashion camping impossible. My kids especially loved the mining station and checking out their cool rocks and gems. The proximity to Plymouth and grays beach was perfect. Within 15 or 20 minutes you have chain restaurants and really good local locations.
Oct 11, 2020
We were thrilled with the Deluxe Cabin, and wanted to stay for a few more days! Everything was very clean, so we felt safe during COVID. We also found excellent restaurants, and a nature preserve. The Old Mill property was a gem! Tiffany was fantastic. Very friendly and helpful and enthusiastic. Thanks again for a lovely getaway. We need to come back so that we can enjoy the fire ring!
Oct 10, 2020
It was pleasant overall I was in an RV site and my sons family rented a deluxe cabin The only events that took away from the stay were golf carts racing around very late at night
Oct 07, 2020
Would stay again i had fun
Oct 07, 2020
perfect getaway and camping adventure
Oct 06, 2020
Enjoyed my stay. Clean restrooms and staff very friendly
Oct 05, 2020
Our stay was nice but the sites were extremely dusty to the point that 3 of the dogs we were camping with got sick with coughing and wheezing and had to see a vet.
Oct 04, 2020
The grounds are clean and the staff is friendly and helpful. A little bit of road noise, but not too bad.
Oct 04, 2020
Everything about our stay was 5 stars! This was hopefully the first of many trips to the KOA campsite. What a lovely campground! My son and I rode bikes, roasted marshmallows, played mini golf and used the over sized outdoor checkerboard. I loved the gift shop. There were very unique and useful items for sale. The cabin and bathrooms were kept very clean. Most of all the employees were pleasant!
Oct 03, 2020
People friendly, love the wood delivery and how they travel through the campsite during day n eve. The negatives for this visit was the internet or lack of it. If we were lucky enough to get on it kicked us off quickly or would not let us on at all. Im now pay xtra mobile data i ran out of. The second is the grounds. Old cigg buts, meat bones, glass, kids little toys all over (not ours) dirty.
Oct 03, 2020
The KOA is very clean and in this time, very concerned about health procedures. The staff is excellent, doing their job efficiently and happily. I particularly like having firewood delivered! If I had to find one thing, it's the unreliability of Wi-Fi.
Oct 03, 2020
Every worker was very friendly. Place was clean. I already plan on returning!
Nov 03, 2020
Great place to go lodging if you don't have a RV or Mobile Home. People there were courteous and respectful. Too close to I-495 you can hear vehicles go by.
- Stuart MacGillivray on Google