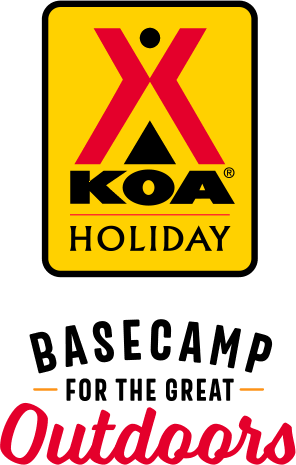 KOA Holiday Campgrounds
Whether you're exploring the local area or hanging out at the campground, KOA Holidays are an ideal place to relax and play. There's plenty to do, with amenities and services to make your stay memorable. Plus, you'll enjoy the outdoor experience with upgraded RV Sites with KOA Patio® and Deluxe Cabins with full baths for camping in comfort. Bring your family, bring your friends, or bring the whole group – there's plenty of ways to stay and explore.
KOA Holidays Feature:
RV Sites with a KOA Patio®
Deluxe Cabins with full baths
Premium Tent Sites
Group meeting facilities
Oct 01, 2020
Very nice facility. Good spot (#705) under large oak trees. Nice paver patio, double Adirondack glider, wrought iron patio furniture, Weber gas BBQ. Brutal storm overnight. Large tree branches came down landing 10 feet to right of motorhome front. Lucky no damage. Stayed 2 nights in 40 foot Super Class C motorhome. Would stay again definitely.
Sep 30, 2020
The golf carts from the workers were so dusty and no courtesy to the campers! I feel they should make the workers (SLOW DOWN) �
Sep 29, 2020
Patio was very dirty, previous fire pit locations (2) were left with deep ash that our Grandkids walked in, sewer had a plastic bag in the pipe causing a situation, super noisy Neihbors...and this was only on day #1!!!
Sep 29, 2020
Very nice enjoyed it.
Sep 29, 2020
Only reason for a 4 was the pool had been closed and the weather was very warm.
Sep 29, 2020
Most amenities were closed or extremely run down.
Sep 28, 2020
The High Lands is perfect. Away from the noise of the playground and other activities. Quiet and respectful. Looking at booking a week next year,
Sep 28, 2020
We loved our short stay there in the Highlands area. It was a beautiful place, all the staff were super friendly and helpful. I would suggest that people with golf carts sign a promise to adhere to the 7.5 miles per hour speed limit. We got a little tired of all the dust kicked up when they sped by not to mention how dangerous it is with kids hanging off the side. Yikes.
Sep 28, 2020
Check in woman was Rude, and site sucked, worst site it was like a Cliff, not leveled at all
Sep 28, 2020
Pull through sites could be a little better leveled. A couple of KOA associates were sitting by the playground in their carts talking with each other and one of them was using foul language which is not appropriate especially at that location.
Sep 28, 2020
Sites need some fill and leveling. Staff was friendly and helpful.
Sep 28, 2020
this time it was great
Sep 28, 2020
Golf was a mess ,sewer smell near the dogs barking first thing and woke me up dust bowl on roads ,took all day yesterday to clean my trailer from the dirt. People are nice.
Sep 28, 2020
I found the campground crowded and very loud. After 11 PM I called the after hours number to ask if they could check on a party next to our campsite. No response until the next morning. Conveniently located, campsites are space close together but they do have wonderful water pressure. Be sure and use a regulator if you go.
Sep 28, 2020
It was very delightful and forfilling!! Thank you
Sep 27, 2020
We always enjoy our stay here. The grounds are well kept and the staff are always friendly and polite. Even during these restricted times, there was still plenty to do. We played ladder toss, cornhole, took walks around the grounds and has campfires. We will be back soon.
Sep 27, 2020
staff was polite and the stay was very peaceful
Sep 27, 2020
Very enjoyable! Loved the cabins! Will definitely be back!
Sep 26, 2020
Very friendly staff and very nice campground.
Sep 24, 2020
We were here for 7 days and absolutely loved it. A beautiful location! It is BUSY on the weekends so The Highlands was the best location for us away from all of the traffic. It is a bit of a walk to the bathhouse but we still loved the campground! Would definitely come back here!
Sep 24, 2020
We enjoy this KOA very much
Sep 23, 2020
Could use bigger sitt
Sep 23, 2020
Loved my site and the very friendly staff great stay see you soon again. Ty.
Sep 23, 2020
Love the campground but disappointed in total lack of social distancing by the Friday/Saturday campers around us.
Sep 23, 2020
Clean campsites lever scratch just picked up regular friendly check in Friendly people
Sep 23, 2020
We were only at the campground for 2 nights but we had a very good experience. Thank you.
Sep 23, 2020
Excellent stay. I had a few issues Including electricity ty after hours and Mike was excellent and professional in guiding me with my RV
Sep 22, 2020
Stayed on #313, very appreciative of the added gravel to this site
Sep 22, 2020
I had a great stay with my husband and visited friends nearby for lunch both days over the weeekend. My only problem was that we ran out of propane the last day at 7am and the trailer was freezing! Our fault but we were trying to call the store and finally found out that it opens @ 10:00am which I thought was ridiculous. So we ended up not taking showers and packed up and had to leave.
Sep 22, 2020
We had a Great time. Can't wait to return. Only issue was heater/ac not working. We will see you in the Spring
Sep 22, 2020
Sites were EXTREMELY close together. The fire pit on the site next to us was only 38 inches from our camper. We could hear full conversations from the site next to us while inside our camper because they were so close. The site next to us had their golf cart plugged into our electricity box causing our camper to short out twice over the w/e. No lights for outside activities after dusk
Sep 22, 2020
Great location it is close to almost everywhere. Easy access from RT. 495. We'll be back.
Sep 22, 2020
We stayed in the Highlands our site was very spacious. Loved the placement and how big the fire pit was. Only one thing was disappointed that a seasonal next to us which was at the end of our camper asked us to turn down our music at 6:30 pm . It was totally respectable music and volume.
Sep 21, 2020
Called to reserve a patio site in May Iwas told only patio site available was a back in My wife and I drove one hour to check out site On May 25 we booked site with office. got confirmation. 30/50amp patio back in site. Two days before going to campground get email. Pull the site and we owe you $22. When we arrived it took 20 min to check in and was told we had a refund of $15 We went to site
Sep 21, 2020
We enjoy camping here pretty much every year. Visit family and enjoy the local area attractions. It is quite busy on the weekends and you definitely need to be mindful of the children, bikes and golf carts. But we came to relax and that we did. Facilities were clean and staff were very friendly. Thank you.
Sep 21, 2020
Site was great!
Sep 21, 2020
Great time at Boston/Cape Cod KOA. The facility was super clean as normal. When I surprisingly found the restroom unclean after some rude individuals mistreated it the staff was super apologetic and cleaned it up right away. As with every campground there will be those individuals who mistreat the facilities but in my years of camping very few campgrounds will rectify it as promptly as they did.
Nov 03, 2020
Great place to go lodging if you don't have a RV or Mobile Home. People there were courteous and respectful. Too close to I-495 you can hear vehicles go by.
- Stuart MacGillivray on Google