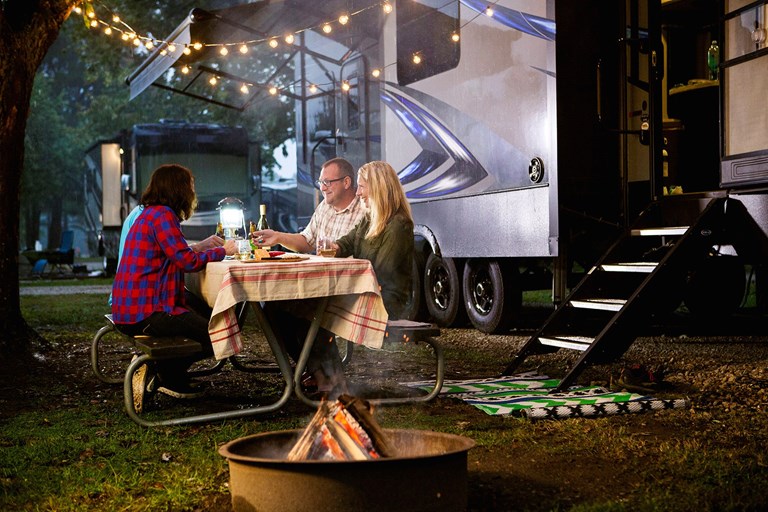 Borden / Summerside KOA Reviews
ANNOUNCING OUR 2020 FORTY PLAN! ALL SITES ARE NOW A MINIMUM OF 40 FT WIDE!
Directions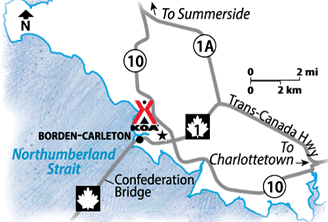 From Confederation Bridge - Travel 2 kms on TCH. Campground entrance is on the left.
From Charlottetown - Follow the TCH (#1) to Confederation Bridge. Entrance to Campground will be on the right 2 kms prior to the Bridge. 
From Summerside - Follow 1A towards Confederation Bridge. This will put you on the TCH. Follow TCH to Bridge. Campground will be on the right 2 kms prior to the Bridge
Get Google Directions
Jun 25, 2015
Not long but pleasant.
Jun 23, 2015
Very friendly and help. Needed directions to get a trailer tire repaired. Told me how to get to one 1 minutes down the road. Tire fixed in time for happy hour.
Jun 22, 2015
The only reason I didn't give 10/10 was because of the leaks in the ladies washroom - otherwise you're a 10!
Jun 18, 2015
There was nothing that the staff would not do to help me getting the site set up after heavy rains. Our 4 days there as a base allowed us to tour PEI. It is as central to everything as you can get Great facilities
Jun 15, 2015
very helpful and cabin was very clean and cute
Jun 10, 2015
Good location for base camp able to see ALL island
Jun 09, 2015
Very nice hosts! Good activities.
Jun 09, 2015
Owners extremely helpful, friendly and gracious. We are seniors and the delux cabin is too basic. No hot water. Good for young campers only.
CAMPGROUND RESPONSE / COMMENTS:
Our recently renovated deluxe cabins include a microwave, bar fridge, toaster, Keurig, BBQ, & 1/2 bath. As a campground that caters to all ages, we have had many seniors use our cabins w/ positive feedback. We encourage campers to bring any questions or concerns to our attention during their stay.
Jun 02, 2015
great hosts, friendly, after hours availability... very clean we highly recommend
May 30, 2015
Well run campground. Friendly helpful staff. Very clean and well maintained campsite and facilities.
May 29, 2015
our park stay was great, washrooms clean which is very important but was really cold. No heat and the weather was damp and cold.
May 25, 2015
Staff excellent and location agreeable...even for very early in the season.
May 19, 2015
We arrived early just as the camp was opening for the season, but we were greeted warmly and checked in quickly. We appreciated the service we were given.
Oct 21, 2014
The staff were helpful and friendly. The sites , washrooms etc. were clean and easily accessible.
Oct 20, 2014
Hosts were courteous. Wish they could have changed US money for Canadian
CAMPGROUND RESPONSE / COMMENTS:
Camper wanted to exchange US currency for bridge toll. Offered a straight exchange, the same as The Confederation Bridge offers. Camper wanted the current exchange rate. Gave directions to 2 banks that were within 2-5 minutes of the campground.
Sep 25, 2014
RV's were parked too close to each other. There was plenty of room to space them better. Staff was great.
CAMPGROUND RESPONSE / COMMENTS:
We do space campers out when there is room to do so. Although, campers often prefer to pick the site they would like, in quiet times, and it may be closer to others. Other times, campers may be near others due to the type of hookups they chose. We are happy to accommodate campers whenever possible
Sep 23, 2014
Very clean and quiet...great, convenient location near Confederation Bridge in beautiful P.E.I. We are a senior couple who stayed in early Sept. in our tent trailer. Thanks so much.
Sep 20, 2014
Very nice facilities. Friendly staff. Close to the PEI action.
Sep 19, 2014
Good sites with access to motel. Had to cut the stay short and refund pleasantly was given even though the problem developed at the last moment.
Sep 19, 2014
The Borden-Carleton is centrally located. This lets you set it up as home base and visit all areas of the Island. The facility was clean and well kept especially so near the end of the season. During peak season it would be full to capacity and could use more sites I The staff are friendly and helpful. I am amazed at how few KOA camp ground there are in the maritime provinces. Thank you. RP
Sep 15, 2014
Just the water pressure that was a bit low, besides that everything was great!
Sep 15, 2014
We didn't realize that we had to bring our own bedding and towels. Thankfully we have relatives who loaned us what we needed. Maybe that should be mentioned when customers are making reservations.
CAMPGROUND RESPONSE / COMMENTS:
We try to inform all campers that they need to bring their own linens when renting cabins. We apologize if this information was not relayed to you! Our website does state you have to "Bring Your Own Linens". We have bedding available upon request, at the office, & would have been happy to offer it.
Sep 12, 2014
Very convenient and great staff.
Sep 12, 2014
Office staff was very friendly, welcoming and helpful. It was the perfect place to stay before starting our island exploration.
Sep 11, 2014
The only drawback was being close to the main highway where it was easy to hear traffic noise. We were quite a distance from the highway but there was a field between us and the highway and at night the noise was typically louder.
Sep 11, 2014
Friendli Staff, nice Facilitis. The Sites in Front of the Office, left and right by the Driveway are not attractiv.
Sep 11, 2014
It is a lovely park conveniently located. Jason, the manager & staff were very helpful in solving a problem we had (damage to our Hydra Hot exhaust pipe) while backing into our nice, long site. There was a deep drop-off that caused the damage. They were awesome in responding to the damage & assured us the drop-off will be filled in this fall. We had a great stay & do plan to return.
Sep 10, 2014
Friendly staff, quiet and very clean. We will recommend to others and hope to return someday!
Sep 07, 2014
Not one of our favorites on this trip, although it was adequate. We felt the sites were too close together. The staff was very friendly and helpful. Facility was clean.
Sep 06, 2014
Great staff and good Wi-Fi, but unfortunately that's the only positives. Very poor location right on the main road for all bridge traffic, consequently very noisy 24/7. Sites are far too close together as with slides and awning we were wider than the space. Water pressure/volume very low. Site was only a sloping grass field with services. Expect much, much more from KOA.
CAMPGROUND RESPONSE / COMMENTS:
Sorry you felt your stay wasn't what you expected. We wish you had come & spoken to us during your 4 day stay. Many come here because they love the easy on and off to the hwy and close proximity to the bridge. The campground is over 40 yrs old, but the sites are wide enough for slides and awnings.
Sep 04, 2014
Propre, excellent service, bien situé.
Sep 02, 2014
The staff are extremely accommodating and friendly. They went out of their way to make our stay enjoyable.
Sep 02, 2014
Good sites , people friendly &quiet park
Sep 02, 2014
friendly and helpful clean would stay again great place to stay
Sep 02, 2014
The time we were there was great but on our 2nd night we got rained out. Kids point of view: the pool was fun but at the beginning it was cold!😃 The playground was disappointing! Hope next year there's more to then just swings and a snail!
CAMPGROUND RESPONSE / COMMENTS:
In our 1st year as a KOA, we've added play equip, a heated pool, & a jumping pillow. A lot of upgrades in 1 year! There will be more to come, but it does take time. There are also kids' activities. We can't control the weather, but the pool temps will drop as Fall approaches, even if it is heated.
Sep 01, 2014
Great time. Thanks for the hot dog bbq and the good corn boil.Had a wonderful time
Sep 01, 2014
The bathrooms were very dirty, there was toilet paper everywhere, the cabin beside our camp site left the outside light on all night, which resulted in the light shining in our tent all night. Which I didn't appreciate, because it kept everyone awake. There is a lot more I could write about my stay but there is only a 400 word limit.
CAMPGROUND RESPONSE / COMMENTS:
Camper checked out a day early, with refund, & was asked how their stay was. Camper replied "It was perfect". Bathrooms are cleaned daily & feedback is very positive. We were doing checks until 3am & would have addressed any issues. Called to inquire about "more issues" & found there were none.
Aug 30, 2014
We were in site 7 and there's a ditch we had to back over, this should be filled so trailer's won't drag going over it.
CAMPGROUND RESPONSE / COMMENTS:
There is a slight slope next to the road for drainage. With the ample amount of grass between the road and the sites, we always recommend campers pull into (or exit) the grass at an angle and then back in. For safety of all using the road, it's not recommended to back in by going across the road.
Aug 28, 2014
Great place quite and clean only forty mins from Charlotte town !

Borden / Summerside KOA
Open May 15 - September 30
23714 Trans Canada Highway
Borden-Carleton, PE C0B 1X0 Canada
Check-In/Check-Out Times
All Sites
Check-in: 2:00 pm, Check-out: 11:00 am
Get Google Directions

© 2020 Kampgrounds of America, Inc.