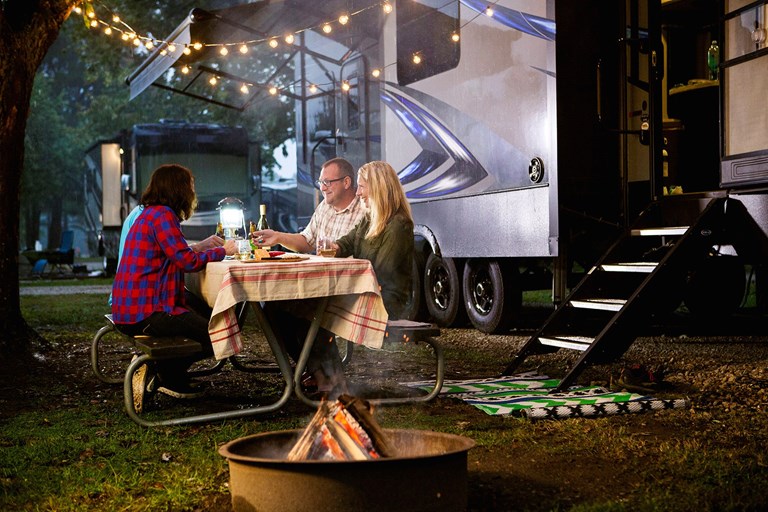 Borden / Summerside KOA Reviews
ANNOUNCING OUR 2020 FORTY PLAN! ALL SITES ARE NOW A MINIMUM OF 40 FT WIDE!
Directions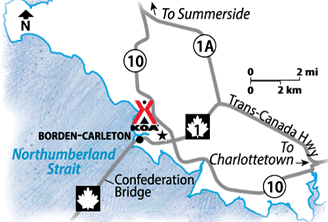 From Confederation Bridge - Travel 2 kms on TCH. Campground entrance is on the left.
From Charlottetown - Follow the TCH (#1) to Confederation Bridge. Entrance to Campground will be on the right 2 kms prior to the Bridge. 
From Summerside - Follow 1A towards Confederation Bridge. This will put you on the TCH. Follow TCH to Bridge. Campground will be on the right 2 kms prior to the Bridge
Get Google Directions
Aug 10, 2015
We had 2 beautiful weeks at this campground this year. Its a real family campground. lots fixed up nice and the staff can't do enough for you. We will surly go back.
Aug 10, 2015
Lots are too close together and ground is very uneven.
Aug 09, 2015
Très beau camping, propre, beau site. Parfait pour le passager Come moi
Aug 09, 2015
Beautiful campground. Very serene. Staff extremely hospitable and very helpful.
Aug 08, 2015
Great campground 👍
Aug 07, 2015
Wifi very poor , needs a little more anemenities and needs little up dating.
CAMPGROUND RESPONSE / COMMENTS:
We have a 110 MB internet connection with 4 wifi boxes throughout the campground. In your case, your metal camper interfered with connectivity. We have a new heated pool, jumping pillow, & playground. We also have a Games Room with cable TV, pool, & air hockey. There are new upgrades each year.
Aug 07, 2015
Easy in and out for those who would like a central location to explore PEI. We found a seafood wholesale/retail almost across the highway and has our own home cooked/boiled seafood dinners each night of our stay. Kamping doesn't get any better than your own campsite lobster and clam boil.
Aug 07, 2015
Convenient, lots to do, great staff, quiet site. Awesome!
Aug 06, 2015
So easy to get to and very easy to get our rig set up and tow vehicle parked.Great to be parked with same age group travellers. The grounds and buildings very clean and tidy. Staff, A1!
Aug 06, 2015
kind,attentive,devoted.
Aug 05, 2015
It was great but the bugs where bad after dark.
Aug 05, 2015
Third KOA experience. Great staff, spotless facilities and grounds. Tons for kids to do. This location seems to cater to young families, which we like even though our kids are grown. The campground is a little far from many of the sites one would want to see, but is only about 2 miles from the bridge, which made for an easy exit when it was time to head home.
Aug 03, 2015
My husband and I were pleasantly surprised with the campground. I would go back again to enjoy it.
Aug 03, 2015
Men's showers had virtually no pressure. Literally dripping at best. The sites need to be wider. Barely enough room for slides and awnings. Mosquitos were horrendous at night, the worst I have ever seen. On a positive note, the park was clean and had many things to do including a great heated pool and game room.
CAMPGROUND RESPONSE / COMMENTS:
We've not had complaints about the water pressure in the showers. The sites are wide enough for slides & awnings. Mosquitoes are bad Island wide - it's the outdoors. In order to make sure your stay the best it can be, concerns should be brought to the office during your stay.
Aug 02, 2015
Friendly staff. Easy check in. lots of activities, ladder ball, air hockey, pool table, etc. clean area. heated pool. great stay just wish the weather cooperated, mabe next time
Jul 31, 2015
wonderful staff well kept great place would and have recommended to other people.
Jul 31, 2015
Washrooms not regularly cleaned and routine maintenance of facilities not kept up. Staff were pleasant.
CAMPGROUND RESPONSE / COMMENTS:
Unless concerns are brought to our attention at the time, we are unable to address them. We are not currently aware of any maintenance issues in the campground and our maintenance/cleaning staff continually receive very positive reviews. Bathrooms are cleaned daily and checked throughout the day.
Jul 30, 2015
I have to say that our stay at this camp ground was a positive one. The staff was very friendly, knowledgeable and accommodating.
Jul 30, 2015
Excellent staff & nice facilities
Jul 29, 2015
Christmas in July - IWK fundraisers - awesome pool & bouncy pillow - just fair weather but we had a great weekend!!
Jul 27, 2015
kids had a great time lots of activities for them to do.
Jul 27, 2015
Once in a lifetime
Jul 26, 2015
good luck getting the parkgoing. The rain barrel ride for the kids was a good idea my granddaughters loved it
CAMPGROUND RESPONSE / COMMENTS:
Thank you! We enjoyed meeting you and hope you'll get a chance to visit us again once we have the new amenities installed. We're glad the granddaughters enjoyed the barrel train!
Jul 22, 2015
Mosquitoes were really bad. Sites are a little tight. Staff are friendly and helpful.
Jul 20, 2015
We had a fantastic stay in one of the deluxe kabins at this KOA. The owners are so friendly and welcoming, the kids loved the pool and the jumping pillow. The new playground started to go up when we were there and it looks like it'll be great!! I highly recommend this KOA!
Jul 20, 2015
Staff were tremendous. Clean nice campground
Jul 20, 2015
We had a great time. Neat and clean . I love the size. Nice safe place for my children to play.
Jul 20, 2015
Very friendly people we I joyed our stay , would go back again
Jul 19, 2015
A good place to stay to visit western PEI!
Jul 19, 2015
This campground was convenient to the Confederation trail and Bridge. Restaurants and shopping were farther away than expected. Restrooms were old with plywood dividers. The plumbing was leaking onto the concrete floor. Pool was heavily used. Community room was very nice and air conditioned. Narrow campsites but nice grassy area for vehicles. Very nice and courteous management.
CAMPGROUND RESPONSE / COMMENTS:
The bathrooms were recently painted. We're not aware of any leaks - water on the floor is typically from shower use. With warm, sunny weather the pool has been a very popular spot, but never over capacity. Shops are just up the street in Gateway Village and Summerside is only 15 mins away.
Jul 18, 2015
The sites are narrows.
Jul 15, 2015
We had a great stay, beautiful corner lot. The campground was clean and quiet and beautiful! Thank you Koa!:)
Jul 15, 2015
we had a great time there and would stay there if we come back
Jul 14, 2015
The owners and staff were very friendly and helpful. The wifi was excellent. There should be a better recycle program like the Cavendish KOA has, which includes paper, plastic, metal, glass, soda cans, soda bottles, compost, and trash. Here just does the last 4 with no labels on some bins and missing bins, and the cardboard bin is locked. Also should have more trees in full service sites.
CAMPGROUND RESPONSE / COMMENTS:
We do sort waste, compost, & recyclable cans/bottles. If bins were missing, it was because they were being emptied into the large bin at the road at the time. We lock our cardboard bin due to people putting waste into it. Cardboard can be left at the trash stations & we will take it down for you!
Jul 13, 2015
Thanks for tremendous welcome, clean cabin and bathrooms. A great place to stay. Recommend it highly.
Jul 13, 2015
We stayed in the cabin that had a washroom and a sink. Great location in the trees very woods like but was also near office and showers which was convenient. I would recommend that Koa upgrade the bed. At $107 per night I expected a bed with the quality of a motel or B&B.
Jul 13, 2015
An excellent camping park.
Jul 13, 2015
This was the best campground we have stayed at in a long time. The staff was amazing with the kids and the grounds were well seup for our kids. Thank you for everything, and see you soon.
Jul 13, 2015
For us (6 guys) RV camping on this particular trip wasn't about scenic drives. We needed a place to park and basic amenities, B-C KOA provided that and more. Their heated pool was fantastic for a dip and the staff were kind enough to give us an isolated site so we could be a bit louder. Thanks KOA!
Jul 08, 2015
Good location, in between the two major cities on the island. Our fault, we weren't prepared for the Mosquitos!
CAMPGROUND RESPONSE / COMMENTS:
Mosquitoes are bad Island wide this year. We did start using a completely natural product - 100% garlic oil - that we spray around the campground. Unfortunately, you might not have been able to enjoy the benefits during your stay since we had just started using it around that time.
Jul 07, 2015
Loved our stay. Close to many attractions. Loved the cabin we rented. It made our stay very comfortable!
Jul 07, 2015
Enjoyed our stay. Clean well looked after park. Staff were very helpful .and nice.
Jul 06, 2015
We had a great time!!
Jul 05, 2015
Our stay was good - only thing is the campsites were extremely small
Jul 03, 2015
Quiet and extremely clean washrooms. Would stay there again and great service. Staff very helpful.
Jun 28, 2015
Great stay. I suggest that a camp ground that can have numerous RV'S have more than 2or3 washing machines. The machines could be of commercial size. Great need for travelers.
Jun 27, 2015
Jason/ Rachelle were extremely helpful people in many matters. You could ask anything and they would assist.

Borden / Summerside KOA
Open May 15 - September 30
23714 Trans Canada Highway
Borden-Carleton, PE C0B 1X0 Canada
Check-In/Check-Out Times
All Sites
Check-in: 2:00 pm, Check-out: 11:00 am
Get Google Directions

© 2020 Kampgrounds of America, Inc.