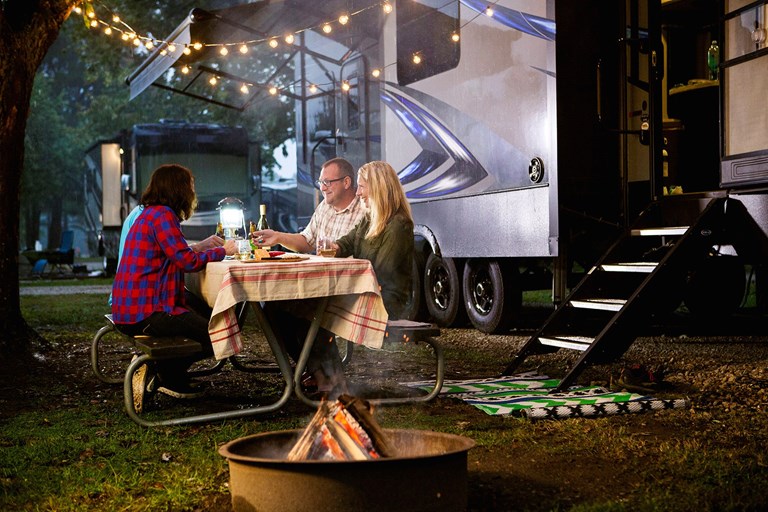 Borden / Summerside KOA Reviews
ANNOUNCING OUR 2020 FORTY PLAN! ALL SITES ARE NOW A MINIMUM OF 40 FT WIDE!
Directions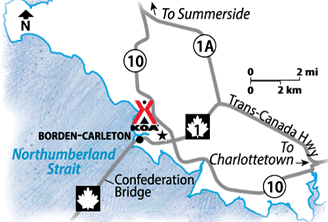 From Confederation Bridge - Travel 2 kms on TCH. Campground entrance is on the left.
From Charlottetown - Follow the TCH (#1) to Confederation Bridge. Entrance to Campground will be on the right 2 kms prior to the Bridge. 
From Summerside - Follow 1A towards Confederation Bridge. This will put you on the TCH. Follow TCH to Bridge. Campground will be on the right 2 kms prior to the Bridge
Get Google Directions
Sep 28, 2015
Third stay but missed music but good service this time more young kids perfer last times quieter but clean bathrooms well treated good good service tks
Sep 26, 2015
Would do not good. Friendly staff. TV not working in club room
CAMPGROUND RESPONSE / COMMENTS:
Sometimes, campers turn the cable box off instead of the TV and therefore it appears that it's not working, but the cable box only needs to be powered back on. We're always happy to help do so when notified in the office.
Sep 24, 2015
great stop for touring PEI will do it again
Sep 21, 2015
The campground was clean and quiet with friendly staff
Sep 21, 2015
Amazing staff, really enjoy their job. Feels like a community.
Sep 20, 2015
have been staying there for years under the previous management and will definitely be going back
Sep 19, 2015
Too much road noise. Long drive to most points on the island. Staff friendly, clean. No fire ring or picnic table at site. Ok for overnight
CAMPGROUND RESPONSE / COMMENTS:
We are centrally located - Charlottetown, Cavendish, & Summerside all within 15-45 mins. When your stay is over, we are just 2km from the Bridge. If there was no picnic table at your site, during your 4 day stay, you only needed to let the office staff know & one would have been brought to you.
Sep 17, 2015
great campground nice base from which to explore the island
Sep 16, 2015
A clean, nice place with friendly people. The location is GREAT. But, the lady didn't know how to credit me with my value card points. That took a while! Also, when I went to park, I had to stop and move a heavy picnic table from my site. I'm 72 years old, and I didn't appreciate this. Of course, NO ONE was around!
CAMPGROUND RESPONSE / COMMENTS:
Office staff called immediately & assistance with the VKR points was promptly dealt with. Unfortunately, picnic tables get moved by campers. We are more then happy to help with these kinds of things at any time, you only need to notify the office staff.
Sep 14, 2015
When we first booked our stay at this campground it was for 3 days only. After we had set up and were enjoying the atmosphere, we realized the we were really impressed and went to extend our stay for an additional week. Our granddaughter was with us and she couldn't believe all this campground offered. We were very contented and would recommend it to anyone one of our friends
Sep 14, 2015
We only planned an overnight stop, but woke up the next morning with a flat tire on our motorhome. As it was Sunday of a long week end I asked the camp owner for assistance. He went above and beyond expectations, fixing our tire in his maintenance shop and getting us on our way. Much appreciated.
Sep 11, 2015
We had a very nice space backed up to a field and plenty of space betwwen RVs. Not a lot of trafic and very pleasant stay.
Sep 10, 2015
Very clean and friendly
Sep 08, 2015
Campground is a small campground. But it has every thing someone would need at a campground. The lady who checked me in ( sorry don't know her name) was a sweetheart. I would return for sure. thanks KOA
Sep 01, 2015
Campground was very clean, staff were very nice. Pool and laundry room were also very nice and clean.
Sep 01, 2015
Site was great, facilities were great and management were very friendly.
Aug 31, 2015
Had a great time! Very nice. Will be back for sure.
Aug 30, 2015
The only thing that prevents me for giving a 5 star rating, was the attitude the manager of this park gave us regarding the speed limit on the park. We weren't going that fast and I got told that we were going too fast as they were children around. 1st we weren't going fast and there was no children anywhere near. Should have posts right at the entrance of the park, not just by the office.
CAMPGROUND RESPONSE / COMMENTS:
We have a speed limit of 10km posted throughout the campground that we enforce for camper safety. When you were approached about the speeding, you apologized and said you were trying to get to the washroom quickly. Anyone speeding will be politely reminded of the speed limit.
Aug 28, 2015
Extremely friendly and helpful
Aug 28, 2015
We are so thankful to have found this campground and the wonderful staff! Our truck lost all it's breaks just as we were leaving PEI. The wonderful staff at the KOA offered to come and pick up our trailer for us and pulled it to the KOA campgound. We stayed a night while our truck was being fixed. Can't say enough about the wonderful staff and how they went out of their way to help us!!
Aug 26, 2015
Very well organized and spacious
Aug 25, 2015
Awesome place to stay
Aug 24, 2015
We stay there whenever we go to PEI now, always a good stay, and great staff. Highly recommend this KOA especially if you have kids.
Aug 23, 2015
becoming bigger and better every year. keep up the good work. staff is great. love the heated pool and new playground. coopers
Aug 22, 2015
Was our first time at a koa, we will definitely be back!! Don't think we could ever do a provincial park again!! So much to do for the kids! Extremely clean!! Thank u!!
Aug 22, 2015
Great staff. A bit close to the hwy . Washrooms could use more attention.
Aug 21, 2015
Victoria was quick knowledgeable and very nice atcheck in. Spaces were very flat and everything was clean. Great proximity to Gateway Village and easy exit the next morning.
Aug 19, 2015
Great stay! Enjoyed the campfire and a very quiet area. Few mosquitoes, but that is expected outdoors. We took some spray that solved that quickly. Loved the pool, pillow and playground.
Aug 18, 2015
Awesome staff something for everyone two thumbs up
Aug 18, 2015
Le camping en général est bien. Nous etions dans une cabine de luxe et aucun ustensile, n'y vaisselle??Pas d'installation ou de parc a chien. Pourtant le dernier koa visité avait un enclos et des jeux pour les chiens. De plus personne ne parle francais. Je vous rappelle que nous sommes au Canada et qu'il y a deux langue officielle...
CAMPGROUND RESPONSE / COMMENTS:
We've done many upgrades in the 2 short seasons since we've taken ownership of this park. More upgrades are to come, such as a dog park, but they do take time. Although we don't have any bi-lingual employees, it's never stopped us from being able to serve our French campers.
Aug 17, 2015
We had a great stay. Enjoyed the entire place. I did definitely stay here again.
Aug 17, 2015
Awesome spot. Great staff. Really enjoyed stay kids did not want to leave
Aug 17, 2015
very friendly staff but you should really do something about mosquitos and other insects. really too much. This is not the best KOA i've been in.
CAMPGROUND RESPONSE / COMMENTS:
You had originally requested a very wooded site. Upon request, we moved you to a less wooded site.
Aug 17, 2015
Lovely spot but should spray for bugs. Couldn't sit out and campfire pits were not situated in a great spot. Other than that it wasn't too bad! Cathy A
CAMPGROUND RESPONSE / COMMENTS:
We do spray with an all natural mosquito spray, but the mosquitoes can be bothersome certain nights regardless of spraying - it often depends on the weather, humidity, etc. We recently cut the trees back to create a lot more space for the fire pits that are centrally located in the back.
Aug 17, 2015
Men's bathroom door was locked after 11pm...
CAMPGROUND RESPONSE / COMMENTS:
Another camper locked the door and not staff as we leave them open all the time. The locks have since been removed.
Aug 16, 2015
Very nice pool, and great location. Highly recommended
Aug 16, 2015
We had a five day stay at this wonderful campground with our 5 children. The facilities are great and the whole campground is very clean and tidy with lots for the kids to do. Jason and Rachel were wonderful to deal with I would recommend this KOA to anyone travelling to PEI
Aug 14, 2015
Enjoyed our stay in thus well kept, clean KOA. Staff was very helpful with our questions about where to go, what to see and how to get there. Would stay again!
Aug 14, 2015
We love this campground. We have four young children and it is very safe and secure. They love riding their bikes and scooters on the paved roadway. The pool is heated and very clean - fun for the kids and relaxing for adults after a long day. The jumping pillow and playground are great new additions. Most of all, the owners really care that your stay is enjoyable. We'll be back again next year!
Aug 13, 2015
Not enough space for the larger RV units. It was too crowded on the site.
CAMPGROUND RESPONSE / COMMENTS:
Your stay was during the busiest weekend of the year & most campgrounds on the Island were crowded. Our sites have accommodated rigs over 40+ ft, with trailers. The sites are slightly narrow due to being a charming, older campground, but it's an award winning campground with many positive reviews.
Aug 11, 2015
Park grounds & facilities are very well maintained & tidy. Staff is friendly & helpful.

Borden / Summerside KOA
Open May 15 - September 30
23714 Trans Canada Highway
Borden-Carleton, PE C0B 1X0 Canada
Check-In/Check-Out Times
All Sites
Check-in: 2:00 pm, Check-out: 11:00 am
Get Google Directions

© 2020 Kampgrounds of America, Inc.