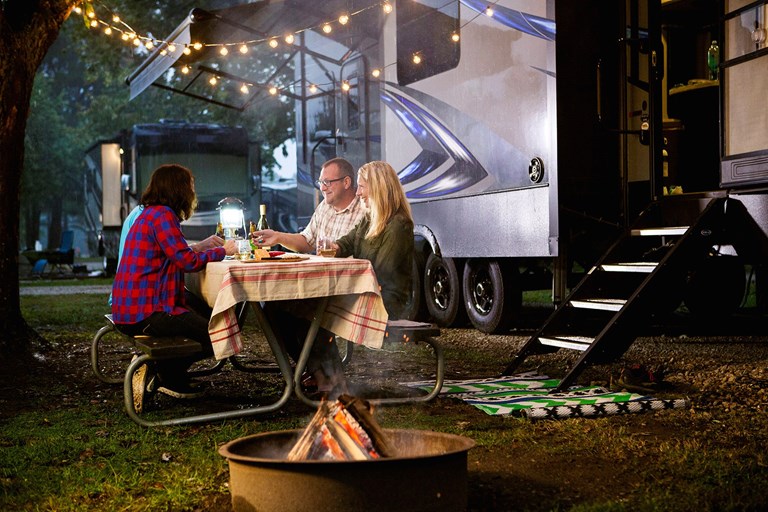 Borden / Summerside KOA Reviews
ANNOUNCING OUR 2020 FORTY PLAN! ALL SITES ARE NOW A MINIMUM OF 40 FT WIDE!
Directions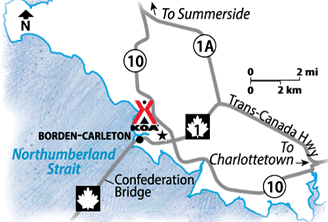 From Confederation Bridge - Travel 2 kms on TCH. Campground entrance is on the left.
From Charlottetown - Follow the TCH (#1) to Confederation Bridge. Entrance to Campground will be on the right 2 kms prior to the Bridge. 
From Summerside - Follow 1A towards Confederation Bridge. This will put you on the TCH. Follow TCH to Bridge. Campground will be on the right 2 kms prior to the Bridge
Get Google Directions
Aug 11, 2020
very clean park, good access to bike trails, lots are very narrow but park was only allow someone on every second lot. House band on Friday night, with open mic after there opening and its was very enjoyable. Allow camp fires at each site. Met lots of new people including the very friendly owners. Would stay again.
Aug 11, 2020
Great amenities, no nickel and diming for play areas for the kids although they do have some pretty reasonal rental items as well. Great staff. Overall fun and relaxed atmosphere with a lot of accommodation options (tent & RV sites and cabins). Clean washrooms and showers available. A wonderful stay!
Aug 10, 2020
It was perfect. We had 6 families together for 2days. Children as well as parents enjoyed themselves very much. Staff was very helpful and friendly. Washrooms were every clean. We will be back again next summer
Aug 10, 2020
Had the best time, perfect size for families with kids and so much to do!
Aug 10, 2020
Always a wonderful time. Friendly staff and excellent activities for the children.
Aug 10, 2020
It was a great experience for our grand children.their first time
Aug 10, 2020
Friendly welcoming people there. Great entertainment on Friday night with Harold, Marnie and the gang.
Aug 10, 2020
It was my first time at the campground and my overall stay was great. I was disappointed as I was put in a lot that was a 3 way when I called and requested a 2 way. I didn't realize until I was already set up I was in the wrong spot. My parents came for a visit and they didn't charge them to compensate for the mix up, and someone came by to apologize. Still paid 3 way rate when I requested a 2
Aug 10, 2020
Had a very good stay. Nice to finally see a lot of the projects started years ago finally finished such as the mini put and shuffle board. The only thing I disliked was that we had to walk out to the highway to get rid of garbage. We were way back in the corner and when you are watching small kids it is really inconvenient to have to walk so far to get rid of trash.
Aug 04, 2020
Had a great time with the kids. We are coming back on Aug 23
Aug 04, 2020
AWESOME STAY. RAYANNE WAS AMAZING. VERY CLEAN, EXCELLENT FACILITIES. GRAND CHILDREN HAD A BLAST. PLAN TO BE BACK JUST BEFORE YOU CLOSE. I WORK AT A RV DEALERSHIP IN FREDERICTON AND WILL HIGHLY RECOMMEND YOUR CAMPGROUND THANKS AGAIN STEVE BARR STEVE BARR
Aug 04, 2020
This was our first time staying here since it moved from Yogi Bear to KOA. Some things have stayed the same but children's activities were limited and they do not do chocolate bar bingo that the kids enjoyed.
CAMPGROUND RESPONSE / COMMENTS:
Unfortunately, we have had to limit activities due to COVID. We still offer quite a few activities, and we do plan to bring back chocolate bar bingo! We hope to see you again in the future.
Aug 04, 2020
Well when we first got there we rented the bikes for hour well kids got tired and brought them back after 30mins wel the lady infront was rude to them telling them they screwed up there checks or something dumb like
CAMPGROUND RESPONSE / COMMENTS:
We are sorry to hear that. I know our staff are getting used to a new system and there was confusion over how to do a refund. You were a great group. We hope you come back!
Aug 03, 2020
Totally felt comfortable with each second site being used. Covid has changed camping but this idea worked well.
Aug 03, 2020
Friendly staff and helpful we will be returning
Jul 28, 2020
We spent two nights and enjoyed our stay. We chose this location as it was close to where we would be visiting friends. It's located on a busy road so would recommend getting a site as far back as possible. It was very clean and neat. The staff were very good.
Jul 28, 2020
It was a great weekend. We stayed in one of the cabins which was nice. The only thing that I was thinking is that there is not much activity for kids except for the pool and the bouncy pillow.
Jul 28, 2020
The best costumer service.
Jul 27, 2020
people were great, camp site was very clean, well maintained and well organized. workers were professional and very friendly. we had a great experience overall and will be returning next year.
Jul 27, 2020
Owners take very much pride in their campground.. Very friendly !
Jul 24, 2020
Our whole family enjoyed our week it was peaceful and lots to do we are planning on booking a seasonal site next summer thank you for the hospitality
Jul 23, 2020
Nice and quiet. Clean, well kept. And a few updates which made it very nice. Would like to see a bit more family programming..or at least activities for kids, but this may have been due to COVID. Overall, another fun time.
Jul 23, 2020
Everything was great! Only thing I would fix is the ant problem.. tiny red ants on all our stuff .. ���� Other than that .. awesome �
Jul 20, 2020
The owners were very friendly and helpful , if needed. we enjoyed the music, the jam in the hall and enjoyed camping overall. The sites are clean, etc.
Jul 20, 2020
Very friendly and helpful staff!
Jul 17, 2020
Staff was awesome! Park is great. Only reason I gave them a 4 is because the mosquitos there are ruthless. And the other reason there was barely any water pressure at the camp sites. Hopefully they can get that fixed. Other than that, fantastic place to camp!
CAMPGROUND RESPONSE / COMMENTS:
Hi. Yes, we are aware that there is a water pressure issue with those few sites. We have a plan to address it later this fall. Unfortunately, you did arrive at the peak of the mosquito season on PEI! Other than that, we are very happy you liked our park. Hopefully, we will see you again.
Jul 16, 2020
Nothing for the kids to do, except swimming. No daily programs like the previous years since change over to KOA
CAMPGROUND RESPONSE / COMMENTS:
Hi. We apologize if we failed to communicate our schedule for the children's activities. We have a full-time activities person who is focused on keeping kids active and outside. With COVID, we had to scale back some activities, but we still have rental bikes, mini-golf, basketball, gaga ball, gem mi
Jul 15, 2020
We had a nice site with good hookups. The pool and park were enjoyed by our grandchildren when they came to visit us. The campground is clean and quiet. We will return.
Jul 13, 2020
Very friendly, family atmosphere type of campground. Tons and tons to do. Bathrooms were very clean and fresh. Loving the double wide camp sites now in place.
Jul 13, 2020
We will be back. The grounds were very well kept and everything was very neat and clean. The wash rooms were exceptionally clear.
Jul 06, 2020
We had a wonderful time! My 8 year old son was on the move constantly. Lots of fun in the pool and campfires. We have already booked our next stay before we left and can't wait to come back! The staff were all so friendly and helpful I couldn't ask for more :)
Jul 06, 2020
spacious sites this season, we like the extra room.....grandkids had a blast in the pool and the bounce pillow
Jun 29, 2020
Very clean and well maintained facility. Great location next to Gateway Village and of course, Tim Hortons. Staff & owners very friendly!!
Jun 29, 2020
Clean, well kept lots great music and very relaxing.
Jun 22, 2020
Quiet stay. Enjoyed our time.
Jun 17, 2020
First time stay. Park is super clean. Paved roadway and nicely grassed grounds. Booked another stay already.
Jun 16, 2020
We had a great weekend at KOA in Borden. Looking forward to going again this weekend and probably many more weekends this summer �
Jun 16, 2020
Exceptional customer service �. Close to biking trails and friendly atmosphere!
Jan 13, 2016
We very much enjoyed our stay, the staff was very nice and everything was nice and clean.
Sep 28, 2015
Great site nice people

Borden / Summerside KOA
Open May 15 - September 30
23714 Trans Canada Highway
Borden-Carleton, PE C0B 1X0 Canada
Check-In/Check-Out Times
All Sites
Check-in: 2:00 pm, Check-out: 11:00 am
Get Google Directions

© 2020 Kampgrounds of America, Inc.